Beauty trends and routines keep changing over time, but if we've learned one lesson in life, it would be that of customization. Looking at thousands of TikTok and Instagram-worthy skincare challenges, it is clear to see that there are no one-size-fits-all solutions in skincare. If you wish to have flawless skin, there's a lot of researching and testing required. Luckily, I read about the lactic acid serum and my search ended pretty quickly after the discovery.
Active ingredients are necessary to help your skin shed dead cells and reveal healthier skin. One such ingredient that was hyped by social media is glycolic acid, claiming to be the quickest way to achieve the coveted glass skin texture. While such a strong active ingredient worked for South East-Asian skin types by giving them flawless skin that almost looks like airbrush, it caused quite a controversy among other ethnicities. We found out that glycolic acid serum is a pretty powerful exfoliant that may not be the best choice for those with sensitive skin. So if you broke out into red rashes or fungal acne, you weren't the only one. (Yes, we figured it out through personal experience too!)
On my quest to find a skincare routine that not just suits my sensitive skin type, I came across many products but struggled to find an exfoliant that could make the roster.
While using the lactic acid serum of a reputed brand on your skin is a great way to get your glass skin texture, it comes with its own list of dos and don'ts.
Here, we're going to talk about everything you need to know.
What Is Lactic Acid Serum?
If you're a fan of DIY beauty, you may have tried several homemade masks to improve your skin texture. If you may have noticed, home remedies for a glowing complexion and hydration often include yogurt. As effective and delicious as it is, we don't usually think about the science when our grandmothers vouch for a certain recipe!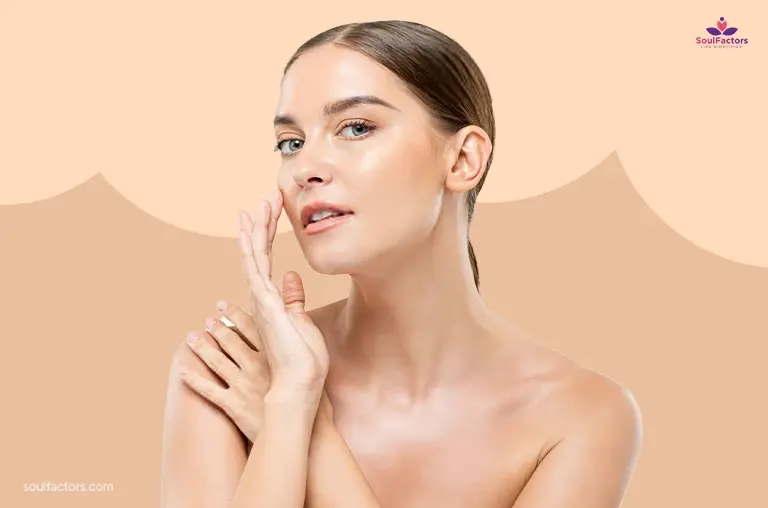 However, this also makes it an excellent time to impart some information on the science behind using yogurt or curd on the skin, especially for sensitive skin types. Yogurt is rich in a particular bacteria called lactobacillus, which is extremely healthy for us. When eaten, it improves gut health, reduces body heat, and reduces inflammation. However, the secret sauce lies in what our friendly bacteria produce- lactic acid.
What Exactly Is Lactic Acid?
Known to be one of the gentlest active agents, when concentrated in a serum, it can work miracles for those wishing to get rid of pigmentation and facial scars quickly. As a member of the Alpha Hydroxy Acids or AHAs, lactic acid is a skin exfoliator that can help improve cell turnover by helping loosen the protein bonds that hold them together. While fermentation of dairy products is the natural derivative of lactic acid, it is synthetically manufactured for serums in a more concentrated version.
How Lactic Acid Serum Is Different From Other Acids Used In Skincare?
As compared to other acids, lactic acids are made up of larger molecules that make them gentler on the skin. While glycolic acid may be excellent for those with a thick epidermis (attributed to ethnicity and DNA), lactic acid is perfect for those with a thinner epidermis that can easily burn with the lowest concentration of glycolic acid serum. While stronger AHAs with smaller molecules can penetrate deeper layers of the epidermis, lactic acid does not, providing a lighter degree of exfoliation.
This may sound like a sign of ineffectiveness but is actually great news. Not all skin types are the same, especially facial skin. While some ethnicities have much thicker layers of facial skin, others are perhaps only a few layers deep. Not only does this make them prone to tanning and hyperpigmentation, but also can also leave scars that take ages to fade. If such a sensitive skin type used glycolic acid on the face, their first reaction would probably lead to cellular burns or hyperpigmentation, however there are best suitable facewashes for sensitive skin in the market.
Benefits Of Using The Lactic Acid Face Serum In Your Routine
The benefits of lactic acid serum reach far beyond just healing acne. When used consistently, you will experience reduced wrinkles and other signs of aging. If anyone does, this active ingredient understands the meaning of "everlasting youth comes with patience."
Available in multiple strengths, lactic acid serum can help you reduce fine lines, acne scars, and pigmentation marks. Not only can it help you shed old cells that may be clogged with sebum, bacteria, and excessive oils, but it also does so without the trademark drying effect. Your skin would gradually start to show improvement in texture without compromising the moisture barrier.
Lactic acid, a gentle AHA, tends to provide an extra layer of hydration, which is why you'd notice your skin becoming supple and plump after regular use!
For those experiencing psoriasis, we come bearing great news. Lactic acid serum can work miracles on your skin when it comes to healing scars.
Before you buy your first bottle of serum, hold on a second. Do you know which skin type lactic acid face serums work best?
What Skin Types Can Benefit From Lactic Acid Face Serum?
The million-dollar question that most self-care enthusiasts forget to ask before trying out fad products is whether or not they would suit their skin or body type. Not only can ignoring such a fundamental question waste money but also put your skin through a traumatic event if things go south and you experience side effects. To help you get this query out of the way, I found experts who could give me accurate information.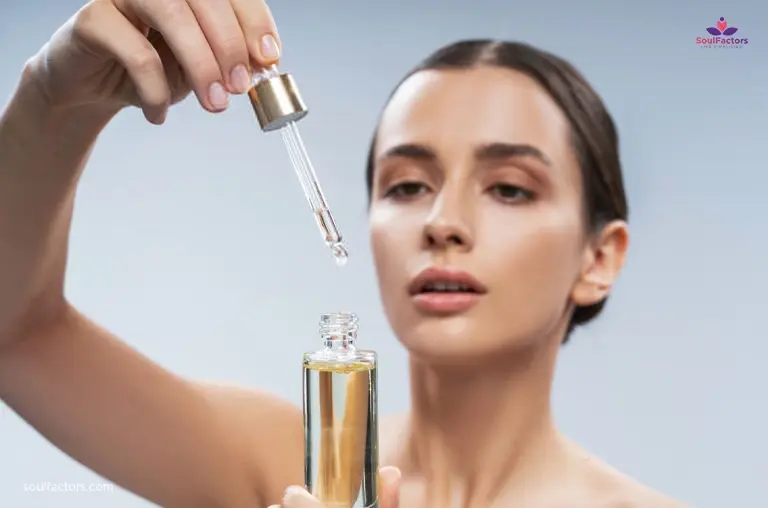 As per dermatologists, those who find glycolic acids harsh can opt for lactic acid serums. However, this is too broad a description, so let me clarify it for you. While glycolic acid may not suit you, you don't have to try it out and suffer a breakout to figure out the answer.
People with dry and sensitive skin that tends to react harshly to the slightest change in ph levels can give low-concentrated lactic acid serum. Not only will it not cause any itches and burns, but also have lower odds of causing redness and inflammation.
But wait… are some skin types restricted?
Well, yes. Even though it isn't as harsh as its other AHA cousins, lactic acid may still be too much for certain skin types.
If you have extremely sensitive and reactive skin, it's better to steer clear of any AHAs, including this one. Also, people with skin conditions like rosacea(1) and eczema should stay away from chemical exfoliants (since lactic acids are lab created).
Aim to hydrate more than exfoliate, and you will experience softer skin. When in doubt, speak with a trusted dermatologist to determine your skin type and any restrictions rather than finding out for yourself (it didn't end well for me, and hence a lesson was learned!)
How Lactic Acid Works?
Investing in skincare products can be a daunting experience, but a lot of consumers may not understand how these products work their magic on you. So here's a brief look into the workings of lactic acid serum for you to arrive at a decision.
As a gentle exfoliant, a serum with lactic acid will help in breaking down the protein bonds in dead skin. This process may cause some tingling on your face but leads to loosening dead cells, thereby making it easy to slough off at a faster rate than the body's natural pace. As we age, the skin's regeneration ability and speed start to slow down, especially if you live in a stressful and polluted environment. By using lactic acid face serum, your cell turnover starts to increase, removing several layers of unhealthy cells as a result of acne, hyperpigmentation, or bacteria.
The acceleration of the skin regeneration process can quickly help to improve your skin texture by thickening the epidermis. With regular use and a supportive skincare routine, you'll notice firmer, supple, and brighter skin.
While there are several benefits to your skin when you use a serum with lactic acid, experiencing these results may take a little longer. While malic acid, mandelic acid, and glycolic acid work relatively quickly with almost immediate results, lactic acid may take a few weeks to transpire.
A Caveat About AHAs:
One of the main reasons why you may not see glass skin from day 2 of using this product lies in understanding cell turnover. How does it work?
Well, acne that seems to form overnight actually exists under your skin weeks before! It takes about 3-4 weeks for cells to regenerate and exfoliate naturally. This means that the bacteria and sebum stuck in your pores about a month ago are causing pimples and blemishes today. Of course, this is different when we're speaking about reactive breakouts as a side-effect, allergic reaction, or stressor.
When you start using a serum with lactic acid, it will begin sloughing off the topmost layer of dead cells first. This also means that your skin may go through a purge phase where acne-prone cells may resurface at a quicker rate (within days and weeks rather than months). Once the purge phase is complete, the blemishes will begin to fade and the acne will clear up. Say hello to newfound youth! but Stop using the product if the skin purge lasts more than 4 weeks.
The Top 10 Best Lactic Acid Serums You Need To Try
Biossance Squalane And Lactic Acid Resurfacing Serum
An all-in-one solution for sensitive skin types.
If you're looking for the best lactic serum on the market, this is the one! Biossance squalane and lactic acid resurfacing night serum with 10 percent lactic acid ensure that hyperpigmentation becomes a thing of the past.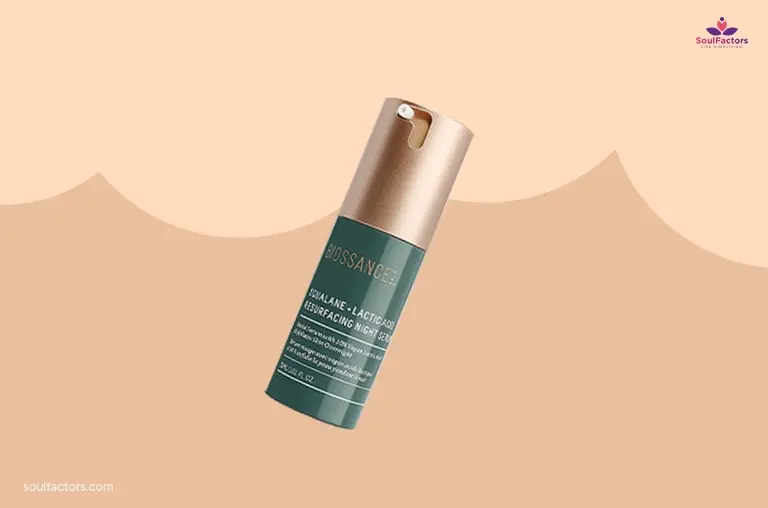 price-$65
Working quickly on the skin without compromising on gentleness, it accelerates cell turnover, refining your skin texture and removing dullness. Squalane hydrates your skin to soothe any redness or inflammation.
Dr. Dennis Gross Vitamin C + Lactic 15% Vitamin C Firm & Bright Serum
Total anti-aging care for all skin types.
If you're in your late 20s and above when your skincare routine start to cover anti-aging and firming as primary concerns, this product is a winner. Packed with antioxidants, free radicals, blemishes, fine lines, wrinkles, and sun spots don't stand a chance against this amazing lactic acid serum.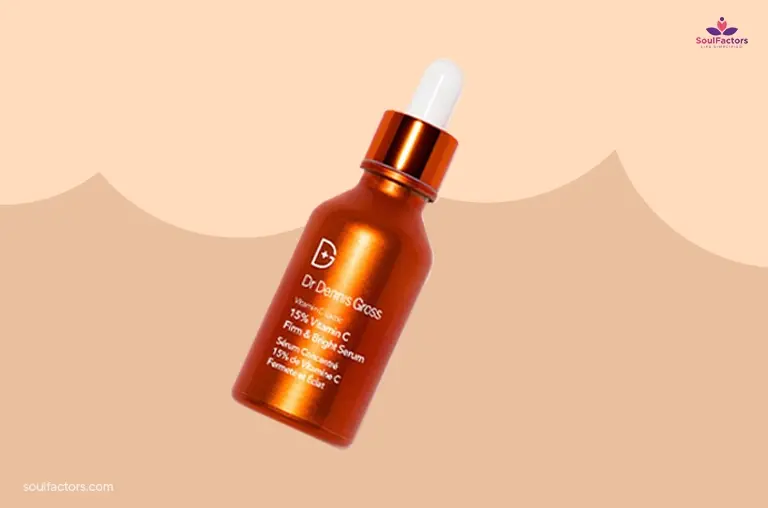 price-$85
This works wonders for those looking for a brightening effect for that morning glow all year long without complicating their products too much.
The Ordinary Lactic Acid 10% + HA
Amazingly consistent results in a budget.
For skincare routine experts who love to switch up their skincare routine as per the seasons or their skin's changing moods, The Ordinary is not a name to miss! The brand is known for its non-comedogenic and revolutionary products, which offer affordable skincare to every household.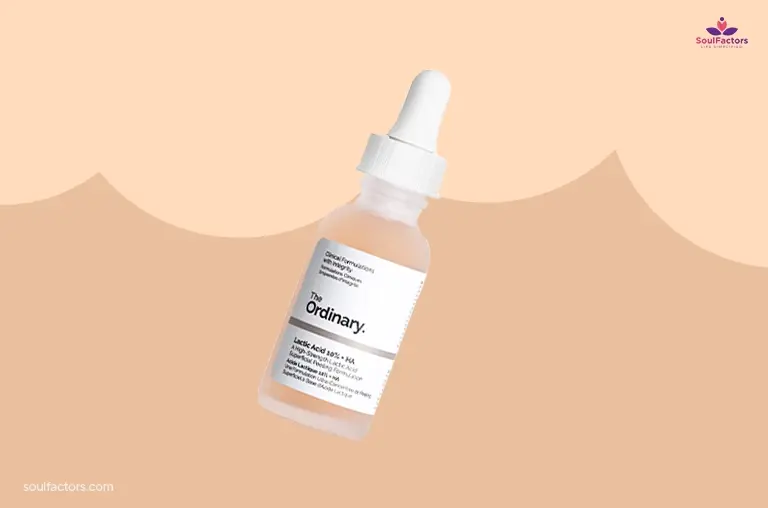 price–$8.90
The lactic acid serum is no less than a miracle; with a 10%, it is on the stronger side to slough off stubborn pigmentation(2) and dead cells while the hyaluronic acid replenishes and protects the moisture barrier of your skin. This is excellent for those who already have expertise in using such exfoliants.
Shani Darden Lactic Acid Serum
For those who need gentle skincare.
If open pores, dullness, and dark spots are your primary skin concerns, this lactic acid serum is a great pick. Powered with 9% lactic acid, the formulation ensures cleansing pores from deep within before shrinking them.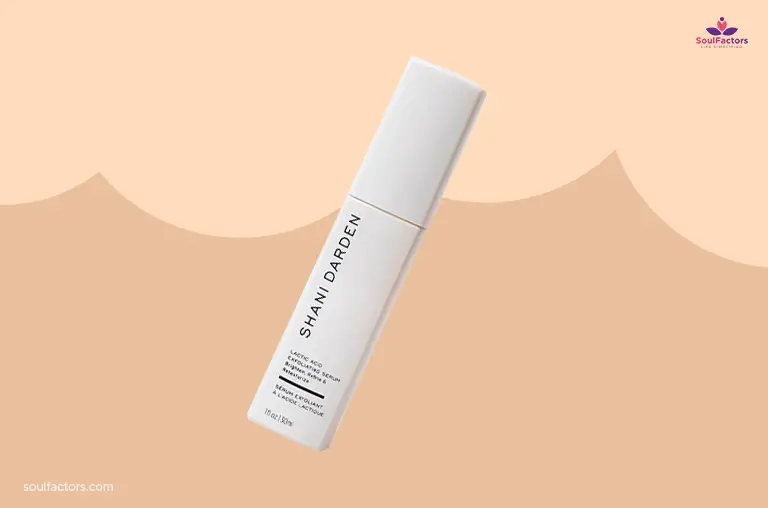 price-$88
You'll notice tightened pores and firmer skin within weeks of consistent use. Add this to your shopping cart if you're a first-time user.
Lactic Acid Treatment Teresa Tarmey
A serum for all skin types
Wouldn't it be great to have a lactic acid product that fit every skin type and has not a single instance of harshness? Well, Teresa Tarmey cracked the code to an all-inclusive serum that cares for every skin type by addressing the root cause of poor skin texture.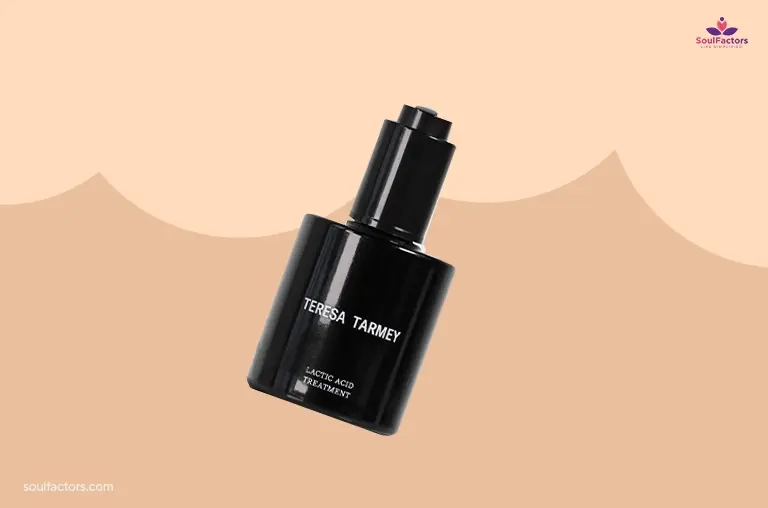 price-$38
This treatment will reach your skin layers deep and fix any unevenness that may make your face dull.
Sunday Riley Good Genes All-In-One Lactic Acid Treatment
Award-winning instant skin smoothing effect
Did anyone ask for skin congestion rescue? If you've been dealing with stubborn breakouts due to pollutants wreaking havoc on your delicate skin, this lactic acid serum is a dream worker!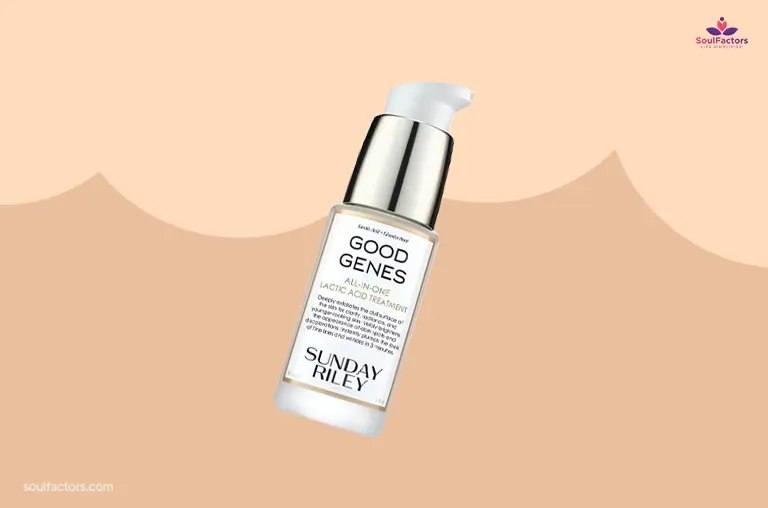 price-$43
Within just a few uses, you'll begin to see all the contaminants pulled away from your skin, revealing baby-smooth skin that feels as good as it looks. The trial pack is super affordable to get started with.
Peach & Lily Power Cocktail Lactic Acid Repair Serum
If you're looking for a product that helps reflect your inner youth and beauty outward, this serum works wonders. Enriched with 12 active extracts such as Panax ginseng and red algae, this 10% lactic acid serum effectively addresses all signs of skin aging.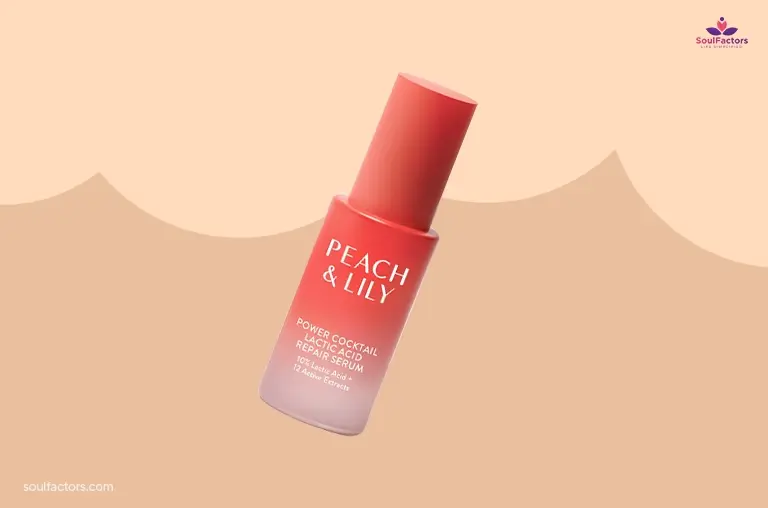 price-$51
Measurable Difference Lactic Acid Serum
The most affordable exfoliating solution
While this product is extremely pocket friendly, you'll be pleased to know that skincare does not have to break your bank account. With this power–packed serum, you can turn your skin into a plump and radiant version by drawing out unwanted impurities and pollutants.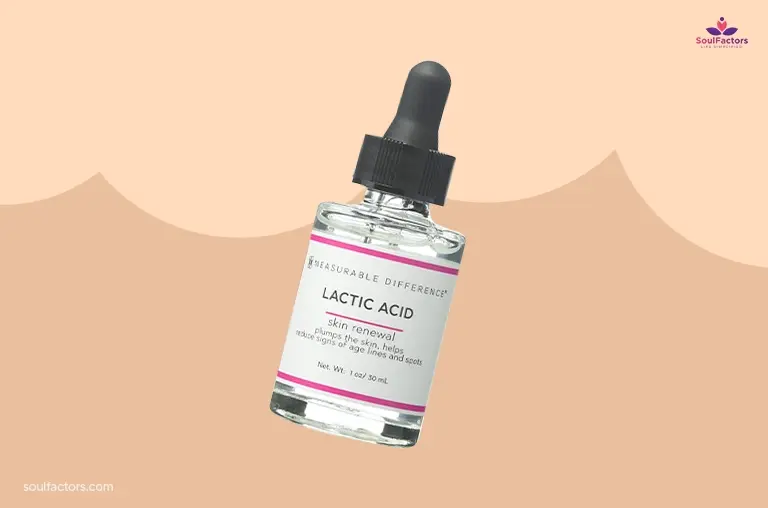 price-$9.99
Elastalift Anti-Aging Face Serum
Turns back the wheel of time.
While we all age, aging gracefully requires a little effort. Adding Elastalift's serum to your skincare routine can help you amp up your skin quality. There's no perfect age to get started, but using this product from your mid-twenties will give you younger-looking skin decades later.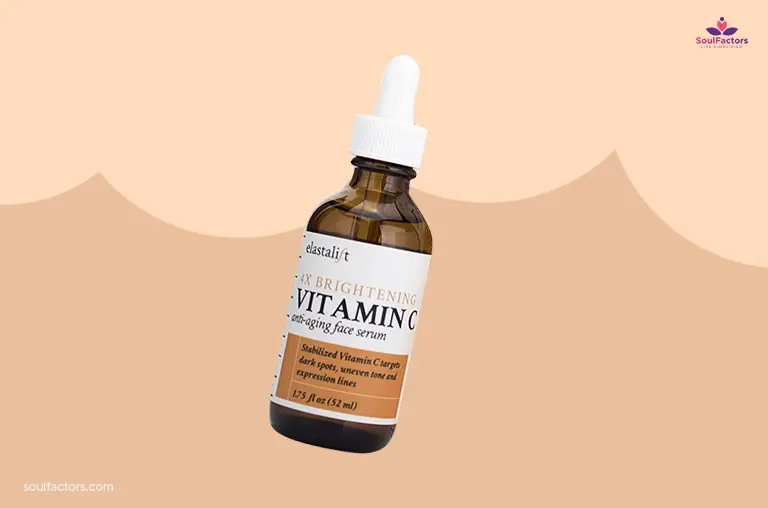 price-$12.99
Paula's Choice Advanced Smoothing Treatment
People's all-time preference.
Did anyone say overnight results? Paula's Choice is a reputed brand that's been around for years and has delivered spectacular products, and this one is no exception. Enriched with four AHAs including lactic acid, this lightweight serum dramatically smoothens your skin and reverses sun damage to give you a flawless dewy finish.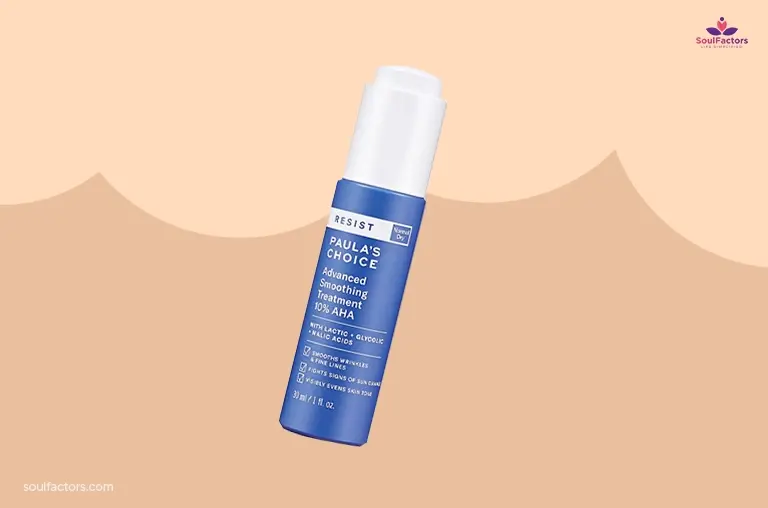 price-$39
Skincare routines today have several steps that need to be performed in order. These steps work based on the product, its consistency, and how it is absorbed by the skin. When it comes to lactic acid serum, it is essential that you understand how to use the product properly for the best effects.
Potential Side Effects Of AHA Serum
While it's great to read about the benefits of a product, consumers also need to be aware of the potential side effects to ensure they don't have a bad experience. For lactic acid serum, watch out for the following symptoms:
A purge phase where suppressed acne starts to surface due to the increased cell turnover rate. This may make your skin condition a little worse before it gets better. However, this phase does not last more than 2-4 weeks for extremely sensitive skin.
You may experience some mild tingling on your face after application.
There may be mild dryness due to the exfoliant properties of active ingredients. Try to use a hydrating moisturizer.
Mild photosensitivity may cause a slight redness.
FAQ
How to use lactic acid serum
Clean and towel dry your face. Use skin-type-appropriate toners. After skin absorption, take 2-3 drops of your preferred lactic acid serum. Apply the product gently. Serums should never be massaged. The epidermis absorbs them in seconds. Cover your face evenly and let it absorb for two minutes. Moisturize afterward. Lactic acid serums are photosensitive, so this step works best at night. Let it work overnight for supple, firm, and bright skin.
How often should you use a lactic acid serum?
Use lactic acid face serum at night. Consistency is key! Before applying to the face, first-time users must do a patch test. This serum stops jawline redness and itching. Assimilate new skincare products and active ingredients before using them daily. Use lactic acid serum once a week for two weeks, then twice, etc. Start with the mildest concentrate and increase as your skin adjusts. Check your skin before increasing lactic acid serum frequency and concentration.

How to avoid or minimize the side effects of lactic acid face serum?
Stop using the product if the purge lasts more than 4 weeks. After applying the serum, avoid sunlight because AHAs cause photosensitivity. Avoid such reactions with lactic acid serum. Apply SPF 50+ sunscreen during the day. Build up to using the serum daily. Start with twice-weekly applications and increase product concentration as your skin adjusts.
When should you stop using lactic acid face serum?
If the purge phase does not stop, or if you experience constant breakouts, stop using the product. Other reasons to cease using this or any serum cause a burning sensation, increased sensitivity to light and heat, and redness.
Conclusion
Achieving clear skin is possible when you understand your skin type and use the right products. When compared with stronger AHAs, lactic acid is the gentlest of all ingredients. When used correctly, you can gain several benefits like supple, bright, firm, and clear skin.
We hope our list of the 10 best lactic acid serum brands can help you achieve your glass skin goals. Stay tuned to the next editorial for more in-depth skin science!