Serum vs moisturizer is the ultimate debate all of the time let's find out an answer to this debate after all.
In today's world, choosing skincare that suits you is comparatively effortless, considering the plethora of products available in the market. The wave of online shopping and e-commerce has facilitated easy accessibility for customers across the globe to many skincare products. Moreover, most drugstores and department stores sell skincare products and tools within easy reach for consumers. However, there is a drawback to this because selecting skin care for your specific needs can be overwhelming and confusing. With innovative marketing tactics performed by several skincare companies today, it has become increasingly tough to distinguish between practical products and gimmicks or overhyped products that persuade the general consumer.
Serum Vs Moisturizer: Choosing The Right Skincare For You
Because of the various options available in the market, nearly 80% of women globally fail to choose the right serums and moisturizers for their skin type, according to a National Study conducted by CeraVe in 2017. For instance, if you have sensitive skin or allergies, finding solutions that meet your budget and treating problems like aging, dryness, and oiliness can be daunting. It might be difficult to determine which products will produce the advertised outcomes and claims made by that brand.
As a result, many women look to suggestions from friends, relatives, or online evaluations when making decisions. The same study, which examined the facial washing practices of 1,000 US individuals, found that many individuals need more knowledge of skin-cleansing techniques. Over half of the respondents admitted to using inappropriate products like hand soap, body wash, or even just water to cleanse their faces. Let's break the ice and tackle this topic together.
Serum Vs Moisturizer: What Is A Facial Serum?
You are not alone if you are clueless about a facial serum. Even if you are a skincare junkie, knowing what works for your skin type is not easy. You will be puzzled when you realize that serums are hydrating but still use a moisturizer. It is not a facial oil, but it still is oily. It can be watery but it's not a toner. So many doubts, not to mention the active ingredients that follow. Skincare should never stress you out. We researched it thoroughly and created a cheat code for you. So, what is a facial serum?
A formula with a lot of active components is called a face serum. One or more specific concerns may be the focus of a serum. A serum does not include as many components as a moisturizer or cleanser. Instead, it offers stronger active ingredients that penetrate the skin more effectively and profoundly. A concentrated mixture that gives your complexion the boost it needs to benefit your skin.
Serum Vs Moisturizer: Based On Research
According to board-certified dermatologist Dr. Joshua Zeichner, Director of Cosmetic and Clinical Research at Mount Sinai Hospital's Department of Dermatology, "Facial serums are cosmetics aimed to penetrate the skin at high concentrations of particular active components." He also adds that numerous different kinds of serums are available that serve various purposes that help in hydration to skin-lightening properties.
Serums are typically transparent, gel-based, or liquid and are less thick than moisturizers. To assist seal in moisture, they are often administered before moisturizers. Even the thickest creams can frequently be hydrated more effectively by a serum. While the heavier creams sit on the top layers of the skin, the serum molecules can penetrate the skin and hydrate it at the deepest level. According to famous aesthetician Karee Hays, moisturizing serums don't necessarily replace your moisturizer but can enhance its hydration properties.
Serum Vs Moisturizer: Types Of Facial Serums
Anti-Aging Serum
Whether it's oily dry sensitive skin when it comes to the conclusion of Serum vs moisturizer anti-aging serums are essential. Anti-aging serums are products that help turn back the hands of time. These serums slow down the aging process and help with visible signs of aging with essential anti-aging ingredients to combat fine lines and wrinkles," explains Dr. Debra Jaliman, a board-certified dermatologist in New York City and author of the book Skin Rules. Retinol, caffeine, green tea, and proteoglycans(1) are some common and effective ways you can cooperate in your skincare routine.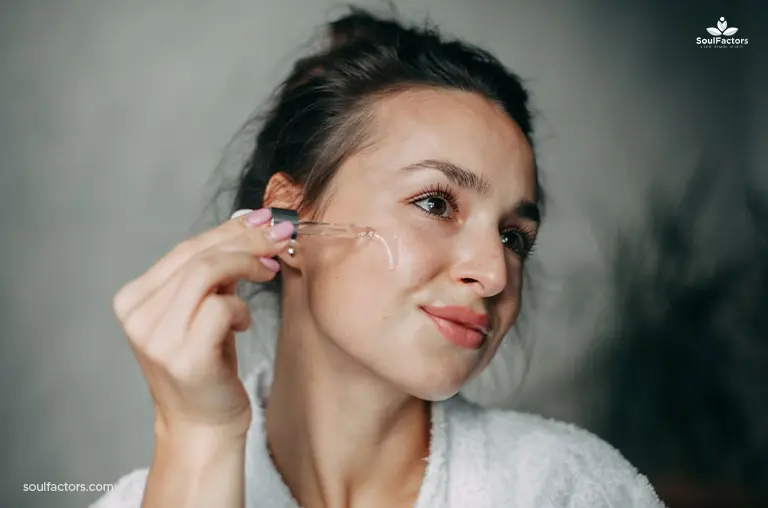 Serum vs moisturizer which is suitable for women during the age of 20. You will be shocked to know that women start aging at 20. So, get your hands on anti-aging serums today even if you have just hit your early twenties. Most of these serums are safe for all skin types, but it's advisable to do a patch test first. Moreover, retinol is considered the OG in the skincare industry. However, it's advisable to start using retinol with 0.25% concentration and then slowly build your tolerance to it. Higher concentrations of retinol in beginners can cause dry skin, scaly patches, redness, or permanent hyperpigmentation in darker skin tones.
Some common aging signs are:
Fine lines, crow's feet, and wrinkles
Blotchiness and age spots
Uneven skin tone
Sagging skin
Thinning skin
Dull, dry skin
Rough skin texture
Visible pores
Serum Vs Moisturizer: Antioxidant Serums
Antioxidant serums help protect your skin from the free radicals you're exposed to daily. They also aid in preventing fine lines and other visible signs of aging and can heal and repair skin. Free radicals are unstable molecules that can damage your cells and cause premature aging. Effective antioxidant serums should have vitamins A, C, and E, niacinamide, or L-ascorbic acid in them.
These actives are generally safe for all skin types. Since free radicals constantly threaten us, antioxidant serums are excellent for all skin types. Just look at the ingredients to ensure a serum doesn't include any potentially irritating ingredients for your skin type first. Fragrances, dyes, sulfates, and sometimes citrus or mint can irritate.
Serum Vs Moisturizer: Hydrating Serum
As its name suggests, hydrating serums help infuse your skin with extra moisture. Those with dry skin are ideal individuals for a hydrating serum, but oddly enough, oily skin types (and even acne-prone skin) can also benefit from such serums. Hyaluronic acid and peptides are the best ingredients for teens and adults to hydrate skin from within.
Serum Vs Moisturizer: What Is A Moisturizer?
A moisturizer is a topical product that is designed to hydrate the skin by increasing its water content. It doesn't matter if you have oily or combination skin. A good moisturizer is everyone's best friend. You wonder why? Because it retains water and locks in moisture in the skin. It should be your number one priority since they prevent various skin problems such as dryness, flakiness, and inflammation.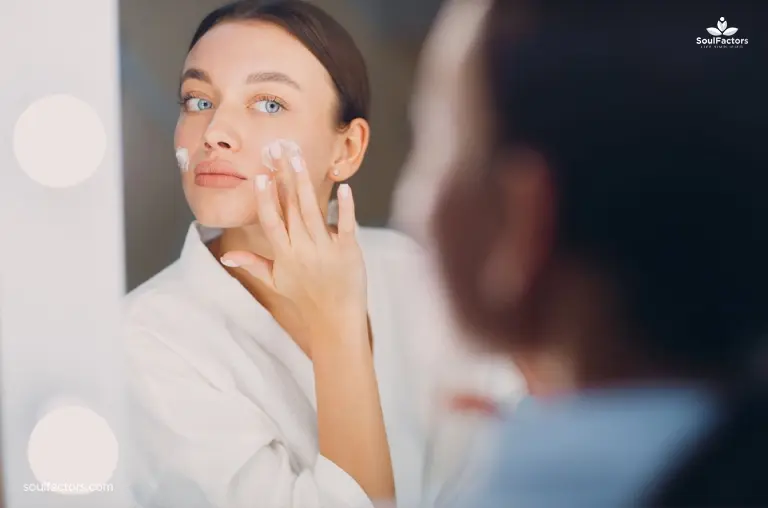 The skin produces oils to help keep it moisturized, but external factors like harsh weather conditions, extreme cold or hot showers, and bar soaps can strip the skin and natural oils that cause dry skin. This is where moisturizers will be your superhero. They aid in providing hydrating skin and its natural oil also called sebum.
Tips For Choosing The Right Moisturizer For Your Skin
Serum vs moisturizer let's talk about moisturizer and tips for choosing the best one for you.
There are major types of moisturizers that could save your skin.
Humectants: Humectant acts like a magnet to attract water to the skin. It further aids in locking in moisture. Examples of such humectants are glycerine, hyaluronic acid, and urea.
Emollients: Emollients are excellent ingredients that fill pores and skin cells to smoothen the skin's appearance. It can eliminate rough patches caused due to lack of hydration. Examples of emollients include ceramides, dimethicone, and shea butter.
Occlusives: These ingredients create a barrier on the skin to help in water retention. Examples of occlusives include petrolatum jelly, mineral oil, and beeswax.
The right way to use moisturizers on your face after you have properly cleansed or double cleansed. Some women also incorporate toning their skin before moisturizing. But it's completely optional if you use the right serums, moisturizers and protect your skin from the sun. Moisturizers can be used independently or paired with other skin care products to enhance their benefits.
Picking a proper moisturizer for your skin type is everything and the wrong ones can ruin your entire routine! Because certain skincare products can lead to breakouts, infection, or open pores, etc. Consult a dermatologist or skincare expert to know your skin type and what works for you the best. Next time don't be confused about Serum vs moisturizer.
Serum Vs Moisturizer
An undeniable reality is we all need to take care of our skin to remain and appear healthy. Moisturizers' primary function is to increase and retain the body's natural moisture so that the skin is kept soft and supple. It also increases and maintains skin hydration, even though they frequently contain ingredients to address issues like aging or sun damage.
On the contrary, serums are designed to profoundly infiltrate the skin and treat or even reverse the cellular reasons for aging and skin damage. The number of antioxidants, vitamins, and nutrients in serums is likely to be higher. These ingredients help to rebuild the structure of skin cells, enhancing skin brightness, smoothness, and suppleness. A big difference between serums and moisturizers is what serums don't include.
Serums leave out the 'sealing' ingredients such as petrolatum and mineral oils that moisturizers often use to keep water from evaporating from the skin. Serums also contain fewer fillers, thickeners, and lubricating agents. The second important difference is that serums work more effectively on your skin for two reasons. Firstly, because serums have smaller particles, they penetrate the skin on a deeper cellular level.
Also, serums don't contain the thick airtight 'sealing' particles in moisturizers and can work more effectively. The beauty of a serum is that it has a high concentration of active chemicals and penetrates deeper than a moisturizer, which allows it to give essential nutrients and hydration to the skin's deepest layers which moisturizers are unable to reach.
How To Layer Serums And Moisturizers?
Serum vs moisturizer both is essential for different skin. ever wonder what they both can do? let's find out how to layer them correctly.
After tons of research, you got your hands on a soothing toner, potent serum, hydrating moisturizer, light sunscreen, and a miraculous cure for your acne and blemishes. But how on earth will you layer these products? Is the order important? If you do it out of sequence, you risk lowering the efficacy of your skincare products. Applications of these goodies should start from the lightest to heaviest is the rule you should live by. Cleansers, toners, serums, moisturizers, and SPF make up the standard product hierarchy.
Step 1- Cleansers
Keeping aside the serum vs moisturizer debate before that cleaning your skin is the first thing you concentrate on. Cleansers should be the first step in your skincare routine. They smooth your pores and skin by removing impurities and dead skin cells.
Good cleansers also provide hydration and suppleness to your skin. They may be creamy, milky, gel-like, or watery. You should use a cleanser that is gentle on your skin. It should not strip your skin or natural oils. Fragrance, alcohol, and sodium lauryl sulfate (SLS) are accountable for irritating your pores, so pick your cleanser carefully.
Step 2- Toner
Serum vs moisturizer what's the role of toner here? If you are a dry skin or acne skin girl, apply toner with a cotton pad or a mist after cleaning your face. Toners are preparing your skin for the next steps in your skincare.
They help to restore the skin's pH balance and remove any traces of dirt, makeup, or oil that your cleanser may have missed. But not only that but other products in your skincare routine will also absorb better in skin treated with toner.
Step 3- Serum
Now coming to the exact serum vs moisturizer part, After using a toner, it's time to apply your serum. A serum is a concentrated formula that contains active ingredients that target specific skin concerns. For example, there are serums for wrinkles, fine lines, dark spots, and other complexion problems. There are also hydrating serums, brightening serums, and more.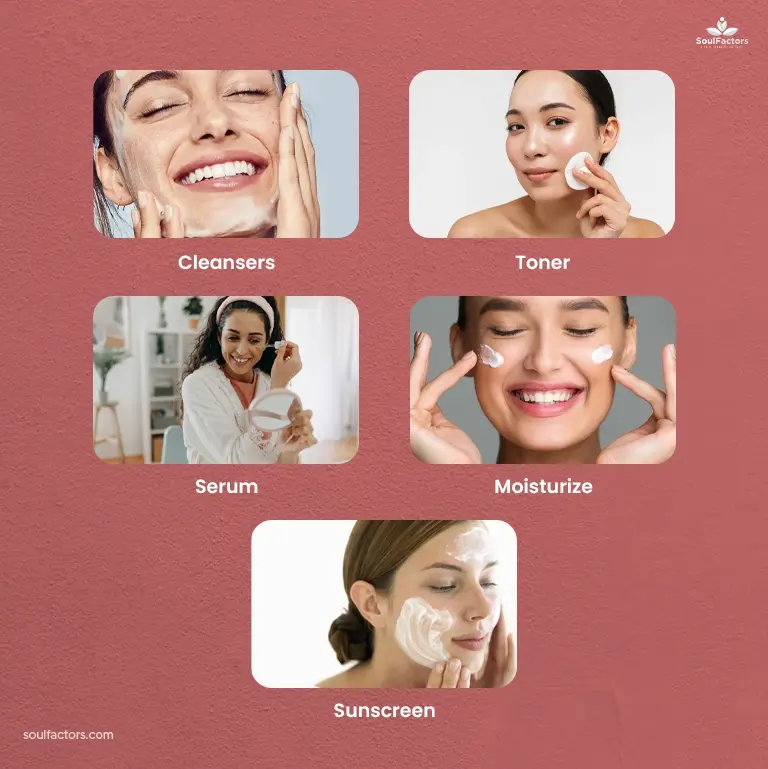 That's why you should know, not only your skin type but also your specific skin concerns. Since serums are thinner and lighter than moisturizers, they can deeply penetrate the skin if applied first. Second, serums are packed with potent, active ingredients that you'll want to apply directly to a clean face for maximum efficiency. And here's a quick brief on what serum suits your skin best.
Step 4- Moisturizer
After you have finished applying the serum, the main part of the serum vs moisturizer concern. Wait a minute or two for it to fully absorb in your skin. Moisturizing will lock in all the active ingredients that were present in the serums. Serums are potent and designed to target very specific skin concerns whereas moisturizers protect your skin barrier. A good moisturizer will hydrate your skin, protect your skin from environmental changes, and help your makeup glide smoothly.
Choose a moisturizing cream or probably go for an oil-free gel if you have oily skin that will prevent clogging your pores. For dry skin, opt for a thick, creamy moisturizer that will provide intense hydration. If you have sensitive skin, choose a hypoallergenic moisturizer that is gentle on your skin.
Step 5- Sunscreen
While we talk about serum vs moisturizer it's important to keep the important factor to keep in mind is never skip sunscreen. Sunscreen is the last step and definitely the most overlooked step by most women in their skincare routine. Dermatologists call this a holy grail! You must protect your skin with sunscreen, even if you're staying indoors.
SPF is key to saving your skin from the UV rays directly linked with premature aging, wrinkles, and even skin cancers. An ideal sunscreen should have at least SPF of at least 30 to 50 with a broad spectrum; protecting you from both UV and UVB rays. Apply sunscreen generously to exposed areas of skin and never forget to reapply every 2-3 hours for best results. Additionally, you can use a few extra dollops of sunscreens if you are swimming or working out.
Tips For Selecting The Right Serum For Your Skin
On the topic of serum vs moisturizer, we understand how to choose the right moisturizer and how to use them now let's dive into serums and how to choose the right serum for your skin type
If you have pigmented, dark spots or dull skin, or if you want to simply work on your fine lines- go for Vitamin C, L ascorbic acid, copper peptides, and caffeine-enriched serums.
For dehydrated skin, you should opt for hyaluronic acid. This serum helps prevent early signs of aging seen in the early twenties in women. They help in water retention and give your skin a supple glow immediately.
If you have clogged pores, glycolic acid(2) is your bestie. This is a form of AHA that helps people with oily or acne-prone skin. Glycolic acid will prevent breakouts caused by environmental or hormonal changes.
If you want to target pigmentation, fine lines, wrinkles, dark spots, acne scars, and even skin tone- retinol is your one-stop solution! It's very potent and cannot use during pregnancy or while you are lactating. You must do a patch test before using retinol and always start with the lowest concentration like 0.25%. Retinol serums combined with squalene or niacinamide can further stabilize the serum and give you the best glow in a few months.
Frequently Asked Questions
1. Serum vs Moisturizer which is better?
It depends on your skin type and concerns. Vitamin C serum helps brighten and protect, while moisturizer hydrates.
2. What should I apply first, serum or moisturizer?
Apply serum first, then moisturizer to lock in the benefits of both products.
3. Should I use both serum and moisturizer?
Yes, it's recommended to use both serum and moisturizer for maximum benefits.
4. Which is the best serum or moisturizer?
You should use a gel-based moisturizer for oily or acne-prone skin and a glycerine-based one for dry skin.
5. Can I use a serum instead of a moisturizer?
For adequate hydration, both moisturizers and serums should be used.
6. What is better for oily skin serum vs moisturizer?
Oily skin can benefit from both serum and moisturizer but look for oil-free options to avoid greasiness.
Conclusion On Serum Vs Moisturizer
To conclude, both serums and moisturizers are important skincare items that aid in achieving smooth, glowing skin. But because most people are daunted by the options and find incorporating this into the routine challenging. As a result, serum may be used alone to moisturize the skin because it has sufficient moisturizing capabilities on its own.
While a moisturizer can assist you in adding a barrier that will lessen the penetration of potentially harmful environmental elements and lessen dryness, particularly caused due to colder weather. Consequently, depending on your skin type and condition, you can apply either one or both. Consult your dermatologist to learn more about your skin type and the best serums and moisturizers for you.