Summer to winter is a huge commute. A lot of things need to change for better comfort throughout the season. With the change in seasons, we see our wardrobes changing dramatically. We go from camisoles and shorts to wool coats and knee-length boots in no time. Don't we?
Swapping light ones for the thicker pairs, winter essentials take up the excess space in our wardrobes. Our clothes just get thicker and thicker with extra layers. But do we really need all of them?
With a few staple pieces and proper layering and go to the office in style and comfort. The key is to follow minimalism. With that your busy days are definitely going to get easier. To keep ourselves warm and be in style, here are a few winter wardrobe essentials for working women.
Winter Wardrobe Essentials For Working Women!
Before the start of the cold weather, preparing yourself by stocking every essential you need should be your major concern. I mean, how many of you have time to stand in front of the mirror, every morning, to pick your outfit from the crazy number of clothes you own? For a working woman, it's quite time-consuming to rifle through the wardrobe to settle on one outfit a day. While hustling to work, you don't want unnecessary items stored in your wardrobe to confuse you. Right?
So, what do you do? You should declutter your wardrobe.
To put it simply, pack away the sleeveless tops and shorts, and other summer items under your bed. Let your wardrobe be filled with only winter essentials.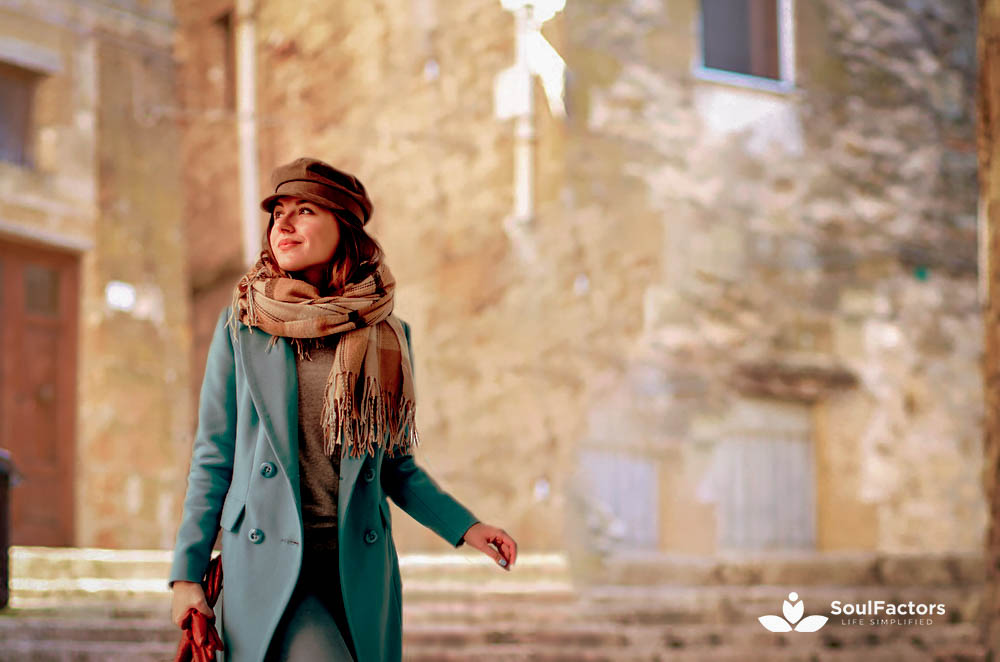 Ignoring the general never-ending list of winter essentials, partially because you don't actually need all of them, you should make a checklist for what you really need. And for a working woman, you obviously don't need heavy snow boots or bright-colored puffer coats to fill up your wardrobe.
The exact definition of wardrobe essentials varies from person to person, but all these are must-haves! I've come up with a few basic essentials every working woman needs for winter, to work in stylish and comfortable outfits. It is not exactly easy to choose an outfit for a relaxed day in the office with an afternoon client meeting. You need professional and versatile yet comfortable items for easier picks.
Read further down and this list could be your final checklist of winter wardrobe essentials(1) for working women. Let's kick things off by focusing on the little things.
The Coziest Beanie
Beanie is the ultimate savior of your hair! This knitted piece of functional item is soft and warm. Although headwear can keep your ears too warm by covering them.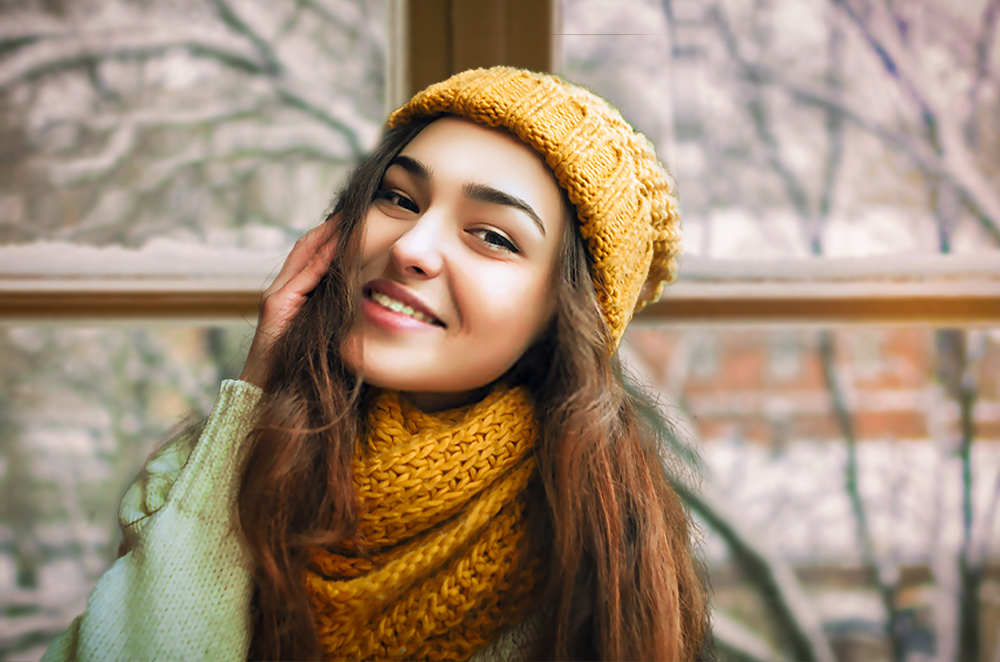 Leaving your hair down will be the best option to opt for with a beanie, giving you a cool-girl look. You can style it with your casual work outfit and take it off once you are inside.
Gloves
Having cold hands is not fun. You need to keep your hands warm from the breezy air. Hence, the gloves! While wearing them might be inconvenient at times, wearing them provides you with all kinds of benefits.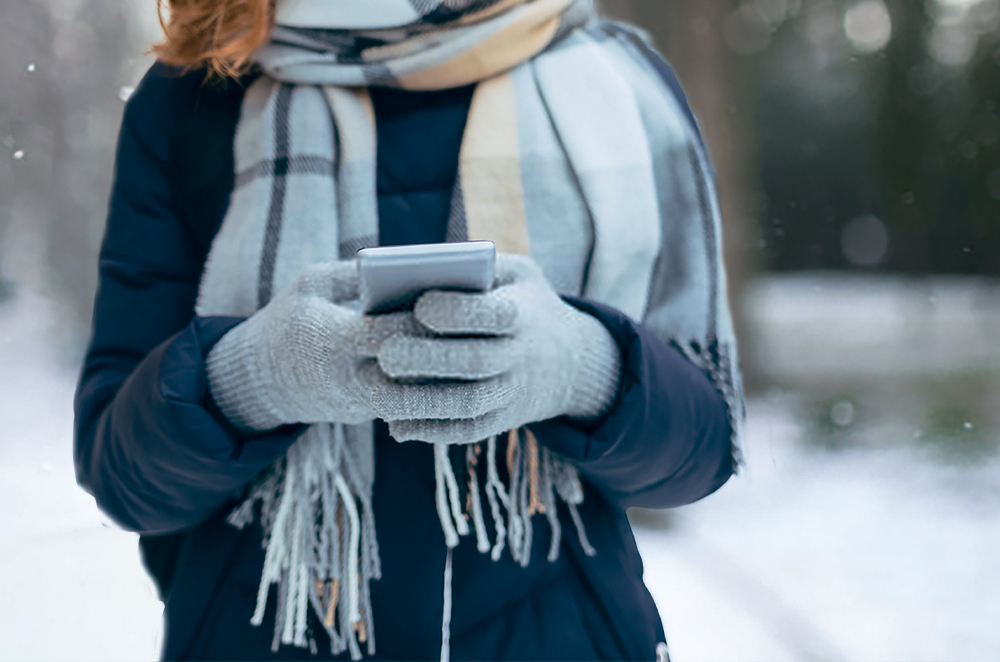 Cover your hands with waterproof gloves to prevent your delicate fingers from the rain and snow. This is as important as a coat for those in places where snow comes and stays.
Cozy Scarf
You need to create a pocket of warm air around you. Find the coziest scarves and get bundled up for the winter wind.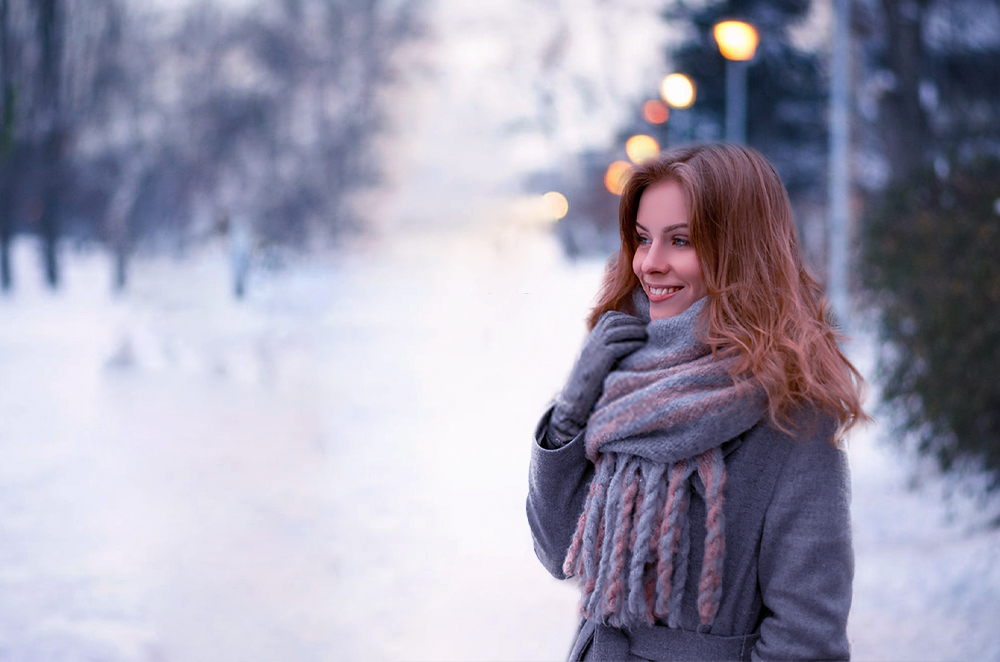 You might often leave just your neck out in the open while the rest of your body is securely covered. But a scarf can protect your neck with ease and comfort. It can most certainly go with any outfit while bringing you warmth.
Long Underwear
In winter, long underwear can be a lifesaver. Also known as long johns and thermal underwear, many people in cold countries wear these under their clothes.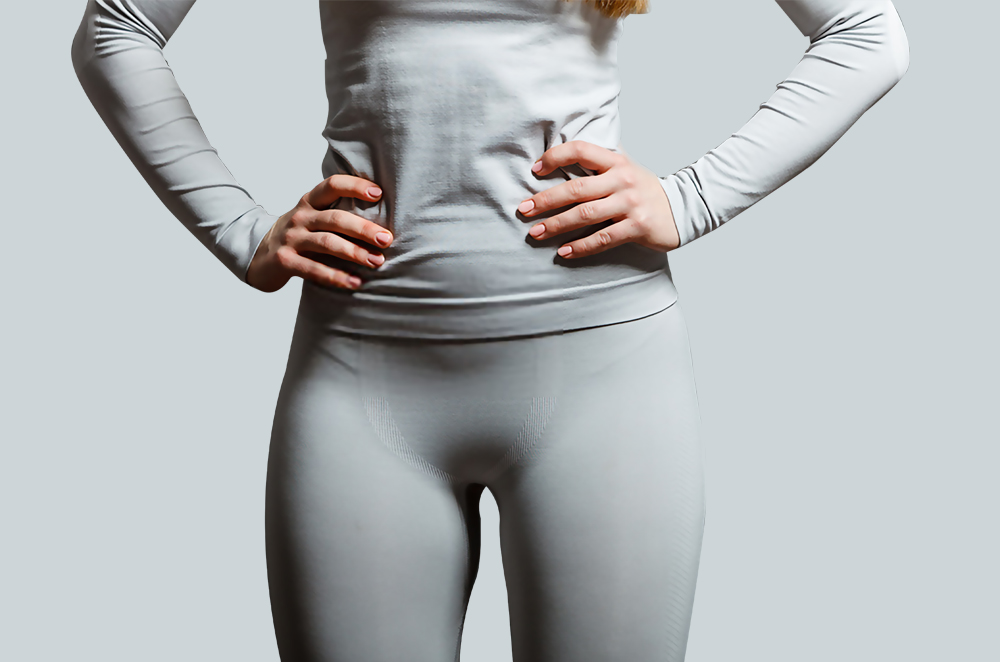 Mostly worn for another layer of warmth, this underwear can use trapped body heat to insulate against cold air. Go with long johns if you are wondering what to wear beneath unlined suit pants as it is a great choice of underpants.
Tights That Stretch
Tights are truly a must-have for work. Besides them providing warmth, durability, opacity, and more, they are the ultimate solution to your winter wardrobe essentials quest. Make sure you buy tights of good quality because you cannot risk having them rip in the middle of a client meeting.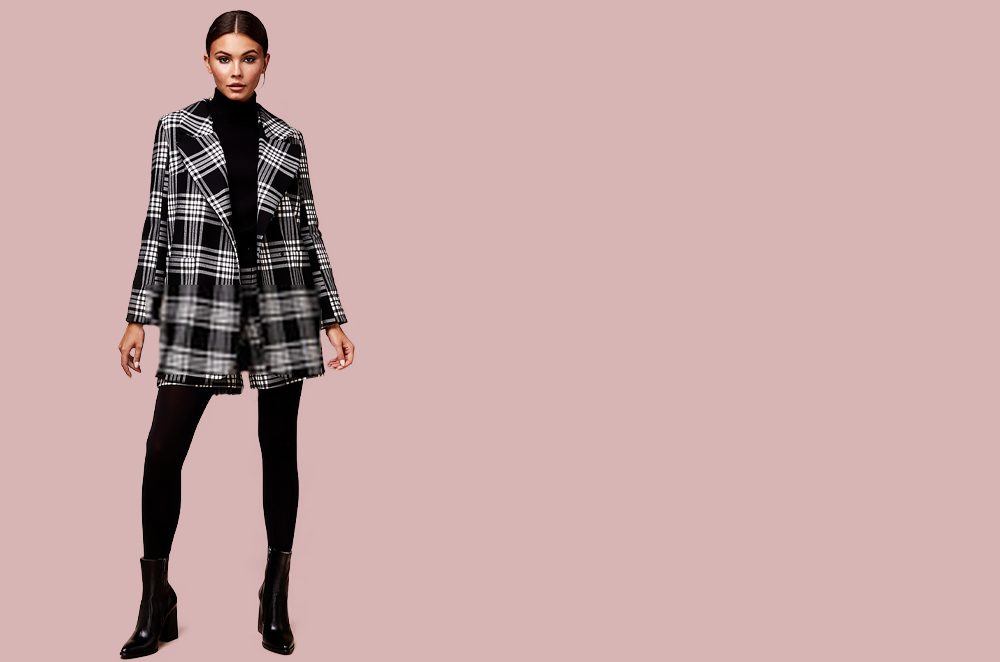 Pick thick and smooth tights which can do the double-duty of a shape-wear as well. Although they come in different colors, black or nude-colored tights would benefit you for your workwear. You can wear them under your pencil skirt in the winter for warmth without losing the professional look. What more could you ask for?
Tote-Bag, An Easy Carryall
You need a bag that is light and easy to carry around but spacious enough to keep all of your essentials. The tote bag; is a professional, organized bag to safeguard your ID and whatnot along with your laptop [may be].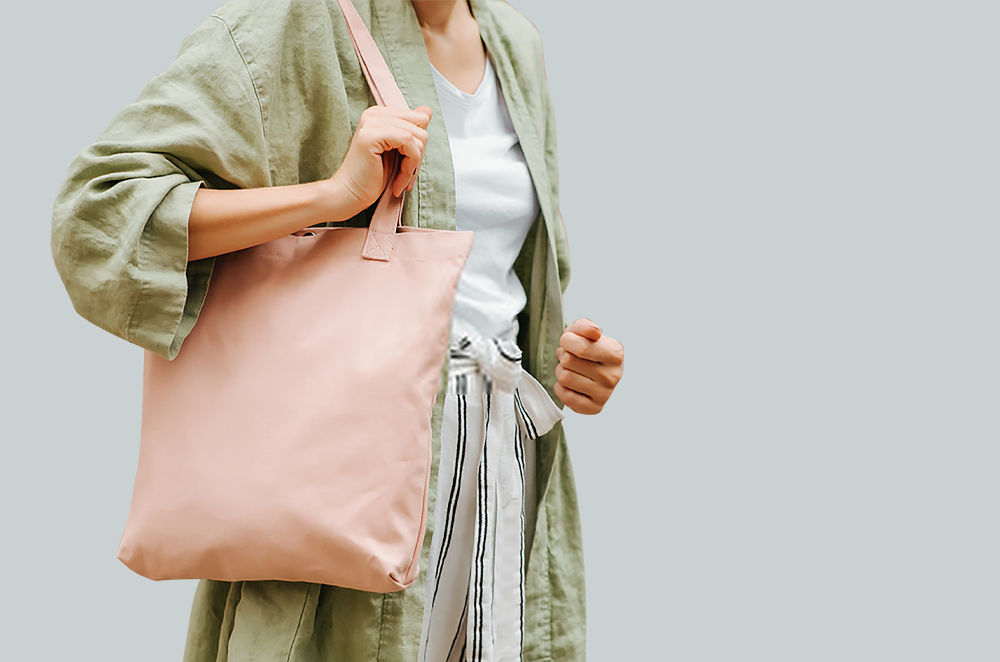 You can put anything and everything in it while running to and from work. An easy carryall for the rescue! Another relief is you don't have to give much thought about it getting wet after rain as they are durable. Consider a neutral color for work though.
Classic Coat
Nobody is going to wear a blazer every day to work. Thus, having a classic overcoat is essential. It can take you anywhere- from the workplace to grocery stores.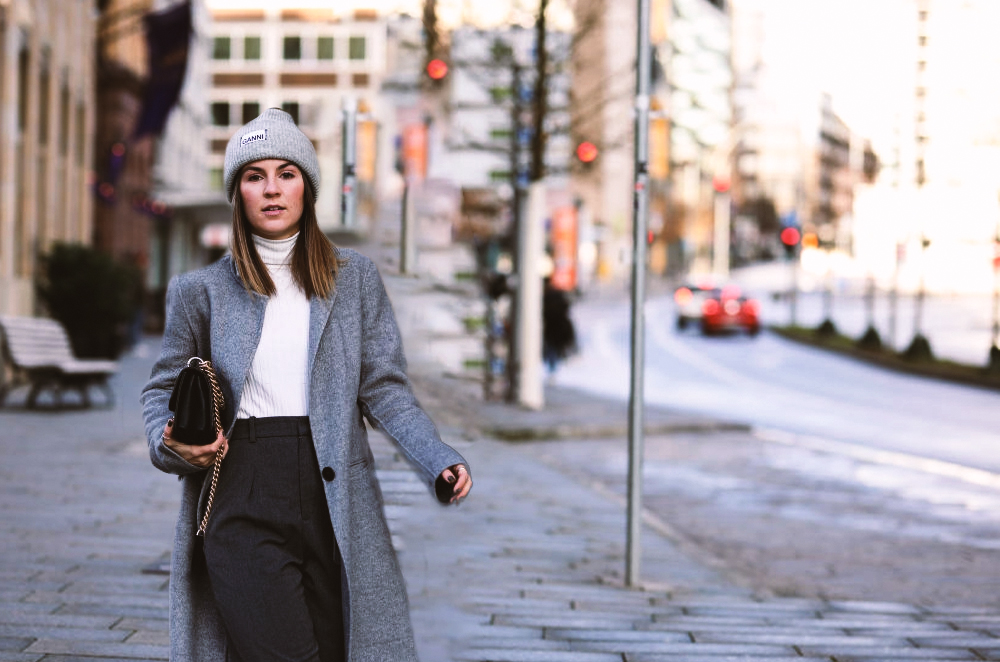 This is often the first thing people notice about you. A must-have for warmth as well as style for those living in cold places.
Cardigans
Cardigans are a necessity in an overactive air conditioning office. Even if it doesn't fit into modern looks, you can always wear this during a hustle day to keep you warm. Cashmere cardigans have a new urban look though.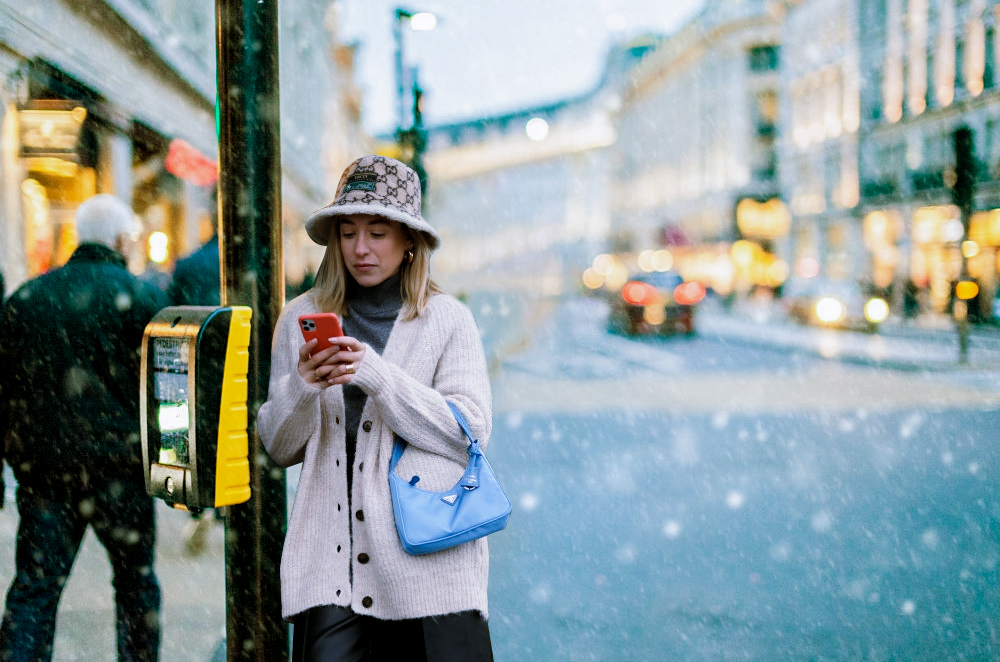 Cardigans are designed to provide warmth while still appearing refined, worn over shirts or button-downs, or shift dresses. If you have ever heard women talk about "desk sweaters" they usually mean the cardigans they take with them. It is a simple yet important women's winter wardrobe essential you shouldn't miss out on.
Blazers
What is the first thing you buy for work during the winter? You guessed right; a blazer!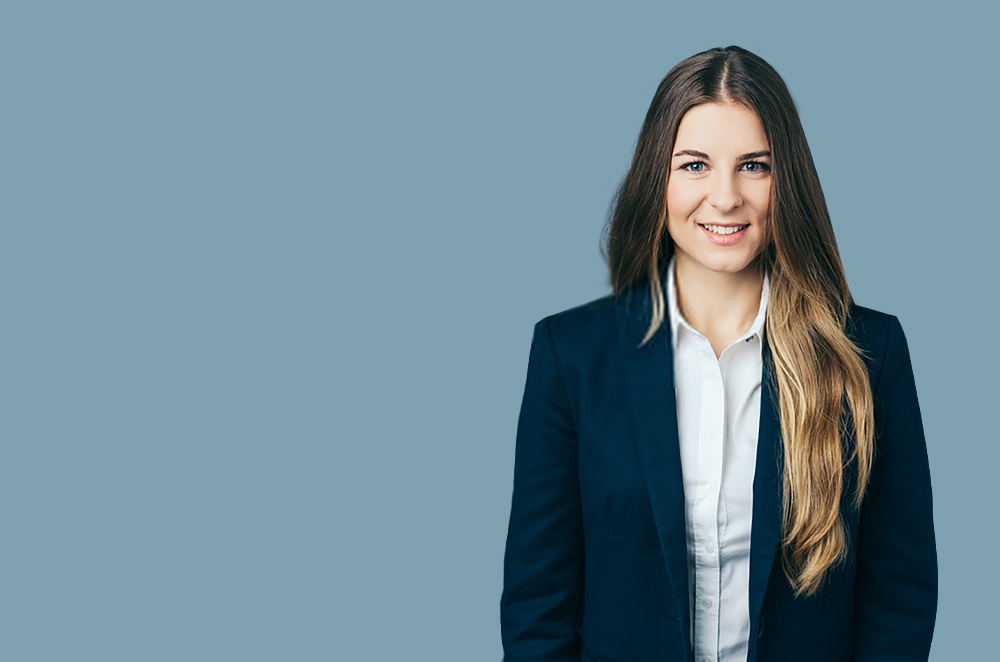 A well-tailored blazer is one of the winter wardrobe essentials for working women. It can effortlessly give the most unexpected office outfits an appropriate finish. Apart from keeping you warm in the snow falling, blazers can keep your looks on point as well.
Minimalistic Leather Jackets
Have you heard that leather jackets are the new blazers?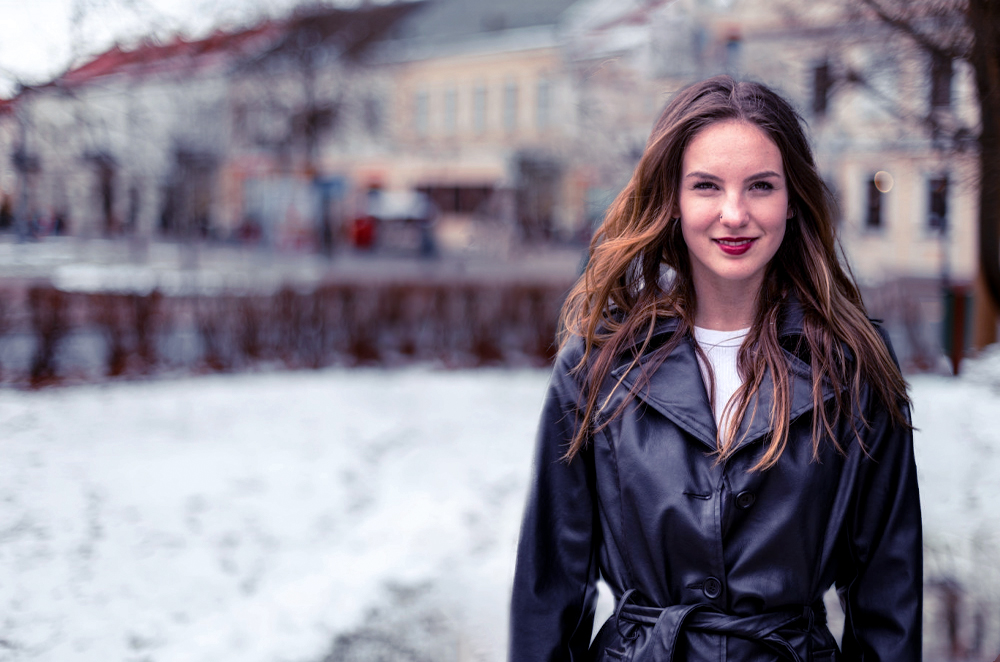 This is a little edgier choice for a formal outfit. But if you work in a laid-back and relaxed place, you can sass your way in this sophisticated piece of a jacket. It is smooth and comfortable to wear and has never gone out of style. It can keep you warm in the cold weather the winter brings. If you pick a black, minimalistic leather jacket, even better! You can up your formal style when you go for a public talk in a white tee and skinny jeans with this remarkable jacket.
"Put your white tee to work. It anchors statement pieces like printed shorts, colored denim, and layers perfectly under sweaters."

— Stylist Anne R.
Sheath Dress
What is a checklist without this timeless piece? A must-own for the conservative office which practically serves as a touchstone for any wardrobe. Sheath dresses are an entire outfit in one easy zip, aren't they? Completely stunning on its own!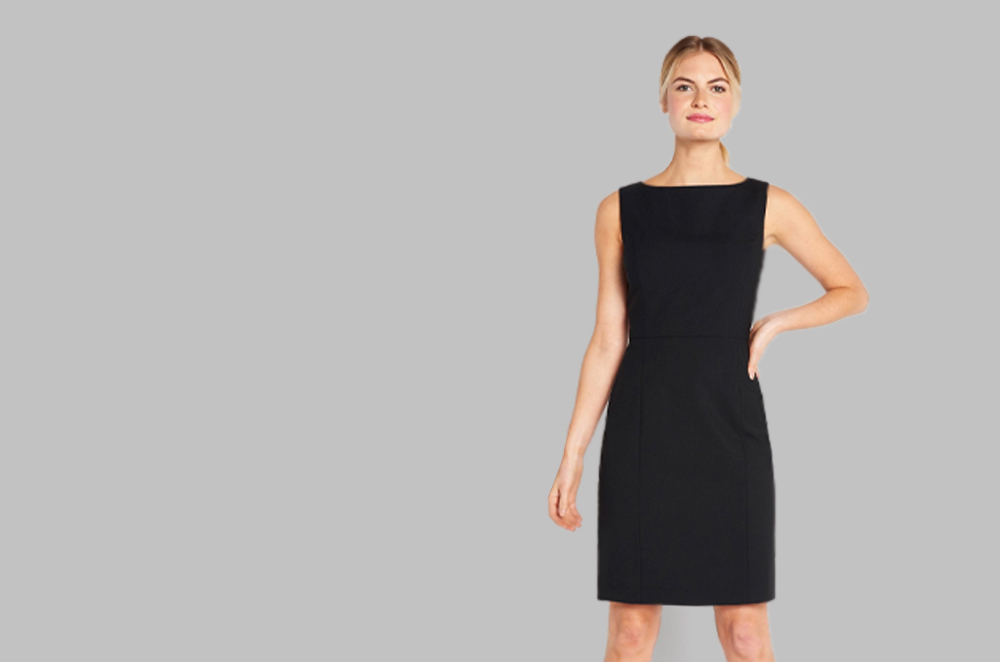 Choose a simple silhouette to get the most wear out of your LBD [Little Black Dress], with lightweight wool or silk fabrics. Don't forget about the neutral-colored picks either. You can dress up in this well-structured and tailored dress. With a blazer on top or tights beneath it completing the look, this can make you look professional and stylish.
Who doesn't want elegance and sophistication wrapped around you?
Button-Downs
A magical garment everyone should own for all seasons!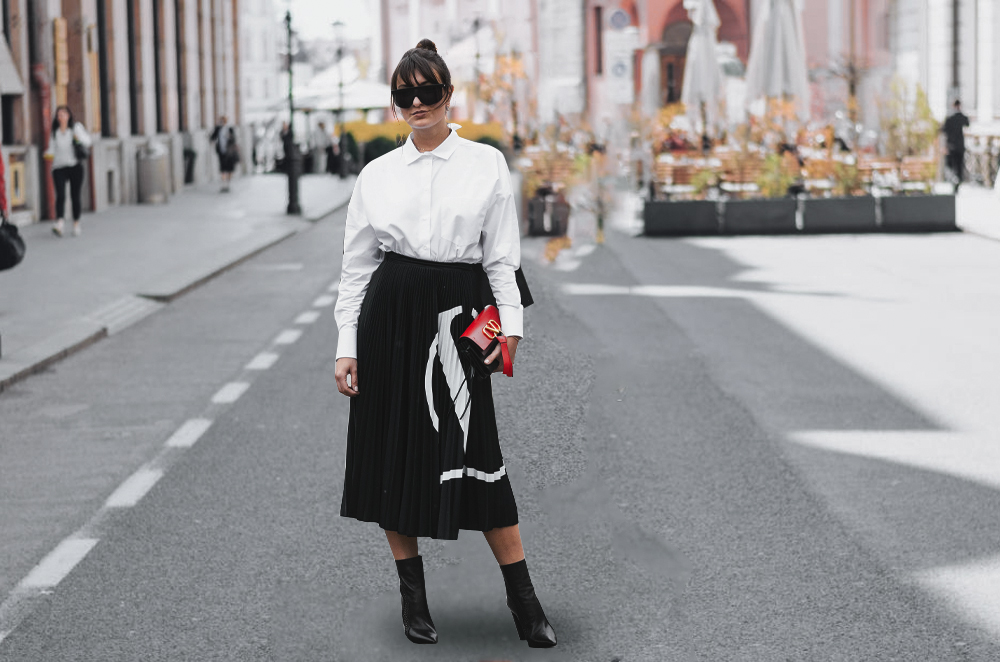 Probably timeless for a lifetime, button-downs are the everyday wear for any working woman. In any season I must say. Maybe not much in the hot days of summer. A great companion for any bottom wear throughout the week. They can be mixed and matched with the rest of your essentials for a formal look. You can choose any color without it being too casual. They are the foundation of effortless style and your wardrobe's pinch hitter. I'd say button-downs are more reliable in the winter than blouses.
"Take your button-up up a notch by choosing one in a luxe material like viscose, Tencel, or silk."

— Stylist Jennifer M.
Pencil Skirts
A knee-length skirt is your reliable wardrobe essential. Do you know why?
It is versatile enough to be casual, work-friendly, and appropriate for formal wear(2). That's a win, win, win!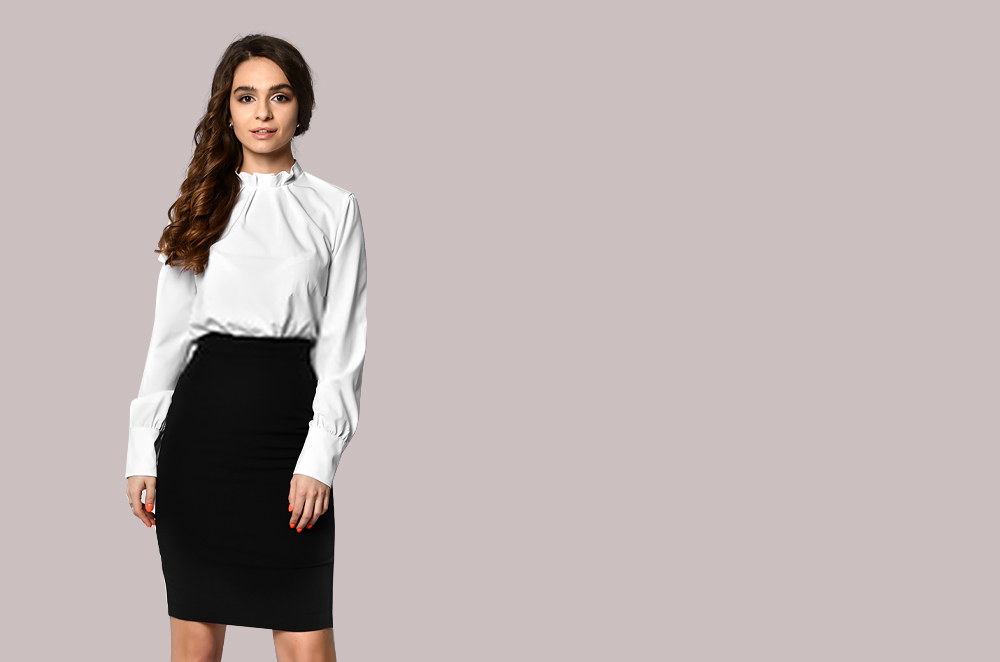 Storing a pencil skirt in your wardrobe is a relief. You can hurry to an important meeting in it without having to think twice before wearing it. Because it is the ideal choice for any formal event. For a more polished look, you can tuck your shirt into the skirt. I recommend stocking neutral-colored skirts for work. You can pair it with everything from button-down blouses to blazers or cardigan looks. You can wear tights beneath it to be warmer.
Wide-Leg Pants
By tucking a tee or flowy blouse into high-waisted wide-leg pants, you can ace your style in formal wear. A must-have silhouette in winter wardrobe essentials for working women.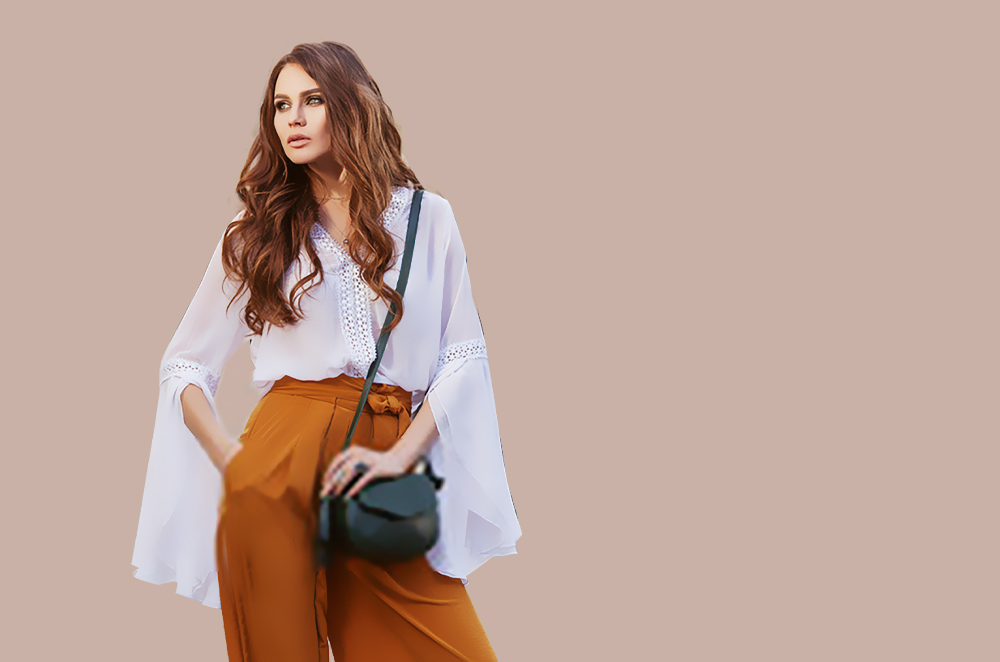 It is certainly "the style" to own the cold season! These polished trousers that are incredibly comfortable, all day long, are best suited to winter months for work. You have a ton of different options for pants, nothing can go wrong with them. You can even layer anything warm underneath it as it is a loose fit. An office-appropriate, high-rise pants that are the "comfortable magic pants" everyone happens to love!
Jeans Are Perfect For Winters
A go-to denim can take your outfit a long way. Nothing can beat this flattering pair of skinnies which is a multi-purpose purchase for sure! No wardrobe is complete without your favorite pair of jeans. You can never go wrong with your straight-leg jeans or skinny jeans.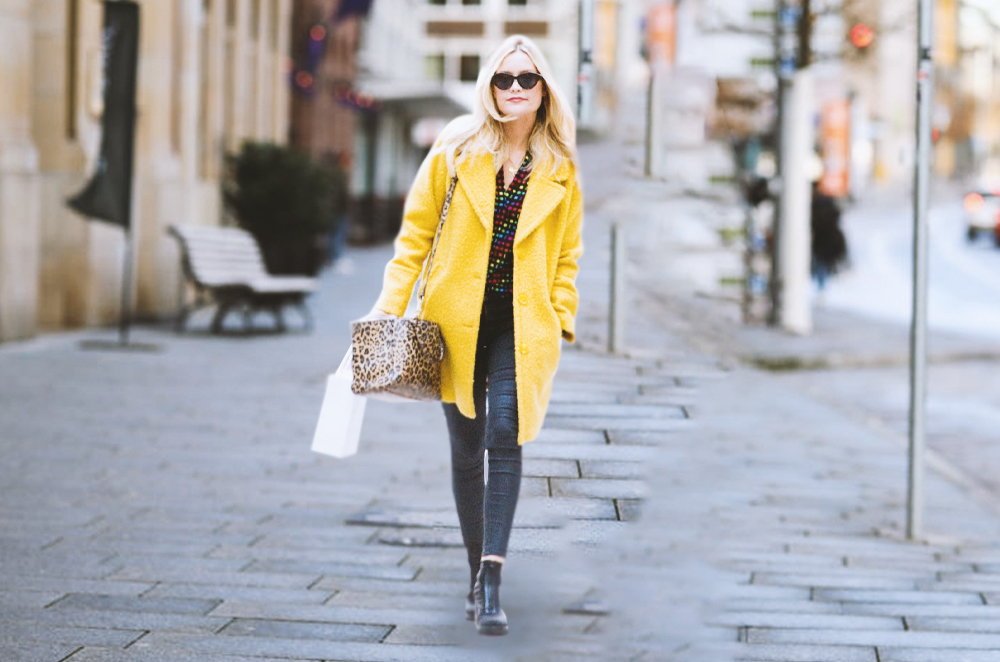 This will look great with boots, especially those knee-length boots. You can wear any shirt or top with this versatile skinny for your work. An everyday pair that won't go wrong even for a formal meeting.
Suits
Nothing can beat a classic, well-tailored suit, that gives an oomph to your professional look. Suitable for any formal occasion, suits go way back.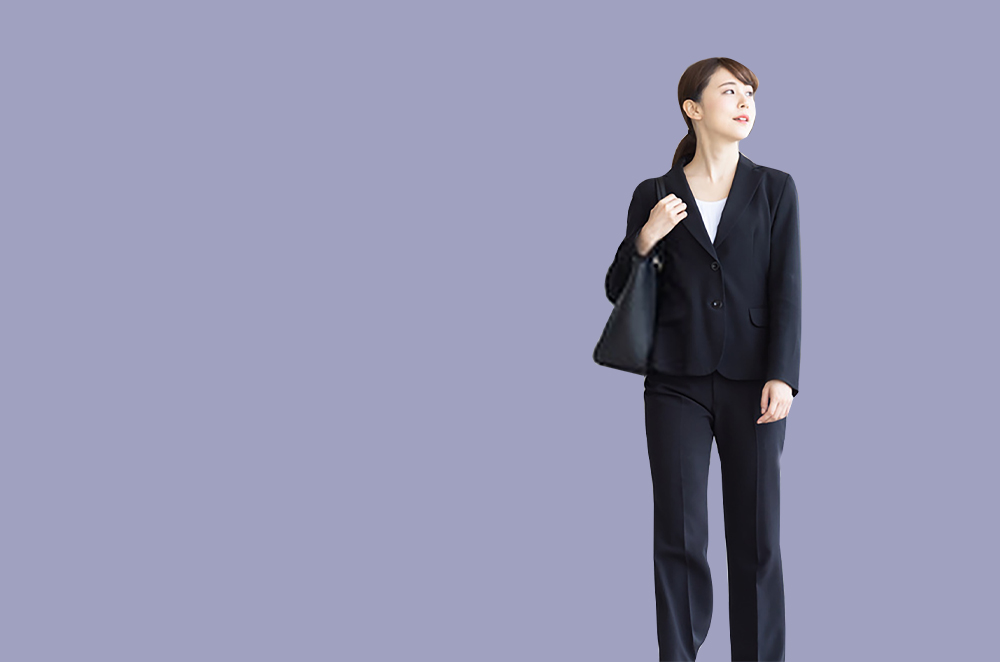 Choose a warm suit with a material that drapes well and doesn't wrinkle to keep you warm on the coldest days of the year. Another foundation piece in your checklist of winter wardrobe essentials for working women.
"Pointed-toe styles are pure magic when it comes to making your legs look longer (and leaner)."

— Stylist Nanda G.
Warm Ankle Boots
Get warm boots with enough heels to get you over melting snow puddles. Pairing with a little black dress, boots can elevate your sleek style while keeping you cozy.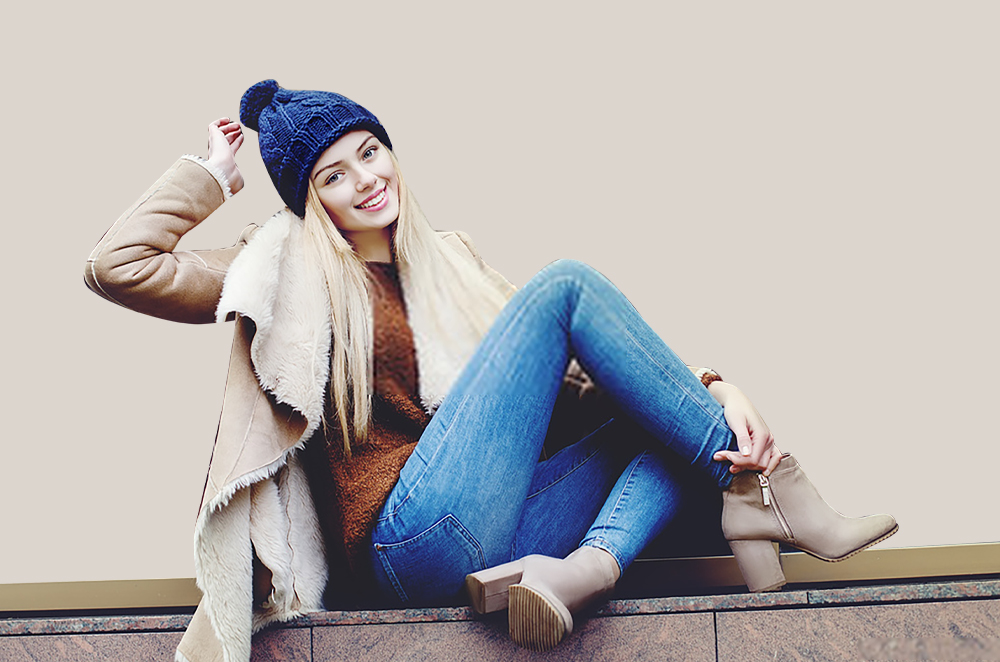 Wear them with a pair of boot socks for extra warmth. Highly versatile, it looks great with skinny jeans or tights too. A slip-proof is the ideal choice, especially if you are living in a place where the rain gets heavy in the winter.
Closed-Toe Style Pumps
Look for a closed-toe style pump if you don't want to get your toes accidentally wet from the snow. Work with slippery pumps in this weather? You'd rather not. Besides, it is highly professional and fashionable.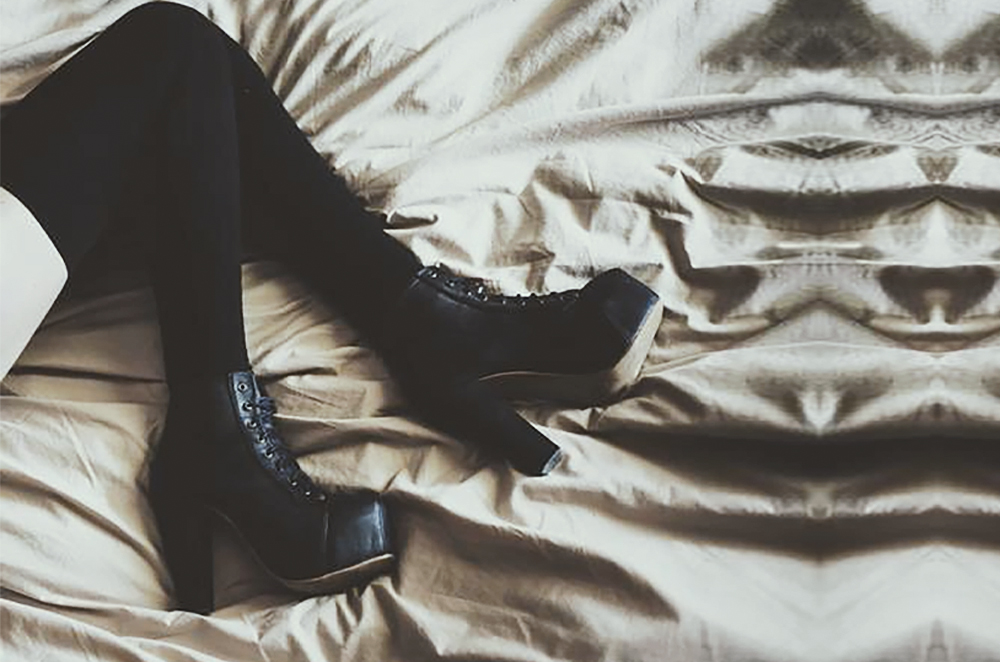 You can wear it with both your suit and knee-length skirt while protecting your toes from freezing temps. You don't have to worry about going for dinner in pumps as it is a mixture of casual and formal. Pumps are a real win-win!
"Don't be afraid to invest in these. A great pair will stay in your closet for years and years."

— Stylist Jennifer M.
In the winter, layers are your best friend. And layering is the only key to staying warm on the coldest days of the year.
Dressing up for winter is fun because you get to be in a cozy style and cool choices that your summer days won't allow for. Even your everyday look of workwear changes a bit drastically. Stock up your winter wardrobe with all of these essentials to keep you warm throughout the days of cold air. Many well-made products in the market bridge the gap between professional and streetwear.