As a guy, do you buy hair ties for guys in bulk from any random drugstore to keep your hair out of your face? If you do that, I swear it's a bad mistake. Though you may do that to avoid awkwardly standing in women's hair care aisle each time, it's still not the way to go. Why you may ask.
Because a hair tie does affect the health of your hair. So, if you are a guy who has no clue whatsoever about this, here's a list of the best hair ties for boys from a girl's perspective. Keep scrolling!
Hair Ties for Guys to Lock the Strands in a Secure Hold!
Forget those good old low fade buzz cuts and beard styles, men are exploring many different hairstyles from dreadlocks to signature man buns. Now that even movie stars like Can Yaman and Jason Mamoa are rocking long hair man buns, guys are encouraged to start growing out their hair. Some men are spotted with their long "manly" hair riding and blowing in the wind. But you cannot always let your hair down.
If you are a guy with long hair, you would know how difficult it is to do daily chores with hair strands getting in the way. Whether you are working out, at work, on a date, or even "Netflix and chilling" while lounging on the couch, you need a man bun. For your hair to stay in place, you need to lock them in a secure hold with the best hair ties for guys. Why?
Carefully choosing the hair ties you lock your strands with is equally important as choosing a shampoo for your hair. Believe it or not, using a hair tie with lousy quality can break your hair, create dents and creases, and make you lose hair around the edges. Even cause headaches(1). You may have noticed it after locking your hair too long in a tight man bun.
Because some hair ties are too loose that your hair might start falling out of the pony in the middle of the day at work. Or they might be so tight that you can feel like the hair strands on the edges are going to break. Tight ponytails or man buns are worse than loose ones with over-stretched ties. At least loose man buns won't bring any further damage. So, you need a bunch of hair ties for guys to perfect a secure hold and easy release without hair loss nor facelift.
So many hair ties for men to choose from
For both men and women, you have plenty of choices for hair ties. Don't get shocked! Men's hairstyling has gone expansive in the last few years. So, hair ties for men demand more attention and screen time now. You have options of hair ties that match your outfit as well —black mixes, navies, and dark browns.
Hair ties for men tend to be less flashy with colors, fabrics, and styles that cover traditional male preferences. They are more functional, compared to women's hair ties. But both hair ties are suitable for different lengths of hair as well as different hairstyles. Both men with fine hair texture and natural hair texture can tie their long locks with these best hair ties for guys.
Are These Hair Ties for Men Tested?
Use one wrong hair tie, your hair starts to bring out the damages. One such issue you should consider is when your hair strands get stuck in the fibers of the tie. And when you pull it out, you pull out your hair. Which is not good, of course. The hair ties for guys listed below are tested for various factors. Let's see the testing criteria on which hair ties are normally evaluated.
Tug: Does it hurt to pull the hair tie from your lock?

Loose strands: After removing the hair tie after a long day at work, how much hair has fallen out of the hair tie?

Crease: Is there an indentation after you take out the hair tie?

Headache: After a few hours with the man bun, does it start to pain? Does it feel too tight? Does it pinch in tension spots?

Metal clasp: Does it have the old-school metal clasp model?

Durability: Did hair strands start to fall out of the man bun too soon? Can it hold your locks for long enough? Is it strong and durable for a reasonably long time?

Elasticity: Can the hair tie stretch? Does it lose elasticity and render useless? How long can it maintain its elasticity?

Versatility: Can you use it as a fashionable bracelet on your wrist when not tied in your locks? When you do, does it leave an indentation on your wrist or does it pinch or itch?
Best Hair Ties For Men From A Girl's Perspective
These are a few of the best hair ties for guys from a girl's perspective and they promise to cover your hair tie game. Without further ado, find ahead a list of the absolute best hair ties for guys to buy!
The Longhairs
Unlike the lousy quality hair ties you buy, The Longhairs hair ties are specifically designed for men with durable and tough materials. To not break or get stretched out, these are double stitched, making them long-lasting. If you don't lose them first!
Price: $12
When you remove the tie from your hair, they come off easily and painlessly without pulling at your hair strands. You can also keep extra hair ties on your wrist, just in case. The flat tie looks good on the wrist with a low profile and can even pass off as a bracelet. Because it comes in several different designs such as 80's style, plaid and flannel, tie-dye, skull and crossbones, camo, guitars, fishing lures, and more. You can either choose a solid black color or any of the other choices.
eBoot Large Stretch Hair Ties
These thick and large stretch hair ties without any elastic are favorites of many guys. Because it's made of spandex material, its stretching ability and elasticity are impressive. Unlike the ones that can barely stretch double in size, these stretch as much as you want without feeling any tightness, making it one of hte best hair ties for guys. So, no matter how thick your locks are, you can secure them in place with these ties.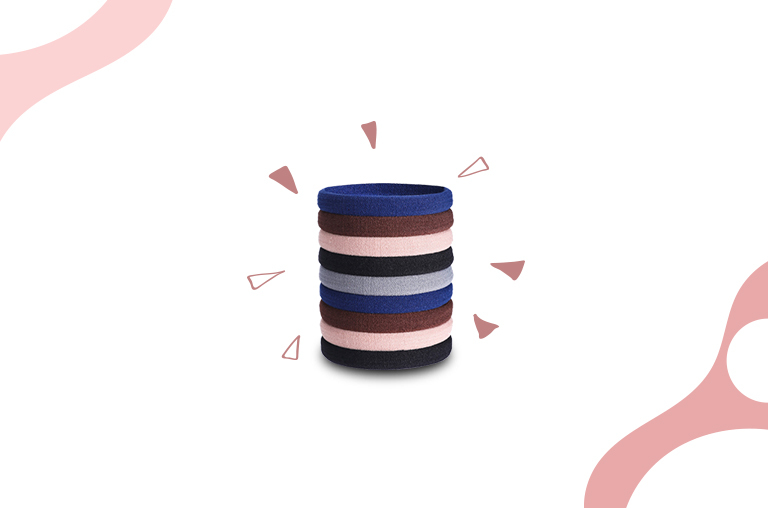 Price: $6.99
Another common issue these hair ties solve is the promise of not breaking prematurely. These are durable, strong, and tough without seams nor stitching. They don't have any weak spots that need to be mentioned. You can use these to pull any heavy or curly mop of hair into a strong ponytail or man bun.
Gimme No Break Hair Ties
Another one of unbreakable (as the brand says) hair ties that neither break hair nor the hair tie itself. Though these thick ties look similar to eBoot's ties, Gimme's ties feel more superior in quality. Made with soft and knit microfiber material, these hair ties for men are durable and suitable for guys with all hair types. The brand provides different styles in different sizes but here I have chosen the thickest ones.
Price: $12
Moreover, these hair ties are weight tested to hold over 70 pounds! I mean, though it does sound absurd, the brand shows just how strong these best hair ties for guys are. Furthermore, the brand claims the hair ties to be stretchy, but they can stay stretchy for longer than necessary.
Because they use spandex to make the ties, which makes them maintain their elasticity for months. Even with daily use. You may want to throw it and start using another one. They are also completely seamless which eradicates any possibility of faults or weak spots. You can choose any color from a wide range of colors that suit your style of the day —blue, grey, brown, and red.
Scunci Everyday and Active
If you go for a run every morning and want to tie your long hair out of your face, here's a good recommendation. Made entirely of a smooth rubbery material that the brand calls 'gel,' these hair ties are strong with an all-day-long grip. Pair their premium quality and standard design, they are cheaper than many other amazing hair ties for men.
Price: $13.99
The one quality any user of Scunci's hair ties will love is its long-lasting hold. Any runner, athlete, sports player, and gym rat can take advantage of these ties with extra grip. Their rubber texture prevents chunks of hair from falling out of your man bun. The texture also contributes to its strength.
Not even using them daily breaks them in half. More importantly, these are non-absorbent, which makes them ideal for sweaty activities. These water-proof ties don't hold water, oil, or hair products.
Kitsch Spiral Hair Ties
The plastic, telephone-cord coil ties claim to tie your back in a man bun without dents or creases, or hair damage. These kick-ass hair ties you might have used on your wrist during high school remain durable and promising hair ties.
Especially for men. Kitsch offers spiral hair ties made with durable thermoplastic polyurethane(2) for all hair types. But they aren't as grippy as rubber ties. You get eight hair ties in for just $6!
Price: $5.99
When it comes to the best hair ties for guys, these spiral ties are worth checking out. They don't pull at your hair too tightly but still do their job perfectly. They don't break (even when you stretch them abnormally). Over time, they get stretched out. So, it's a good thing that you can always shrink them back to their original size.
All you have to do is blast the stretched-out hair tie with a blow dryer for a few seconds or drop it in a cup of hot water. Watch how coolly it shrinks back to its size. They look pretty cool too. You have several bunches of color options as well.
BinaryABC Ponytail Hooks Holder
You may or may not like these ponytail holders with hooks on the ends. But they come with several benefits. For instance, the hooks help you adjust tension as needed. They are open-ended with elastics that fasten with little hooks.
Price: $6.98
You can either wear it as tightly or as loosely as you like. Thus, the flexibility of these unisex bungee-style hair ties reduces stress on the hair. You can twist them in different ways to wear for different purposes. The longevity of these is up for debate though.
ElasticU Polybands
Price: $14.99
With 70 elastic bands for $14.99, these bands are perfect for smaller man buns. The users of poly bands swear they slide on and off pretty easily without pain. These clear, reusable elastic hair ties come in five compact sizes and disappear into your man buns.
Alice Bands for Men
So, this one is obviously different perhaps making you wonder how a band sneaked into the best hair ties for guys. Using both plastic and metal accessories to pull back the hair and hold it in place, Alice Bands offers quintessential headbands for men. The accessories come in different styles —headbands, hair bands, and hair elastic ties. Headbands come in scrunchy styles with metal that you can pull off with all of your outfits. They can blend with your hair strands, making them almost invisible while wearing. Except for the little bumps. They keep your hair out of your face even while playing soccer.
Price: $6.69
Hair Bands from Alice go all the way around the head. Made with rubber and stretchy cotton —not plastic, these hair brands are ideal for sports, yoga, rock climbing, and other outdoor activities. The best part: the no-slip silicone strip on the inside makes them perfect for sweaty activities like workout sessions.
Alice also offers hair ties for guys with small elastics made with rubber and stretchy cotton. Suitable for a perfect man bun and ponytail, these lock your hair in a perfect knot. But if you need thick ties for long and thick dreadlocks, you can choose Loc Ties.
Final Words
These are a few of the best hair ties for guys from a girl's perspective. It's time to stop using the same hair tie as your sister or mom! You can finally get your flowing mane out of your face in a "manly" manner. So, pull back your hair and have your celebrity moments with man buns using these hair ties for men!