When it comes to finding the best nude lipsticks for Indian skin tone it's tricky. If you have already found your perfect nude lipstick then you are sorted for life. Nude lipsticks are the most basic and dramatic companion you can have at once. The bond with the perfect nude lipstick, if you have one you would already know, is a bond for a lifetime. The term "nude" is misleading though, which is why most people end up choosing the wrong shade.
Nude doesn't necessarily have to be a certain shade with a pale undertone, a nude lipstick is any lipstick that is very close to your natural skin tone but needs to be a shade or two darker. A nude lipstick that could work for a fair skin tone might not look so flattering on you if your skin tone is deeper. Nude colors could range from pinks, mauves, browns, and beiges.
Picking the perfect nude lipstick for you might initially be tricky as you would have to keep in mind the color, texture, and undertone and find the right mix of it all. But trust me guys, finding the perfect nude lipstick is worth the trial and error. This article is all about helping you find the nude lipstick shade that would flatter you on all occasions throughout all seasons.
Best Nude Lipsticks For Indian Skin Tone: What Is A Nude Lipstick?
Nude lipsticks are versatile lipstick shades that are muted colors that can flatter any skin tone, especially for a perfect no-makeup look if you get it right. Nude lipsticks usually come in neutral shades but with varying undertones for every skin tone. One of the key reasons why nude lipsticks are popular is because they can be used to tone down your makeup look but can also be used in a full-on glam makeup look.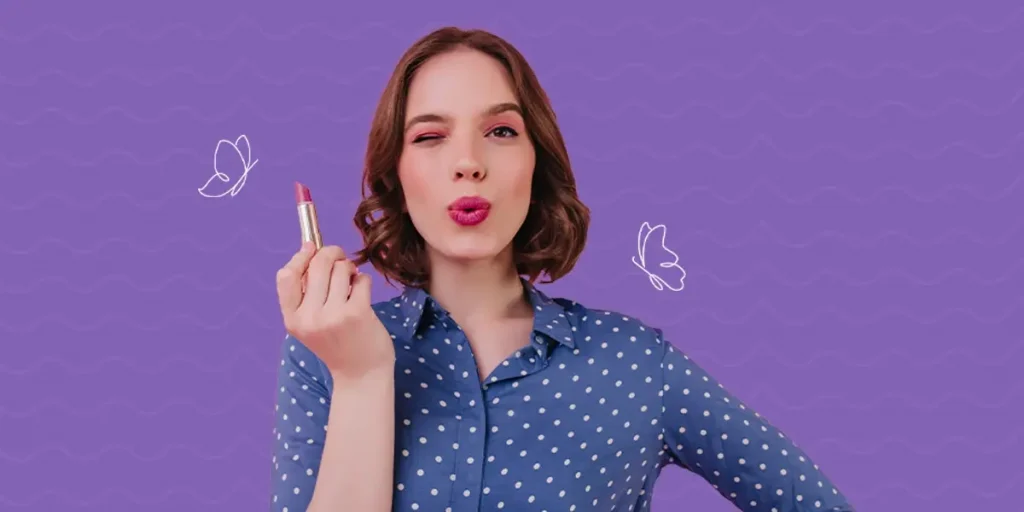 Steps To Finding The Best Nude Lipsticks For Indian Skin Tone
One of the most popular tips to follow while trying to find nude lipstick is to go for a shade that is one or two tones darker than your natural lip shade. This can help you avoid looking washed out, but finding that perfect shade is easier said than done. If you have been hunting for nude lipstick you might have been there where you find the perfect shade but applying it could make you end up looking sick or plain dull.
While going nude-lipstick hunting, the first thing you can do is test out the shade against your natural skin tone, if it blends perfectly with your skin tone you might want to choose a shade that's a bit darker than your skin tone. Once you find your sade the next thing you need to know is to perfectly apply it to achieve that celebrity-like pout.
How To Pick The Best Nude Lipsticks For Indian Skin Tone?
Wonder how you can select the suitable lipstick shade according to your complexion? Here are some tests that you can try to pick the right shade.
The Hand Test
As mentioned above, one of the most basic ways to choose a nude lipstick is to start by swatching it on your hands, ensuring that even though the lipstick blends perfectly with your skin tone it's a tad bit darker. Going one shade darker can be a very flattering nude shade to enhance your natural facial features.
Note: do not apply a tester lipstick directly onto your lips, it could be loaded with germs instead swatch it on the wrist in your hands which has the closest skin tone to that of your face. If you might try it on your lips ask the associate to swipe off the top layer and use an applicator.
Bare Face Test
While shopping for nude lipsticks make sure that your face is free of foundation or any other similar makeup. Nude lipsticks need to be tried on the bare face to know if they actually work or not.
Match Your Lipstick To The Outer Line Of Your Lips
Compared to the rest of our lips the outer edges are a bit darker. Following the color of the natural outline of the lips is a perfect guide to help you find the most perfect nude lipstick shade. Getting this wrong and choosing a lighter shade will make you end up looking ashy and washed out.
Understanding Your Natural Tones
Every skin tone will have a natural undertone. For example, lighter skin can look very attractive and fresh with peachy and light pinkish shades but for deeper skin tones nude lipsticks with a hint of brown, mauve, or dark bright undertones would look absolutely stunning.
Mix And Match
Confused about finding the best nude lipsticks for Indian skin tone? If you are disappointed in finding that one lipstick that can help you get the job done, then don't worry there is still hope. You can create your perfect nude shade by mixing two or more lipsticks.
For example for deeper skin tones adding a dark brown lip liner and a light brown lipstick with a little red can give you a nice rich shade. The key to this technique is to blend the product well into the lips till you get the perfect nude color.
How To Use Nude Lipsticks For Perfect Application?
If you have found the best nude lipsticks for Indian skin tone it's time to know how to apply them perfectly. To get the most flawless-looking lipstick application it's very important to prep your lips before applying lipstick. Here are some simple things you can do before applying lipstick that can change the way your lips look.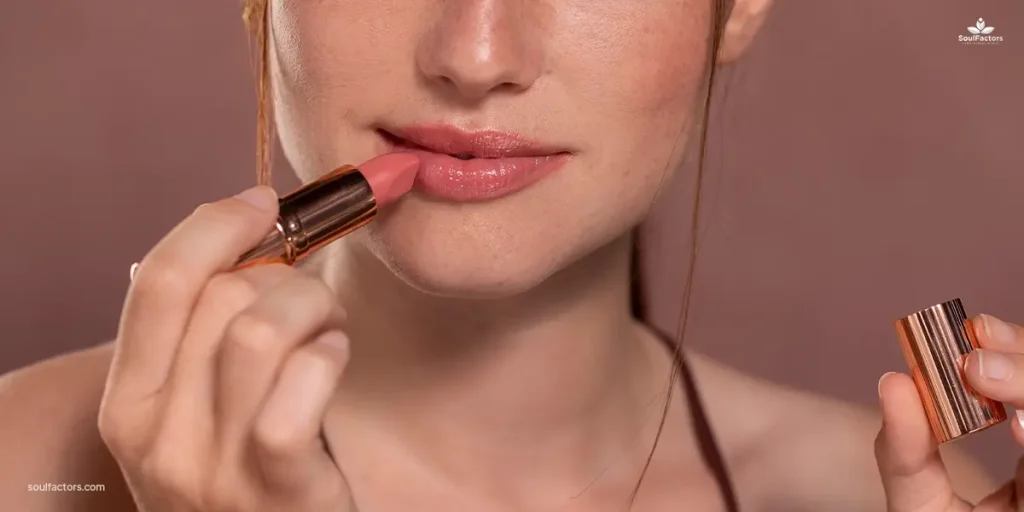 Step 1: Getting rid of dry skin or dead skin cells with a good lip exfoliant or scrub can make a drastic difference in the overall appearance and application of your lipstick on your lips. Exfoliation is the key to creating a smooth canvas for the lipstick to apply and spread evenly.
Step 2: No lipstick would look good on dry lips. Using a lip balm before applying lipstick can make your lips look plump and soft.
Step 3: If you have pigmented(1) and uneven lip color then use a lip concealer or a normal concealer before applying lipstick and help even out the color on your lips. The method is also great for achieving a no-makeup makeup look.
Step 4:This step is not mandatory. If you like an overall dewy and glowy look then topping your lipstick with lipgloss will make you look classy and stylish at the same time. Lipgloss is also great with nude lipsticks to elevate the overall look from day to night.
List Of Best Nude Lipsticks For Indian Skin Tone
Let's find the best nude lipstick shades that suit different Indian skin tones.
Fair Skin Tone: Light Skin With Pink Or Yellow Undertones
The best nude lipstick for light skin tones is a lipstick with pink, peach, orange, and light red undertones. These shades will help one to enhance their natural lip color and also complement the overall color of their skin by adding a "flush from within" like natural color. We recommend fair skin tones to stay away from nude lipsticks that have a brown undertone as they can make your face look more glam than subtle.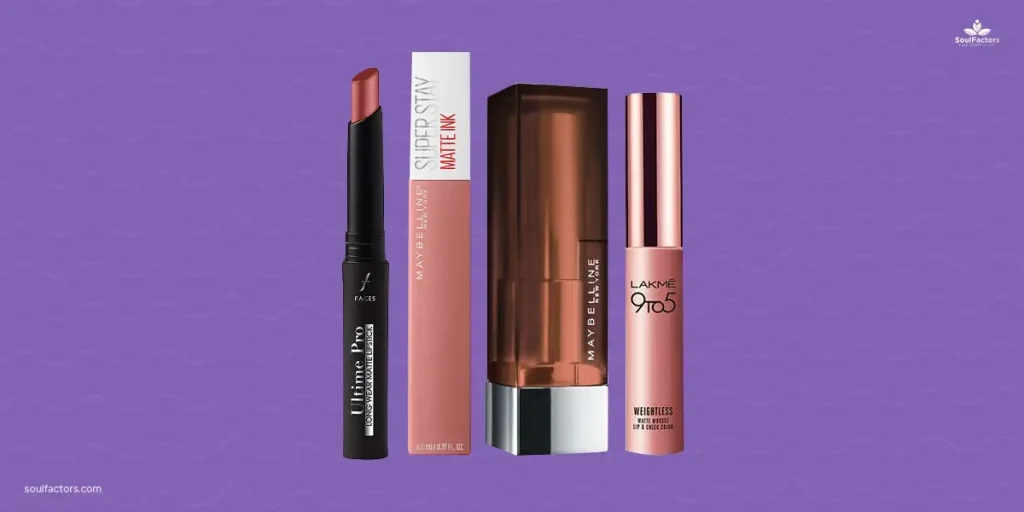 Best Nude Lipsticks For Indian Skin Tone: Fair Skin
Faces Ultime Pro Longwear Matte Lipstick – Ultime-Lust-On
Maybelline super stay matte ink liquid lipstick in Loyalist
Maybelline Color Sensational Creamy Matte Lipstick – Touch of Spice
Lakme 9 to 5 Weightless Matte Mousse Lip & Cheek Color – Blush Velvet
BareMinerals Mineralist Hydra-Smoothing Lipstick in Insight
Charlotte Tilbury Hot Lips Lipstick 2 in Dancefloor Princess
Charlotte Tilbury Matte Revolution Lipstick in Pillow Talk
MAC Cosmetics Satin Lipstick in Cherish
MAC Cosmetics Matte Lipstick in Kinda Sexy
Huda Beauty Matte Power Bullet Lipstick in Girls Trip
Medium Skin Tone: Olive And Caramel Undertone
If you fall into this category of medium skin tone then your options when it comes to nude lip shades are many. Your best pick when it comes to nude lipstick are ones with caramel, beige, mauve, and light brown undertones.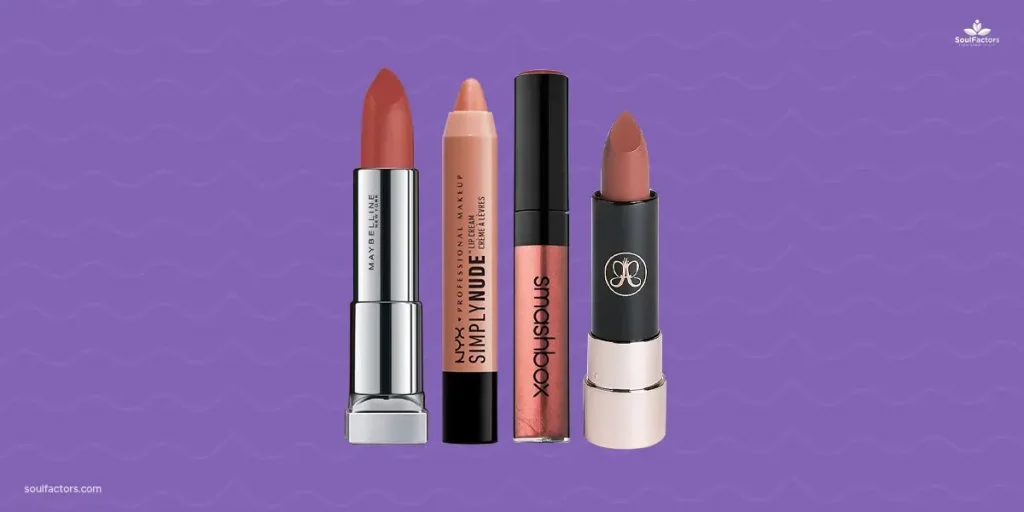 Best Nude Lipsticks For Indian Skin Tone: Medium Skin
Maybelline New York Color Sensational Powder Matte Lipstick – Make Me Blush
Colorbar Nude It Lip Color – Drape
NYX Professional Makeup Simply Nude Lip Cream – Exposed
Smashbox Be Legendary Liquid Lip – Petal Metal
Maybelline New York Super Stay Matte Ink Liquid Lipstick in 70 Amazonian
SUGAR Mettle Liquid Lipstick in 07 Bellatrix
M.A.C Matte Lipstick in Whirl
Anastasia Beverly Hills Matte Lipstick in Spice
Wet and Wild- Give Me a Mocha
Blue Heaven- Chocolate Swirl
Reached Mars- I am Confident
Lakme Absolute Matt- Mauve Party
Deep Skin Tone: Yellow And Red Undertone
Always choose a lipstick shade that's darker than your skin tone, for example for deep-toned beauties out there nude lipstick shades with a hint of coffee brown, chocolate brown, or any nude lipstick with a red undertone would work well. Stay away from lighter shades as they can make you look blah!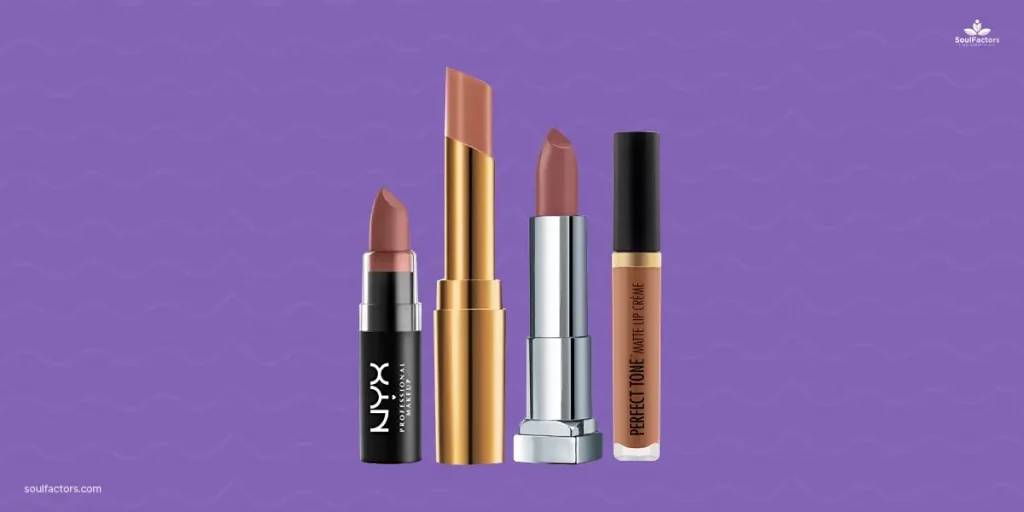 Best Nude Lipsticks For Indian Skin Tone: Dark Skin
NYX Professional Makeup Matte Lipstick – Honeymoon
Lakme Absolute Argan Oil Lip Color – Buttery Caramel
Maybelline New York Color Sensational Powder Matte Lipstick – Raw Cocoa
Maybelline New York Superstay Matte Ink Liquid Lipstick in Mocha Inventor
L.A. Girl Metal Liquid Lipstick – Polished
Miss Claire Matte & Pearly Gloss – 141
Lakme 9 to 5 Weightless Matte Mousse Lip & Cheek Color – Blush Velvet
Swiss Beauty HD Matte Lipstick- Cute Nude
Black Radiance Perfect Tone Matte Lip Creme in Hollywood Hot
Nyx Liquid Suede Cream Lipstick in Sandstorm
Revolution Beauty New Neutral Satin Matte Lipstick in Cashmere
MAC x Teyana Taylor Lipstick in I Got A Man
Fenty Beauty Stunna Lip Paint Longwear Fluid Lip Color in Unveil
Conclusion
Hope these help to find the best nude lipsticks for Indian skin tone. It's sometimes an undertaking to find the perfect nude in one go but if you got the wrong shade you can still make it work as long as you have a brown lip liner. Before you follow influencer recommendations, it's important to keep in mind the fact that "a nude for somebody else might not be the nude for you".
The term nude lipstick is so far-fetched that most people misunderstand it to be the shade of the concealer. But if you successfully find your nude lipstick, then you are balanced for life, from subtle eye to smokey eye, your nude lipstick can take you to both ends effortlessly. Which ones are your favorite nude lipstick?
Find your nude lipstick and let your lips effortlessly do all the talking!