Gone are the days of women going around in dainty watches of the 90's style. In this technology-driven generation, being smart with anything you use is a smart move. Smartwatches are the latest trendsetters that are catching eyes at workplaces and turning heads on the streets.
A smart woman also needs a smartwatch to glide through her daily life. Here we introduce to you 11 best smartwatches for women to adorn her wrists in 2023. We also weigh in on each of their pros and cons so you can make the perfect choice for you.
11 Best Smartwatches For Women
A smartwatch is like a best friend on your wrist. A lightweight personal trainer, business assistant, health tracker, notifier, entertainer, travel guide, a fashion accessory with changeable straps, and more. It connects your style with technology making things easier for you wherever you be while matching every outfit of yours.
From keeping track of heart rate and automatically calling emergency in case of a fall to monitoring menstrual cycle and estimating ovulation days for women, smartwatches have come a long way from their initial days. Smartwatches for women come with peculiar and useful features. This exceptional blending of function and fashion of different designs, styles, sizes, and finishes with convenient features makes it the perfect one-man army companion.
Here is our list of the 11 best smartwatches for women in 2023. You can choose from different styles and various features built into each of these.
1. Apple Watch Series 8
This is one of the best smartwatches for women who use iPhone. Coming from the very Apple Inc., this is an advanced model with incredible features that can leave you amazed! Praised with positive comments by users since their release, these smartwatches are stylish and sporty. Though expensive, Apple Watch is quite worth every penny you pay. It has a ceramic finish with a wider screen so you can see clearly at one glance. Having the ability to alert you before you end your workout, you can achieve your fitness goals in exercise, and wear it every day to your office.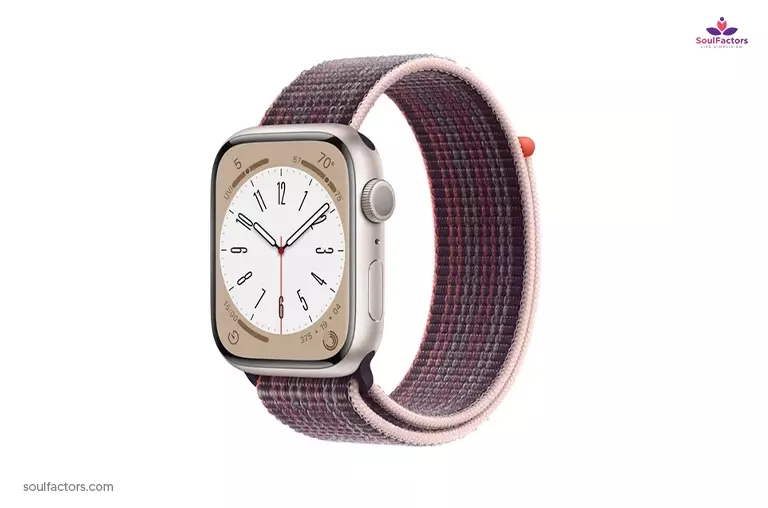 Price – $399
A must-have smartwatch for women with heart conditions(1) as it can alert you if your heart rate is too low or too high. You can later show the stored data to your doctor! What's even better and shocking is, Apple Watch has a special health feature- fall detection! Sensing your unintentional fall and automatically making an emergency call is a terrific feature you cannot find in any other smartwatch!
Housed with an ECG sensor that can help you test an electrocardiogram just from your wrist, the Apple smartwatch can track your menstrual cycle too. It is also a blood oxygen sensor. Not something you see every day! You can call and text even when your device is switched off. But it is only compatible with iOS which is a turn off for Android users. Apple Watch Series 8 is an excellent and brilliant upgrade from the last one.
2. Samsung Galaxy Watch 5
A beauty that works like a beast! The second best in our list of best smartwatches for women. Samsung has wonderful smartwatches with exquisite designs elegantly made for women. This smart device for thin wrists has an AMOLED(2) display which is the best solution for sun glare. A smartwatch that can withstand tough weather because of its best quality in addition to a notable quality of dust resistance, according to military-grade rating. You take a shower while wearing it as it has a 5 ATM waterproof rating. The slimmest smartwatch, great in both aesthetics and features. For Android phone users, Samsung's smartwatch is the best choice. The watch is built with having a 3-in-1 BioActive Sensor, which can keep tabs on the user's heart rate, blood pressure and ECG. The 40-hour battery life for basic usage is best for busy women.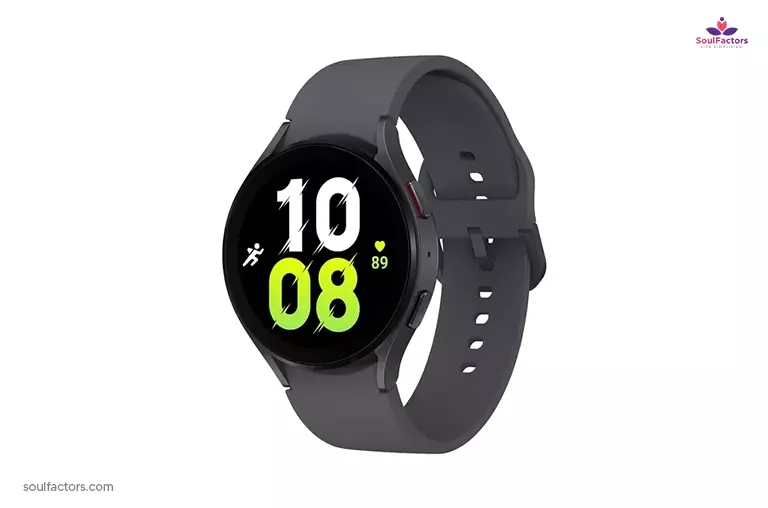 Price – $279.99
Embodied with an AMOLED display enabling you to see efficiently under the sun's glare, you can set up reminders, make lists, and play music. It has a microphone that can help you ask Google anything. Features such an in-built GPS, Wi-Fi, sleep tracker, gyroscope, and accelerometer. It can track your outdoor activities, steps and distance covered, calories burned, apart from all the other basic and standard features. Samsung Galaxy Watch 5 is a smartwatch of versatility!
3. Google Pixel Watch
The recent add-on to the list of best smartwatches for women is Google Pixel Watch. A spectacular smartwatch for women that comes in four different colors. There is a Matte Black case paired with an Obsidian band, a Polished Silver case matched with Charcoal, and a Champagne Gold case attached to Hazel-colored bands. A smartwatch that is sweat and water-resistant, and has a built-in GPS for tracking your outdoor activities, heart rate monitor, gyroscope, and accelerometer.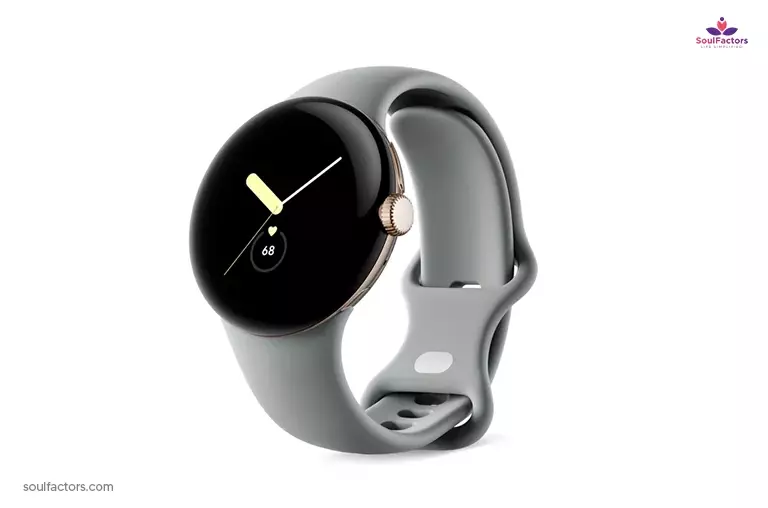 Price – $349
Google's smartwatch is also pretty strong with its stainless steel case and Gorilla Glass 5-secured display. You can customize your fitness goals and track burned calories. You can get alerts for phone calls and answer directly from the watch. But the battery life is poor and is expensive for the specs offered. Not the best one to choose for fitness tracking. This one works only with Androids.
4. Fossil Gen 6 Women's Smartwatch
Fossil is one of the most luxurious companies in the watch industry. It is known for its innovative design. This Gen 6 series gives you a lightweight design and sleek design. The circular dial with stainless- steel sides looks elegant. The Fossil Gen 6 offers a 1.28-inch colored AMOLED display. It is quite impressive that the text appears clearly under blazing sunlight, as well as the fact that the touch functions quite well.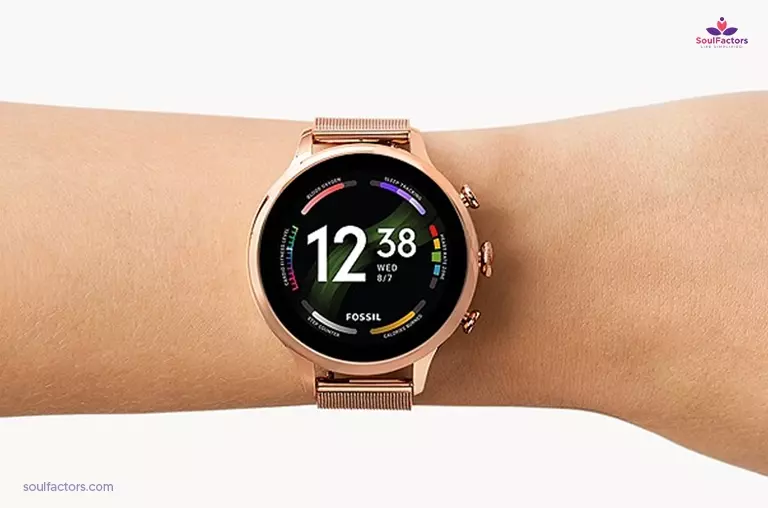 Price – $299
The WearOS watch can be connected to any phone, including iPhones, and the setup process is easy. The tracking performance is really high. It can do every activity from tracking your heart rate to a SpO2 sensor for blood oxygen measurement and water resistance of up to 30 meters. The most disappointing feature is that the watch doesn't promise a great battery life.
5. Michael Kors Bradshaw Gen 6
Michael Kors is another established and luxurious brand in the watch industry. The Michael Kors Gen 6 Bradshaw smartwatch is built on the basic framework of the Fossil Gen 6 lineup. Both are equally valued in the list of best smartwatches for women. Currently, the Bradshaw is the only Michael Kors smartwatch to upgrade to Gen 6. In general, Bradshaw buyers are not primarily interested in the watch's internals, however, the new platform represents a substantial advancement in this area.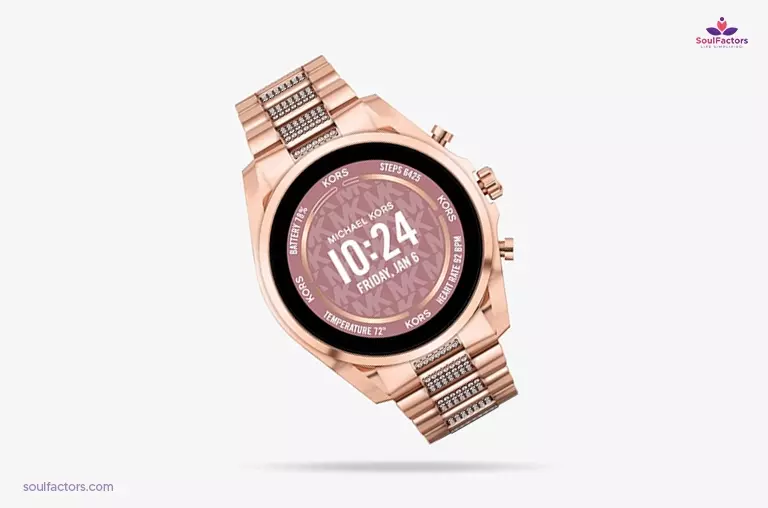 Price – $395
Offering consumers a much faster chipset of Snapdragon 4100 Plus, a fast charging facility, and the advancement to Bluetooth 5.0 LE. Display as mentioned above in like the Fossil Gen 6 watch. The Bradshaw Gen 6 also carries several features of its predecessor, including an onboard speaker, voice assistant support, and an incredibly dazzling array of finishes. It offers built-in GPS connectivity and 5ATM water resistance completing the awesome package. It's definitely on the expensive side when compared to the features it offers.
6. Withings ScanWatch Hybrid Smartwatch
Ranked 6th on the list of best smartwatches for women is Withings ScanWatch Hybrid Smartwatch. Perfect for the ones who detest the look of smartwatches but still prefer high-tech features. Withings has got an extremely analog clock face but the device can monitor your health and track steps, sleep, and blood oxygen levels. The smartwatch is the perfect fit for every woman out there. This company has brought classy, fashion-focused smartwatches to you with prominent fitness tracking features.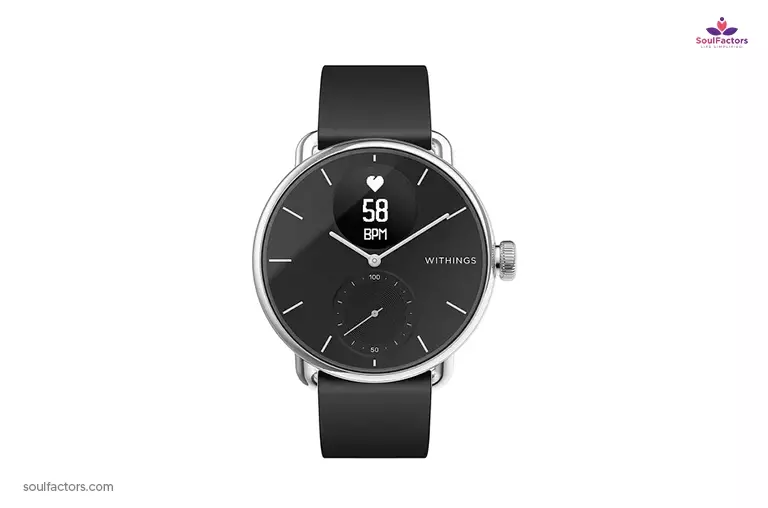 Price – $299.95
It has an in-built GPS and is water resistant up to 50 m. A classy choice loaded with the essential features of a smartwatch. The battery on the Withings ScanWatch can keep the device for up to 30 days
7. Fitbit Sense 2
Fitbit company's masterpiece "Fitbit Sense" is designed for women. One of the best-selling smartwatches until now, known for its long list of fitness tracking features and accuracy. Fitbit Sense ranges are affordable and the best alternative for Apple Watch and Fitbit Versa.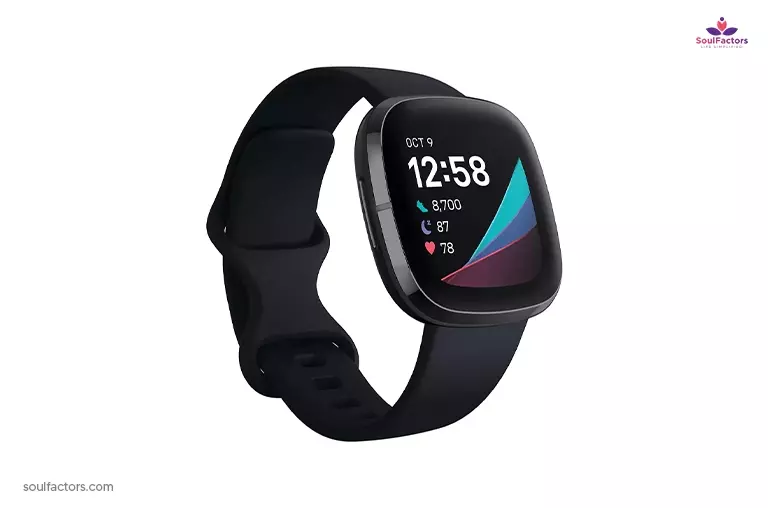 Price – $299.95
It is lightweight, thin, and comes in two styles- black band with graphite stainless steel bezel and white band with gold stainless steel bezel. Fitbit's silicone band can handle sweat. You can change the watch strap and customize the watch face accordingly for any occasion. It comes with all standard sensors which will help you greatly with your fitness and is swim-proof. It's designed to focus on what's going on in your brain and body, from monitoring stress levels to your menstrual cycle. Hence, helps to track one's physical and emotional health.
You will receive all of your calls, messages, and notifications when connected to the smartphone. It is compatible with both android and iOS. With an impressive battery life of 6 days, you need not worry about it. There is also a built-in GPS.
8. Fitbit Versa 4
One of the best smartwatches for women in the budget-friendly category is the Fitbit Versa 4. Its features are known for fitness and health tracking which can check signs of atrial fibrillation. It's inner and lighter than its previous model Fitbit Versa 3. Swim-proof with a 5ATM rating, a built-in GPS, and a battery life of 6 days.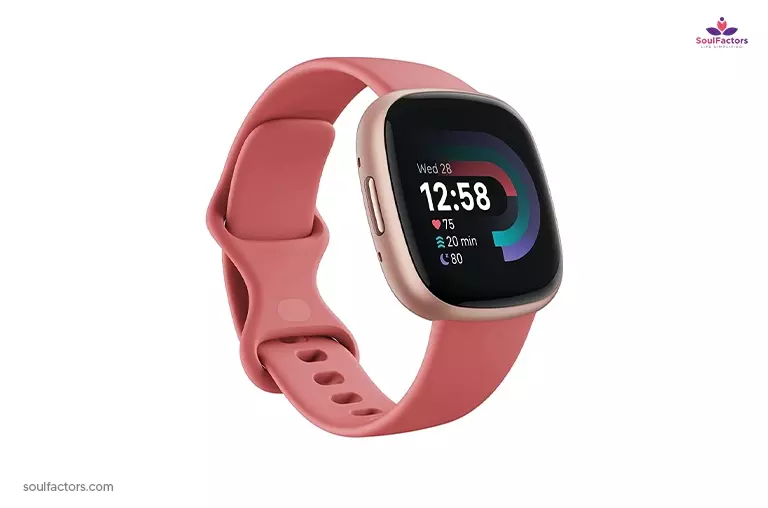 Price – $199.95
Versa 4 gives in 40 exercise modes including weightlifting and dancing. It can deliver app notifications from your phone and allows for smart replies to messages if you have an Android phone. It can monitor your sleep in eight different patterns, giving sleep suggestions while monitoring heart rate and your physical activities like walking, running, swimming, cycling, and more. It can give you real-time feedback too in different languages.
9. Garmin Lily
Garmin Lily is too cute for a smartwatch with its smaller than standard face (34mm) and comes in touchscreen pattern models. Now you can imagine how thin the strap will be. This is ideal for women with more petite wrists. It can also be mistaken for an analog face due to its small design. Using a silicone strap will be better because leather straps are so thin that they might crack after a month of use. The rose gold and light tan color give a soft finish. Shown below is a Sport Edition of Garmin Lily named Midnight Orchid Bezel with Deep Orchid Case and Silicone Band.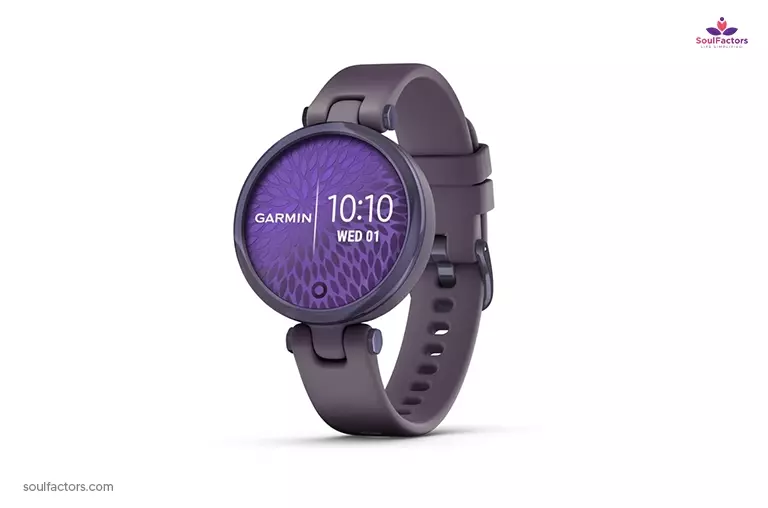 Price – $199.99
It is fast and notifications come in sync with your smartphone. There are many applications you can use to listen to music, use Uber and see the bus schedule can monitor your sleep, steps you have taken, and the distance you have covered. The good news is that it takes only 15 minutes to charge fully and can last 5 days!
10. Skagen Falster Gen 6
An elegant and minimalist smartwatch that feels natural on the wrist. Having a display with a 1.28" active area diameter and 416×416 resolution. The champagne gold strap will be in the list of best smartwatches for women for its feminine touch.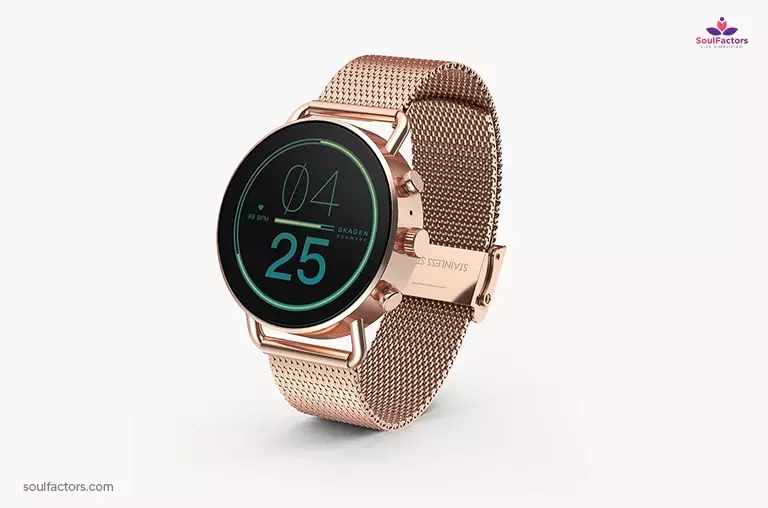 Price – $148
It's powered with Wear OS by Google. Skagen Falster's battery life can be a disadvantage as it doesn't last much more than a day and can be unresponsive at times.
11. Amazfit GTR 4/GTS 4
Both the GTR 4 and GTS 4 models share the same basic design, one round and the other square. The watches both have most of the sensors that you'd expect to find in a modern smartwatch, including one that monitors blood oxygen saturation as well as heart rate. Amazfit is lightweight and resistant to heat/sweat with the slimmest strap.
Price – $199
A perfect fitness tracker that provides all the data you need for it. But it has all the basic features like GPS, accelerometer, gyroscope, Bluetooth, notifications from smartphones, sleep tracking, and heart rate sensors. The best quality that no other smartwatch can beat is its incredible battery life. It can last for up to 2 weeks! This is something we all need and wish for in every other smartwatch!
That was a list of the 11 best smartwatches for women in 2023 we picked for you. These comprehensive smartwatches can track virtually every activity. Any of these will be your best choice for fitness tracking with class and style.
Now, what should you look for while buying smartwatches for women?
Functionality – Basic smartwatches can track your activity level and sleep patterns. Whereas more advanced and innovative models can be your smart assistant that can do many things at once. Smartwatches for women come with features that help with your women issues like your menstrual cycle

. You can even do payments using them! Look for one that can work magic from your wrist.

Price – The price of smartwatches has come down a notch now in the recent years. They come in and around the $200 range. You can even find smartwatches with basic options at $30.
Style – You have countless smartwatches of exceptional design and style to choose from, both subtle and stylish. It is after all your fashion accessory where it is for you to choose your style reflecting your personality or aesthetics.
Convenient features – Battery life, water resistance, compatibility with smartphones, music, GPS, heart rate monitoring, tracking menstrual cycle, etc. are some features you can pay attention to. Overall, it can be your everyday partner notifying you of just anything and everything.
Use a smartwatch and get smart notifications delivered to your wrist using our recommendations for the best smartwatches for women in 2023!