Whether you want to do slow-motion jazz hands or go for a summer dip with gals (or boys!), these daisy nail designs can help you look chic. Summer is in and the short sleeves are out. Get noticed with chic and unique daisy nail designs, showcasing your couture and style.
Those who love to be in touch with nature opt for daisies as a delightful choice in their nail art! DIY enthusiasts prefer daisy nail designs due to their easy execution with a free hand. It is also chosen by those who want to add some nature to a classy French manicure or nude nails!
Daisy nail designs are simple and cute nail designs that the manicure fanatics can bank on when they want to take a break from the backbreaking elaborate nail art for something, let's say, b-r-e-e-z-y!
The Beauty Of Daisy Nails And Daisy Nail Designs!
Last year, the nail trends were all elaborate ornate designs. Social media is now abuzz with simple daisy nails achievable using just a bobby pin and nail polish!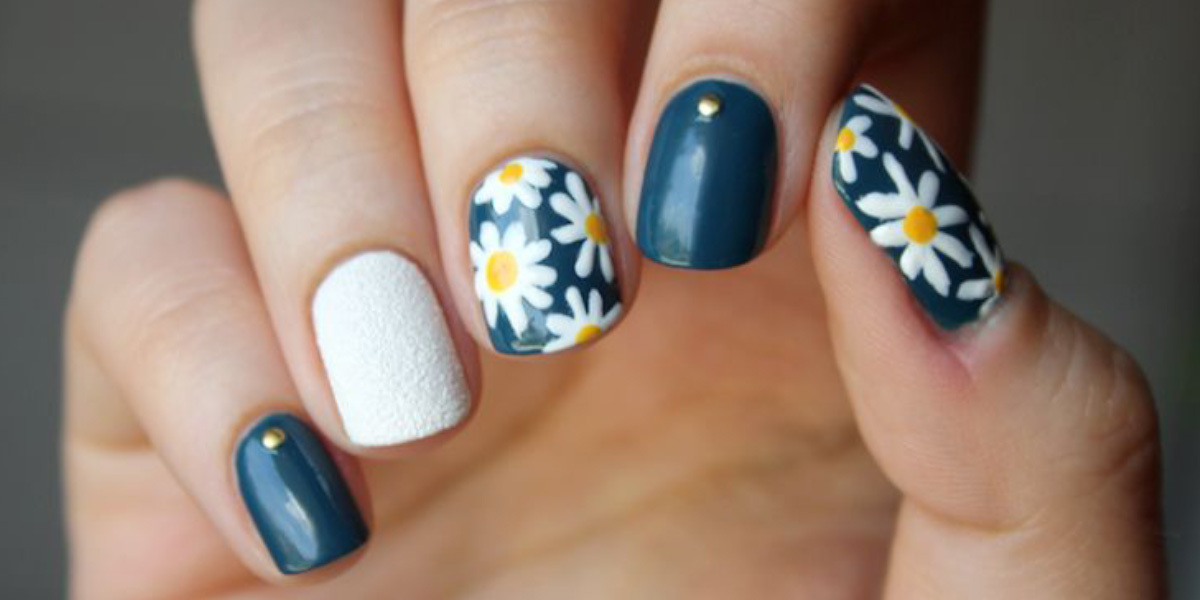 "Daisies are like sunshine to the ground!"

– Drew Barrymore
So are they to the nails! They are always a delight to watch and easy to draw.
Even newbies can try daisy nail designs, and they will scream "success" due to their advantageous nature of being simple! It is also accommodative to both minimalistic and ornate enthusiasts. Yet another plus is that it can accentuate other nail designs or let's say we can mix the other nail styles with this one.
Opt for daisy nail designs irrespective of age, occasion, style, or season, as they offer a floral and youthful appeal that can be highlighted or infused with your nail do!
12 Daisy Nail Designs That Will Make You Feel Like Sunshine!
#1. Dreamy Daisy Nail Designs
This daisy nail design is placed on both the highlighted nails with the blue speckled nail color and the low-key nude nails, with the elegant daisy nails commanding all the attention. You only need a nail stamp, dotter, and nail colors for this design! You can go freehand with this one too! Also, this one brings down the blue skies to be with the daisies. If you are a beach babe, this will mean that the oceans are lulling the daisies on a summer afternoon! You can also try ombre nails as a base for the daisy nail designs to look dreamy.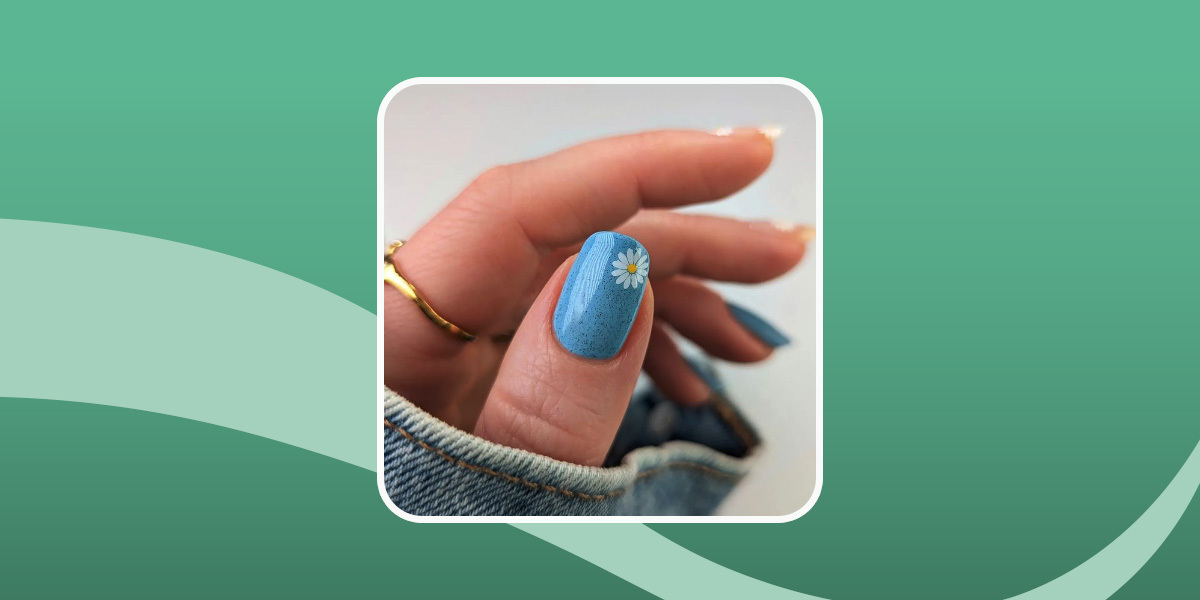 #2. Vibrant Daisy Nail Designs
Who said daisies are just white? You can include the colored variants of the daisies in your mani and show off your vibrant self to others. Also, collegegoers and teenyboppers can rock this variant of new daisy nail designs. You can DIY this easily as well. The sample daisy nail showcases a fun, textured, raised design featuring pretty colors and occasional monochrome nails for added flair.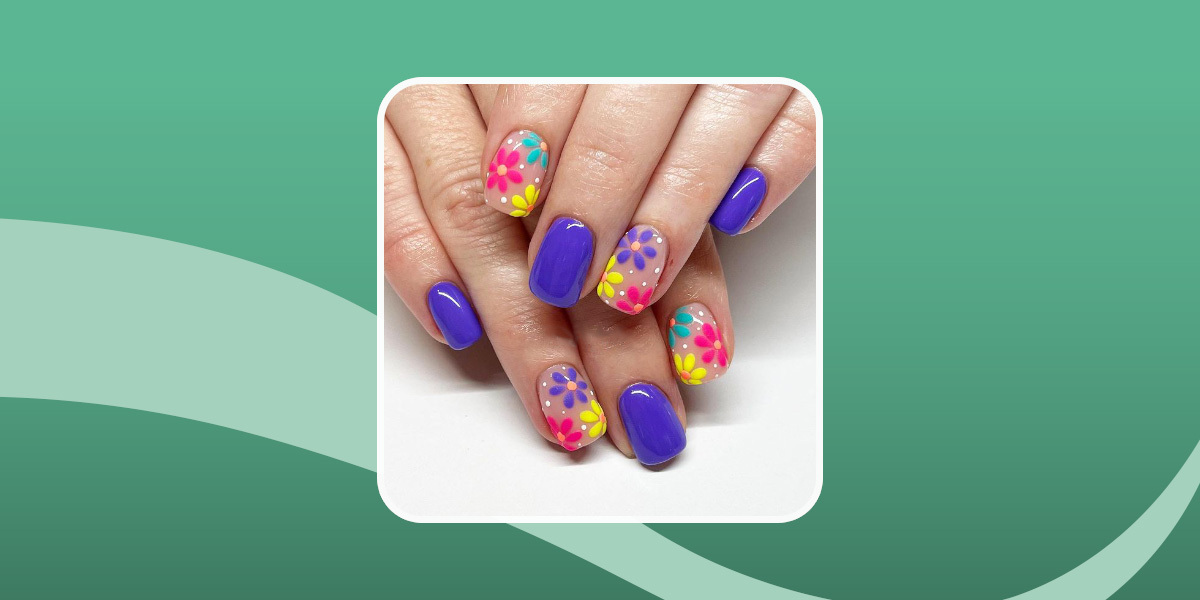 #3. Cheerful French Daisy Nail Designs
Here is how you make a Frenchie smile! You can splash these colors to form daisies on the French tips to make it look cheery and bright! This is for those who were looking out for a vibrant twist to their favorite French Manicure! (1)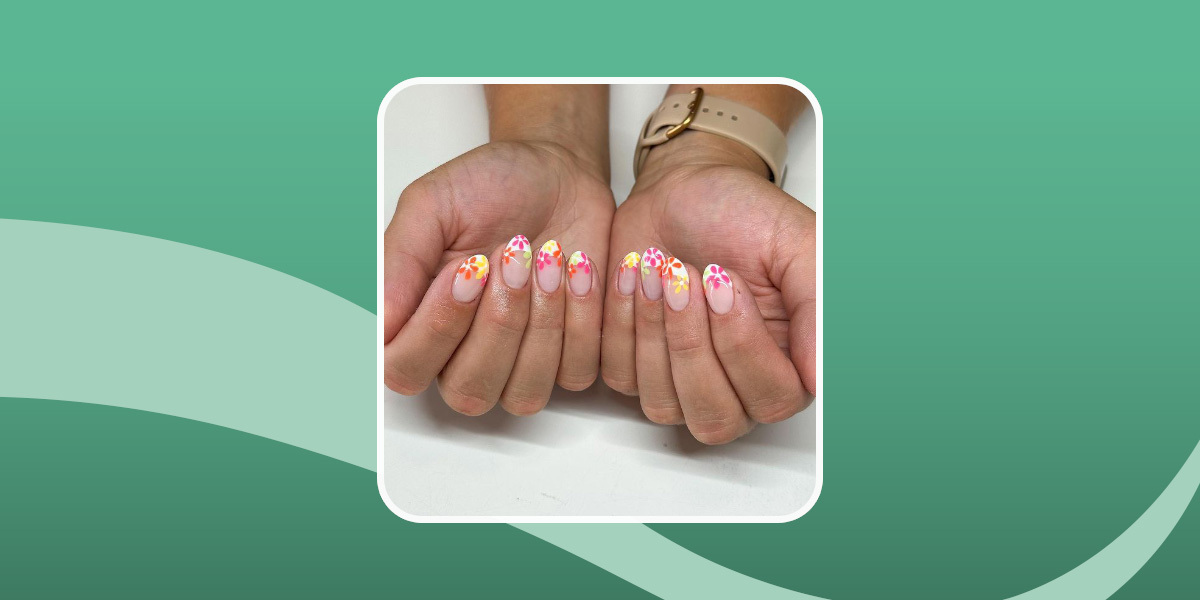 #4. Neo- Traditional Daisy Nail Designs
This one is a French-inspired nude nail art with super colorful blue daisies with a girly rose core. The French design is made into a swoosh of white at the tip of the nails to place the background for the daisies to pop out even more. They are brilliantly adorning the nail tips in a neo-traditional French way.
#5. Abundant Daisy Nail Designs
This is for those who know that more is the merrier! Do you need a boost to that abundance of meditation? Here you go! The daisies on the nails bring immense happiness, with bold pink accents adding to the flowery delight of this design.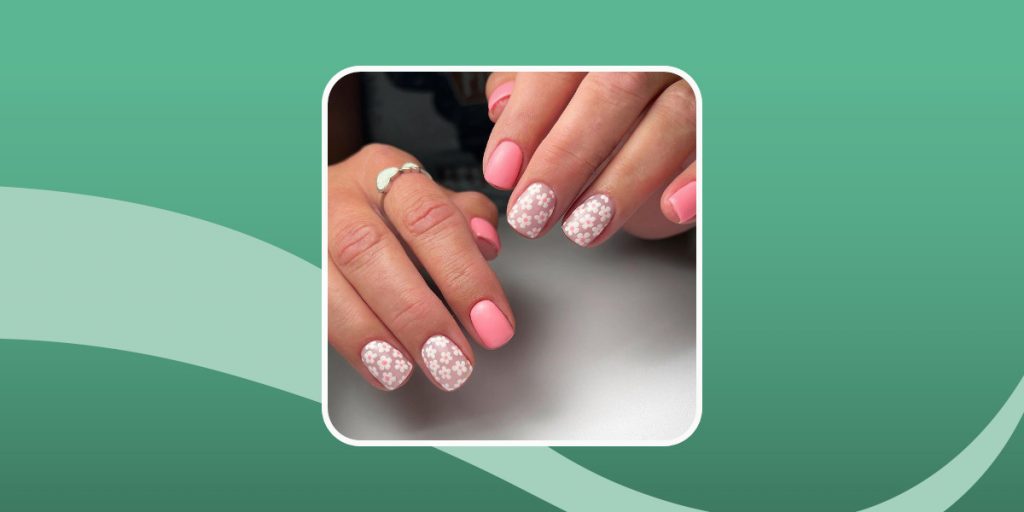 #6. Daisy Nail Designs With A Twist
A religious twist here with this rosary with a cross dangling from one of the blue-tipped French Nails. The dainty daisies, combined with icicle motifs, create a heavenly scene on the fingertips, adding a touch of ethereal beauty. Also, anyone who gets to look at this one is going to remember the Father in Heaven as the blue tips show the expanse of the sky with the religious motif of a rosary! You can also add other spiritual motifs like Om, lotus, etc for the spiritual vibes.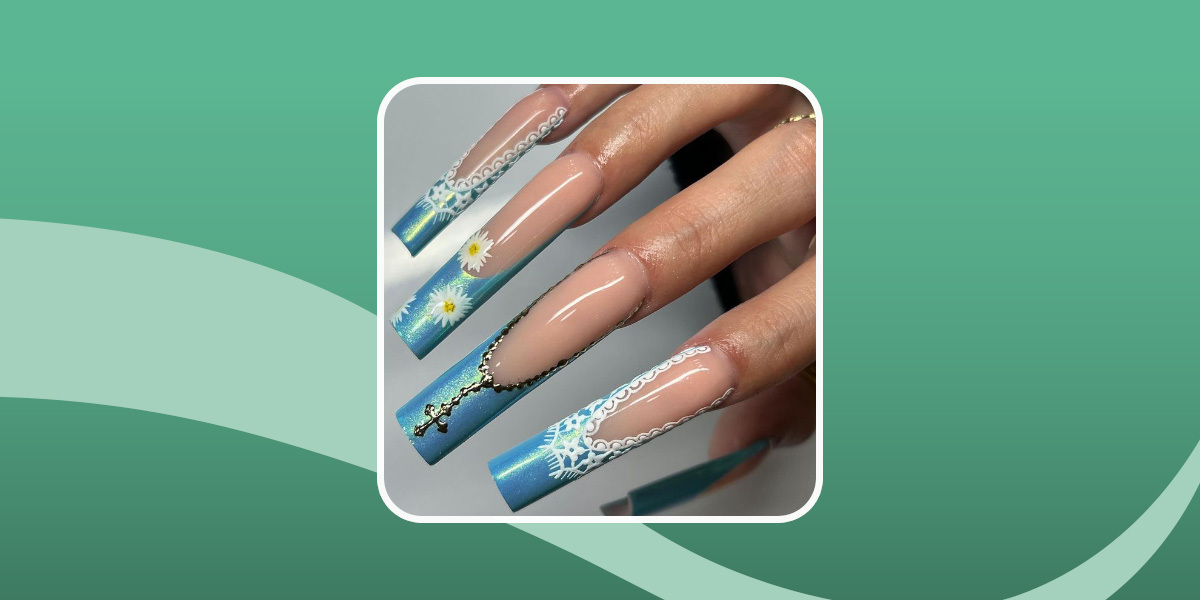 #7. Simple Daisy Nail Designs
What can beat the cuteness of this simple daisy nail design which places a daisy each at the center of your digits uniformly? Also, this may scream a lack of spontaneity, but this one is the best bet for amateur nail art enthusiasts who want to try new styles to populate their wish lists!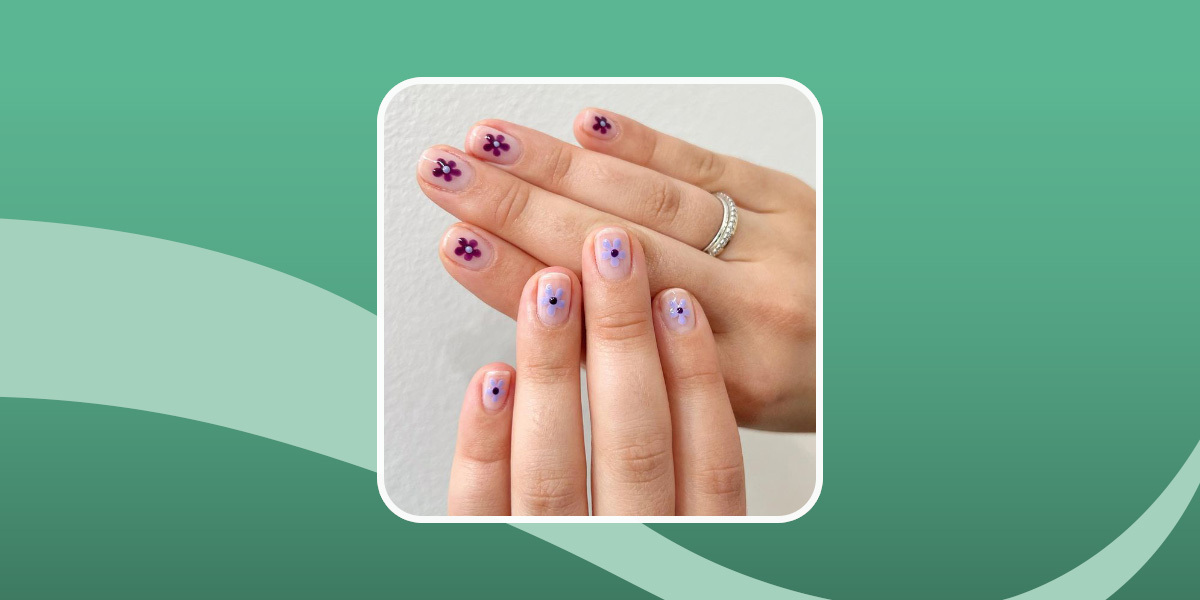 #8. 3D Daisy Nail Designs
This one is a wowie! Especially, crafted in nude shiny nails with a shrewd placement of a few sparkles, this 3D daisy nail design sure stands out as different. The inclusion of lavender was a game changer. Also, this is what your nails will look like when you pick the daisies from a lavender jungle, methinks!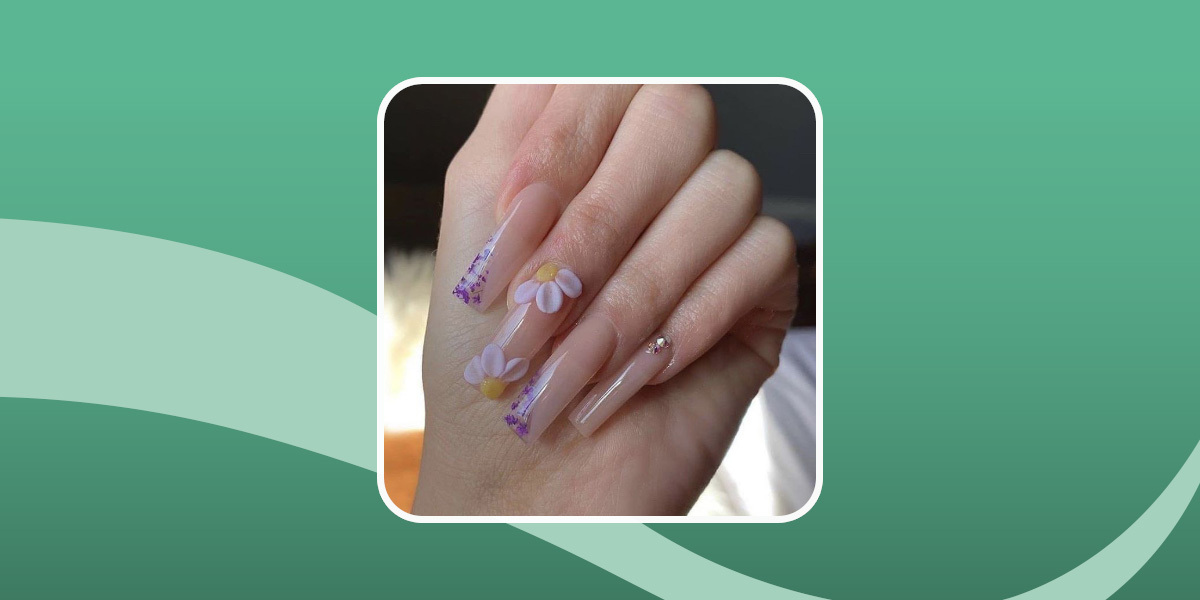 #9. Gingham Daisy Nail Designs
This is a mix of checkered nails and monochrome violet nails that house the daisies. Also, there are some dots included here and there in threes to play with the daisy theme. While the daisy petals can be big since only half of the daisy will be drawn on each nail.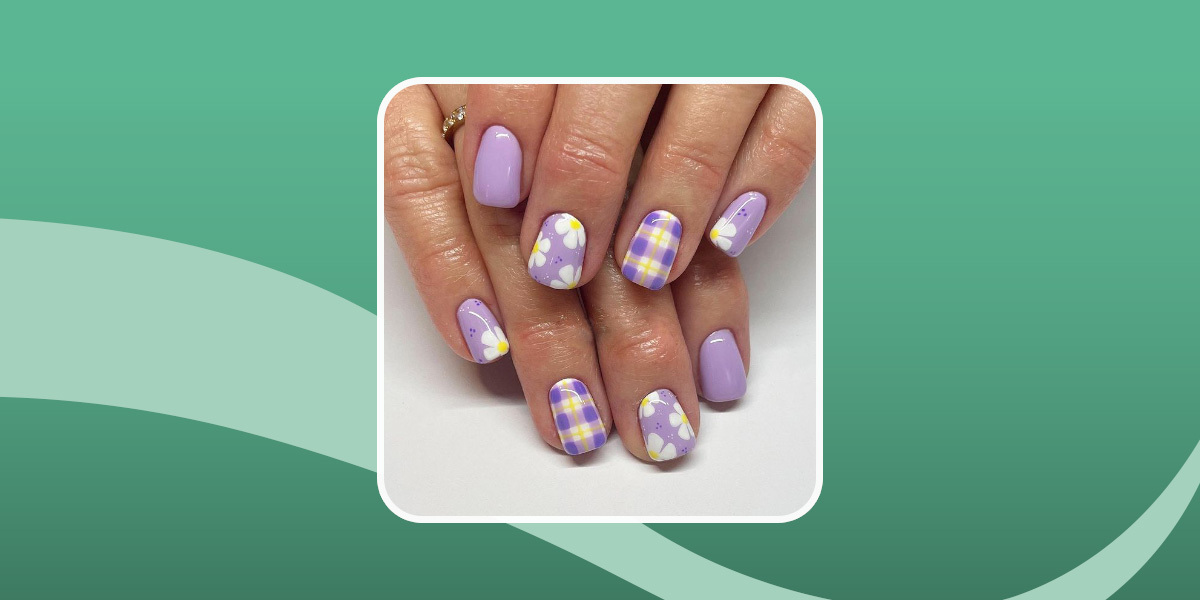 You can create similar coffee-themed daisy nail designs as a tribute to the cuppa that keeps you awake late at night, with a mix of swirls and checkered coffee brown with a coffee-themed white daisy on different nails.
#10. Colorful Daisy Nail Designs
This one on short coffin nails is a mix of all the florals. Some nails have colorful French tips while others have daisies in different hues all over! This is for the total extrovert who spills her nature onto her nails as well. The polka dots in white adds to the prettiness factor!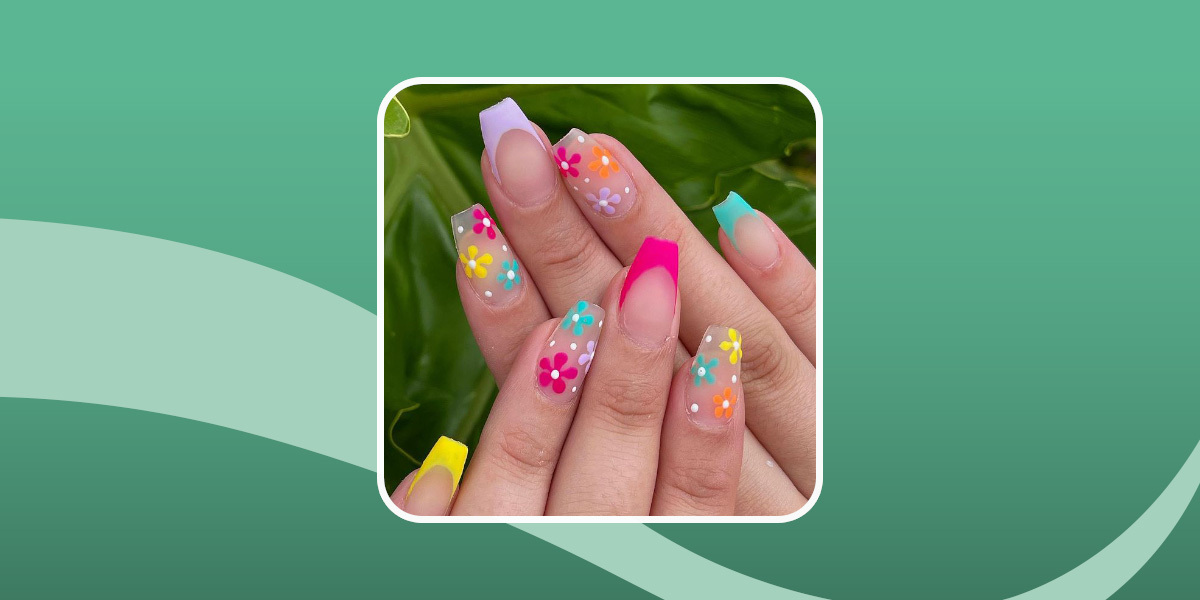 This is a floral treat for those who love to have colorful nails. Though the tone of the nail is muted, the vibrant colors of the daisy pop out. Also, this is a great choice for amateur artists who wants to try this simple design. The different colors used are what makes it stand out. So, go for it!
#11. Daisy Nail Designs With A Swoosh
The occasional daisies placed on the nails make these colorful swirls look even prettier. The swirls define the nails and the dainty classy daisies make the nails look prettier. Here the need to go colorful was met with the swoosh of colors while retaining the originality of the daisy.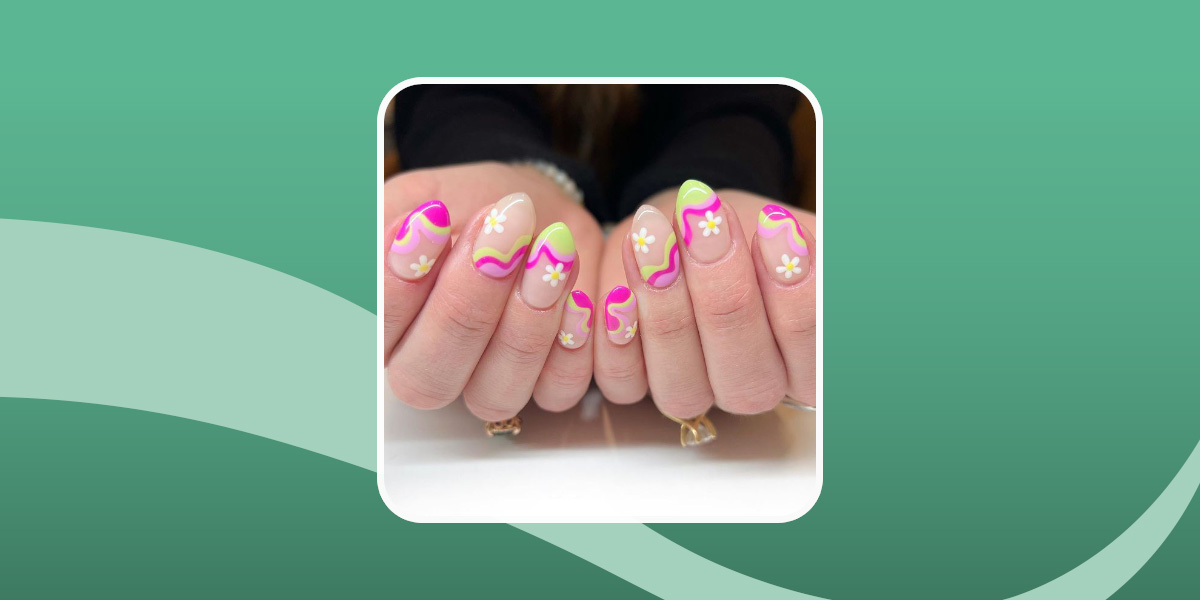 #12. Growing Daisy Nail Designs
This is for those like me who believe that flowers are best placed on the mother plant or at God's feet! This one is for those nature wanderers who love to see the flowers and enjoy them from afar! You can achieve this look by drawing the stems and the leaves in pastel while keeping the nails muted in pink pastel. With a monochrome to break the pattern or to commemorate the chlorophyll element, this style is classy and creative!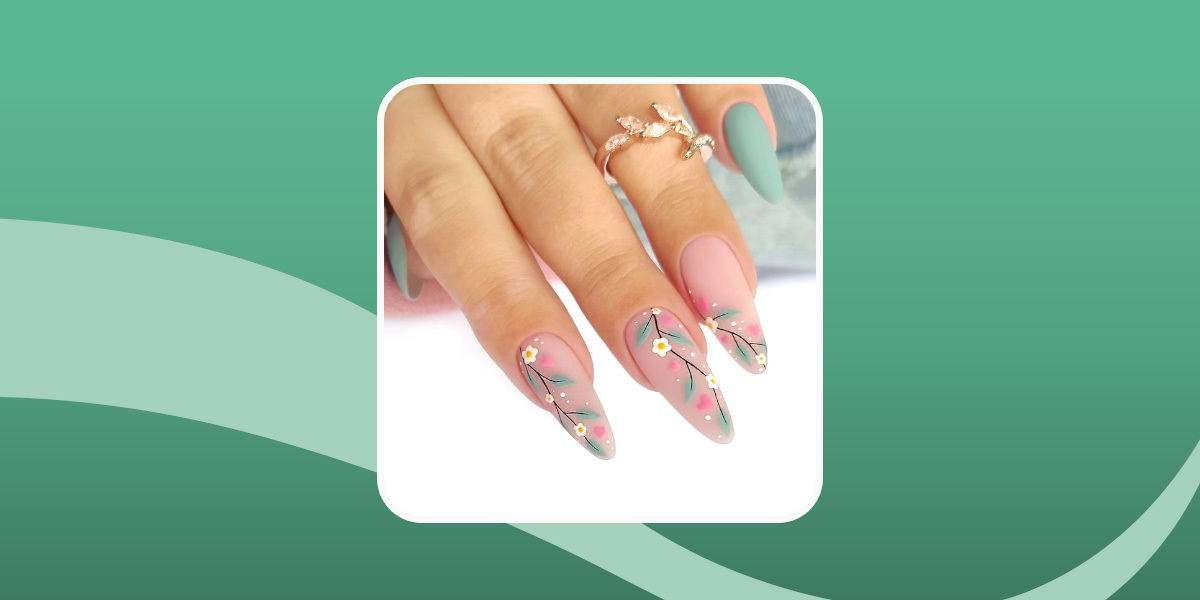 Bonus Design -Shimmery Daisy Nail Designs
Here there is no overdoing it! The daisies are painted in golden glittery nail polish and white on yellow nails. A golden monochrome is added that breaks the pattern. This is for those who do not want to go the simple way of depicting the flowers. The richness and the shine are for the girls who want to show out their glam element even in daisy nail designs. Go-getters and fashionistas will find this shimmering daisy nail design equally alluring.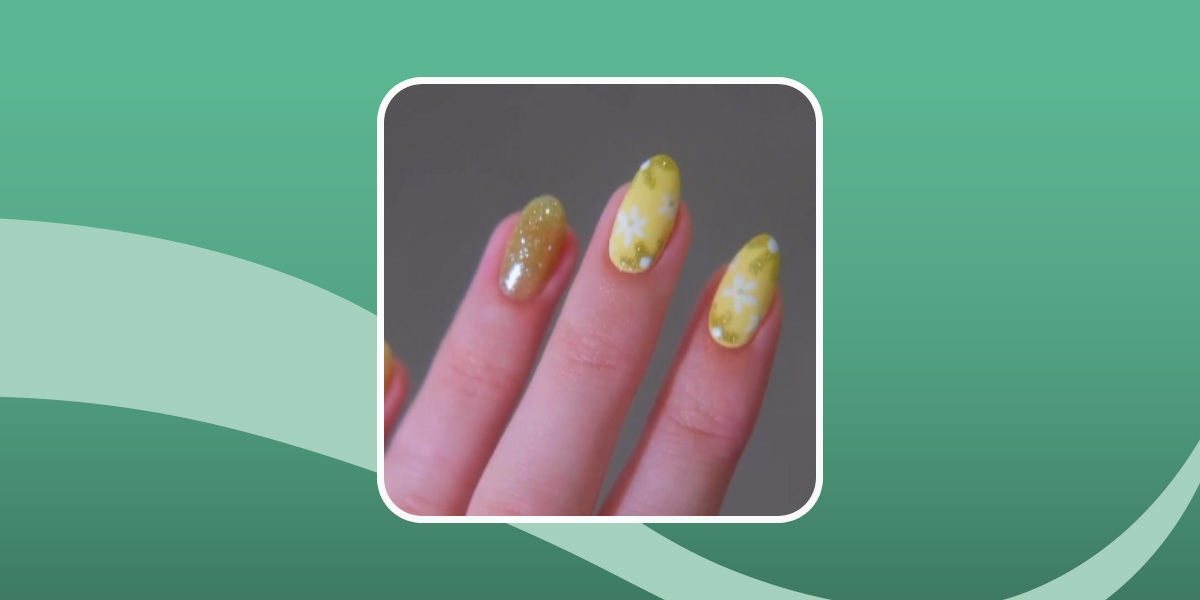 The cheat sheet is attached!
If you feel artistically bankrupt or too busy to brush the daisy nail designs, you can always use nail stamps or nail stickers. You just need to decide what base color the nail should hold. The rest is readymade magic. You do not need to rush to a manicurist to get daisy nail designs when you know where to stamp or stick your daisies.
Daisy Nail Designs For Different Nail Shapes And Lengths
Painting daisy nail designs on nude, French, colored, and ombre nails is the best option. It is not that adaptable on nails with geometric designs or patchy nail art. Also, it can get along with trends like butterfly nail designs, phoenix nail designs, etc. by bringing in the floral element. Daisy nail designs can be an accent or the end which means it can complement another design or stand on its own. The number and size of the daisy nail designs will depend on that!
The choice of daisy nail designs also depends on the length and shape of the nails.
Long Nails
The longer the nail, the more versatile you can be in nail art. You can start with shimmer, ombre, monochrome, or nude nails as a canvas. With long nails, you will have a range of options regarding the shape, size, and number of daisies you want to include in the design. You can add daisies of different colors as well.
Several daisies: Needless to say, longer nails can accommodate many daisies on one fingernail. You can also make a statement like drawing one single big daisy on selected fingers or thumb while leaving the other fingers barren.
Size of the daisies: The size of daisies can be exaggerated when you have longer nails though it is not a rule of thumb! You can make a big statement with one big daisy or add a large half-daisyIf you are mixing other styles like French or swirls, you can leave the daisy smaller. You still can add multiple daisies as the nails are long.
Medium Length Nails
Medium nails are equally versatile as you can mix daisy nail designs with other elements like French, Milkly french manicure, polka dots, swirls, shimmer, and bling to name a few.
Size and number of daisies: You can draw a cluster of small daisies or a single one depending on the style you are going to choose- subtle or abundant!
A Stiletto Daisy Nail Design which mixes daisy nail designs into the ombre nails can make the daisies stand out in a classy yet colorfully subdued way. Both mature girls and teeny fashionistas can equally dig this pretty daisy nail art, suitable for both medium and long nails. You can also go low-key with colorful daisy nail designs on nude nails that beautifully house the naturally lush and flowery earth with many daisies with foliage creeping up your nails.
Choice of Fingers: You can draw as many daisies as you want on any finger. But if you want it to go subtle, you can choose a finger or two with a choice of coloring the other fingers.
Short Nails
There are daisy nail designs that can flatter shorter nails as well.
Short nails will look super cool with daisy nail designs on selected fingers unless you want daisies on all your digits. The rule with short nails is that you should not overdo anything. Be it the number of daisies, adding other styles like swirls, polka, stripes, etc.
Size and number of daisies: If the nails are short, you can either draw small daisies on nude or colored nails or draw a moderately big single-nail daisy on your finger. If you want to accommodate a style that has more daisies on one finger, the size of each one should be small. You can also draw half a daisy to make the daisy element more obvious and to avoid the bother of carrying a magnifying glass to prove that it is a daisy indeed!
Choice of Fingers: You can add a daisy to each fingernail uniformly. Alternatively, you can paint a super cute daisy nail design on short nails in pastel, leaving just one or two fingernails to accommodate the cheeriness of white daisies. Even babies can carry this cuteness overdose. You have a choice to leave out some fingernails to make the design subtle.
Shape Of Nails
The shape of the nails also plays an important role in choosing the daisy nail design. An oval, coffin, or stiletto nail can carry daisies of varying sizes along with some French tips, glitter, swirls, and some bling. Smaller and square nails can house only the choicest tiny daisies!
How To Accommodate Daisies Universally?
You can add daisies to any shape or size of nails. Bear in mind that longer nails can accommodate as many daisies and a mix of styles. Medium and short nails can flaunt daisy nail designs in three ways:
You can draw a single daisy on each nail of every finger.
You can draw multiple daisies on selected fingers.
You can draw bigger daisies by reducing the number of daisies on a single digit, or by drawing half daisies towards the tip or the nailbeds (2).
When going for daisy nail designs on short nails, coloring it with pastels or the color of your choice which matches your skin tone will make the design worth its while. Both dark and light shades of nail polish can make the short nails look good with the daisy nail designs on them. It is better not to go with shimmer as the base nail color for shorter nails, but you can always add a dash here and there.
Nail Care Tips For Durable Daisy Nails
You can also increase the longevity of your daisy nails with a proper base coat as a strong foundation, nail color (optional), and a top coat to seal it all in. Always apply a fresh coat of a base nail color after removing all the residue from the precious manicure before getting the daisies. Try to keep away from harsh chemicals in household cleaners by using milder ones or by using gloves while doing household chores. Refrain from strenuous activities that require hand usage to prevent the risks of daisy nail designs chipping or peeling off. Intricate 3D nail designs can chip off easily without proper care, such as moisturizing and avoiding extreme heat, like while cooking.
Au Revoir!
You can also accommodate daisy nail designs on any nail, irrespective of its size or shape. This can incorporate elements from other nail art designs if the nail provides the space to house them. An intelligent choice of base color and size of the daisy can make a masterpiece- no doubt! Do you dote one already? Nail up, princess!