Why is gel nail aftercare important? The popularity of gel nails has grown more than ever. Everybody is getting their nail game on; gel nails are the new game. We know you have your Instagram and Pinterest save board filled with at least a few gel nail and manicure inspirations. Longer and stronger nails are certainly glamorous. And with gel nails you have the freedom to choose from classic designs, florals, themes, and fun emojis to sparkles you name it. You can customize gel nails to any design and shape you can dream of.
Why are gel nails getting all the hype? If you compare it to a normal manicure, gel nails can last you a while, looks flawless and can instantly turn anyone's hand pretty. To get gel nails, you do not need to have naturally very strong or long nails. Gek nails can give the illusion of natural-looking nails, a real blessing for nail biters.
This article might also be helpful for those who have tried gel nails and have damaged their natural nails (yes! That can happen if you do not do the right gel nail aftercare). We are setting the facts straight. A lot of chemicals, buffing, and trimming go into the processes of getting the perfect gel nails. This could easily cause a lot of damage to your natural nails (1). But don't fret, you can still enjoy the hottest beauty trend with zero damage. Want to know how? keep reading Aftercare for gel nail extensions!
Let's start with the basics…
Gel Nail Aftercare: What Is A Gel Nail Extension?
Getting gel nail extensions is a process that uses a molecule called an oligomer, a gel with a thick water-like consistency to build a nail-like structure on the natural nails and cured/ hardened with UV light. The look is similar to acrylic nails but is of better quality and latest longer. You can design your nails to any shape and length depending on your preference. They are lightweight and do not feel like you have something on your fingers.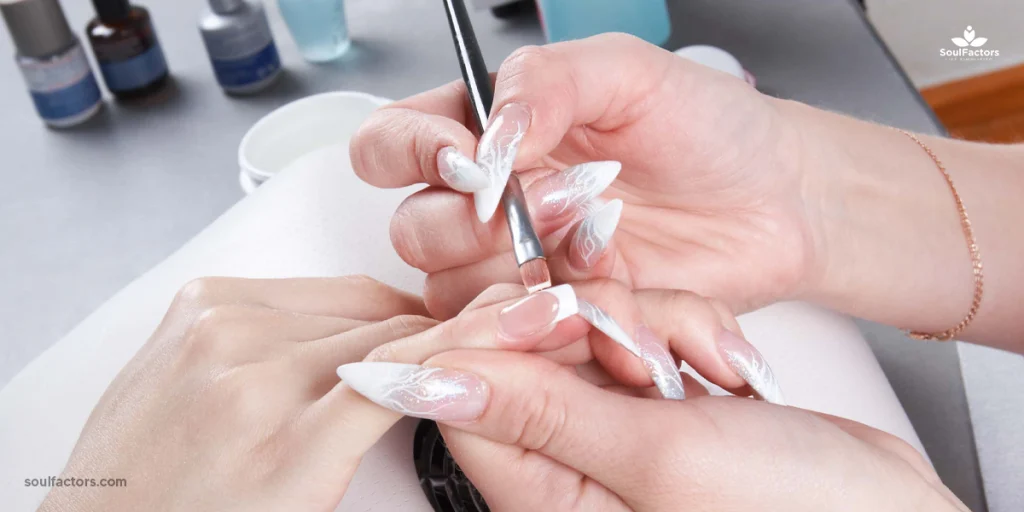 Difference Between Acrylic Nails And Gel Nail Extensions?
Acrylic nails are made from different nail material, which is mostly polymer. Most people prefer gel nails over acrylic as gel nails do not have a rubber-like odor. Though the features of both gel nails and acrylic nails are almost the same, gel nails are less damaging and last longer.
What Are The Different Types Of Gel Nail Extensions?
Gel nails come in three different types, hard gel, soft gel, and now the latest addition, hybrid gel. Hard gels, as the name suggests, are hard making them very durable and acetone resistant. You can file and shape them into anything you like.
Soft gels are more natural and work fine but you cannot be extend them longer. But soft gels are easy to work with.
The hybrid gel is a mix of hard and soft gel making it perfect for and most sought-after gel extension with the good of both hard gel and soft gel.
Steps Involved In The Process Of Applying For Gel Nail Extensions:
Step 1:
Basic nail prep before getting gel nail extension involves, trimming, buffing, shaping, pushing back cuticles, and cutting off dead skin. Your nail technician will wait then for your nails to be completely dry. This is very important for proper application and longevity of gel nail extensions.
Step 2:
One basic prep is done, then technical will place a shaper and length tip which will help in determining the required shape and length of the nail. A bonder is placed under the tip and pressed down to get the desired shape.
Step 3:
This is cured under UV light.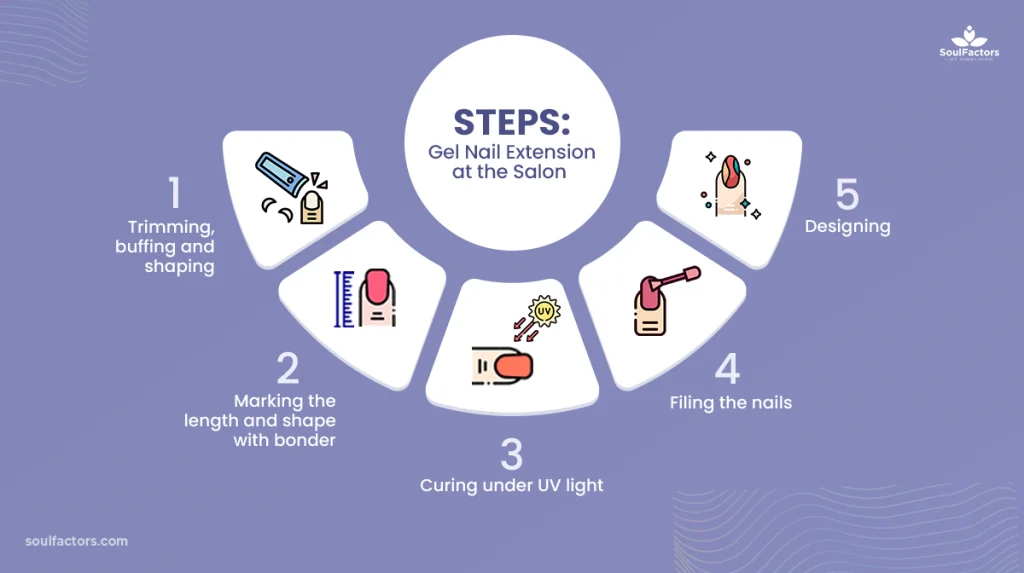 Step 4:
Once the bonder is healed and n place it is filed into the desired length and shape.
Step 5:
Now the technician will paint your nails with the desired color and design.
Step 6:
A final top coat is applied to set everything in place. This top coat will also add some extra shine and hardness to the nails.
If you are new to gel nails by now you must be brushed up with the basics. So, let's get into Gel Nail Aftercare.
Gel Nail Aftercare: How Do You Take Care Of Your Nails After Gel?
Nobody wants their immaculate-looking new set of gel nails to be damaged or broken before the next appointment. Here we have a compilation of the best gel nail aftercare you can easily follow to make your nails last longer. Even a few days post your appointment date, saving a few extra bucks.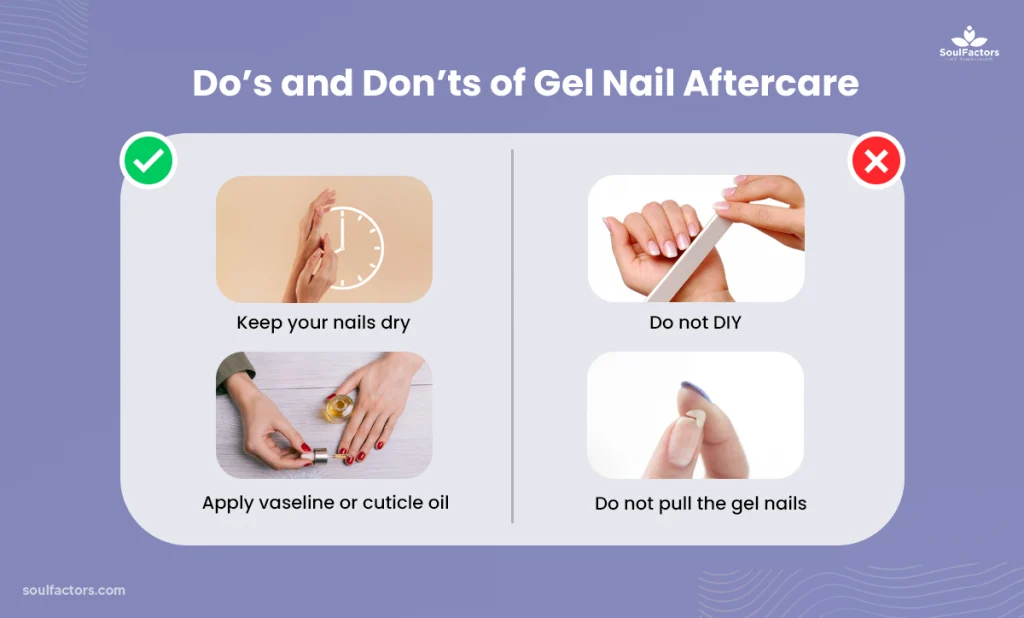 Once your gel nails are done and set do not DIY on them at home.
Do not try to cut or file the gel nails by yourself if you change your mind
Try to keep them as dry as possible, and wipe your hands dry as soon as possible after wash.
Use a good quality cuticle oil or Vaseline on your cuticles every day preferably at night.
Make sure you wear a good pair of gloved when you are doing that might damage the nails for example, gardening, cleaning, cooking etc
Do not pull or use daily to remove or pick something that might damage them
Avoid using harsh chemicals.
Stay away from products that have solvents, this might alter the color and shine of your gel nails.
Wash your hands after long hours on the beach or sun, this will help get rid of oil, dirt, and chlorine which can alter the look of your gel nails.
When your nail starts growing out, wear some nail polish or glitter at the bottom to cover the area.
Do not try to pull out the gel nails as it can damage your natural nails.
Apart from the above-mentioned aftercare, we also advise you to give extra care to your nails right after application, i.e. from 24 hours to 48 hours.
Tips To Keep Your Natural Nails Healthy In Between Gel Nail Secessions:
Let your natural nails breathe for a few days before you get your next secession. Though you might be tempted to get the next best nail idea as soon as you remove your old one, it's wise to take a break in between so that your nails get a break to repair any damage that might have occurred.
Try not to grow your natural nails long right after you remove your gel nails. Your nails can become weak post-gel nails hence you may cut your nails short so that they can grow out stronger.
Always keep your nails moisturized you can either use a serum or cuticle oil or Vaseline.
Try using naturally breathable nail polish for a while if you must use anything at all. If you can go free of any polish, then that would be the best choice.
If your nails seem to be brittle and weak try using a nail strengthener, this can help your nails grow thick and strong.
FAQ
1. What are the benefits of gel extensions?
Gel nails are long-lasting compared to other forms of nail extensions. They are also lightweight and don't feel like you have something on your nails. Also, gel nails work great for those who nail bites as these can prevent you from going back t your habits.
2. How long do gel nail extensions last?
With proper care and following the instruction strictly your nail extension could easily last you for over two weeks
3. How much do gel extensions typically cost?
The cost of gel extensions varies from place to place. In India, it could cost you anything between 100 to 5000 depending on the type of customization you choose.
4. How do you remove gel extensions?
The best choice to remove gel extensions is to go to your nail technician. Pulling out your geek nails might damage your natural nails. If you must remove it at home, then we recommend trying wraps over each nail using foil paper with cotton soaked with acetone. Some gel nails come off within 15 to 20 minutes of doing the same.
5. How soon after gel nails can you shower?
Even though you can shower as usual, It's recommended to wait for 24 to 48 hours post-gel nail application to take a shower to enhance the life span of your gel nail extensions.
6. How long does it take nails to heal after gel?
There is no healing time post-gel nails, you can resume your activities as soon as you step out of the saloon.
Final Thoughts
Gel nail aftercare is one of the most important but underestimated aspects. Every beauty treatment option comes with side effects, hence understanding aftercare is very important before you visit the saloon to get a treatment done. Gels nails are a great option for those who don't like to or don't have the time to get their nails frequently done. It's classy, stylish, and feasible. Gels nails can also be done on any type of nail which is a bonus. What's your favorite gel nail type? Feel free to let us know in the comment section below.
Flaunt those nails with confidence!