Deinfluencing is coming around as a new trend on social media. From the days when sponsored influencers told customers what to buy, influencing is moving towards a reverse trend. Influencers have taken up the role of exposing products that fail to meet their claims or are overpriced. In the same way as negative reviews on Amazon tend to have more appeal and impact among consumers looking to buy a product than do positive reviews, this kind of deinfluencing is gaining the attention of viewers.
As deinfluencers aka 'anti-influencers' are now turning into apparent Good Samaritans protecting their followers from false advertising and ineffective products, it is important to see where the trend is taking us. The cost of living crisis has further added to the relevance and popularity of deinfluencing.
It is easy to see why influencers are suddenly after this trend. It has a special appeal that makes it a shortcut to earning the trust of viewers. And in a world of all-pervasive marketing , the rising demand for challenging and subversive messages and content is only understandable. But what is it really that drives this trend? Are these new-era influencers genuine whistleblowers on overhyped products and brands, or monetizers of the growing popularity of the trend?
#Deinfluencing Trend Implications
On TikTok, "deinfluencing" Korean beauty (K-Beauty) has taken off with a never before seen vigor, with views reaching over 99 million, as users share their experience and thoughts on K-Beauty products. This has seen an effort to deflate the hype that these products have received over the years and the long standing upper hand Korean cosmetics has held in the beauty undustry . And in the last 30 days, according to TikTok hashtag analytics, #Deinfluencing gained major traction in Indonesia (11M views) and Australia (8M views), with 2-3M views in countries like Philippines, Malaysia, and Thailand.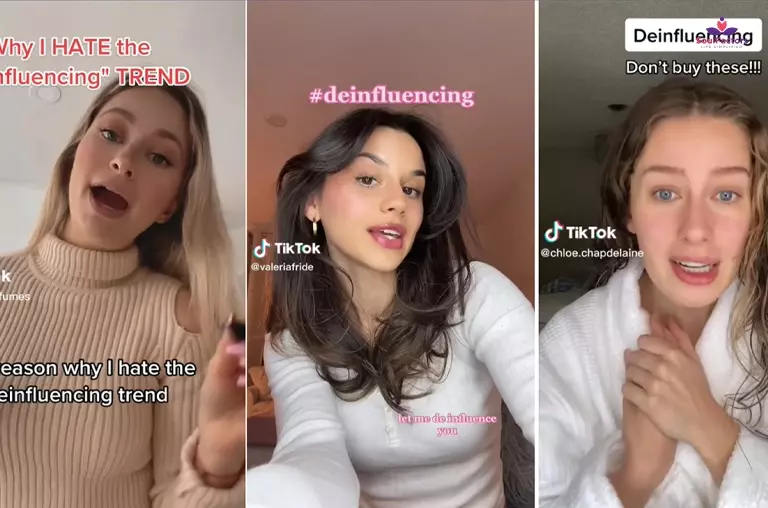 Brands have reason to be worried as the trend is gaining traction on social media platforms. False negative publicity can sabotage their brand power and affect sales. The issue with deinfluencing is that for some brands it is unwarranted and without grounds.
An executive speaking off the record pointed to the power of the trend by describing an intentional way it's being leveraged: "At our company, we're even working with agencies that have experience with [de-influencing by] intentional sabotage and terrorists. So we're working to understand and see social patterns, so that we can identify how to protect ourselves from a cyber attack of influencers to our brands."
Are some brands more affected by Deinfluencing than others?
There's no question that deinfluencing has already had an impact on brands particularly in highly competitive categories that are increasingly driven by efficacy, such as beauty or technology.
For some of the brands, the issue with de-influencing is that it's unpredictable and mostly without grounds. "It can happen to anybody at any time, and it doesn't matter what the facts are. It's just what people want the story to be," said another executive. "There is this culture among influencers, where, if something is picking up traction, they jump on it for exposure and personal gain."
Instagram travel influencers who have been clearly sponsored by hotels or travel operators, or TikTok accounts that painfully scrutinize every detail of a luxury product to question the exorbitant prices of these goods.
The Brightside
Shir Lee Akazawa, social media manager at Virtue APAC, says:
"Rather than worrying about 'de-influencing', we should perhaps look at it like 're-influencing'" Opening up conversations and welcoming different perspectives from a range of credible sources to enable consumers to make informed purchases, instead of paying for blind product endorsements."
Ellie Hooper, Accounts Director at leading influencer marketing agency Goat, says:
"Brands and marketers shouldn't be scared of the trend, but instead should take it as a clear cultural warning sign that should be considered and responded to,"
"At Goat we shout that 99% of influencers won't work for your brand. If a brand's partnership isn't authentic, meaningful, and intentional, then don't bother. It won't do anything for the brand's positioning on social media, let alone the performance that you'd anticipate from any output—and worst of all, could result in backlash for the world to see.
One example, often cited as a catalyst for deinfluencing was the uproar over whether beauty influencer Mikayla Nogueira was using fake eyelashes in a video made in collaboration with L'Oréal to advertise its mascara.
Jennifer Lopez was also called out by her followers for using a filter as she promoted her JLo-branded serum on Instagram.
The 'dupe' trend is another one that fits into the broader deinfluencing narrative, which saw a spike earlier this year on TikTok and Instagram. The dupe trend is when creators share videos of a high-end product alongside a cheaper or more affordable version (the dupe) that could be used to achieve a similar look or effect.
This 2015 study (1) on dealing with negative publicity on social media found that negative publicity on social media can be dealt in a more reactive or proactive way. Essential aspects of both approaches are constant monitoring and being open and honest.
What is the Future of Deinfluencing?
Despite its widespread prevalence in culture, it doesn't look as though 'deinfluencing' will kill influencer marketing anytime soon. As much as influencers have become a dirty word in some circles, it is here to stay – the influencer marketing industry reached $16.4 billion in 2022, as compared to $13.8 billion in 2021, and is projected to further grow this year. "Deinfluencing' will compel influencer marketing to evolve and take on a more sustained role in the marketing mix," says Akazawa. "While there is still a role for big name mega influencers to lend their star power and prestige to brands, brands need to create a cohesive influencer mix to drive a holistic outcome, as trust shifts from individual personalities to collectives and communities."