Who doesn't dream of a fairy-tale wedding?
A wedding, far away, at a magical location with a breathtaking decoration in an equally breathtaking white dress with a train of veil sweeping the groom of the ground. Hailey Baldwin and Justin Bieber's wedding was just the perfect fairy-tale wedding you and I dream of.
Hailey And Justin's Wedding Inspired Goals!
Any woman can get inspired by Hailey-Justin's wedding. Have you seen the wedding pictures? It was a beautiful ceremony that took the breath away from everyone present there. Friends and family, including many guests like Kendall and Kylie Jenner, Travis Scott, Usher, Ed Sheeran, Jaden Smith, Joan Smalls, Justine Skye, Scooter Braun, etc. cheered and celebrated after the couple said, "I do".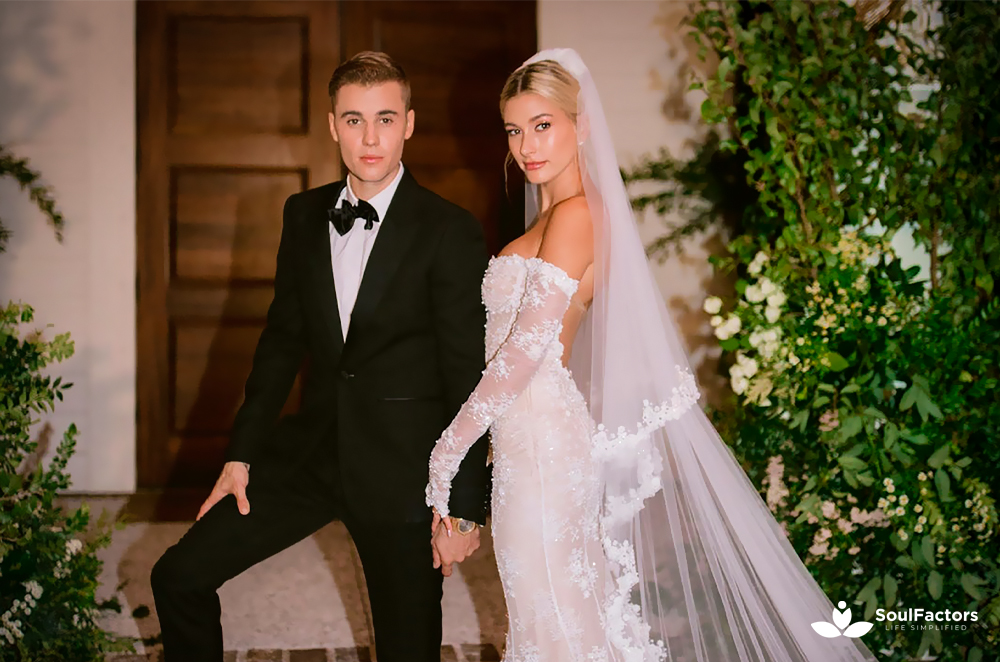 They were legally wedded at the New York courthouse on September 13, 2018, after getting engaged in the seventh month of the same year. As Justin himself mentioned, seven is the number of spiritual perfections! And then, after a year-long waiting, on 30th September 2019, the pair celebrated a larger ceremony with 154 guests to toast along.
Hailey was a drop-dead gorgeous bride. From head to toe, she was graceful elegance molded into alluring beauty. There are many "wedding inspired goals" you can fish out from her wedding like these listed below. You can even try recreating at your wedding.
Destination
The couple exchanged vows during the sunset in a ceremony at the Somerset Chapel, Montage Palmetto Bluff in Bluffton, South California, a small beach town right off the coast of the state.
They chose South California and it looks just like a place from a Nicholas Sparks novel! Palmetto Bluff is the paradise of tourists around the globe with the massive 20,000-acre community along the May River(1).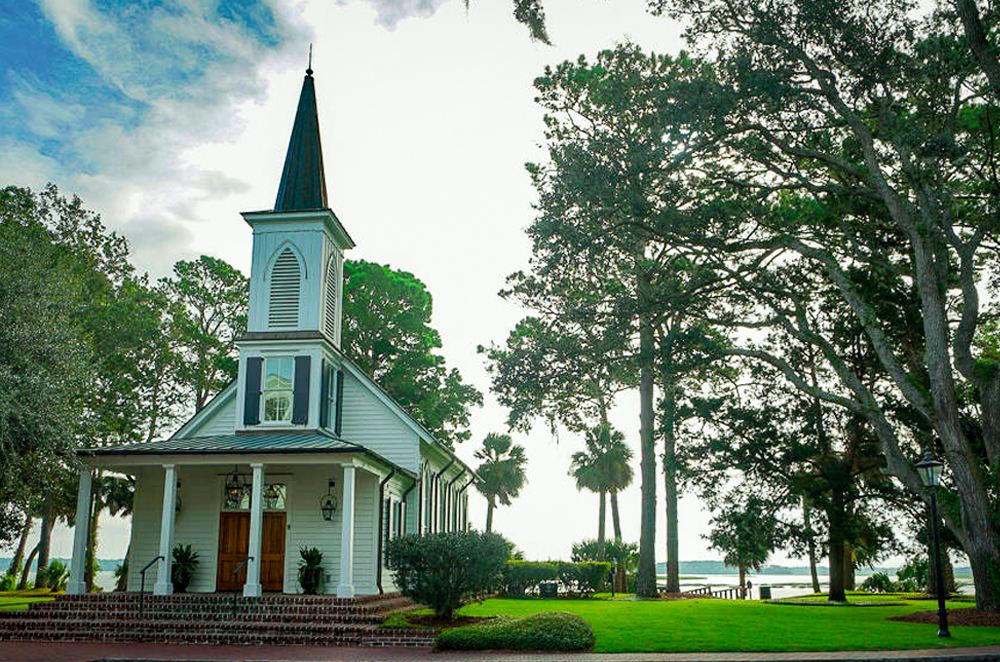 A divinely scenic place that is perfect for a tropical destination wedding.
Palmetto Bluff is a resort, like no other, where you'd wish to go again and again because of its serene beauty and the warm feeling it gives to your memory.
Themed Pre-Wedding Party
It was definitely a Notebook-themed wedding in South California just like the movie itself! The guests were given a copy of the novel "The Notebook" as part of a special gift upon arrival. The couple even screened the 2004 movie – starring Ryan Gosling and Rachel McAdams – at the pre-wedding party. Hailey's and Justin's favorite movie, that is about love, loss, and love like the couple experienced in real life with an on-and-off relationship.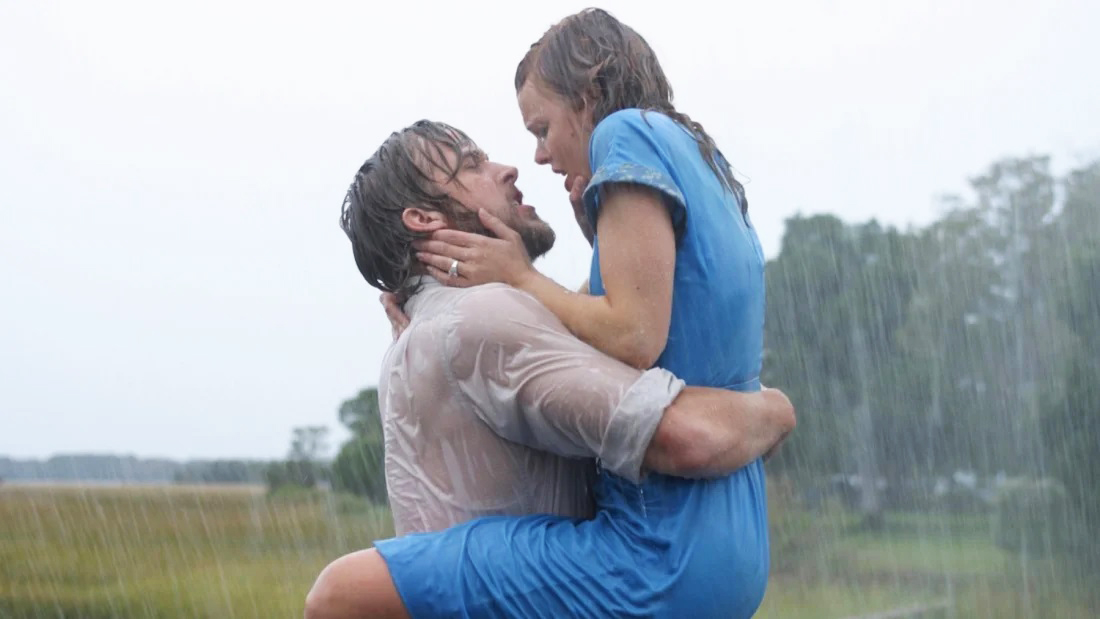 The pre-wedding party, on the previous night at Moreland Landing, a banquet venue close to Montage Palmetto Bluff, was terrific apparently. A sleepover on Sunday night to make the wedding more memorable and fun with a carnival-themed party. Yes, all of our childhood-dream sleepover!
They gathered their loved ones together and hosted different games like bowling and capture the flag, put a whole spread of ice cream and candy, a giant dance party, along with the screening of The Notebook.
The best part of the night was the huge water-guns fight around 1 A.M. A cherry on the top for real!
Decoration
The chapel was decorated magnificently that can make anyone go awe in wonder.
The venue was beautifully decorated with lights and white flowers. This luxury floral decor was done by California based florist "Mark's Garden". There were many string lights hanging and lit candles along the length of the tables. It was a chic and white decored wedding.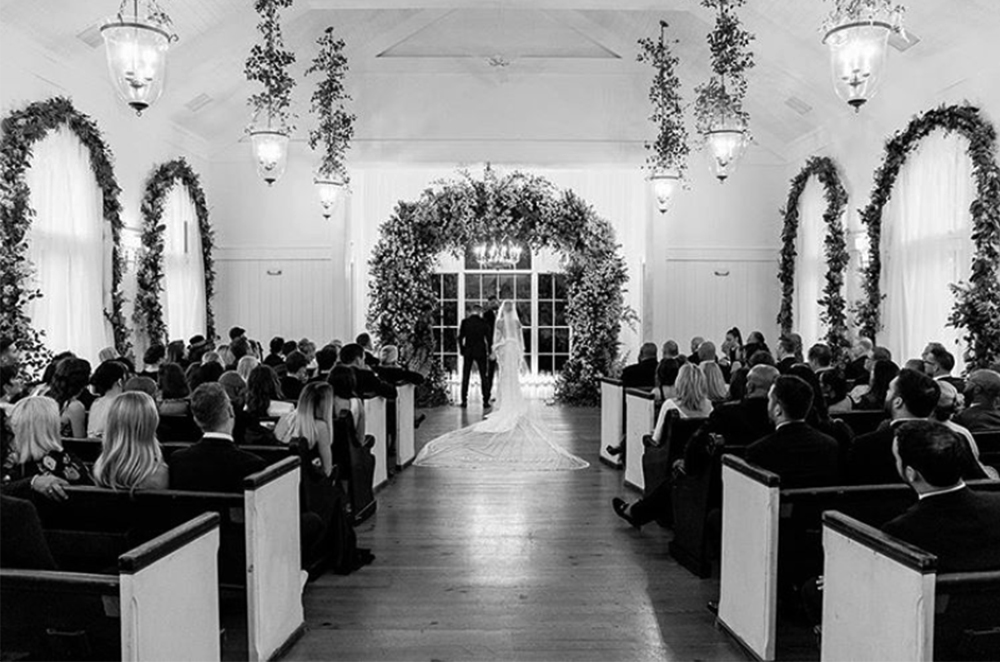 The guests were given personalized t-shirts and water bottles with personalized logo at the pre-wedding party. How creative!
Wedding Gowns
The best part of the wedding was the dresses Hailey charmed her way in. And it was not just in one dress, not two, but three.
She made everyone stare at her beauty in three different custom designer dresses on the big day! (2)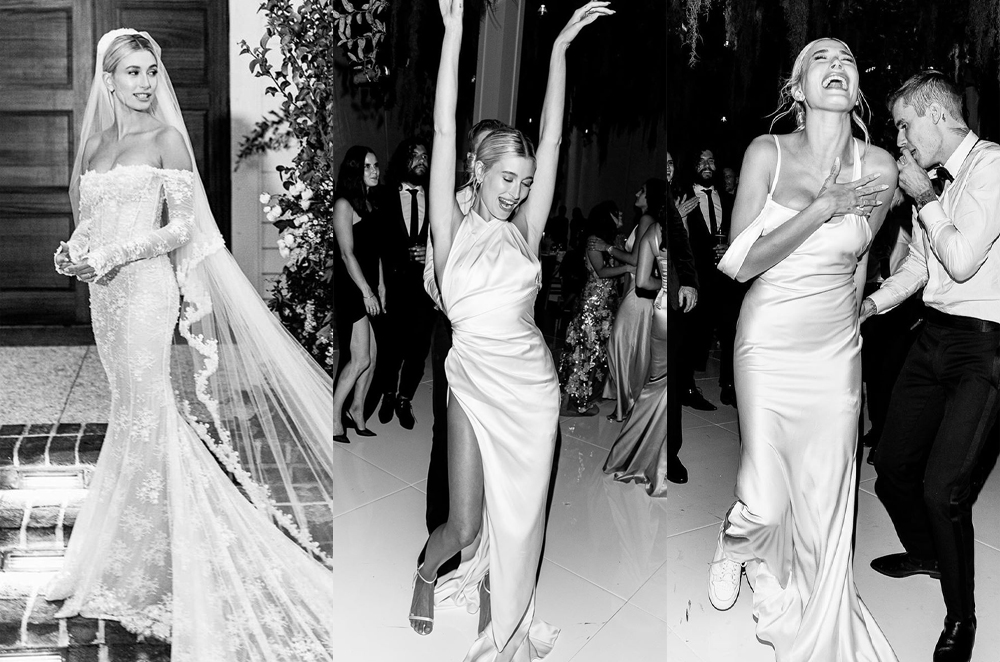 Hailey walked down the aisle with her father Stephen Baldwin in this bespoke mermaid style dress. It was intricately made entirely of pearl-embroidered lace to the length of her long sleeves too. An off-the-shoulder neckline dress with a daringly low scoop back that ended in a train that graced her walk. Hailey's dream dress with a non-traditional look was created by Off-White designer Virgil Abloh.
For the reception, she chose a stunning silk halter dress with a thigh-high slit pairing with Jimmy Choo's stiletto heels. This was designed by Tamara Ralph and Michael Russo [British Luxury brand – Ralph & Russo]
As the reception slipped into the early hours of the morning, the bride slipped into another slip dress of beauty. Getting comfortable with just the dress was not on her mind, she got really comfortable into sneakers to rock the dance floor.
Cathedral Veil
Another stand-out feature of the wedding was the cathedral-length veil Hailey walked in. "Till death do us part"(3) was stitched at the end of the long veil. Cue the awws!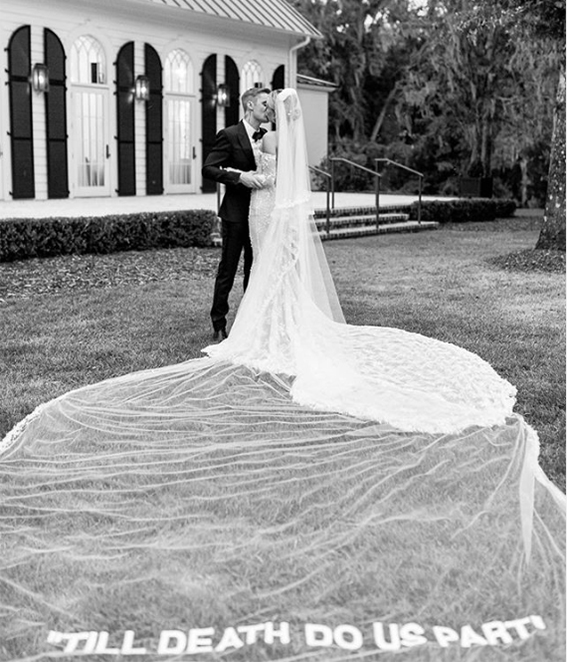 Wedding Band
And we thought rocks of rings couldn't get any bigger!
Hailey's oval-cut diamond engagement ring is stacked between her two 18K wedding rings from Tiffany & Co.'s.(4)
Check this out for a clearer and closer look.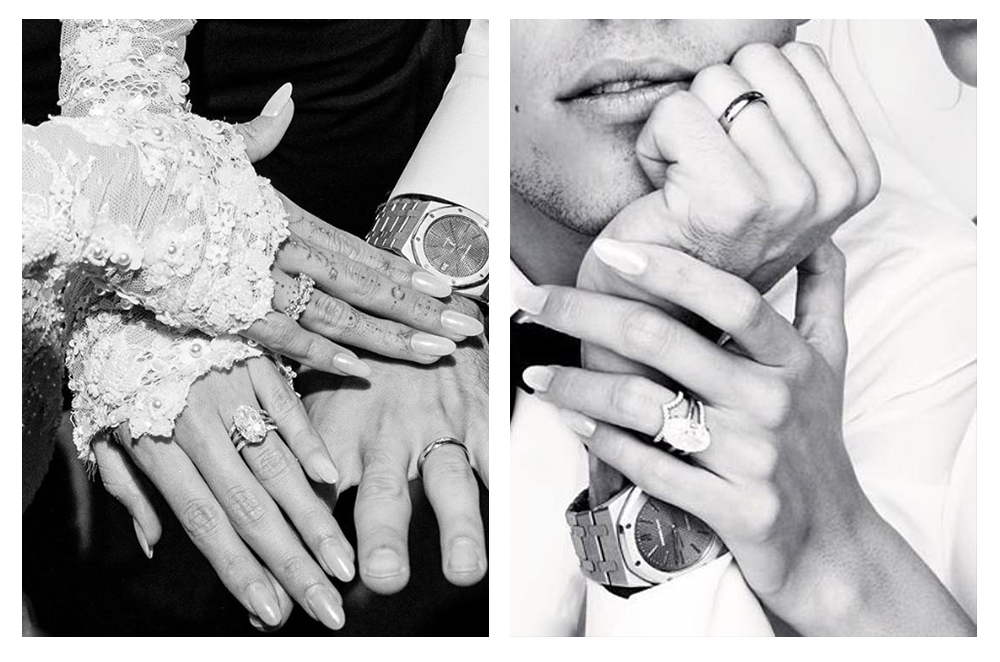 Makeup and Hairdo
Simple yet elegant. Hailey trusted her face with her favorite makeup artist Denika Bedrossian on her big day. She was given a simple yet radiant look with a glowy complexion, nude lipstick, brushed up eyebrows and curly eyelashes. Her hair was styled into a low bun with a few loose strands around her face by Jen Atkin [OUAI]. She wore pearls in her hair. Nothing was overdone and it was a perfect bride look.
Look how gorgeous Hailey looked with that natural look!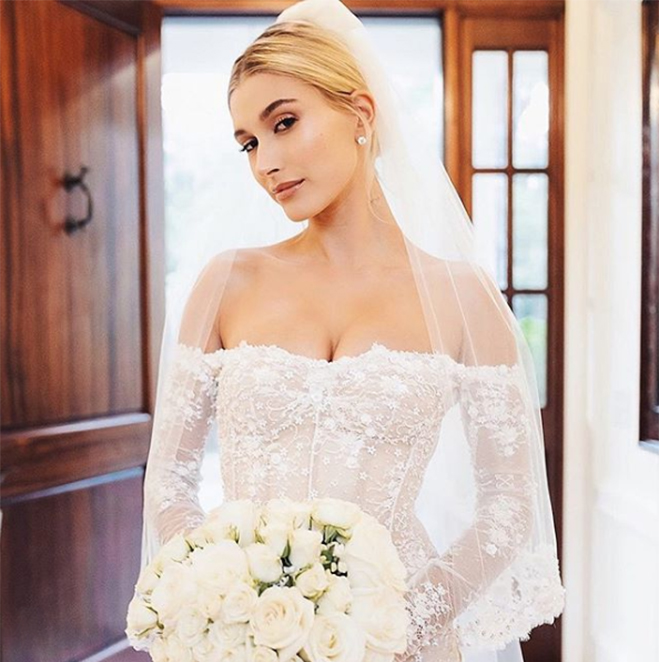 Jacket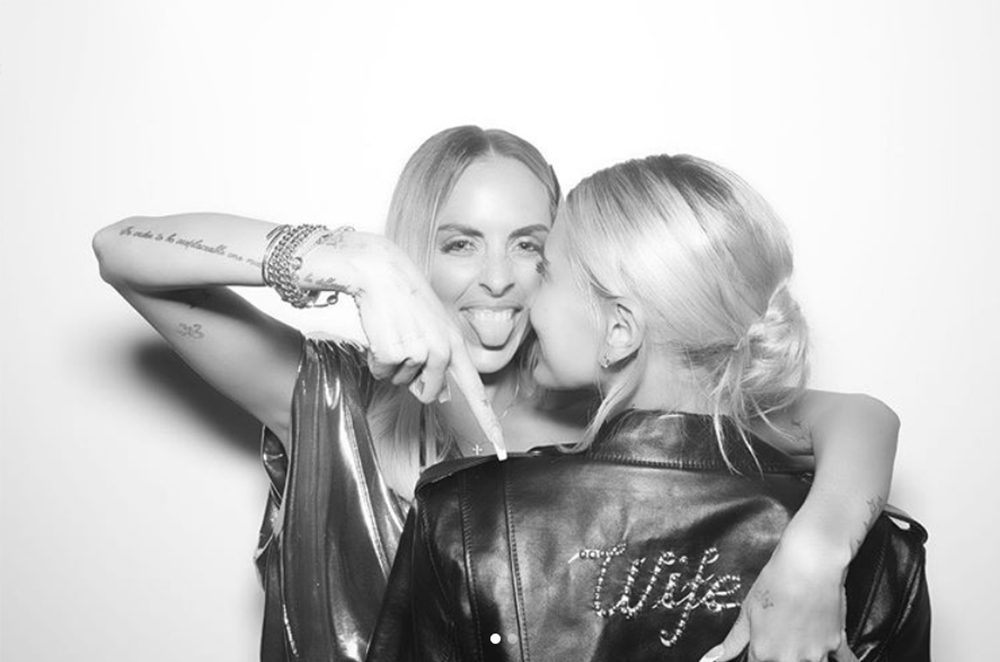 Another stand-out masterpiece badass accessory of the wedding was the black leather jacket Hailey wore. The sleek jacket had "wife" written across the back with icing stones(5). How loud is Hailey going to scream to the world of her new title! She even changed her Instagram username to @haileybieber. One can announce the world of new happiness in so many ways.
Necklace
Someone, please give Justin a trophy for "The Best Husband"! Have you seen Hailey's new gold chain necklace that spells "wifey" with diamonds?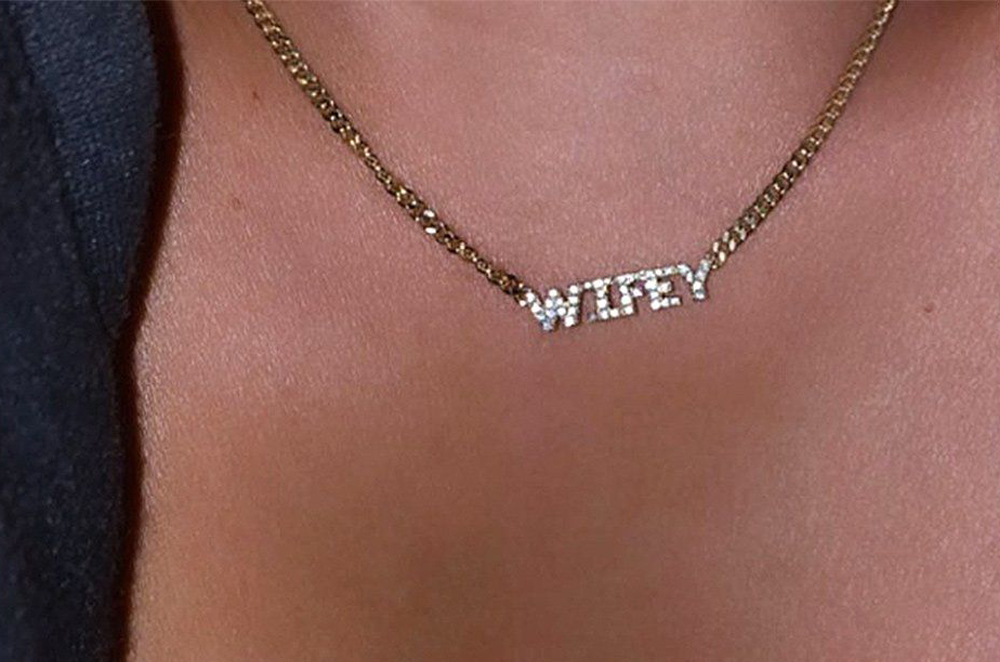 It is a beautiful piece of ornament. Justin uploaded a story on Instagram to show us the necklace. A simple necklace that carries the heavy meaning of it. Wouldn't you want to bask in the glory of marriage right above your chest every day? Oh, I would love to.
That was the shortlist of inspired goals from Hailey Bieber's wedding. Her wedding planner Mandy Weiss worked magic! You could choose any from the above to make your wedding dashing. If you choose the same destination, trust me you will love the pictures later. Because the place looks so heavenly.
If you are going to stitch words on your veil, go for "til" instead of till as it is the wrong usage. Many fans have pointed that out already. Shush.
Don't stop your celebration just in one dress, make it two, or as Hailey did, choose the graceful three.