Everybody has a morning routine; we wake up, brush our teeth, some grab a coffee, get dressed, and go to work. Scrolling through your phone for hours before getting out of bed and eating breakfast without brushing your teeth can be really unhealthy habits to kick-start your day. Daily habits work as a cycle of whether we plan it or not. Including a few healthy steps into this routine can do a lot for overall health.
Also, a good routine can make you fresh and more productive for the day. The wee hours in the morning are very important for self-care, wellness, reflection, and creativity. Working women need to utilize these hours for the best purpose before rushing to the office . Hence paving out a healthy morning routine will save you time. Instead of the rush, you can go to the office with a relaxed mind to achieve your dreams.
The Healthy Morning Routine For Working Women!
A healthy morning routine can be powerful, especially in improving energy and focus throughout the day. So how can one kickstart the day in a healthy, positive as well as productive manner? Though that seems like a lot, it's quite simple. Trust me, ladies, a working woman's life may seem complicated, but this article is all about helping you find peace and love between you and your alarm clock. Let's get started on "creating a women's healthy work-life balance," as I call it.
If you are not yet on the road to better health and you are feeling that having a job has been affecting your health and you don't find time to take care of yourself…? It's time to change that. Anything that has to work requires planning. Planning a sensible and practical morning routine is one of the best ways through which you could get started on your day.
So what does a healthy morning routine look like?
Before getting onto routine(1) itself, I would like to stress a bit more about the importance of starting your day healthy.
The Importance Of Having A Healthy Morning Routine!
Generally, people are more productive when they wake up. For starters, we naturally plan along and think more during the morning hours. So usually, setting up a planned routine can help a great deal to bring out the best in you.
One of the pleasing things setting up a healthy morning routine is, getting rid of all the bustle and hassle I have to go through every morning. More time in the morning is always better. And the best part, the routine also helps me to say positive, see the brighter side – if you know what I mean- stay focused throughout the day.
The better I utilize the time I have in the morning, the better I can manage my time and be organized throughout the day. So let's get started…
The Ultimate Healthy Morning Routine For Working Women
First things first am not going to set out specific rules you need to follow because I know that following something every day without fail is impossible and asking you to wake up at a particular time every day may and may not work for you.
What works for me need not work for you- every job, timing, and habit differ. You can refer to this to create a customized plan for your daily routine. In this article am going to lay out a flexible plan that can be altered according to personal preferences.
Waking up
Here is a reality check, anything that requires a result needs time and dedication. To get your healthy morning routine done, one has to wake up early. But that doesn't mean one has to sacrifice sleep and wake up early- that's unhealthy. An average human being requires about 6 to 8 hours of uninterrupted sound sleep. Plan a well-managed" sleep and wake" time. A system where you get enough sleep, as well as find enough time to get stuff done as you wake up.
What is the best way to balance that? To start, try going to bed 15 minutes early and waking up 15 minutes early. Try this for a week, and soon you will find yourself adjusting to the new pattern. Try adding 15 minutes more- after a few weeks- you will get your desired rest and well as wake-up time.
2-Minute Stretch
As soon as you wake up, use the two minutes to stretch your body. When I say stretch it means nothing serious, twist and turn till you get rid of the numbness in the body. The science behind stretching(2) as soon as you wake up is pure- when your body is asleep, your muscles lose tone, and the fluids move and accumulate at the back. Stretching can help in getting back these fluids to their initial position. Stretching has also been proven to help one feel awake and confident to face the day.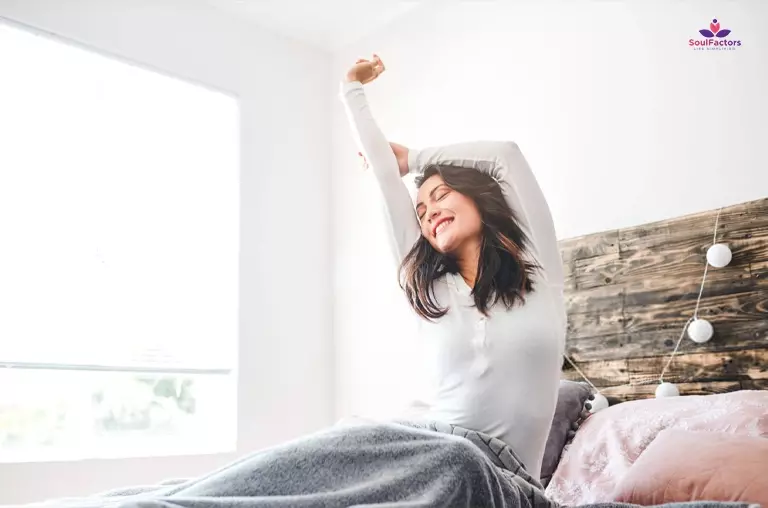 Once you are done, do the things you need to do- hit the bathroom- freshen up!!!
10-Minute Meditation
Mediation or mental exercise is a way for training and work out your mind. Meditation is known to improve concentration, and alertness, and help you throughout the day. People meditate for hours, but since we work and don't have so much time at hand, let's do a quick but effective 10-minute mediation(3).
Find a spot at home that's cozy, comfortable, and lets in the fresh air put on some good calming music, sit down Indian style, keep your spinal cord straight, and close your eyes. Let go of everything else and listen to the sounds around you- from clock ticking to birds chipping. Do this for 10 minutes; you will be amazed by the way this can make you feel.
If you stress out a lot or have signs of depression, mediation is the key to boosting the feeling of confidence, getting rid of negative emotions, and reducing anxiety.
20 Minutes Of Exercise
This part is totally up to you and depends on the kind of time at have. If you have an hour to spare, you can hit the gym or go walking. Since today's topic is all about busy working women. Here is an easy way to get in your daily dose of cardio.
Get into your favorite pair of shoes and start moving, you can go for a short run, dance away, do aerobics, Zumba, etc.. anything that gets your heart pumping. I love HIIT workouts, as they are easy and effective. You can find different types of HIIT routines online; you can choose one of your choices.
Here is a little tip- mix up your workout routine, doing the same thing every day can get you bored.
The next thing you need to do is get a paper planner.
Ahead of the week, plan out what you are going to prepare for breakfast, lunch, and dinner each day. Prepare for the same every previous night. This can make cooking so much easier. Every week you can go through your weekly food menu and alter it as per your preferences.
Another tip – lay out all the clothes you are going to wear throughout the week and get them ready the previous day. Trust me, this saves a lot of time from staring into your wardrobe in the morning.
I know some of you might find it a bit difficult to get started on the routine, but remember why you started in the first place. A healthy mind and body required caring; sitting around lazy is not going to help you look and feel great.
Once you start and stick to the routine, it pays off, and you will see results. If you slack off the previous day (I did initially), don't give up a try again the other day.
Sample Healthy Morning Routine
Here is a sample routine that I put out based on my nature of work and experience so that you will understand things better(4).
6:30am – 7:00 am:
Finish the 2 minutes stretch, and drink 2 cups of normal water or a cup of lemon water. Lemon water is a simple drink that can help in keeping you hydrated and out of stomach-related issues. You can also add probiotics to your daily dose. Once you are done, freshen up.
7:00 am – 7:30 am:
Do the 10-minute meditation and 20 minutes of exercise. Cardio exercise works best when done on an empty stomach.
7:30 am – 8.30 am:
This one hour is completely dedicated to preparing the meals. If you are someone who needs more than an hour to cook, you can adjust the schedule accordingly.
8:30 am – 9:30 am:
Once I am done with these three, then I have about another hour to get myself ready for work. Having already picked my dress for the day, I have extra time to take things slow and leave the house with ease.
Plan out your healthy morning routine and include it on your mood board. Here is the summed up version of your sample healthy morning routine.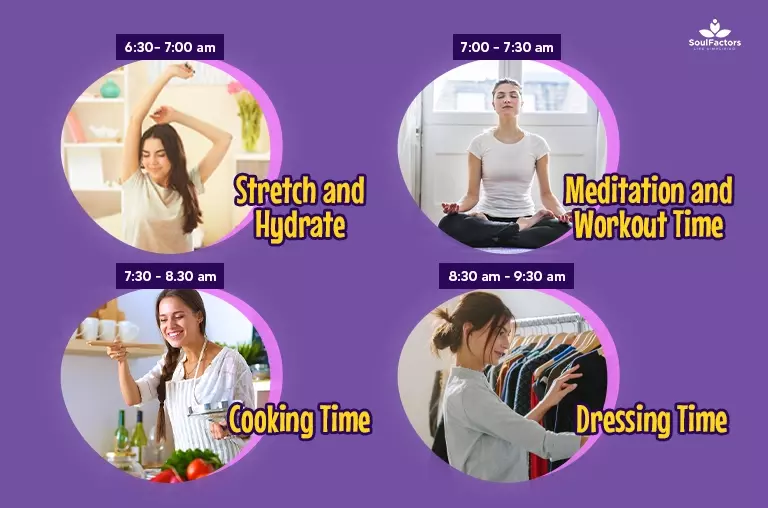 Now, you know what a simple healthy morning routine looks like. Setting up a routine is a very personal goal. Calculating the time you have in your hands, and using them, most productively can help you stay healthy and younger for longer. And the bonus of planning the whole thing, adds about an hour or more to your morning.
So don't give up, waking up, getting your energy, looking, and feeling bright and shiny don't happen only in television ads or movies. It's possible. I hope this article helped you plan out your busy mornings. For more queries and suggestions, let us know in the comments section below.
Welcome to the new you!