Among the many evolving beauty trends, one that has made it to the top list is the face ice globes. Many skin specialists believe that ice can do wonders when added to your daily skincare routine. Using ice globes for the face is one way of introducing ice to your skincare routine.
Are you wondering how to use ice globes for the face and what its real benefits are? Well, keep calm because we have got it all covered. In today's blog, we will share everything about face ice globes so that you can add this mesmerizing tool to your skincare pouch. So what are you waiting for? Delve into the blog now!
How To Use Ice Globes For Face?
Using an ice globe facial massager is not that hard if you learn the right technique first. While using it, you must apply the correct amount of pressure on acupressure points and allow the blood to flow evenly in your facial muscles. Not only blood but oxygen and nutrient flow will also increase if you use the right technique.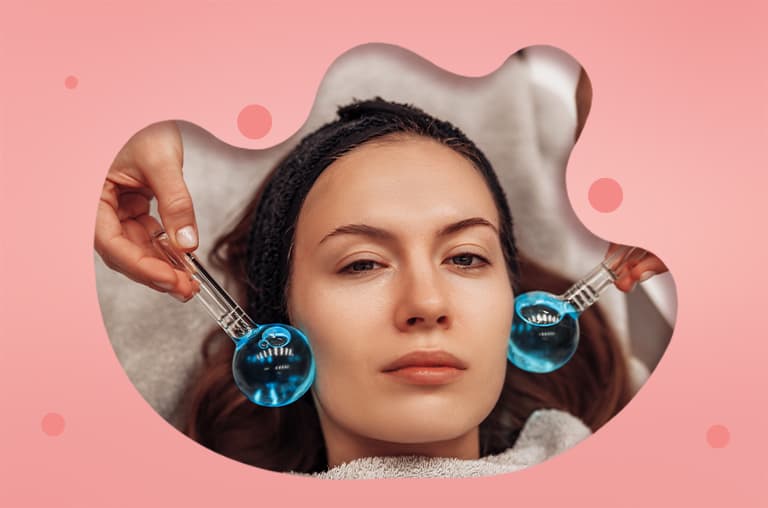 If you are wondering how often to use ice globes for the face, we would recommend you use them every day. If not every day, at least try to use it whenever you feel fatigued. This will release any tension from the facial muscles and give your face a glowing boost.
There are two common techniques of massaging the face with ice globes. We have discussed both the techniques below. Have a look!
How To Prepare Ice Globes For A Facial Massage?
As with any skincare tool, when preparing ice globes for face, the first step is cleaning it well. If you skip this step, then you are on the way to introducing thousands of bacteria and germs to your skin, which can never be a good start to any skincare regime. Hence, gently clean the facial ice globe with water and then spray some sanitizer on it for effective cleaning. Make sure you use a soft wipe to clean off the germs.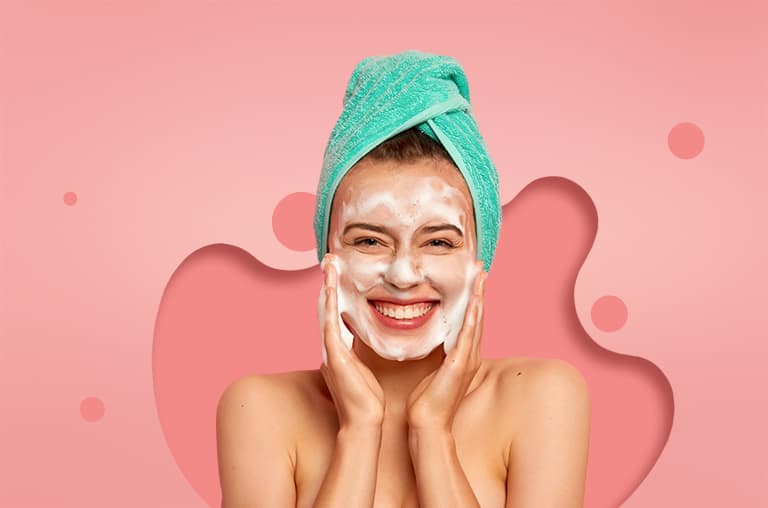 Once you are done cleaning, store the ice globe in the refrigerator. If you do not have much time on your hands, keep it in the fridge for at least 20 minutes. But for those who have enough time, try to store the ice globe in the refrigerator a night in advance. This will enhance the benefits of ice globes for face, giving you better results.
The last step is to take the ice globe out of the refrigerator and enjoy the facial massage! As you can see, the preparation for the massage is not difficult at all, and hence, even beginners can do it without any hassle.
Skin Lifting Massage
The main goal of skin lifting massage is to keep your face youthful and skin-tight for longer years. In addition, it will work on your wrinkles and eye hollows to make your face look even and glowing in no time.
How To Do Massage
In this technique, you have to use the massager to sculpt your face with upward motions.

It is suggested that you start from the base of the neck, the chin, cheeks, under eyes, eyebrow area, and lastly, the forehead.

Do not perform downward strokes because that will not help with the sculpting.

You can also use circular motions in the cheeks, which will relax the facial muscles.(1)

Apply a slightly higher pressure on your jawline and cheekbones to achieve that perfect contoured look. However, do not be harsh and always perform gentle strokes.

Make sure you repeat every motion at least five times before starting a new stroke.

Be extra careful when working around the eyes because that area is very sensitive.

Start from the skin around the inner corner of your eye and gently repeat a few strokes towards the outer corner.

Once done, do not forget to massage your eyebrows as well.

Now you can move to your forehead. Always perform upward strokes in the forehead for skin tightening.

Lastly, do not forget your nose because it needs as much pampering as the other facial features!
If you follow this technique regularly, you can achieve a youthful glow within just a few weeks. The glow will last for years if you are consistent with DIY ice globes for the face.
Lymphatic Massage
Besides face sculpting, lymphatic massage is another popular skincare technique that people all across Asia have been following religiously for years. The main goal of this massage is to get rid of the toxins released by the facial lymph nodes(2). Once the toxins are out of the system, your face will glow better with renewed nutrients. It also helps to reduce puffiness and pores as well.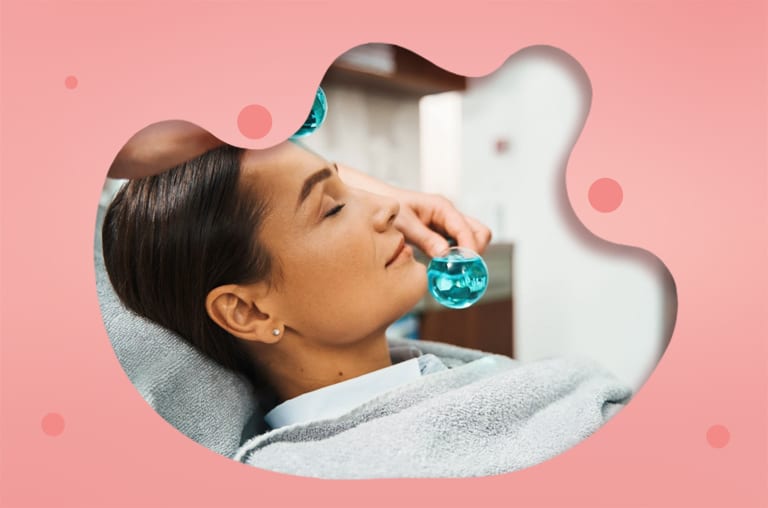 How To Do the Massage?
Now, the method followed for lymphatic massage with ice globes for face is usually downwards and outwards strokes. But as per the dermatologists, you should have your own technique depending on your skin type.

For instance, people with dry skin need to ensure enough nutrients after the massage. For that, they need to go on with circular strokes all over the face. It is also recommended that you start from the neck to your way upwards.

On the contrary, people with oily or combination skin must gently start from the top and go downwards. This is because people with oily skin need to flush down the toxins starting from the forehead.

If you notice hyperpigmentation in any face area, then try back and forth strokes. Such movements will help you awaken the skin and make it look more glowing than before.

So first figure out your skin type and then decide the technique. But whatever it be, make sure you cover every part of your face, including the neck, jawline, cheeks, nose, eyes, and forehead. And as said before, be more gentle around the eye area.
You can follow the lymphatic massage technique using the best ice globes for the face for just 15 minutes in a day, and trust us, your face will look livelier than before!
What Do Ice Globes Do?
Almost every skincare lover knows about ice globes for face benefits. Beauty enthusiasts have been using it for decades now, and they believe in the supreme power of the tool for decreasing inflammation, reducing pores, treating redness, and so on. They also enhance the facial muscles and make the face look sharper and contoured after use.
Not just that, ice globes work on your wrinkles and make your skin tighter by eliminating your fine lines. It also helps in keeping the under-eye area healthy while reducing puffy eyes. It is definitely a good addition to your regular skincare routine!
Are Ice Globes Good For Skin?
Ice globes are amazing for your skin, and you should try them for sure. If you don't know the benefits, we have listed them for you. Read below: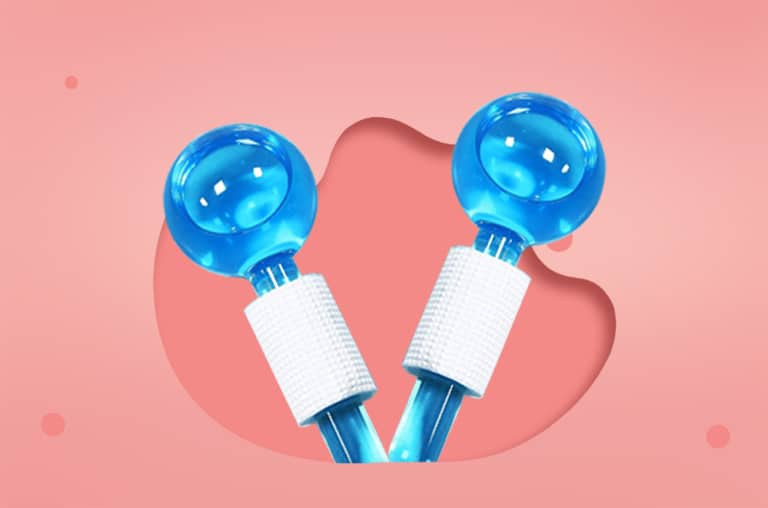 Eliminates skin redness and inflammation.

Skin relaxation after waxing, electrolysis, skin peeling, microdermabrasion,(3) and extractions.

Makes skin healthier by providing it with more nutrients, oxygen, and blood.

You can use it over makeup for a better setting.

Cures migraine, headache, sinus, and puffy eyes.

Calms the nerves and the muscles of the face.

Reduces large pores in the face.

Helps you get rid of fine lines and wrinkles.

Cools the facial muscles and gives a relaxed feeling.
Frequently Asked Questions
Do Ice Globes Help To Get Rid of Dark Circles?
Ice globes reduce dark circles visibly. They also work on puffy eyes by making your eyes look fresher and more awake. However, be gentle whenever you are using the tool around your eyes.
How To Select Good Quality Ice Globes for Face?
When choosing an ice globe for face, make sure it is made of high-quality glass that can be placed inside the freezer without any damage. In addition, the antifreeze liquid should be of great quality, and it must be able to hold the cold temperature for a long time. Ensure that the size of the ice globe is neither too big nor too small.
What Products Should We Use with Ice Globes?
Using ice globes alone won't help if you are not taking proper care of your skin. Hence, make sure you add other products like toner, serum, moisturizer, and facial oil to your skincare routine. You can roll the ice globe on the top of the serum so that the product gets better absorbed into your skin.
Final Word
Regardless of what your skin issues are, ice globes can help you get that healthy glowing skin with regular use. The best part about this facial massage technique is that it suits all skin types. So get your hands on this latest beauty trend now and give your skin much-needed relaxation!