Buying jewelry is both an investment and an act of love. They adorn you with unparalleled beauty, which lasts for years to come. But with every piece of jewelry you buy, tags along the fear of losing them, be it while working in the kitchen, during your adventure in the mountains, or undertaking your everyday professional endeavors.
To skip this fear, we welcome the trouble of removing and keeping them safe. But what good a piece of jewelry is if not worn and kept safe in a box? If you are active on social media, especially Tik Tok, you must already know what permanent jewelry is. But for the unversed and those who wish to know more, we have curated this blog. So, read on to know about these statement pieces.
What Is Permanent Jewelry?
Permanent jewelry, as the name suggests, is a statement piece that, once worn, becomes a forever addition to your body unless you choose to cut them off. They come with no clasp or tie and are welded shut. With zero maintenance and care requirements, this jewelry is for all those jewel junkies who love wearing jewelry but wish to keep their efforts to the minimum.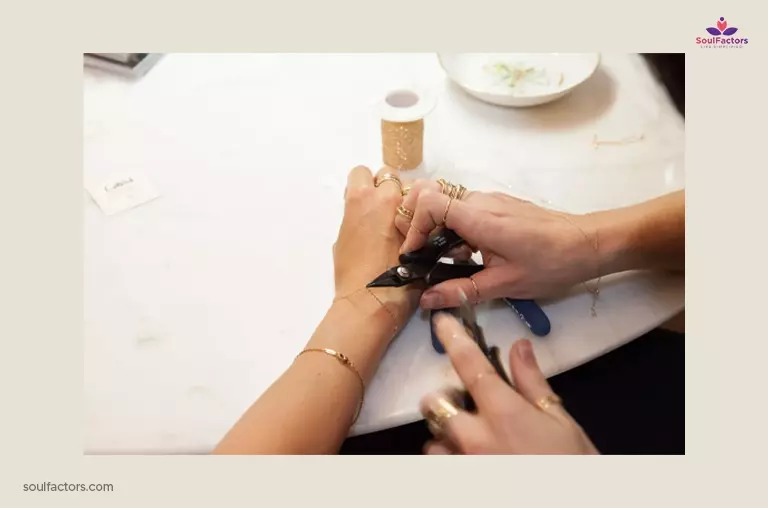 These custom pieces are minimal and delicate and crafted to your liking. The most popular varieties include anklets, bracelets, and chains. Some get permanent jewelry to make a statement, some for simple convenience, and some get matching ones to symbolize love or friendship. The intent might be several, but irrespective of it, they are indeed a trend and here to stay.
Tracking The Popularity
Most of you must have come across permanent jewelry via Tik Tok, but soon enough, it spread like wildfire and became its own trend. From the royal Meghan Markle to the eye-stopper Jessica Alba, all were seen to be flaunting this trend in their own unique ways. Who came up with this idea and the answer to this remains relatively unknown, but today several brands like Brooklyn's CatBird and London's Astrid & Miyu have followed suit and launched their line of permanent jewelry.
Also called infinity jewelry, it has become symbolic of eternal love and a perfect gift for Valentine's. They are minimal and gender-neutral pieces worn by both men and women alike. Getting the name of your loved one tattooed was always a trend, but for those who wish to add an element of permanence but don't wish to go overboard, permanent jewelry is the perfect middle ground. And that's exactly what became the reason for the popularity of this jewelry trend across the globe. While earlier, it was just one or two brands selling these exquisite jewelry pieces, now many have followed suit with a jewelry kit in hand. So, if you wish to get one for yourself, you don't have to travel all the way to Brooklyn or London but enquire at your nearest jewelry stores.
Curious About How Permanent Jewelry Is Done? – Read On!
The procedure to get permanent-jewelry can be quick or lengthy, depending on the store you choose. Some stores allow walk-in procedures, and some would need a prior appointment.
Firstly, you will be shown all the available styles, and from there, you can pick the design and material of your choice. You can also add a charm for a more personalized touch.
Then the length of your arm or ankle is measured.
Your choice of material will be cut into the most appropriate size so that it neither falls off nor is too tight. Going for a size tighter is always recommended, as some materials like silver, gold or rose gold might stretch a bit over time.
Last comes the zapping procedure, which seals shut your choice of jewelry and turns it into a forever piece.
Types Of Permanent jewelry
Now that we know what permanent-jewelry is, let's move on to its types. But let us clarify at the beginning itself; there is nothing called a permanent ring. Well, wedding rings do fall into the category of meaning, but they can be put on and taken off at will, so they don't fit the category in style.
Permanent Jewelry Bracelet
Permanent jewelry bracelets are indeed the most popular ones everyone seems to be getting these days. They look like your regular bracelets, but one significant difference is that there is no hook or clap to put them on or take them off. Once welded, they will be a part of you unless you cut them off. That's precisely why they are often minimal in style. Bracelets come in exquisite yet delicate designs that fit any style. Whether you dress casually, trendy, or go for traditional attire, they fit perfectly into every style.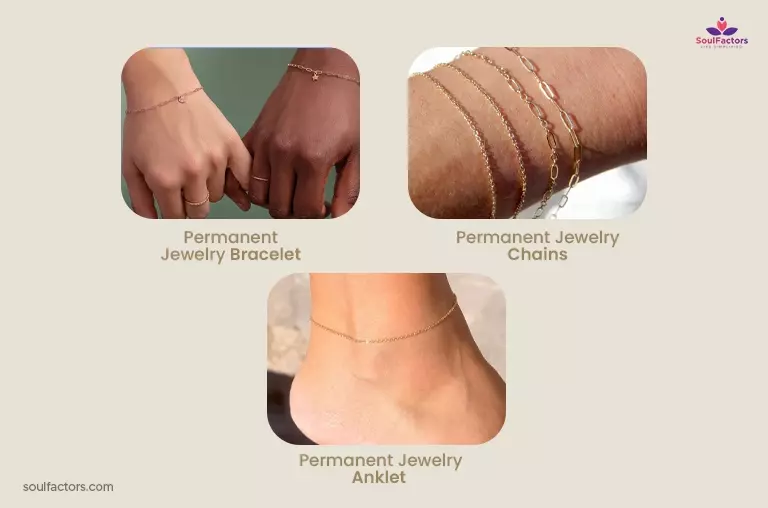 Permanent Jewelry Chains
If you thought the permanent jewelry trend starts and ends with bracelets, you were wrong. Chains have also been making rounds and are popular because of their versatility. You can go for any material ranging from silver and gold to any other tarnish-proof material, and pick the length of your choice to make it choker-style or rope-style. You will have a unique and stylish chain for yourself.
Permanent Jewelry Anklet
Anklets are slowly coming back in trend, and significantly contributing to it. Unlike chains or bracelets, they don't always come into sight as we wear them on our ankles. So, the chances of us losing them are more, but permanent jewelry anklets solve this problem. Once you weld them, they won't fall off, and you can opt for durability with sturdy material.
How Much Does A Permanent Jewelry Cost?
The cost of permanent jewelry, be it a bracelet, anklet, or chain, depends upon the material and the design you opt for. For instance, the Catbird's range costs anywhere between $98 to $350, with diamonds ones worth $338.00 to gold ones priced at $108.00. So, you can simply choose the ones that fit your style and budget and flaunt them at every outing.
Why Can This Be Your Best Purchase?
If you tend to take off your jewelry at odd times, put them in random corners, and forget where you kept them, then this could be perfect for you.
We all love jewelry, but many people avoid wearing a gold chain or diamond bracelet because they fear losing them. But as they are sealed shut, you don't have to worry about losing them because of a loose or undone clasp or tie.
If you have been looking for a perfect gift for your BFF or your bae, a piece of permanent jewelry could be symbolic of your forever relationship.
As they are made of tarnish-free materials, you get them once, and you will never have to worry about sporting a discolored or rusted jewelry piece again.
Business-Minded? Invest In A Permanent Jewelry Kit Today!
Some look at permanent jewelry and see a statement piece they can add to their style, while others see a business opportunity. So, if you belong to the latter category, it is time to invest in a jewelry kit which is permanent . This trend is still in its initial stages so it is still an unexplored field with minimum competition. So, if you get into the market with durable and trendy style options, you can become a leading player.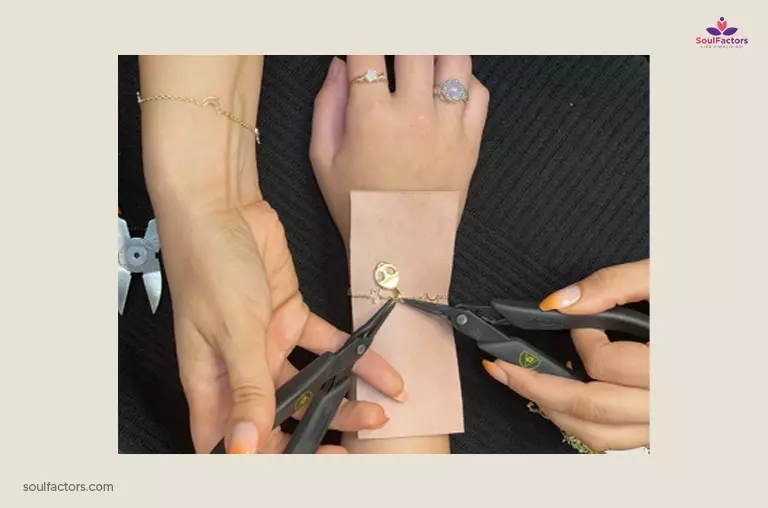 The kit comes with everything you need to get started. It includes:
Chains
Nose pliers
Cutters
Welder
They come in several price ranges, and the number of products included will vary depending on the cost. A premium kit will also have charms, birthstone connectors, pearls, and more. You can use them to design beautiful, elegant, unique, and exquisite pieces you can wear or sell in the market.
Permanent-Jewelry Training: Learnt The Art
People are not just making money by selling jewelry but also by teaching others how to craft these pieces. So, if you wish to learn, you can easily join an in-studio or online training and master the art. They will teach you how to design minimal statement pieces that all would love, weld them to perfection, and maybe also how to market them right.
So, if you wish to enter the jewelry market with a trendy idea, invest in your permanent jewelry kit and join a training course or simply subscribe to a good learning channel on YouTube.
Does Getting Permanent Jewelry Hurt?
Getting permanent jewelry is nothing like getting a tattoo. It is completely non-invasive and, therefore, painless. So, if you want permanent jewelry for yourself but somehow killed the desire because you thought it would be painful, let us bust this myth. It is entirely painless and involves a simple zapping procedure.
Pros And Cons Of Permanent Jewelry: Make An Informed Choice
If you are still confused about whether or not to invest in permanent jewelry, let us bring in a little more clarity. Listed below are the pros and cons of permanent jewelry.
Pros
You can wear it all the time as a remembrance of a loved one.
No more worries about losing your precious jewelry because of a loose hook.
You can pair them up with any of your jewelry pieces as they are minimal in style.
As you cannot remove it, you can rest the worries of misplacing it.
Cons
You cannot remove it at your will. The only option is cutting it off with a plier or scissors.
You need to remove all your jewelry pieces for getting any test like an MRI or CT Scan. But as they cannot be simply removed, you will have to cut them.
Wish To Buy Permanent Jewelry? Some Permanent-Jewelry Brands To Know!
If you have made up your mind to buy for yourself or your loved one, next comes the search to find the best permanent jewelry brand out there. You can buy a kit and design one for yourself, but if you wish to go premium, get one from the best brands out there.
Here's a curated list of some popular permanent jewelry brands:
Catbird
Love Weld
LINK X LOU
Astrid & Miyu
Atelier V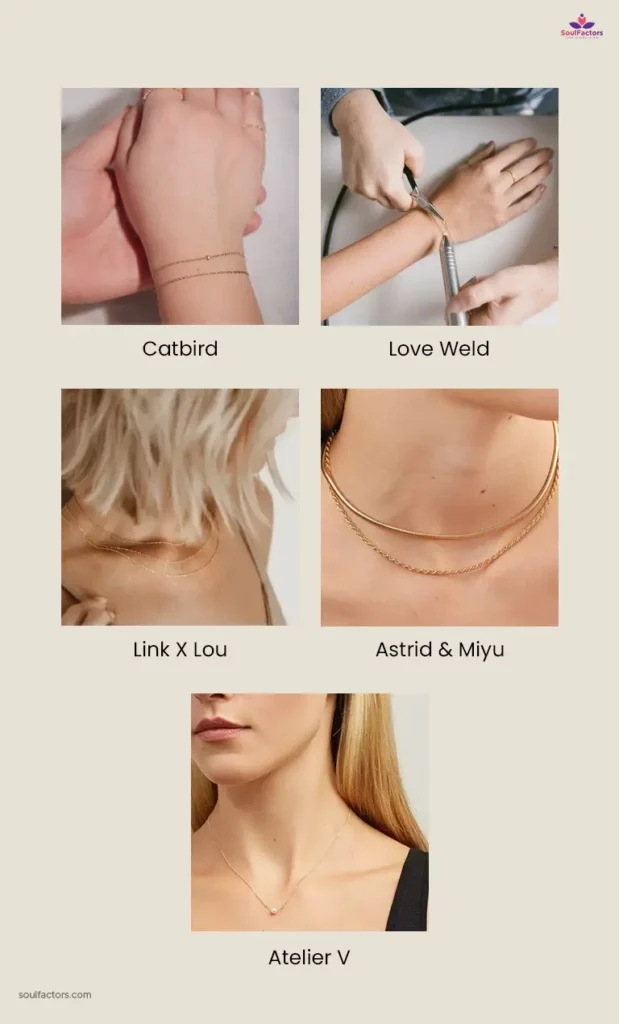 Can You Remove Permanent Jewelry?
The answer is both yes and no. You cannot remove permanent jewelry like every other jewelry piece, as they don't have a clasp or tie. But you always have the option to cut them off if you wish.
Also, being permanent doesn't really mean they will last forever. There is always the possibility of them breaking. So, ask for a warranty whenever you invest in a piece.
Care & Safety Considerations For Permanent Jewelry: How To Keep Them Good As New
As permanent jewelry is sturdy and tarnish-proof, you don't have to follow any care or safety procedures, but there are some points you need to consider.
Always invest in a good quality product. If you opt for a cheap material instead of prominent options like gold or silver, they will lose their shine or color over time, and you will be left with jewelry that looks old and discolored. And none of us would want that.
Remember not to get a size too tight, as they can hinder blood circulation(1) and impact your health.
Avoid exposure to sharp objects, as your jewelry might break and send all your money down the drain.
If you are allergic to certain kinds of metals, make sure you are not allergic to the material you are considering.
To Sum Up
This was all your need to know about permanent jewelry; now, the choice is all yours. If you think permanent jewelry will perfectly fit your style or will be the ideal gift for a loved one, get one today! While it is not as big a commitment as a tattoo or a piercing, it is still fairly so. Like your ordinary bracelet; you cannot wear or take off a forever bracelet, anklet, or chain as you please. So, don't blindly follow this trend and see for yourself if it is something you really want.