Our generation has permanent tattoos, piercings, jewelry, and now lipsticks. While tattoos and permanent jewelry have gained popularity, most of us are skeptical about the latest craze, permanent lipstick. Just saying that can make people wonder if they heard correctly. We know 24-hour lipsticks, but permanent lipstick? It's not another product making overblown claims. It's an updated tattoo, not a product. A lip-only tattoo that adds color and fullness to your natural lips. Now you're curious! Let's get into the permanent lipstick trend.
Let's get started, folks!
Permanent Lipstick: A Tattoo For Your Lips?
Before we jump in and look at permanent lipstick from different angles and cover its benefits, treatment procedure, types, and side effects, let's understand this trend.
Lip fillers and lip augmentation surgeries are pretty common these days. Amidst it, a new trend has surfaced and captured a considerable market starting a few years ago. Yes, we are talking about permanent lipstick or lip tattoos. If you want those fuller and more defined lips but you are skeptical about getting fillers, this one trend can be of interest to you. Like your regular tattoos, lip tattoos involve a non-surgical surgical procedure that uses colored ink to outline the borders of your lips and give them a more defined look. This outlining creates an appearance of fullness and gives a natural contour or lift to your lips.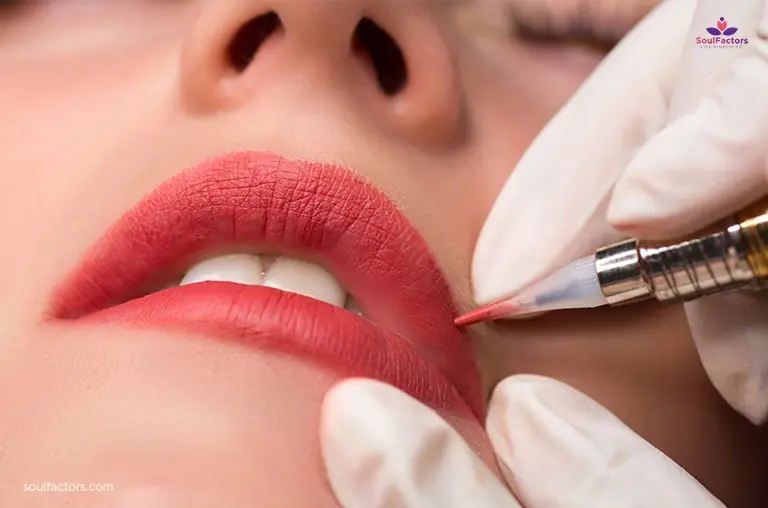 But that's not all of it; other than defining your cupid's bow and vermillion border, the ink is also applied to the body of your lips to blend the color and create a balanced effect. So, in short, a permanent lipstick treatment covers your entire lips and adds a tinge of your favorite color, more definition, and an illusion of fullness to your lips.
Benefits Of Permanent Lipstick: Is It Worth Your Money?
Now, unless permanent lipstick has some proven benefits, why would we put our money into this treatment? So, let us explore the benefits of permanent lipstick treatment.
Your Road To More Defined And Fuller Lips
This is indeed the reason why most people opt for a permanent lipstick treatment. This treatment will give your lips a more defined and fuller look without implants or fillers. As we mentioned before, the tattoo artist will subtly outline your vermillion line and cupid's bow to add more definition and depth to your lips without altering your original lip shape.
A Non-Surgical Procedure
Several other lip treatments add volume to your lips and do not just create an illusion as permanent lipstick does. But the upside of this treatment is that it is a non-surgical procedure. So if the fear of surgery is keeping you from getting the lips of your dreams, it is indeed a trend worth your try.
A Quick Remedy For Lip Pigmentation
Lip tattoos do not just layer your lip lines but also add color to the body of your lips. To blend your lip line with the vermillion body, the treatment is applied to the whole of your lips. So, if you have been struggling with lip pigmentation, permanent lipstick could be your easy way out. You can choose any hue that blends well with your face and natural lip color, spread it throughout your lips, and create a balanced effect.
Beautiful Lips Everyday With Zero Efforts
We all love lipsticks, but applying them every day is indeed a hassle. With permanent lipsticks, you can choose everything you love about lipstick without having to face its downside.
Smudge-proof – permanent tattoos will never smudge like your regular lipstick.
No more worrying about the stay of your lipstick.
No more touching up your lipstick every two hours.
Cut down on your lipstick costs.
Minus the time you take to apply lipstick from your makeup schedule, especially when running late.
Types Of Permanent Lipstick: Which One Is The Best Pick For You?
Today, this lip treatment is undertaken using pigments, but there was a time when traditional tattoo ink was used for the same. Permanent lipstick treatment doesn't involve the use of a tattoo gun but a permanent makeup machine or PMU, and these machines use pigments instead of inks. The downside is that using pigments considerably reduces the durability of permanent lipsticks. While called permanent, they don't last for more than 5 years.
Lip Blushing: A Semi-Permanent Formula
With age, it is natural for your lips to lose their original color and definition and give off a lifeless look. Lip blushing addresses this particular effect of aging and rejuvenates you with a new-found plump and tint.
Lip blushing is a semi-permanent lipstick treatment that targets the body of your lips without doing much to your lip lines.
You can share your choice of lip tone and shape with your tattoo artist, and they will use pigments to add color and an illusionary plump to your lips.
Being a semi-permanent treatment, it requires touch-ups every few years.
While lip lining tattoos last longer, lip blushing tends to fade faster because of constant exposure to moisture and food particles.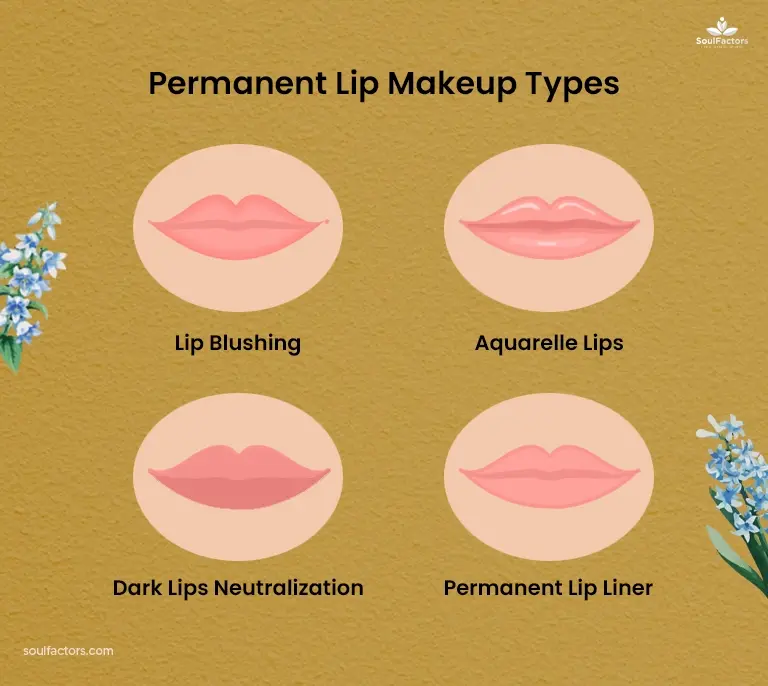 Aquarelle Lips
Aquarelle lips are one of the simplest versions of a permanent lipstick treatment, as they add a pop of color to your lips. It doesn't redefine your lip lines but just changes the color of your lips to your chosen hue. You can simply take your favorite lip shade during your appointment and convey your expectation from the treatment.
Dark Lips Neutralization
Wonder how to lighten your dark lips permanently? Dark lips neutralization is the appropriate permanent lipstick treatment for dark lips. Dark lips are rich in melanin and, therefore, prone to uneven coloring and mixed with dark purple hues. With neutralization treatment, you can balance out the darker shades and add the pigment of your choice for a rosy finish.
Permanent Lip Liner
A permanent lip liner works exactly like your regular lip liners. A permanent lip line works the same way you use lip liners to accentuate the overall shape and structure of your lips. The only difference is how long they last.
In this treatment, the pigments used to line your lips go deep into your skin and stay there for years, giving your lips a more voluminous, defined, and fuller look.
It lasts 5 years and will need a touch-up to maintain the tint.
Applying lip liners and lipstick for that perfect finish is always a hassle. With a permanent lip liner treatment, you can skip this and flaunt your "woke up like this" look like a queen.
Choosing The Right Shade And Formula For Your Lips
Permanent Lipstick For Dark Lips
Treatment for dark lips is most popularly used for color correction. Dark lips are rich in melanin, so they are more prone to pigmentation and, therefore, uneven color. With a permanent lipstick treatment, you can use the tinted pigment of your choice, spread it across your lips, and create a more even look and feel.
Permanent Lipstick For Lip Contouring
If used the right way, permanent lipstick or lip blushing could be an effective way to contour your lips. If you think your lips look thin and wish to add more volume and lift your cupid's bow without going through a surgical procedure, permanent treatment can be your best pick. With the right application of pigments, it will add more definition to your existing lip structure and create an illusion of fullness.
Permanent Lipstick To Correct Uneven Lips
All lip shapes are beautiful in their own way. Still, if you feel a bit conscious about your uneven lips, you can go for a quick remedy with a permanent lipstick treatment or, specifically, lip liner treatment. It will outline your lips to transform them into the shape of your choice without actually altering them, correcting the unevenness in the process.
Permanent Lipstick For A Visible Tint
If you want your lips to always have that fresh pinkish or reddish glow, be it at the break of dawn or in the middle of the night, with zero effort, you can use these lipsticks as a lip tinting treatment. You can pick the tint that best appeals to you and have your lip color in that particular hue.
Aftercare For Permanent Lipstick: Tips To Ensure The Lipstick's Longevity
While called permanent, lip tattoos are not so. They last for 2-5 years, depending on the nature of the treatment and the aftercare procedure followed. And once the effects of the treatment begin to fade, you have to get ready for another treatment to extend the result. While you will have to book your second appointment for permanent lipstick sooner or later, you can extend the longevity of the treatment by following the proper aftercare measures.
So, what exactly are some expert-recommended aftercare tips for this treatment? Let's have a look.
Immediately After The Treatment
Your lips will indeed feel dry and chapped after the treatment but don't rub or bite them or apply too much pressure.
Use a clean paper towel to remove any lymph.
To trigger the healing process, you must apply a prescribed ointment, starting 4 hours before the treatment. It will hydrate your skin and prevent excessive dryness. The ointment should be applied at least 2-3 times daily at regular intervals.
Avoid spicy food for 4 days, clean your lips with a paper towel, and reapply the ointment after every meal.
Your lips will start peeling in the days following the treatment but make sure not to peel or rub.
Avoid direct sun exposure for the first few days. Make sure to apply good sunscreen to your lips.
Long-Term Care Procedures
Smoking can lead to lip darkening(1), and it will similarly affect your color-treated lips. So, if you don't want to send your money down the drain, stay away from smoking.
Make sure to keep your lips hydrated. Dry or chapped lips can trigger the fading process and reduce the longevity of your permanent lipstick.
For prolonged results, you can go for a color-boost procedure every year.
With these measures, you can stretch the lifespan of your permanently done lipstick treatment to its maximum and get your money's worth.
Downsides Of Permanent Lipsticks: Risks And Side Effects
Risk Of Infection
As permanent lipstick treatment involves the use of needles, it brings forth the risk of infections. Using sterilized needles can reduce such risks to a minimum. Therefore, trusting only reputed clinics with your treatment is always recommended. Also, if sterilized needles are not used, it can lead to several blood-borne illnesses such as hepatitis B, hepatitis C, and HIV.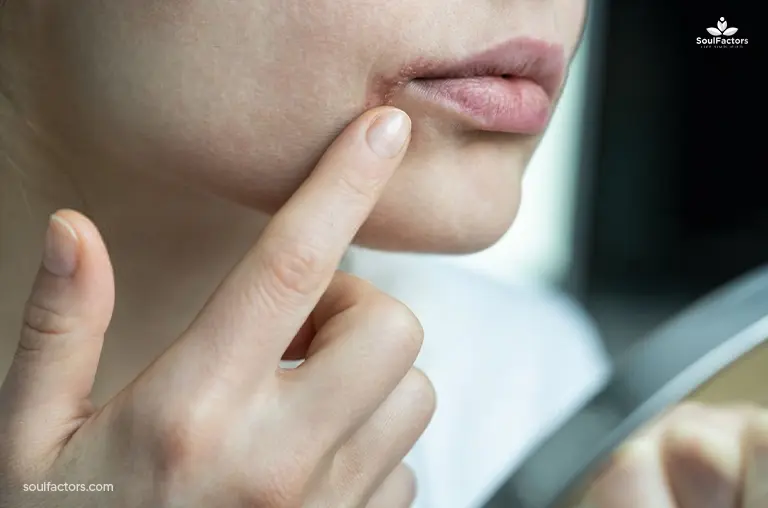 Allergic Reactions
Any permanent lipstick treatment involves inserting foreign objects into your lips, including syringes and pigments. If you are allergic to any of the substances that pigments contain, it can have several adverse effects. So, if you have any allergies, disclose them and proceed with caution.
A Painful Procedure
If you ever got inked, you already know that a permanent lipstick treatment will be painful. The amount of pain you will feel will depend on your tolerance level, and the numbing cream applied before the treatment can help ease the pain to a great extent. Nevertheless, you will experience slight pain and discomfort during the treatment.
Swellness/Redness/Pain/Itchiness
Specific side effects like swellness, redness, pain, or itchiness will follow every permanent lipstick treatment. The level of discomfort will vary from person to person, but these side effects might last a few days following the treatment. But if the pain or irritation persists or crosses the threshold and becomes unbearable, take expert advice.
Uneven Coloring
The result of any beauty treatment is only as good as the procedure followed. A permanent lipstick treatment can lead to uneven coloring and not deliver the desired results if not undertaken well. So, be clear about your expectations and only trust a reputable clinic with your treatment.
Who Should Stay Clear Of Permanent Lipstick Treatment?
While anyone can go for permanent lipstick, certain age requirements and health conditions make it an unfavorable pick for certain people. You should not consider this treatment under certain circumstances.
If you are aged 18 or below.
If you are pregnant or in the nursing stage.
If you are taking chemo sessions.
If you have health conditions like high blood pressure, diabetes, anemia, etc.
If you are suffering from any heart disease.
If you had an organ transplant in the recent past.
If you have eczema(2) or another skin condition in your lip area.
If you take blood-thinning medication or take any steroids.
Under these conditions, permanent lipstick treatment should be avoided. As a cautionary measure, always consult an expert before proceeding with the treatment.
FAQs: A Quick Glance
How long does permanent lipstick last?
A permanent lipstick can last anywhere between 2-5 years depending on the quality of the treatment and the care procedures followed.
What is permanent lipstick?
Permanent lipstick is a non-surgical treatment that uses color pigments to add a tint to your lips, create an appearance of fullness and give a natural contour or lift to your lips.
How much does permanent lipstick cost in India?
Permanent lipstick cost in India falls between INR 5,000 to INR 15,000 depending on the intensity of the treatment and your chosen clinic.
Is it safe to use permanent lipstick?
Like every other beauty treatment, permanent lipstick treatment has certain downsides. Some permanent lipstick side effects include infection, allergies, rashes, redness, etc. But they last only for a few days. So, they are safe but do a quality check before you trust any clinic with the procedure.
Is permanent makeup risky?
All permanent makeup trends, including eyebrows, eyeliner, freckles, lipstick, etc., can be risky if not undertaken by expert and experienced hands. So, the trick is to only trust professionals and follow the proper aftercare measures.
Is there permanent lipstick for dark lips?
Yes, the permanent lipstick treatment goes well with dark lips too. You just have to use the right concentration of pigments to achieve the desired results.
Is permanent makeup painful?
Any treatment involving needles is going to be painful. Permanent lipstick would be more so because your lips are more sensitive than any other part of your face. But a numbing cream is applied before the treatment to reduce the pain and discomfort to the minimum.
Conclusion
That was all you needed to know about the permanent lipstick trend, which has been doing rounds on the internet for over a year. It delivers guaranteed results and can potentially bless you with the contoured, defined, and colored lips of your dreams. So, if you were trying to find a way out of lipsticks that disappear along with the first meal of the day and wish for click-worthy lips all day long, then permanent lipstick could be a desirable choice. But consider all possible angles, including permanent lipstick side effects, the cost involved, etc., before you say yes to the treatment.