Your curly hair might be your best feature, but handling them daily is a humongous task – All the curly hair girlies would agree. If you have curly hair, on some days, you might be awed by how perfect each curl looks and on others, they might look like your worst nightmare come to life. That's a bit of an exaggeration, but if you wake up to unruly and lifeless hair on a day when you are supposed to go out, that's precisely how you will feel. So, what is the solution? It is time to bet on a protein treatment for curly hair.
If you have been looking for ways to enhance your natural curls and bless them with the nourishment and hydration they need, a protein treatment is what you need in your life. You might have all come across these treatments somewhere but might have been unsure about actually trying one out. We are all a bit too cautious when it comes to our hair, and rightly so. But to help you out, here's all you need to know about protein treatment for curly hair. You can read through and discern if it is the right treatment for you!
What Is Protein Treatment For Curly Hair?
Do you know what keratin is? Keratin is a fibrous protein which makes up your hair, and the shine and strength your hair displays all come from keratin. Scientifically, your hair consists of 85-90% keratin, but with constant exposure to natural factors like UV rays and pollution and artificial factors like styling products lead to protein loss(1). The result is dry and lifeless hair, more so when it comes to curly hair. Unlike their straight counterparts, curly hair lacks moisture and quickly gives out a dry look. So, if you have been wondering why your curly hair has been losing its shine and volume over the years, this is why.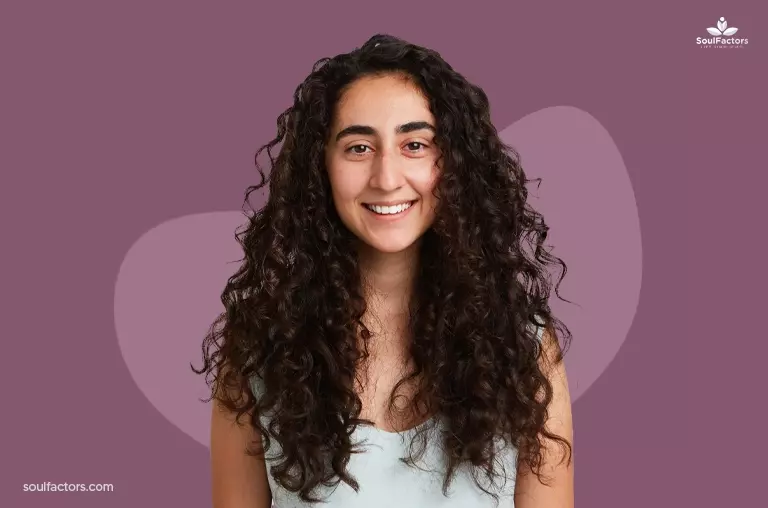 Now, a protein treatment for curly hair targets this issue. It is clinically proven to infuse your hair with the needed protein and boosts keratin levels. Keratin treatment provides deep conditioning, repairs years of damage, and adds more definition and bounce to your naturally curly hair.
In our busy schedules, we often forget to care for our hair. We all watch those curly hair routines on Instagram but seldom apply them to our hair. Rest the laziness and give a protein hair treatment for curly hair a try. You will notice the difference with just one application, and with regular treatments, you will slowly achieve the voluminous, bouncy, moisturized and defined curls of your dreams.
Types Of Protein Treatments For Curly Hair
When it comes to protein treatments for curly hair, there are several types to choose from. Here's a list of the most prominent ones.
Leave-In Protein Treatments
As the name suggests, you apply a leave-in protein treatment to your washed and ready-to-style hair. Unlike other treatments, you don't apply and rinse it off but use it as a final product on your hair. Depending on the product, they can be applied to wet or dry hair. Leave in conditioner infuse your hair with the needed protein and offer day-long protection against pollutants and other harmful exposures.
Rinse-Out Protein Treatments
Rinse-out protein treatments are a part of your hair-wash routine. You use it with your shampoo and conditioner and rinse it off to give a bouncy and moisturized finish. If you feel like the hair-wash products you have been using are drying out your hair, a rinse-out protein treatment for curly hair is worth a try.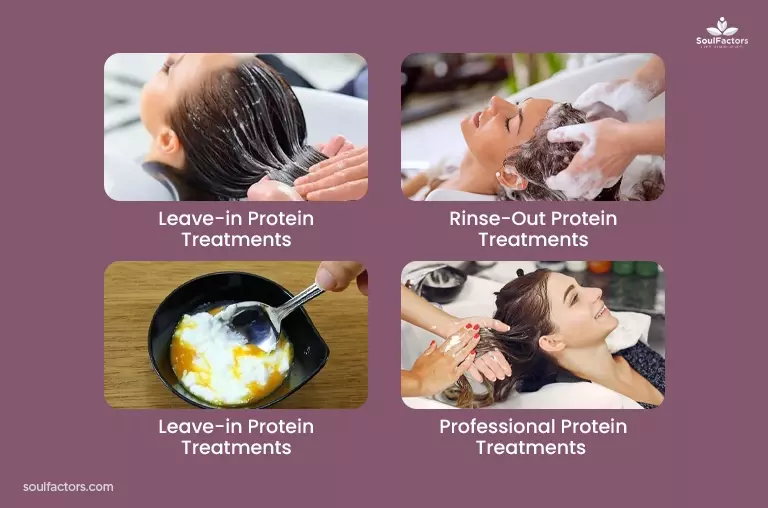 Homemade Protein Treatments
When treating your curly locks, homemade remedies are second to none. You can find these products at home, including eggs, yogurt, rice water, etc. You mix them well and apply them the right way, and you will surely see the desired results with regular usage.
Professional Protein Treatments
A salon protein treatment for curly hair is always an option. The hair professionals will determine the nature of your hair, the intensity of your curls, and the degree of damage and recommend the best treatment. They can be a bit expensive, but with just one treatment, you will see visible results, and you can then pair it up with homemade or store-bought treatment for lasting results.
The Proven Magic Of Protein Treatments For Curly Hair: How Does it Work?
Now, you must be wondering how a protein treatment for curly hair works.
In the sameThe way as protein tablets target the protein deficiency in your body and restore the lost vitality, a hair protein treatment infuses your hair with extensive protein levels and reverses the damage done to it over the years.
Good protein treatment for curly hair adds "hydrolyzed proteins"(2) to the hair cuticle, adding a protective layer and preventing potential damage.
With constant styling and exposure, your curls might lose their natural texture and shine. A protein treatment helps retain the natural keratin levels in your hair and restores your natural hair structure.
Protein treatment for color-treated curly hair is quite effective against the damage that dyeing and coloring could inflict on your hair.
Welcome The Many Benefits Of A Protein Treatment For Curly Hair
If you have just started your hair care journey and are looking for a quick, effective, harmless way to beautify your natural curls, protein treatment is your best pick. To convince you further, here are some proven benefits of protein treatment for curly hair.
Strength That Shows
The more keratin your hair has, the stronger it will be. A protein treatment will strengthen your hair cuticles, reduce split ends and prevent breakage. Your hair will grow stronger and longer, and you will soon proudly flaunt your Rapunzel locks.
Frizz-Free Lively Hair
Frizz is one of the most visible signs of damage that we all wish to stay clear of. Frizzy hair is unruly, and your hair particles look dry and rough. A protein treatment gives your hair the nourishment it needs, substantially reduces the frizz and gives birth to beautiful, healthy hair.
Defined Curls That Stand Out
Does your hair look weighed down? Are your curls losing their definition with time? If yes, a protein treatment is what you need. It nourishes each and every hair strand and helps retain its natural texture.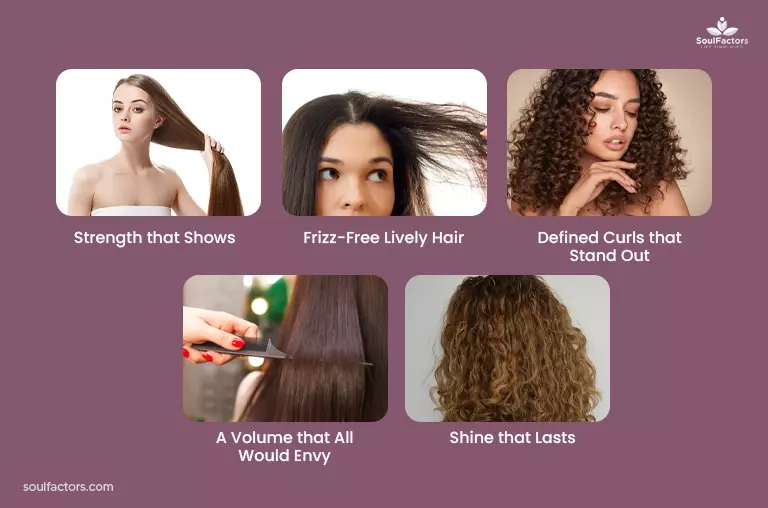 A Volume That All Would Envy
A protein treatment promotes hair growth, and that means more volume. So, if you have been struggling with thinning hair, a protein treatment will naturally add volume to your hair and give it a fuller and healthier look.
Shine That Lasts
Add some shine to your curly hair, and it will look salon-styled. If you wish your hair to look like that every day, add a protein treatment to your hair care routine. It will moisturize your hair and scalp and give it a lasting shine.
Signs That Curly Hair Needs Protein Treatment
You will be the first to know if your curly hair needs a protein treatment. The damage would be visible, and you could sense your hair begging for care and attention, that's when you know it's time to find the ha. But if you have successfully ignored these signs for a long, let us bring them to light and familiarize you with the plight of your hair.
The natural elasticity of your hair makes your hair strands bounce back. But if there is no bounce, your hair is low in elasticity and, therefore, damaged to the core.
If your hair feels too brittle, thin and lifeless, the damage is real, and a protein influx is much needed. If you have high-porosity hair, then your hair might look even more frizzy and dry.
Hair fall is one of the most visible signs of hair damage and a sign which echoes the need for a protein treatment. It's natural for a few hair strands to fall out when you wash or comb, but if you start seeing hair anywhere you look, your hair is lacking even the most basic nourishment.
If you think your hair growth has stunted and you are struggling to grow even an inch of hair, it's an apparent lack of protein and, therefore, a clear need for a protein treatment.
Curly hair is supposed to look voluminous and lively, but if they have started looking limp and weighed down, your hair clearly needs nourishment.
These are some common signs of damaged hair, and you can systematically deal with all these signs and pave the way for healthier hair with a full-fledged and routinely followed protein treatment. If you are still dubious, it is time to undertake a stretch test and get it all clear.
Stretch Test: Measure Hair Damage The Easy Way!
As mentioned before, damaged hair lacks elasticity. This stretch test will help you measure your hair's elasticity and determine the damage level.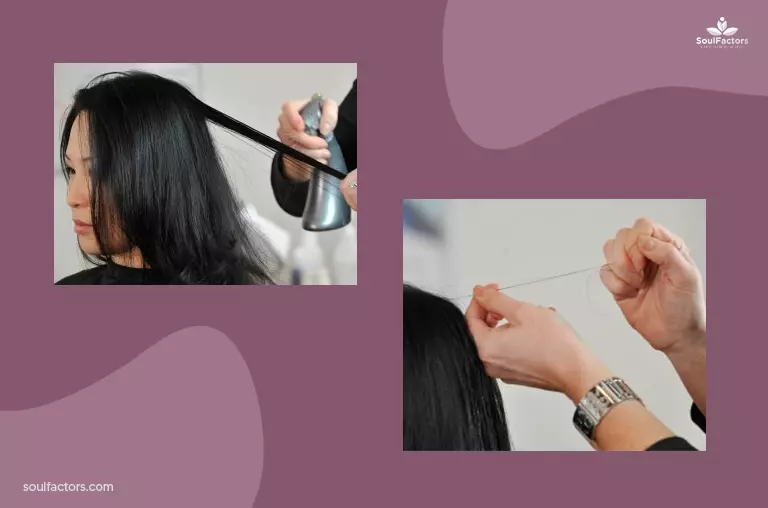 Method: Hold a hair strand between your thumbs and fingers and stretch it. If your hair stretches to almost ⅓ of its original length and retains the original size once you leave it, it is rich in elasticity and is healthy. But if instead of stretching, your hair breaks, your hair is damaged and lacks protein.
What are you waiting for? Just try it and know for yourself if a curly hair protein treatment is the need of the hour!
Moisture Or Protein Deficiency: What Is Your Hair Struggling With?
| | |
| --- | --- |
| Moisture Deficiency | Protein Deficiency |
| Excessive dryness | Low elasticity |
| Easily Tangled | Limp hair |
| Lack of Shine | Fragile and Brittle |
| Weak-looking hair | Dull and lifeless |
| Split ends | Hair thinning and hair fall |
The Protein Treatment Mantra For Curly Hair: Application Procedure
Before you hit the salon, you might wish to try out the effectiveness of a curly hair protein treatment at home. The products you use are essential, but your application procedure is equally important. If you are not applying them right, you are simply dumping your money down the drain and damaging your hair even further. But we will help you stay clear of such a fate. Read on to familiarize yourself with the right protein treatment procedure and the best products.
Preparing Your Hair For Protein Treatment
As a protein treatment is in itself a hair care procedure. So, you don't have to prepare your hair for the same. But depending on the nature of the products you use – leave-in (applied once you have washed your hair) or rinse-out protein treatment (applied while washing your hair), the application procedure varies.
Some basic preparatory procedures you need to undertake include:
Always shampoo your hair before applying a protein treatment.
Apply heat to ensure better penetration of protein.
Best Protein Treatments For Curly Hair
Now let's come to the star of the show. Here's our list of the best protein care treatments for curly hair. Make sure to read the precautionary measures mentioned on the product label and choose the one best suited for your hair type.
Basic Products For Light Hair Therapy
If the damage is minimal and you require a basic protein boost, go for these options.
1. Blended Beauty Curl Quenching Conditioner
This quenching conditioner is a minimal protein treatment you can adopt for regular nourishment. Apply to clean wet hair and let it set for a few minutes. Rinse off, and with regular use, see visible results.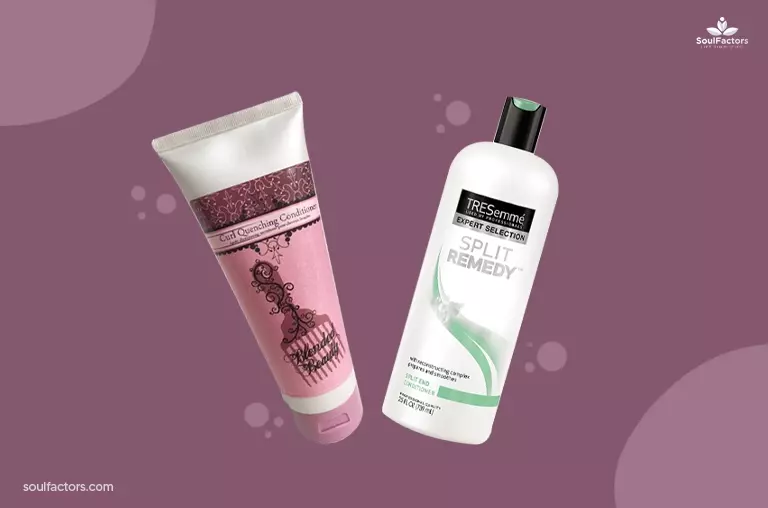 2.TRESemmé Split Remedy Conditioner
Add moisture and shine to your hair the easy and inexpensive way with this hair care product by TRESemme. It's easily available both only and offline and can be simply applied to wet hair and rinsed off.
Enhanced Repair With This Superior Range.
If the damage is quite visible with thinning hair strands and split ends, these options can work wonders.
1. Joico K-Pak Deep Penetrating Reconstructor
This reconstructor is a protein treatment for curly treatment proven to repair the damage caused by excessive styling. If years of heat, coloring, and dyeing have visibly damaged your hair, you can go for this treatment.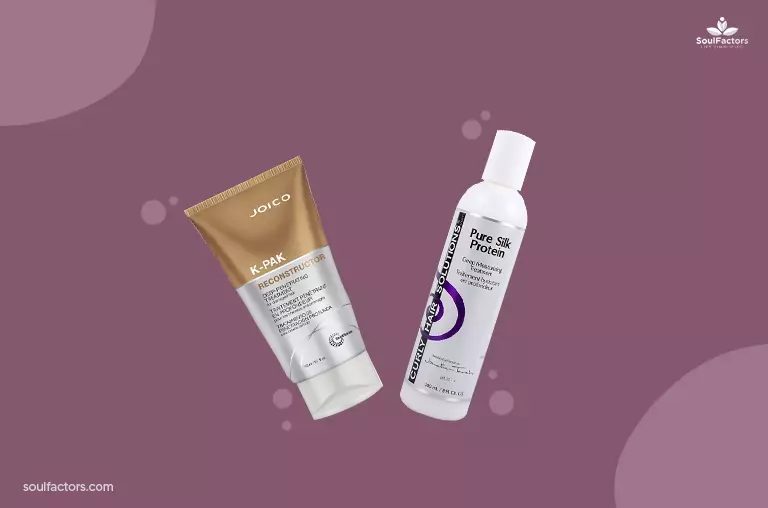 2. Curly Hair Solutions Pure Silk Protein Deep Moisturizing Treatment
As the name suggests, this curly hair solution deeply moisturizes your hair and infuses your hair strands, cuticles, and follicles with the required amount of protein. It is suitable for all curl types!
Deep Nourishment With This Hair Reconstruction Range
If the damage has resulted in excessive hair fall and your hair looks completely lifeless, this is your best pick.
1. Curl Junkie Repair Me! Reconstructive Hair Treatment
Curls can lose their definition and become excessively frizzy and unmanageable with constant exposure to styling and chemical treatments. This reconstructive hair treatment is proven to nourish the hair from within and infuses the adequate amount of protein your hair needs.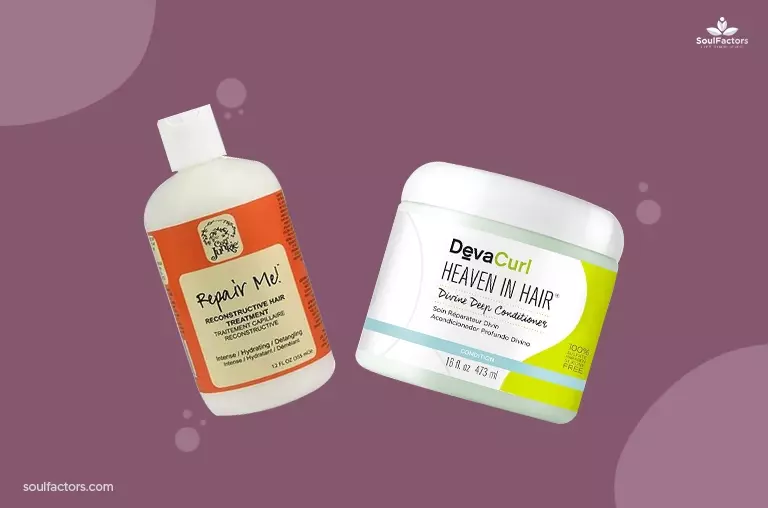 2. Deva Heaven In Hair Intense Moisture Treatment
If you wish to add a luxurious and voluminous finish to your otherwise damaged hair, this curly hair protein treatment can work like magic. With no silicones, parabens or sulfates, it repairs, hydrates and moisturizes your hair from the core.
What Is The Ideal Frequency Of A Protein Treatment For Curly Hair?
The duration and frequency of the treatment will entirely depend on your hair type and the level of damage. Mild treatments can be performed once a week, whereas intensive treatments should be restricted to once a month. If your hair looks beyond repair, we recommend you consult a professional and go for a salon protein treatment for curly hair.
Extend The Results Of A Protein Treatment With The Right After Care Procedures
If you have made up your mind to go for a protein treatment for curly hair, we wish you to attain the maximum benefit of it. So, here's our list of curated tips for maintaining your protein-treated curly hair.
Do's And Don'ts
A protein treatment is good for curly hair but never overdo it. It can lead to protein overload and result in frizziness and breakage.
Make sure to moisturize your hair, and don't let the protein treatments dry out your hair.
Adopt a proper routine and stick to hair care products that best suit your hair.
You can consult a dermatologist and have the right products recommended for your hair type.
Refrain from excessive styling the day you use protein treatment for curly hair.
If you invest in a keratin protein treatment for curly hair, make sure to adopt all the care procedures suggested by the hair care professional.
Expert-Recommended Hair Care Products
Curly hairs are unique, and they require special care and attention. So, do not pick any random product from the store and apply them to your hair; choose the ones specially made for curly hair.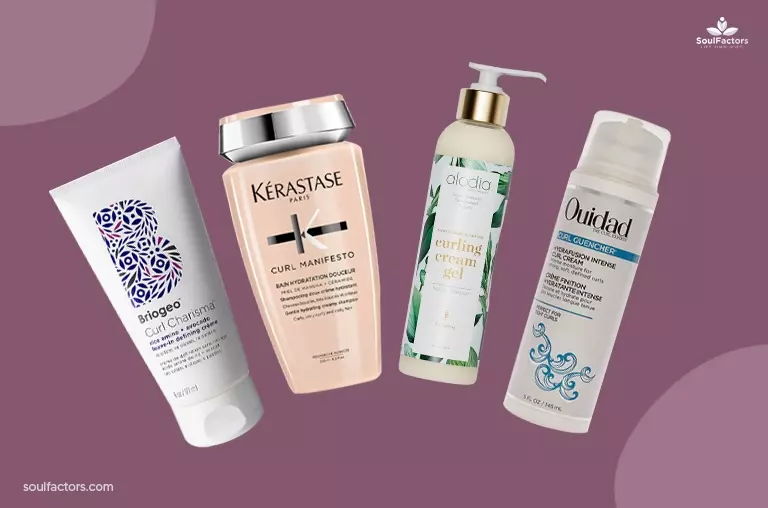 Some of our best picks include:
Briogeo Curl Charisma Rice Amino + Avocado Leave-in Defining Crème
Kérastase Curl Manifesto Shampoo
Alodia Haircare Moisturize & Define Curling Cream Gel
Ouidad Curl Quencher Hydrafusion Intense Curl Cream
SheaMoisture Coconut & Hibiscus Curl & Style Milk
Kinky Curly Knot Today Detangler
Kristin Ess Frizz Management Cleansing Co-Wash
Nature's Gate Jojoba Revitalizing Conditioner
Mop Top Curly Hair Custard
Include your choice of products into your hair care routine and achieve a luxurious finish for your curly locks.
FAQ
What does a protein treatment do for curly hair?
A protein treatment infuses your hair with the nourishment and hydration it needs and helps retain its natural keratin level and elasticity. With regular applications, your hair will look healthier, feel softer and grow stronger.
Is protein hair treatment good for curly hair?
Curly hair is high in porosity, so it is more prone to frizz, tangles and breakage. So, they need extensive hydration and nourishment, precisely what a protein treatment for curly hair delivers.
How often should you do a protein treatment on curly hair?
The frequency of the treatment depends on your hair type, damage level and the product used. If you are using a mild protein treatment for curly hair, repeat the procedure once a week, and if you are engaging with intense repair treatments, repeat them not more than 2 times a month.
Are there any homemade protein treatments for curly hair?
Yes, there are several effective homemade protein treatments for curly hair.
Egg + Yogurt
Yogurt + Honey
Mayo + Avocado
Should I go for a salon protein treatment for curly hair?
If your curly hair is excessively damaged and DIY methods and store-bought products seem to have little to no effect, it is time to get a professional curly hair protein treatment.
How do I know if my curls need protein?
If your curls look dull and lifeless and are prone to breakage, it's a sign that your hair needs a protein treatment. Curly is supposed to look luxurious and voluminous, and if you see you're lacking on this front, your hair is in dire need of protein.
To Sum Up
This is all you need to know about protein treatment for curly hair. If you have reached this point, you must know whether your hair needs a protein treatment and which products to use. You can pick the best protein treatment for your damaged curly hair from here and see the magic happen! So, don't shy away from investing in your hair and give them the nourishment your hair needs to shine and claim the world.