Welcome back! Imagine if you had an elixir that would reverse skin aging and make you look more radiant and breathtaking with every passing day. Well, it's time to turn that dream into a reality because we are about to unlock a powerful skincare secret that is nothing short of magical – retinol body lotion. Whether you are struggling to keep away those fine lines, looking for ways to diminish those stretch marks, or dreaming of flaunting soft, supple skin, retinol body cream can be your ultimate solution.
Join us as we uncover the incredible skincare benefits of retinol body lotions, what ingredients you must look for in these products, how often you must use these magical potions, and how to avoid possible side effects. In today's post, I have also included a list of the crème-de-la-crème of body retinol creams guaranteed to leave your skin looking flawless.
Retinol Body Lotion – A Powerhouse Of Skincare Benefits
As you age, your skin needs a whole lot more than just moisturization to maintain its softness, smoothness, and glow. Ta-da! Welcome body lotion with retinol – an elixir of youth that can take your skin from 'meh' to 'mesmerizing' in a few weeks. Here's a peek into what retinol is capable of.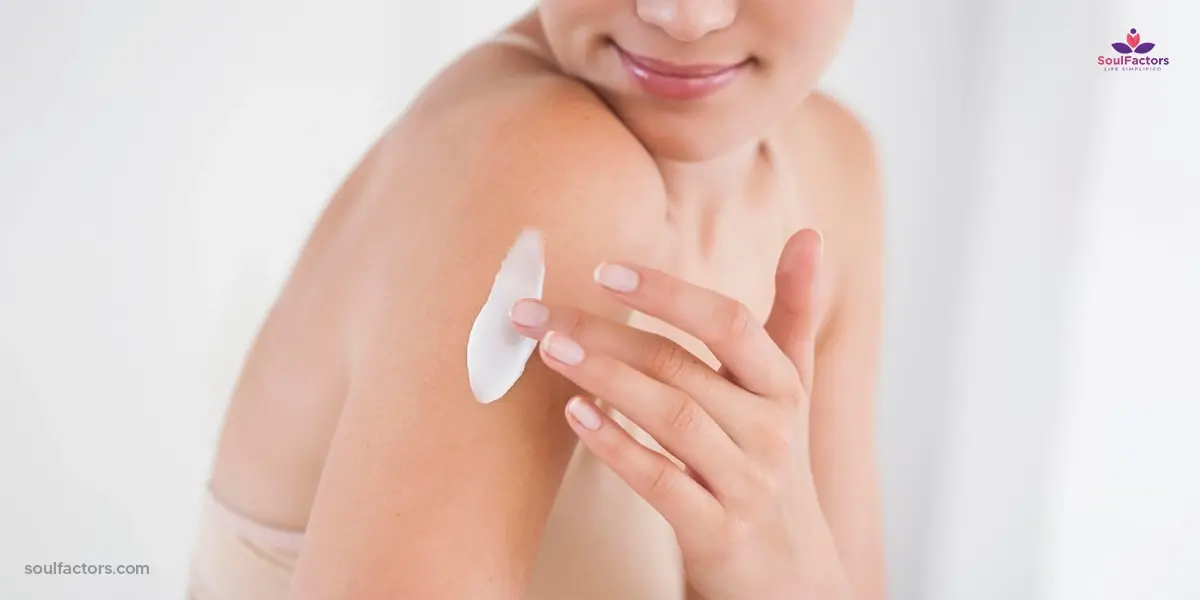 Retinol eliminates dryness and fine lines to keep your skin fresh, smooth, and dewy (1). Thanks to its ability to accelerate collagen production in the body, retinol lotions tighten the skin, incredibly improving its elasticity and firmness. But wait, there's more! Use retinol-based cream for a few weeks and your stretch marks will be history. Worried about blemishes marring your complexion? Retinol is here to the rescue! Plus, you are sure to be thrilled by the way it unclogs pores and diminishes acne.
Other Ingredients That Boost Anti-Aging Magic Of Retinol
So, you have decided to buy a retinol body cream. Wonderful! But make sure that you read through the ingredient list before making that purchase. Why? Although retinol is unmatched when it comes to fighting the signs of aging, body lotions must ideally include a host of other ingredients to provide overall skincare, radiance and smoothness. Here are some of them: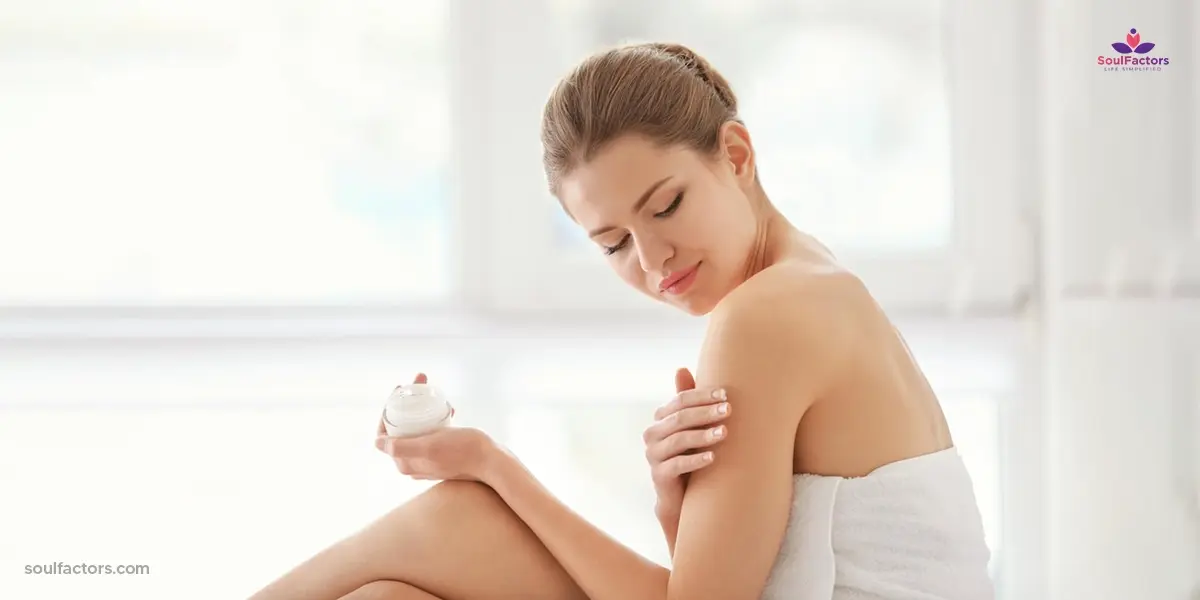 Hyaluronic acid: This is the hydration champion that keeps your skin moisturized, plump and radiant.
Antioxidants: Of course, you need the power of antioxidants like Vitamin C and E to shield the skin from the damaging effects of free radicals.
Soothing the skin: To stay smooth and supple, your skin deserves the soothing goodness of shea butter and aloe vera.
The next time you are shopping for retinol body lotions, be beauty-savvy and keep your eyes peeled for these ingredients in addition to retinol.
Why Is Retinol A Must-Have In Your Body Lotion?
Retinol is just what you need if you are keen on flaunting skin that radiates timeless beauty. Think of retinol as the skin's personal trainer, working hard to keep it firm, supple, and smooth. It magically irons out those fine lines, kicks out wrinkles, and eliminates uneven skin tone so that you wake up to fresh and beautiful skin every single day. Whether you are depressed about sunspots, worried about the deepening crow's feet, struggling with dry patches or just crave skin that makes everyone around green with jealousy, choose a product with retinol on the ingredient list to give your skin the rejuvenation it deserves.
How Often To Treat Your Skin To Retinol Body Lotion?
We have explored what retinol is and why you must be using body lotions containing this ingredient. Next up is another pertinent question – how often should you use retinol? Remember that even in minute amounts, retinol may cause skin irritation in some individuals. So, start with a product featuring retinol in a low density of around 0.05%. Use the product twice or thrice a week to allow your skin to adjust to it. Gradually, upgrade to a product with 0.1 percent of retinol and stick to the three-day-a-week schedule.
Obviously, you want to reap the anti-aging benefits of body lotions with retinol without overwhelming your skin. So, it is best to limit it to three times a week or apply it every alternate day.
Incorporating Retinol Into Your Skincare Regimen
Now that you cannot wait to include retinol in your skincare routine, here's how to go about it.
Start slow and be consistent. Begin with applying retinol body creams twice a week. Once your skin is accustomed to the new ingredient, up the ante to thrice a week.
Always cleanse the skin thoroughly and allow it to dry completely before applying the lotion.
For best results, apply retinol-enhanced lotions before bedtime and let it work its magic as you drift into sleep.
A little retinol is all it takes to keep your skin looking its best. Take a pea-sized amount of cream and gently massage it into the skin.
Follow up the body lotion by applying a rich moisturizer. This will seal in the retinol and give it the hydrating support it needs to replenish your skin.
Remember that your skin will tend to be slightly more sensitive to sunlight once you begin using retinol. Do not forget to apply sunscreen before stepping out.
If the skin feels tingly or looks red, it may be a sign to slow down with the retinol body lotion. Scale back the frequency and allow your skin time to get familiar with the new ingredient.
Talk to a dermatologist to get help with choosing the right product and designing a personalized retinol schedule.
Consistency matters. So, stick to the routine if you are serious about regaining your skin's youthfulness and radiance.
The Best 10 Retinol Body Lotions – Discover Prices, Features, And Pros And Cons
The sheer number of retinol body products available out there can be overwhelming. But we have got your back. With the right information, choosing the best retinol body lotion is not as daunting as you imagine. So here is a list of the 10 best retinol-based lotions out there along with their features, ingredients, prices, and pros and cons. Choosing a retinol cream cannot get any easier than this!
1. Nécessaire The Body Retinol
Hailed as the best retinol body lotion for crepey skin, the Body Retinol from Nécessaire reduces overall signs of aging including hyperpigmentation, fine lines and patchy skin tone. While the low concentration of 0.1% retinol prevents skin issues, the surplus of alpha-hydroxy acids (mandelic acid and glycolic acid) gently exfoliates to unclog pores and prevent acne.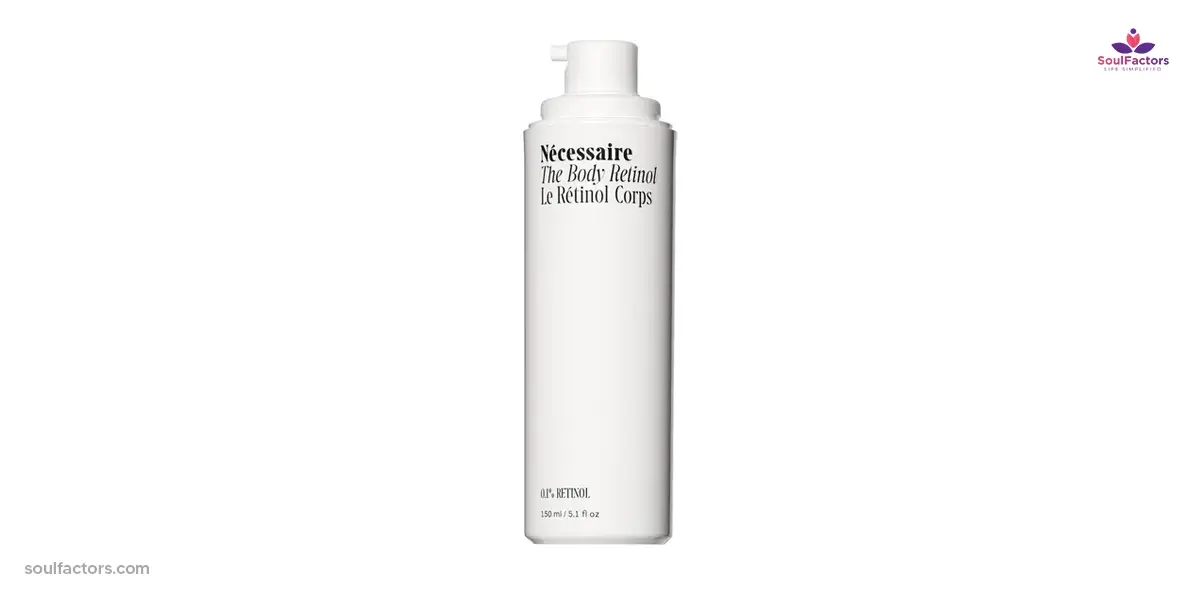 The quick-absorbing formula is also rich in Vitamin C that keeps your skin bright and glowing. Although the strong fragrance may not appeal to everyone, this product priced at $55 is a good pick for acne-prone skin.
2. Naturium Skin-Renewing Retinol Body Lotion
Women with sensitive skin have a hard time choosing products that are safe on the skin. Not any more, ladies! The Skin-Renewing Retinol Body Lotion from Naturium priced at $25 is a gentle formulation free of potentially irritating chemicals such as AHAs, BHAs or fragrances.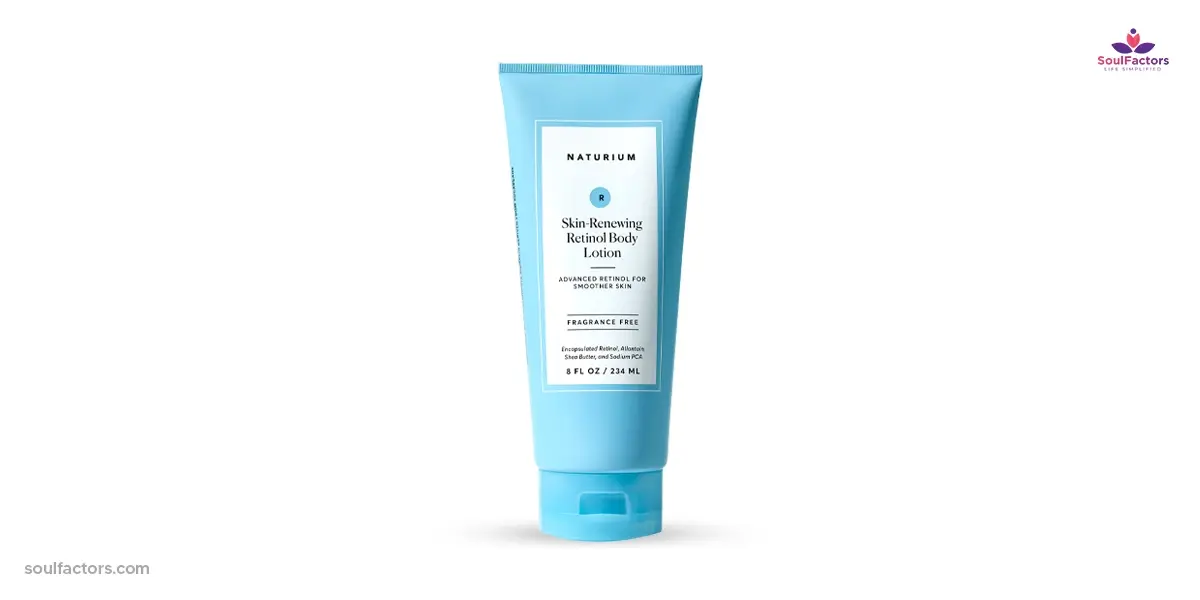 Its skin-friendly ingredients include glycerin, shea butter and allantoin that deeply hydrate the skin and help diminish the appearance of fine lines. Additionally, encapsulated retinol takes longer to absorb, thereby reducing the risk of skin irritation while drastically improving skin tone.
3. Versed Press Restart Gentle Retinol Body Lotion
If dry skin is your number one problem, the Versed retinol body lotion saturated with hydrating elements such as squalene, cocoa butter and Vitamin E would be a good pick. The product hydrates dry skin and boosts collagen levels to treat hyperpigmentation and fine lines, leaving you with soft and smooth skin.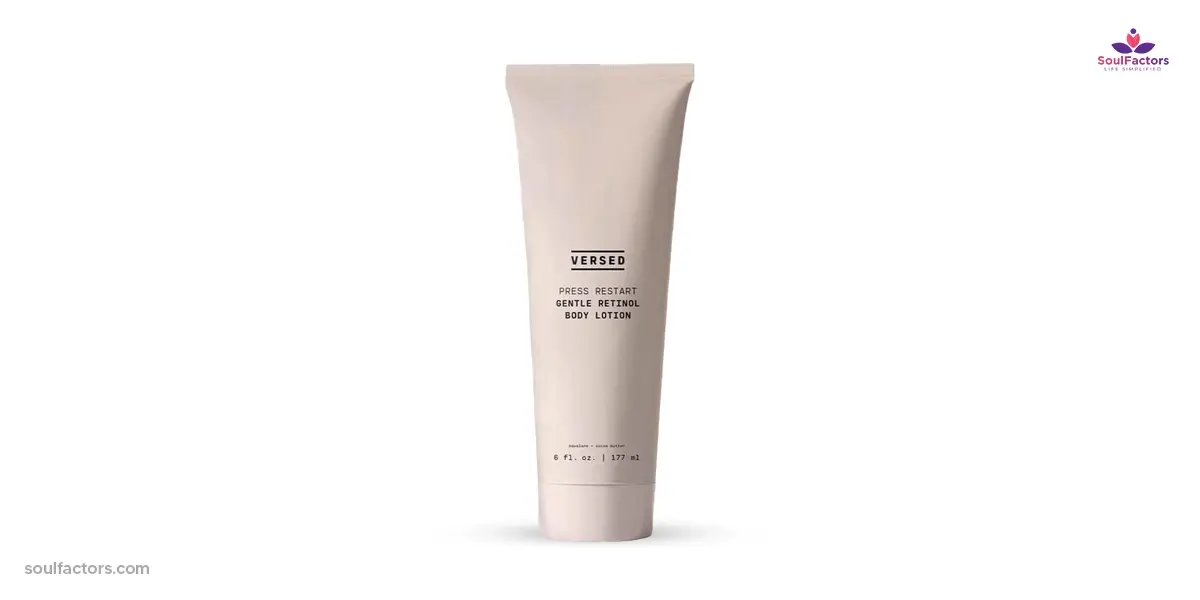 The 0.1% encapsulated retinol content makes this product the perfect start for your anti-aging journey. Given its light-weight, easily-absorbed formulation, it an apt choice for oily skin as well. Affordably priced at $18, the sole drawback of Versed retinol body lotion is that it may not be hydrating enough for very dry skin.
4. Paula's Choice Retinol Skin-Smoothing Body Treatment
One of the first retinol body lotions to hit the market over a decade back, Paula's Choice that comes with a price tag of $29 has stood the test of time with its remarkable anti-aging results. It is hard to believe that this super lightweight formulation features an array of rich moisturizers like grapeseed oil, shea butter, glycerin, primrose oil and Vitamin E.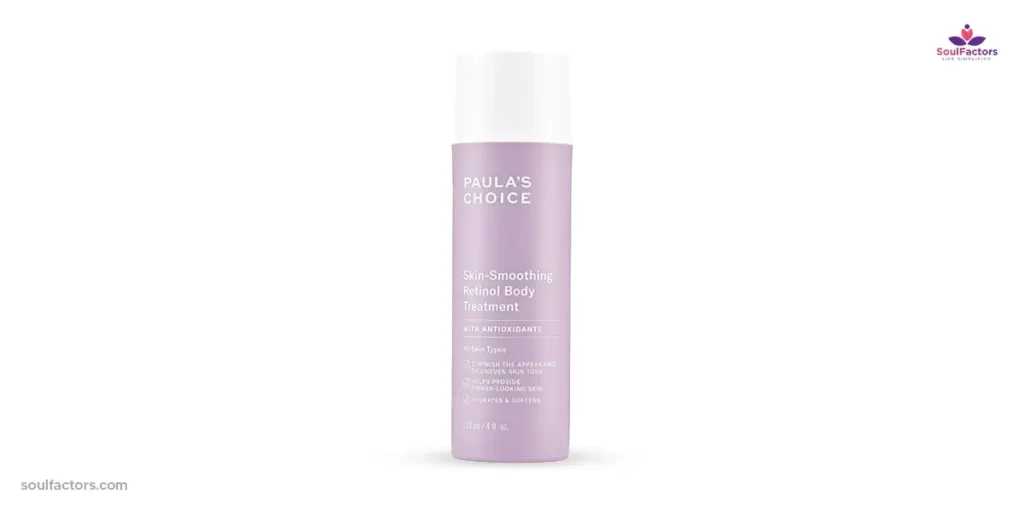 Together, these ingredients offer numerous retinol body lotion benefits by treating fine lines, wrinkles and uneven skin tone. Although it can leave the skin feeling slightly sticky, users are okay with it since the formulation is recommended for overnight use.
5. PH Factor 5.5 Retinol and Ferulic Acid Cream For Face And Body
Priced at $15, this retinol body product is definitely the most affordable option. In addition to retinol, the formulation features ferulic acid that works wonders in reversing the aging process of your skin. The product has been formulated to align with the natural pH levels of the skin, ensuring minimal irritation or other side-effects.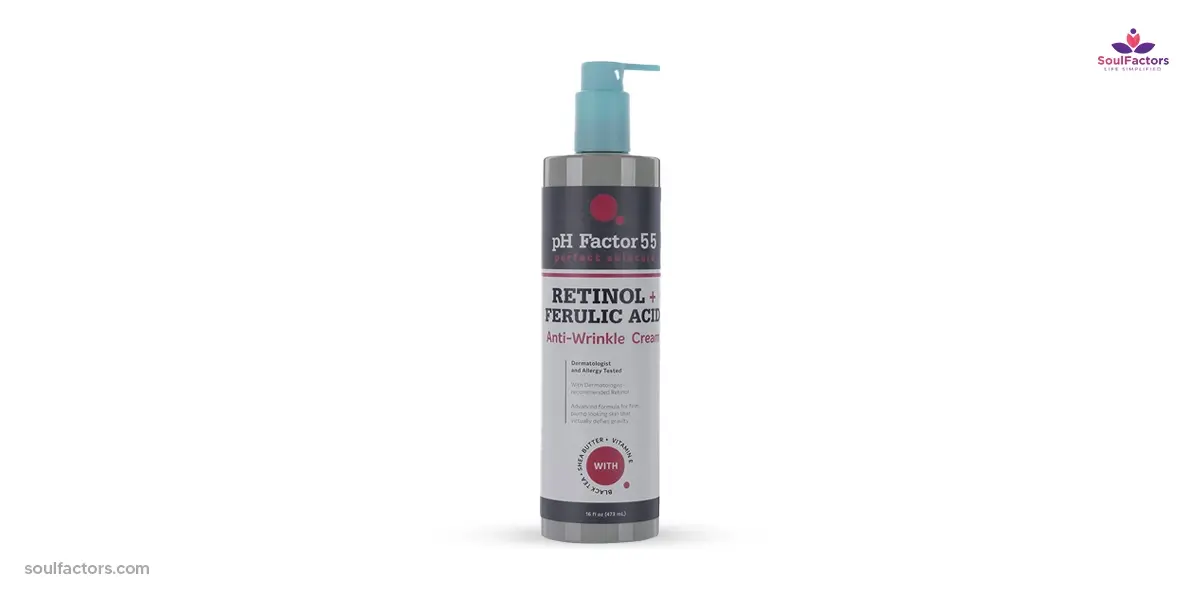 This lotion is suitable for application for your face as well. But make sure you do not slather it on; a pea-sized amount will suffice. Although ideal for all skin types, many users find the fragrance a tad irritating. But the good news is it does not seem so strong a little while after application.
6. Josie Maran Whipped Argan Pro-Retinol Body Butter
Calling all women with super-dry skin; gather your tribe and spread the good news – finally, there is an anti-aging body product designed especially for extremely dry skin types. This is a rich body butter infused with the goodness of pro-retinol, argan oil, and Vitamin E.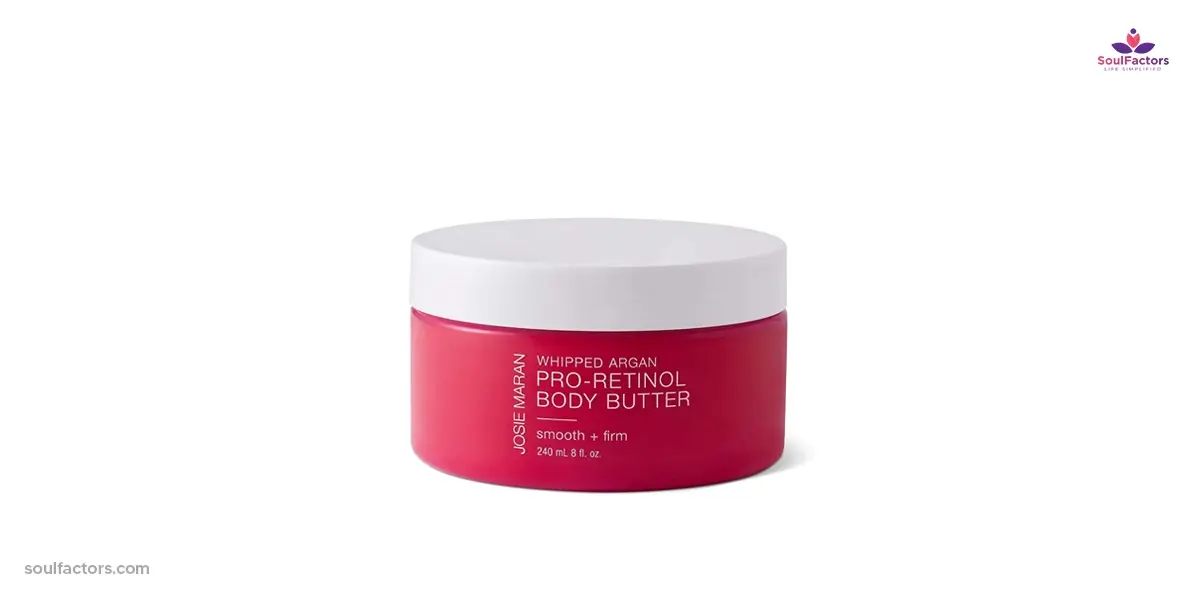 Antioxidants in the body butter slow down the aging process of skin cells to reduce the appearance of fine lines and wrinkles. Although the product available for $46 has a rather unpleasant fragrance, you are sure to love the intense hydrating properties that nourish the skin without being too greasy.
7. Advanced Clinicals Retinol Body Lotion
Once your skin has had a taste of gentle retinol lotions, this is one product you can upgrade to. Featuring a high concentration of retinol, this fragrance-free body lotion offers seriously impressive results in improving skin firmness and smoothening fine lines.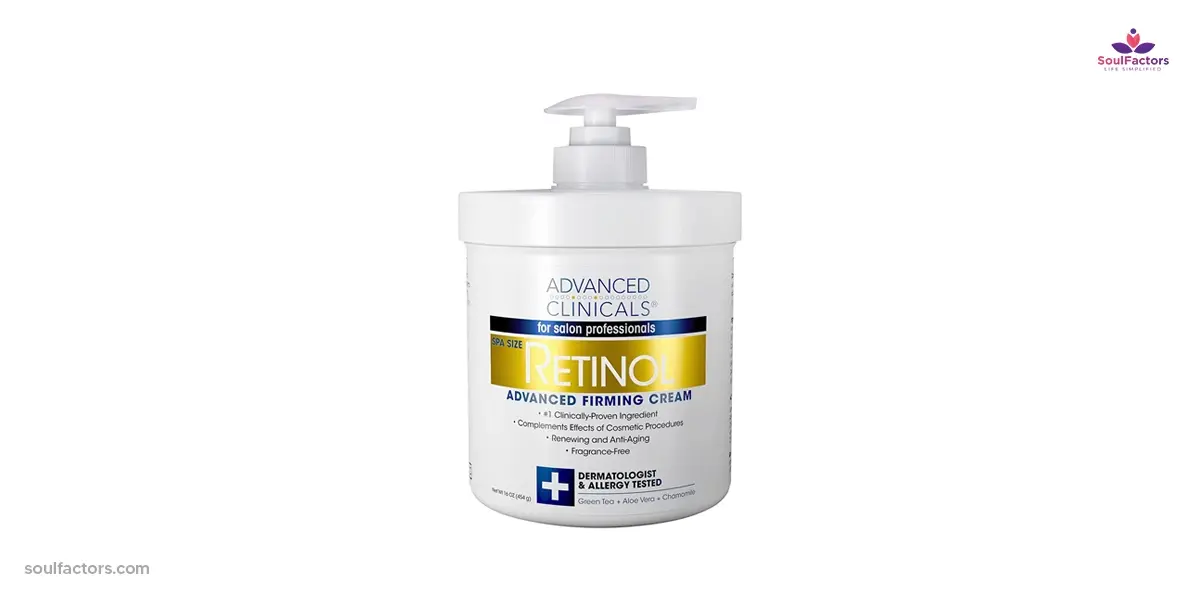 Empowered with glycerin, green tea extract, and aloe vera, the product's hydrating properties ensure that your skin stays soft, smooth, and supple. Priced at $18, the high retinol content in the formulation can be extremely drying. In case you notice excessive dryness, apply a layer of rich moisturizer over the product to lock in moisture.
8. Medix 5.5 Retinol Body Lotion
The unmatched combo of retinol and ferulic acid makes this a powerful option for those seeking visible anti-aging results(2). While the age-defying properties of retinol are well-known, ferulic acid complements the process by protecting the skin from hyperpigmentation, outbreaks, and premature aging.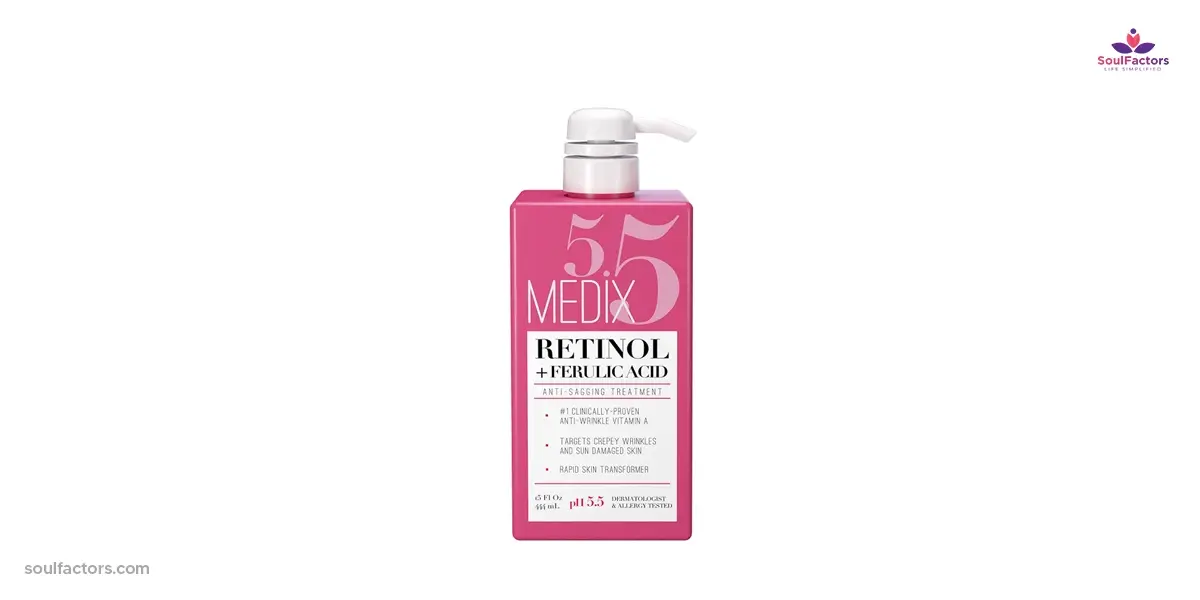 The lightweight formulation is quickly absorbed, leaving the skin feeling smooth and firm. Although affordably priced at $17, many users dislike the strong scent that lingers immediately after application.
9. Rosen Apothecary Anti-Aging Retinol Body Lotion
Experience the magic of retinol along with the hydrating and anti-aging powers of argan oil and caffeine. The three key ingredients work in sync to provide you with tighter, smoother, and younger-looking skin.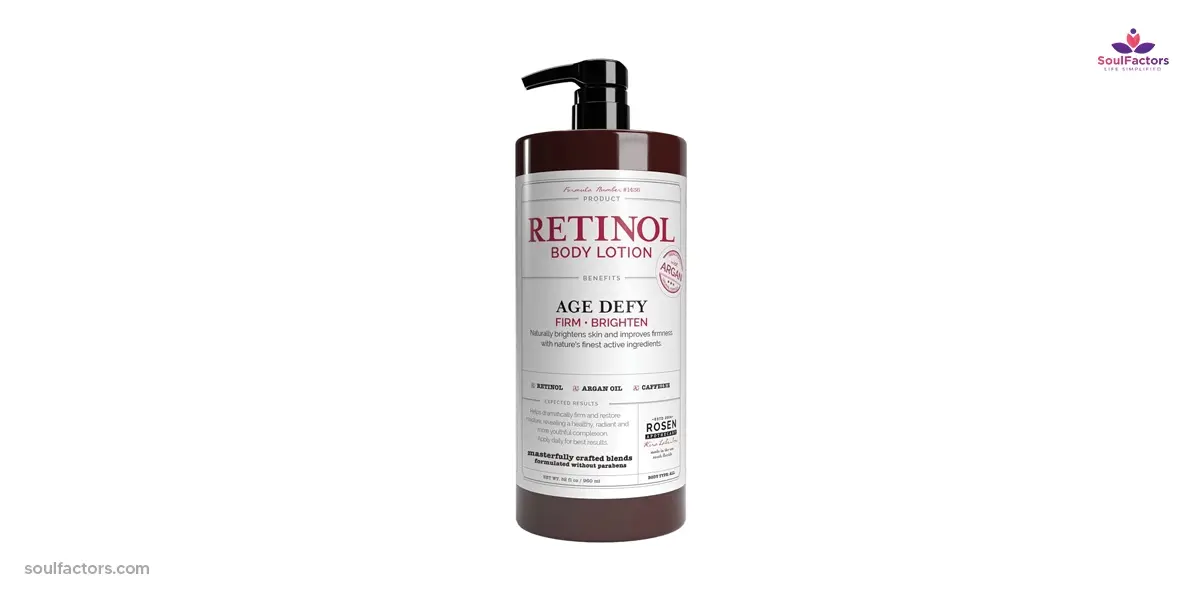 Thanks to the lower 0.05% retinol content, this product is very gentle on the skin and therefore a perfect option for sensitive skin types. Available at $29, the product comes with a light, fruity scent. Some users find the consistency a bit watery when compared to other formulations.
10. CeraVe Resurfacing Retinol Serum
Not everyone is blessed with perfectly flawless skin. But with the CeraVe retinol body lotion priced at $20, anyone can strive for it and achieve exceptional anti-aging and skin-brightening results.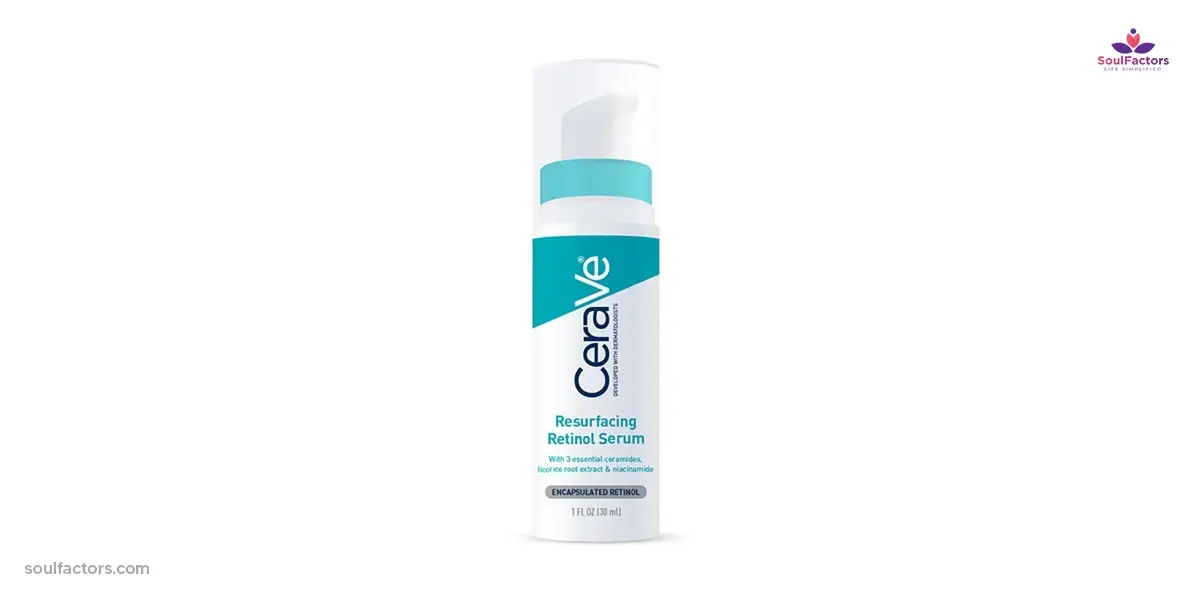 No matter what your skin issues are – acne marks, unflattering pores, or uneven skin tone – this body lotion is packed with powerful ingredients capable of restoring your skin to its youthful radiance. While essential ceramides (3) in the lightweight, paraben-free, and fragrance-free formulation protect the skin from damage, licorice root extract brightens the skin like never before.
Possible Side Effects Of Using Retinol Body Creams
In spite of its miraculous anti-aging properties, retinol may cause side effects in some individuals. Hey, nothing to worry about! But it would be good to know so that you can prevent these from popping up. Here are some of those side effects:
👉Redness: This is usual during the initial days of retinol use. It is just your skin reacting to an unfamiliar ingredient.
👉Dryness: Retinol can cause excess dryness, leading to your skin peeling or flaking. Embrace the power of a moisturizer to face this dry spell.
👉Sun-sensitivity: Using sunscreen before stepping outdoors is no longer an option. You 'should' use sunscreen to support retinol in its skin rejuvenating results and to prevent skin irritation.
👉No-no for pregnant ladies: Retinol is not exactly a pregnancy-friendly skincare ingredient. So, switch to something gentler if you are pregnant to ensure zero surprises.
👉Allergic reactions: It is impossible to predict how your skin may react to retinol. To be on the safe side, conduct a patch test.
Let's Sum Up
Body lotions with retinol can be a true investment for flawless, enviable skin. From enhancing skin texture and promoting collagen production to diminishing hyperpigmentation and reducing the signs of aging, retinol can significantly empower your skincare routine.
Remember to start slow with lower concentrations and gradually increase the frequency of usage to around thrice a week to minimize potential side effects such as irritation or redness. In case of pre-existing skin issues, seek personalized advice from your dermatologist before you treat your skin with retinol-enhanced lotions.
Make sure you choose the right product based on your skin type. Do your research, browse through user reviews, and be aware of ingredients in different products. Go for formulations featuring moisturizing ingredients such as ceramides or hyaluronic acid to combat dryness.
With a bit of patience and a customized approach, retinol body lotion can really be your skin's BFF that opens up doors to glowing and younger-looking skin.
FAQs
Can I Use Retinol Lotion Every Day?
Skincare experts recommend starting with twice a week and gradually progressing to thrice a week or every alternate day based on your skin's tolerance.
Does Retinol Body Lotion Really Work?
Although individual results may vary based on skin type and the brand chosen, retinol body lotion generally offers visible results in improving skin tone, texture, firmness, and radiance.
What Is The Best Retinol Percentage For The Body?
Since body skin is less sensitive than your facial skin, using products with 0.1% to 0.3% concentration of retinol is fine. Do consult your dermatologist before use if you have sensitive skin.