Thrilling Halloween Ideas To Spook It This 2021!
Nothing more exciting than dressing up as a ghost to celebrate! This also means the perfect chance to exhibit your creativity. So buckle up, as you are going to make this Halloween your best one ever.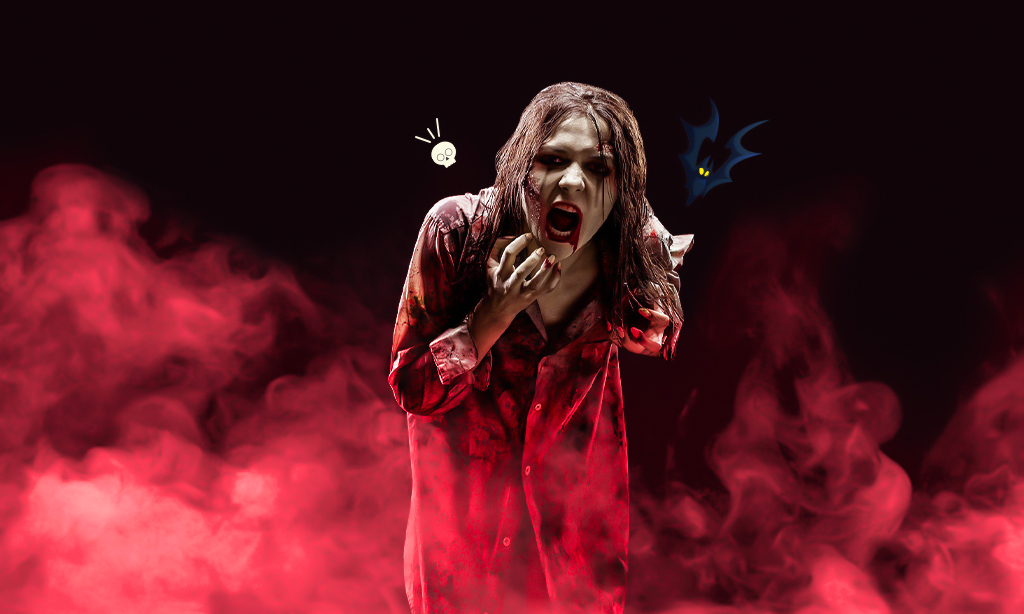 Halloween is around the corner, it's back to that time of the year where we love to scare the living daylights out of everyone. One of my favorite times around the year, Halloween is always fun.
From planning a cool Halloween party, costume, recipe, and games to visiting your family and friends, the season is special. From preparing the costumes to getting all the yum candies, everything could be overwhelming at the last minute.
This article, "Thrilling Halloween Ideas To Spook It This 2021", is all about easy ways to organize and make most of this chilling time of the year.
Here Are Some Tips To Make This Year's Halloween A-Bomb
Halloween is the time to be playful, funny, and be outside! Have you been celebrating it, all the same, every time? Why don't you try something different this time? Make it memorable while ensuring safety!
If you are planning on throwing an unforgettable Halloween party this year with your loved ones, you need to prepare beforehand. The festivities of Halloween have come a long way, from just wearing costumes now it's come to more creative fun stuff like decorating, indulging in spooky-looking sweets, mimicking famous characters, party and so much more.
Halloween Party Ideas: Easy and Spooky
One of the most basics and staple decor that one must not miss for this and every other Halloween season is the hollow pumpkin(1).

Organize these pumpkins in various locations in the house- the pumpkin decor is available in various forms like the pumpkin lights, pumpkin bucket, etc. you can also add other interior spooky decors inside the house such as cobwebs, crow, witch hats, etc.

Use your real pumpkins to decorate the outside of the house, you can place them on the porch, driveways, steps, etc.

You can also crave your pumpkins as a DIY and add those too in with your other decors. One of the easiest DIY to create a spooky pumpkin is to add some paint and vampire teeth to your pumpkin. There you have the evil pumpkin that sure to give anyone a scare(2).

Another cool way to use your pumpkin is to turn one into a cooler by adding some ice and sticking in some drinks.
Fill pumpkin buckets with goodies and candies, always leave the goodies in the play area and the ones filled with wine and other treats in the rooms where adults are likely to spend more of their time.

If you want to give more into it and spooking look make bloody cakes, zombie eye candies, and worm jelly.

Draw creepy faces on the balloons.

Add in creepy lights (reds works great to give that whole Dracula effect).

To take things to another level add in some spooky music
Halloween Costume Ideas That Are Sure To Make An Impression
Addams Family-One of the most classic Halloween customer's ideas would be dressing up your family as the Addams family the mysterious and spooky family has never once disappointed the audience.
Hotel Transylvania Characters -You could plan and dress up your family as that epic hotel Transylvania character, since humans are not allowed into the hotel, along with ensuring that all your guests are dressed you can also take some of the decore inspirations from the cartoon.
The stranger Things Kids– this could be the most popular Halloween costume idea of this season. The sensational science fiction horror show and its characters recreated this Halloween is sure to make anyone see the upside-down.
The Riverdale Characters– a new generation adaptation of the classic Archie and friends would be one of the coolest Halloween ideas again this year.
Shadowhunter Characters– for those who loved the supernatural series this could be an exciting option.
Vampire Diaries– though the series has been long over, the characters and their epic vampire wicked hiss is still a great idea to go with.
The Chilling Adventures of Sabrina– dressing up as the cool girl; Sabrina and her witch aunts would be the perfect way to welcome Halloween.
Classic Halloween Costume Ideas 2021
If you are looking for more classic Halloween costume ideas for 2021 then…
Jenna Rink from "13 Going on 30"– The iconic rainbow stripe dress Jenna wore when leading an almost bored dead party into a flash mob of Michael Jackson's epic song "Thriller." don't forget to add the butterfly necklace, the red clutch and the messy updo hair she carries with style.
Scooby-Doo and Shaggy – if you are looking for Halloween costume ideas for couples then this duo would make a cool combination.
Forrest Gump Costume – Forrest Gump, is an easy to recreate Halloween costume if you feel lazy to do anything time-consuming. All you need is a light suit and a plaid shirt, muddy shoes, and a box of chocolates.
Ghostbuster Costume – from the movie Ghostbuster, the American fantasy comedy film, the epic zip-up costume with the inflatable backpack and gun is sure to make you stand out.

You can also recreate the famous look of your favorite celebrities or other television characters you love.
Easy Halloween Make Up Ideas To Try In 2021
Batsh*t Crazy Babydoll
This look is easy to create if you are looking for a sweet yet scary look. To get the look do your makeup as usual but replace your eyeliner and shadow with a white liner and powder. In creating this look your goal is to look as white as snow.
Wonder Woman Look
Wonder women look is pretty easy once you get your custom righty. You need to look a well-blended makeup with golden shimmery eyes and some maroon lipstick. The look is quite natural. When the party begins all you need to add is the wonder women headband.
Cat Woman
Cat women look is epic if you are looking for a sexy gothic-like look for this Halloween. All you need here is some black gel, that stays put and doesn't smudge. You guys can get an eye mask at any store but painting one can make them look more real and it will stay put all night. Masks do get uncomfortable as the night passes by.
Mermaid Look
If you want all that bling on a dark night the mermaid look is perfect as well as easy. Throw on a glittery fish-cut gown and add a full-on shimmer glow makeup with light glitters on your eyes and rhinestones over your face and neck.
The Sexy Vampire
A vampire never goes out of style. Do a snowy white face with a foundation that's a few shades lighter, add in a red contact lens, do a full-on smokey eye and finally to take stuff to the next level add in some red border rim and some vein lines on the face using a red liber.
These looks are just a few examples(3), there are many more other looks that can be easily created with the stuff you already have. If you want more Halloween look ideas, let us know so that we will do another Halloween look book.
How To Stay Safe On Halloween?
When it comes to Halloween, moms worry about the safety of their kids. Halloween is fun and kids need to have their fair share of fun. Instead of restraining them to sit home all night, here are certain tips that can help you worry less about your kids and actually enjoy all the spooky fun.
Make sure that you keep your kids away from pointy and sharp objects. Kids are prone to accidents, you don't want your kid falling on anything or accidentally stabbing anyone. Try getting kids props that are soft and flexible.

While planning Halloween costume ideas for kids make sure they are reflective or bright. If your kid is wearing dark clothes then add some bright colors or stick-on reflective tape to the costume. This will make sure that your kid can be easily seen and identified at night.

When you get your kid to wear masks make sure that they don't block their vision. Masks can be dangerous especially if your kid's planning goes out at night alone. If the customer demands a mask make sure the vision holes are big enough to see clearly.

Check the ingredients of makeup products that you use on your kid, also take care while applying false lashes, nails, teeth, etc on your kids. Some people tend to add glue so that the falses stay in place but this could be painful for removal.
If Your Child Is Going Out
Make sure you advise him/her to say visible and also give them stuff like a flashlight. Ask them to flash the light while crossing the road so that the drivers can see them.

Discourage kids from taking out their bikes and skateboards during the night. It's always better if the child has an adult with him during a trick-or-treat.

Young children can be scared by some Halloween displays which could affect them mentally as well as physically. Therefore while your child goes to play trick-or-treat never leave him or her alone. Also, set some basic ground rules so that your kid stays safe.

If your kid is under nine years of age have him or her escorted by an adult or an elder sibling while going out to trick-or-treating. For games like this, it's always safe to send your child with a group if there is one in your neighborhood.

Set certain ground rules while letting your kid go out. Advise him/her not to enter any stranger's house even if they insist. Entering a stranger's house is never safe especially during Halloween. In case the child has to enter the house, make sure you ask the escort to go along too.

Advice kids not to have candy offered by strangers. Though some of the claims of poisonous candy may be rumors it's still better to stay on the safer side. Always advise your kid to bring the candy home first before eating it.

Finally, ask your kid to be polite and respectful of the elders. Some elders might be very welcoming and rude. Being respectful can help to avoid unnecessary drama.
I hope this article on Halloween Ideas helps with planning and organizing a memorable Halloween party this year. As the quote goes, "When witches go riding, and black cats are seen, the moon laughs and whispers, it's near Halloween."
Have a spine-chilling Halloween!