Fashion trends come and go but types of jeans for woman have been a solid staple in our wardrobes for over a century now. Jeans go with anything anywhere. Shopping, date nights, friends meeting up, official meetings, parties, clubs… Jeans have been a girl's best friend. But after the pandemic went down and people started stepping out of their track pants, the jean trend took a new turn.
Types Of Jeans For Woman: You Should Own These In 2023!
Skinny jeans which were everyone's one pair of favorite jeans became outdated. Wait, don't throw away your skinny fits, it's not completely out, all you need is a little revamp and styling ideas to stay on top of the game. Here we have put together some of the best and most versatile types of jeans for women that are in trend in 2023.
Fun fact: Did you know that denim originated in a French city called Nimes and was first used in the 1500s in Italy, Genoa? Jeans were made for the Italian navy to be worn while on duty.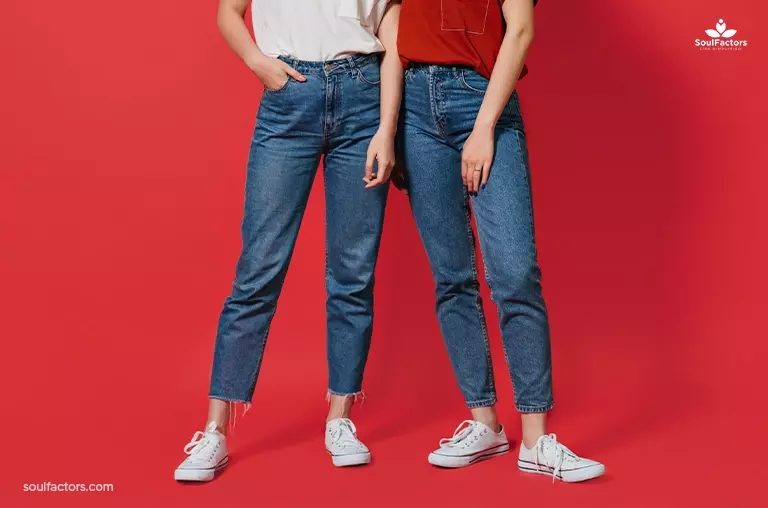 Loose fit, boyfriend fit, trendy cuts, casual cuts to put together, the jean game is on another level, and the good news doesn't end there. These new trending styles are so versatile that you don't have to worry about your butt or tummy or thighs anymore.
1. Flared Jeans
The first one among different types of jeans for woman is flared jeans, a much-loved retro style that is going to make huge ripples this year.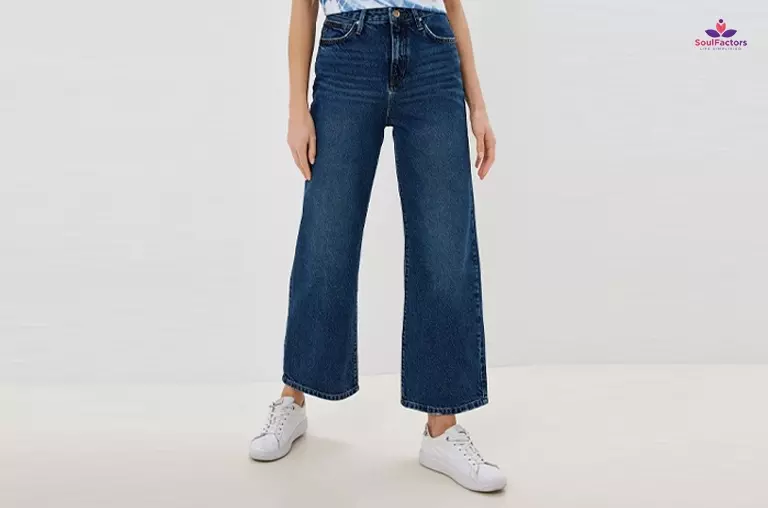 Petite or skinny you are going to love this type of jeans because, unlike boot cut that is tight at the thighs, flared jeans are flared right from the thighs to the ankles. You can pair these beauties with almost anything. Crops, peplums, turtle neck, body suit, or a sweater anything will go with flares.
Fashion Tip: If you have wide hips, then try the high-rise flared jeans as they will give you a snatched look.
2. Bootcut Jeans
Boot cuts were the queen of jeans styles in the late '60s and '70s. The trend came back a few years ago and again disappeared. When we thought the boot cuts were forgotten and overridden by skinny fits, this year she is back guys!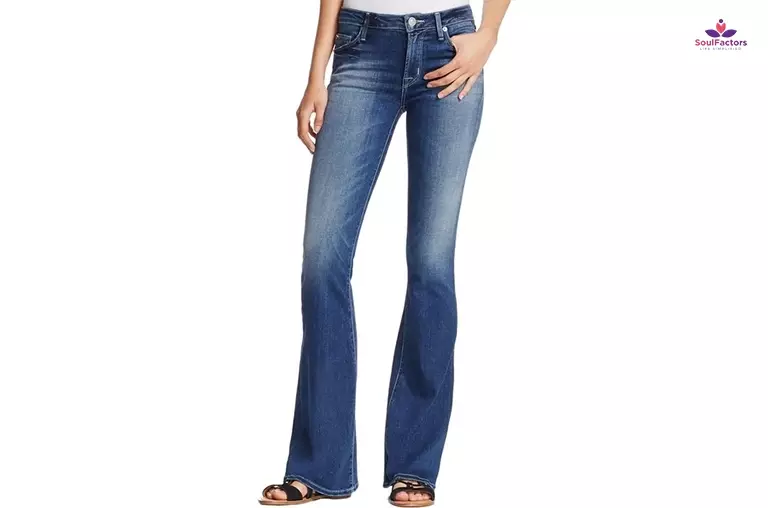 One of the key reasons boot cuts are just love is because they suit almost all body types and can instantly make one look taller. Not to mention how comfortable and versatile they are, you can pair your boot cuts with anything and still look put together.
3. Types Of Jeans For Woman: Straight Or Cigarette Jeans
Straight cuts/ cigarette cuts are the new work wear. These types of denim are cut off at the ankle, making it look very formal and sophisticated. Pair it with a crop top, shirt, blazer, and stilettos, and flaunt those curves. Your workwear is ready!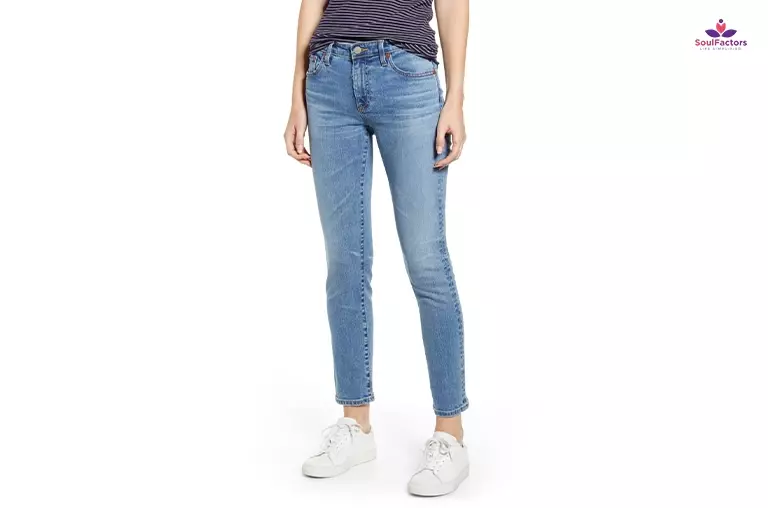 4. Boyfriend Jeans
The boyfriend jeans are my personal favorite among the types of jeans for woman. Tight at the waist and loose at the thighs, these loose-fitting jeans are very comfortable and versatile. You can pair it with any top. If you tuck in your top then add a pair of heels to look classy and stylish. If you like the cute and casual look, pair it with a cropped t-shirt and a pair of sneakers. You can style these anyway as per your personal preference and look stylish either way.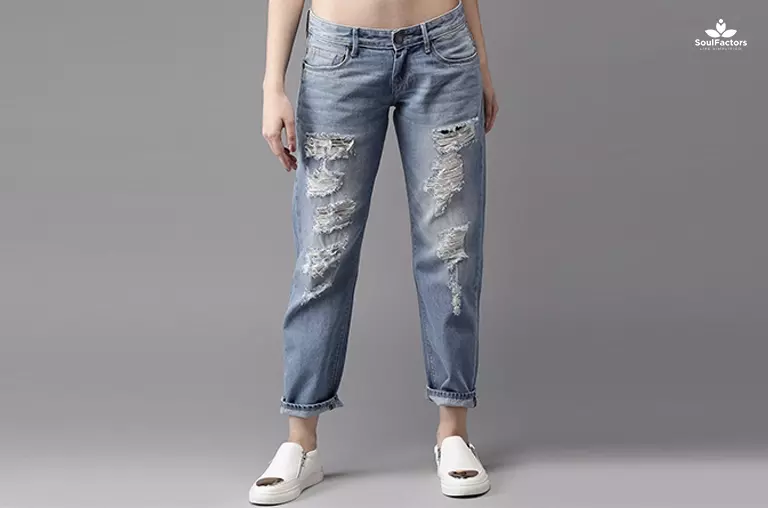 5. Two-Toned Denim
Playing with colors in denim is trending in 2023 when I say colors I don't mean the good old washed out, I mean ombre, color blocking, and dual-toned. Dual-toned jeans are available in all styles. The advantage of two-toned jeans is that you can experiment with your looks. For example, light jeans with a darker corner will make your legs look slim and contoured. Ombre is another example that can make you look tall. Just like normal jeans you can pair these types of jeans for woman with any top(1).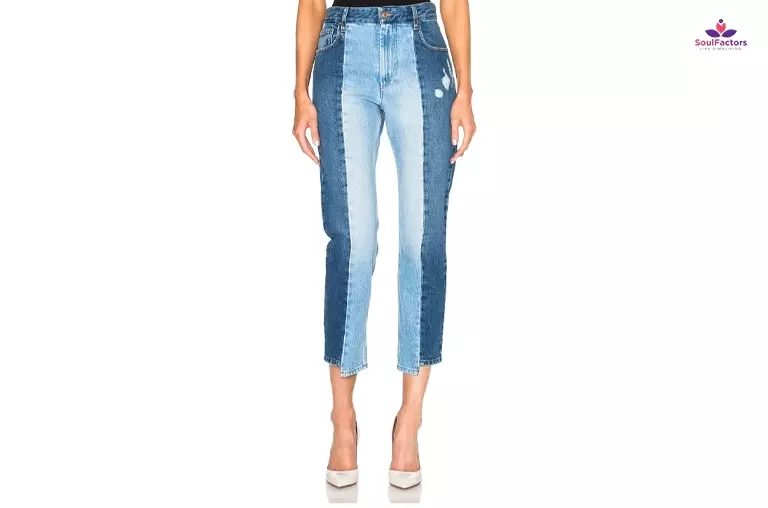 6. Cargo Jeans
For a night out or just a comfy day shopping, cargo jeans are the perfect option. A mix of cargo pants with denim will give you the best of both. Loose fitting, tight at the waist, and huge pockets. These jeans can be worn with sneakers or kitten heels or boots. The oversized grungy look is all in this year. Amp up the look with cute cropped tops or T-shirts, and look effortlessly stylish with these types of jeans for woman.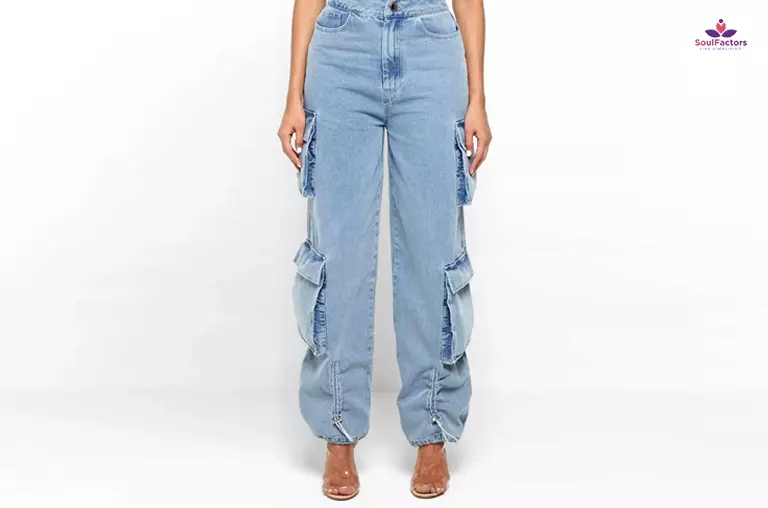 7. Asymmetrical Waist
The asymmetrical waist fit jeans are one of the sexiest types of jeans that almost all celebrities love. The reason why everyone loves this fitting is that it can instantly make your waist look snatched. These types of jeans come in wide-leg, straight-fit, or mom jeans designs. Flaunt them with crops and you will surely make heads turn.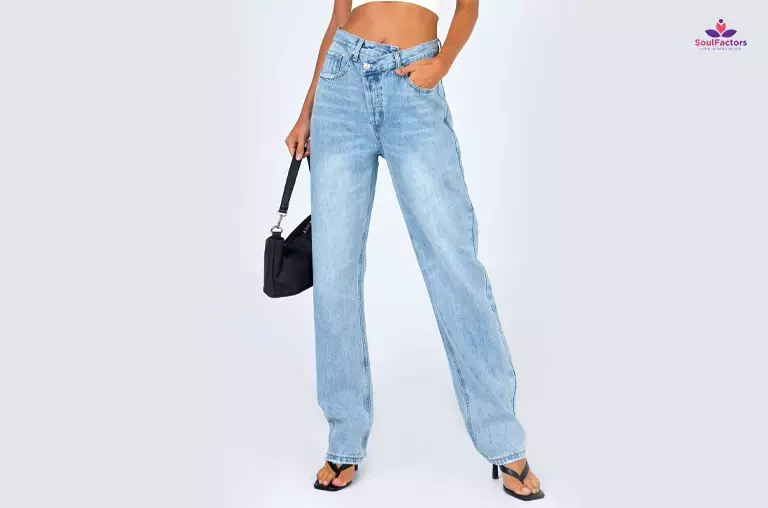 8. Baggy Jeans
Loose fit and pooled at the hem, baggy jeans are so in this season. Anyone can rock baggy jeans with the right kind of styling. Never wear "oversized over oversized" if you are on the petite side instead balance out your body proposition by wearing a tight-fitting top with a baggy bottom to style this types of jeans for woman.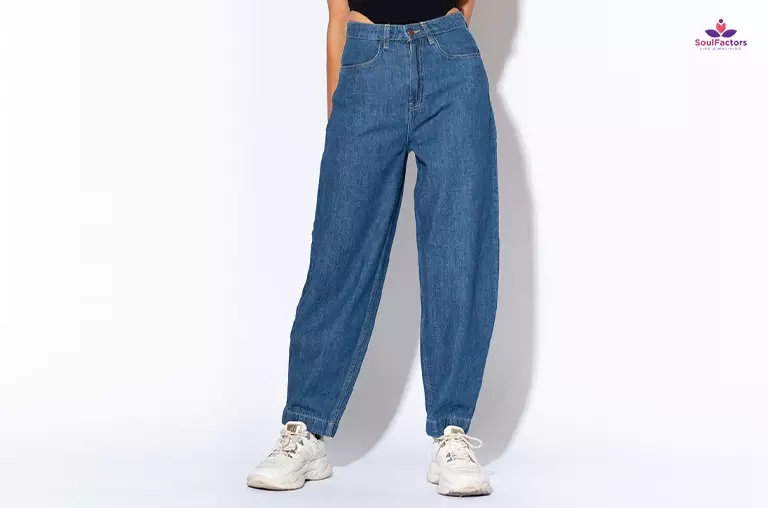 9. Skinny Jeans
If you own skinny-fit jeans don't shove them away, in 2023 skinny is back too. Stretchy and comfy are the perfect words to describe skinny-fit jeans. Casual day out or a party rock these with any top and any pair of footwear, you can never go wrong.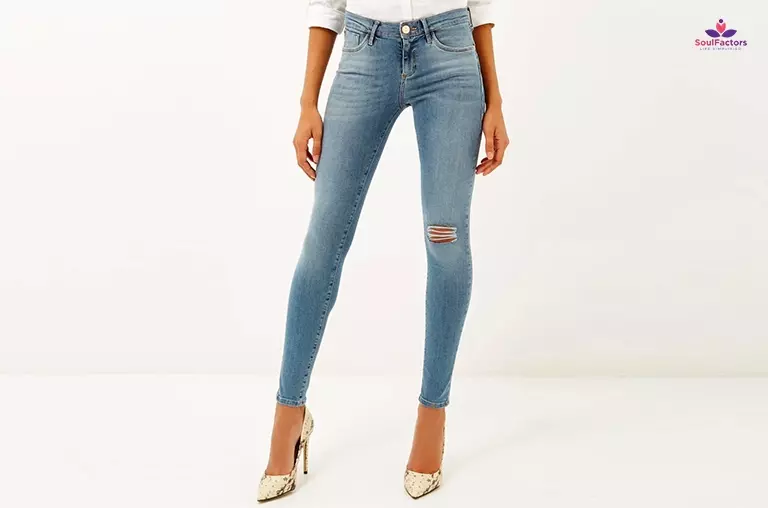 Fashion tip: If you want to make your legs look long, opt for high-rise skinny jeans and pair them with high pencil heels or stilettos. You will instantly look lean and tall.
10. Ripped Jeans
Ripped jeans have been in style for years now and are not going anywhere this year. We recommend experimenting with rips in different styles like mom jeans, paper bag jeans and straight-cut jeans. Ripped jeans might cost you a little more than normal jeans but the overall style appeal is so worth it. You can pair your ripped jeans with short tops, long tops, blazers, jackets, or pretty much anything at all and still look stylish.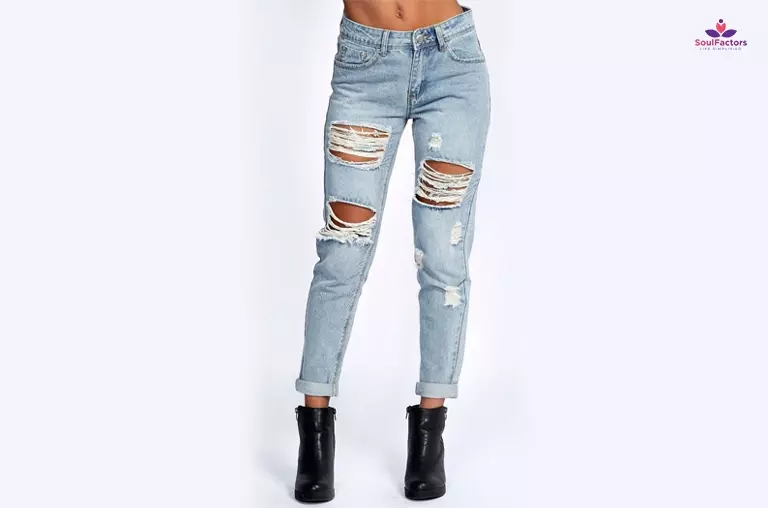 11. High-Waist Jeans
High-rise jeans are a cult favorite because they can look good on all body types. High raise can instantly make you look taller, and slimmer, your butt rounder, and camafloudge your tummy. What more does one need? All the above-mentioned types of jeans for women come in high raise versions too its a matter of personal preference and the look you are trying to achieve.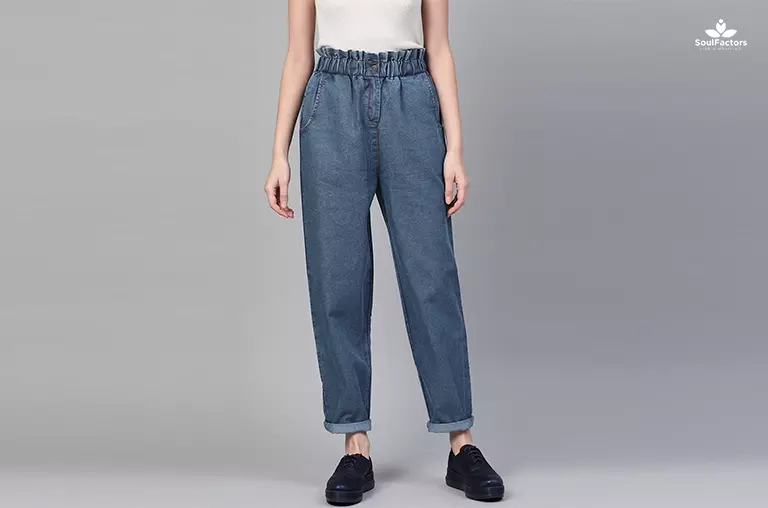 12. Low-Waist Jeans
If you have a well-toned waistline then low waist jeans can make you look sexy and stylish. Celebrities like Paris Hilton and Bella Hadid can be seen rocking those extra low waists on various occasions.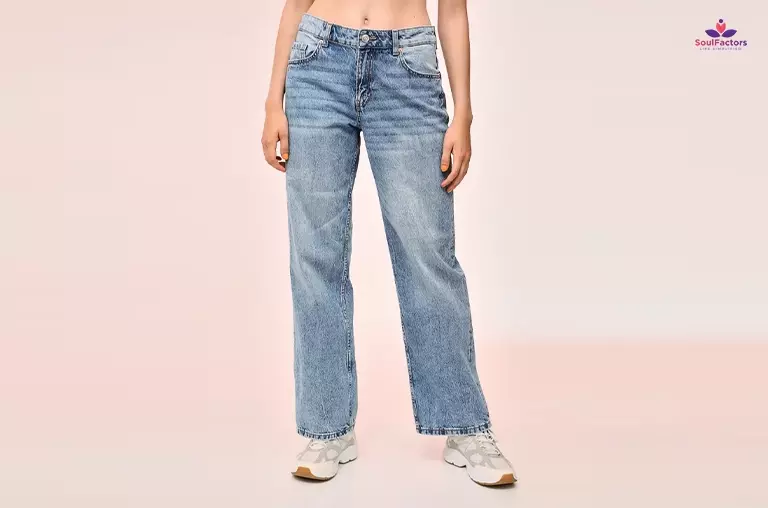 Best Types Of Jeans For Women: Tips To Keep In Mind While Grabbing A Pair Of Jeans
Fit And Fabric
Types of jeans for women come in two types of combinations: stretch and no stretch. Stretchy jeans are a mixture of denim, spandex, or elastane. The non-stretchy jeans will look and feel rigid. If you are wide at the bottom half of the body then non-stretchy jeans will look flattering and bring shape to your body. Stretchy-fitting jeans will look stunning on women with long legs. But then again it's all about comfort, choose what you feel best in.
Rise
High-rise and low-rise jeans are both flattering, but as I said earlier opt for high-rise jeans to give your bottom half a more elongated look and bring attention to your waist. Low raise is making a comeback in 2023 and we see more and more celebrities flaunting the good old low rise.
Wash
Different washes of jeans can make a huge difference in the way you dress up. For example, darker wash jeans are more formal and a great option for your workwear. They will instantly give your look a classy and stylish appeal. But if you are opting for a casual comfy and laid-back look, faded or lighter-coloured jeans will do the trick.
What type of jeans do you love? We would love to hear how you style them!