Not all of us are lucky enough to have large windows pouring an abundance of sunlight into our rooms. If you do, I truly envy you. Natural light streaming through your windows not just makes reading books way more pleasing but also helps you apply makeup with precision. Have you thought about how wonderful it would be to have vanity mirrors with lights as opposed to blurred reflection and poor lighting you normally squint under? Say no more!
Here's a list of vanity mirrors with lights you can buy to make your makeup application—sans smudges—much easier.
Vanity Mirrors with Lights: From Wall-Mounted to Compact Mirrors!
When it comes to applying makeup, dim subpar lighting does not guarantee accuracy. Instead, it promises overdone blush, unblended foundation lines, thicker bronze, or overplucked eyebrows. None of which sounds satisfactory.
To avoid these easily-dodgeable messy mistakes, you can buy a vanity mirror with lights for flawless makeup application every time. You don't have to be a pro at makeup to have one vanity mirror.
Let me get it straight for you: compact mirrors are quite useful for on-the-go touch-ups, so let them stay inside the bags. We are talking about the eye-straining tasks that require getting down to the micro details or an up-close look at your face. Say, the volume of your mascara or the wings of your eyeliners.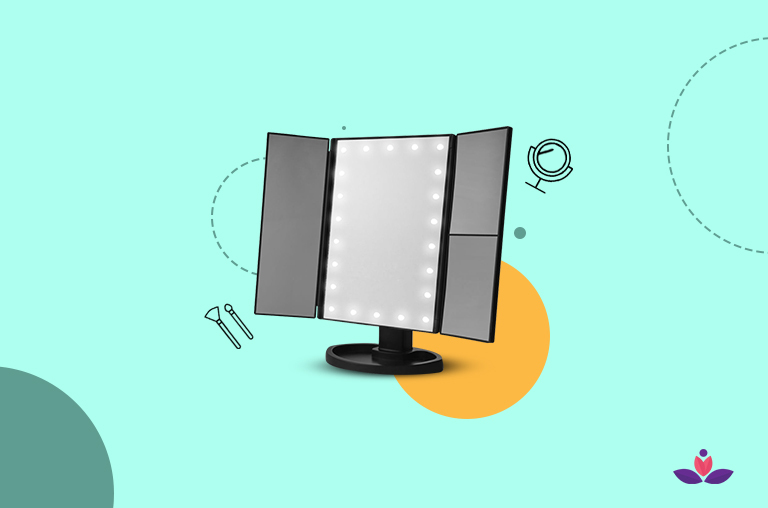 For these tasks to be done perfectly, you need a mirror that can illuminate each of your facial features.
Whether you fancy a tabletop vanity mirror or wall mounted lighted makeup mirror, you have a wellspring of makeup mirrors in the market to solve all kinds of makeup woes. From those with built-in chargers and USB ports to the mirrors that will tell you the weather and check your mails (yes, as fancy as you want), you will get anything you want —no matter how techy advanced you are.
Or, if you prefer the good old super basic one that just gets the job done, you have that too.
Buying Vanity Mirrors with Lights
Lighted vanity lights will project a gleam of light directly on to your face to make your primping session accurate and easier. Not to mention the touchscreen technology that makes the entire process more appealing. The best part? You will never again walk out of your house with any of the aforementioned beauty blunders.
But before we get into the list, let's see what questions you should be considering before buying a vanity mirror.
What Should You Consider Before Buying Vanity Mirrors with Lights?
Before shopping, you need to consider a few key attributes to not regret the purchase later. In terms of use, performance, or even durability, your choice must get the nod of approval.
To find the best vanity mirror that works best for you, consider the following:
Magnification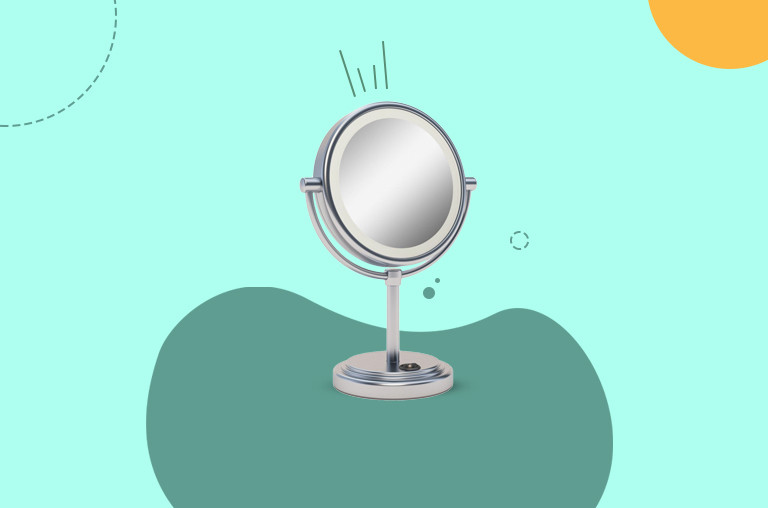 Do you use contact lenses(1)? If yes, you may need a mirror with bigger magnification to make effortless the tasks before the contacts go in. Otherwise, an 8X magnification mirror seems ideal for detailed works —such as applying fake lashes or trimming your eyebrows.
We have mirrors with magnification ranging up to 15X on the market. But if the magnification goes higher, you need to be closer to the mirror to view your reflection since there is a high chance of image distortion with higher magnification. A lighted vanity mirror with more than 10X magnification can do more harm than good.
Lighting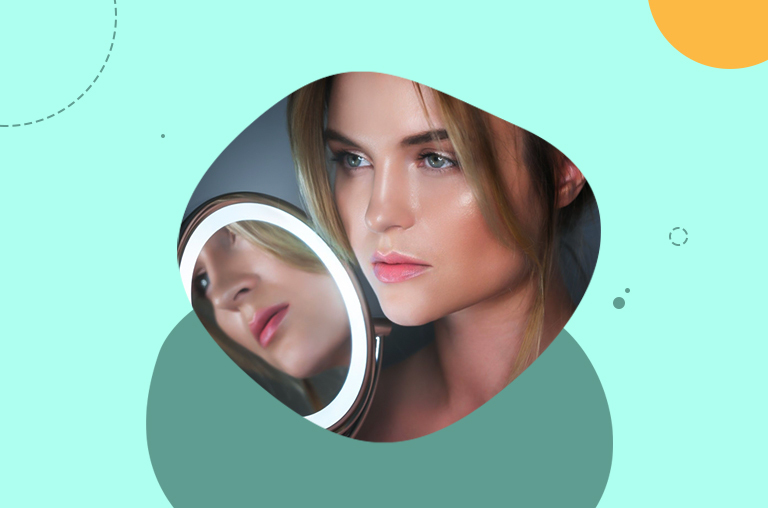 There are three popular choices for makeup mirrors: LED lighting, fluorescent lighting, and incandescent lighting(2). Both LED and fluorescent illumination are brighter and considered ideal for applying makeup. An LED lighting comes with a different setting that allows you to adjust the brightness or lets you choose between hues —warm, natural, or cool. This will let you see yourself in different lights (daytime or nighttime).
But if you prefer a softer light, you can choose a mirror with incandescent lighting. If you are considering vanity mirrors with lights on it, make sure it features light bulbs on both sides or around the mirror. You need even distribution of light across your face.
Also, consider questions like, are the lights well-placed, or do you find it difficult to apply makeup because of a glare? Is the light more effective, or is it too bright or too dim? Is the light shadowing your face? Are there multiple lighting settings such as high, medium, and low settings ranging from 10% to 100% brightness? You can also consider the durability of the lights and whether they are replaceable or not.
Heat and Safety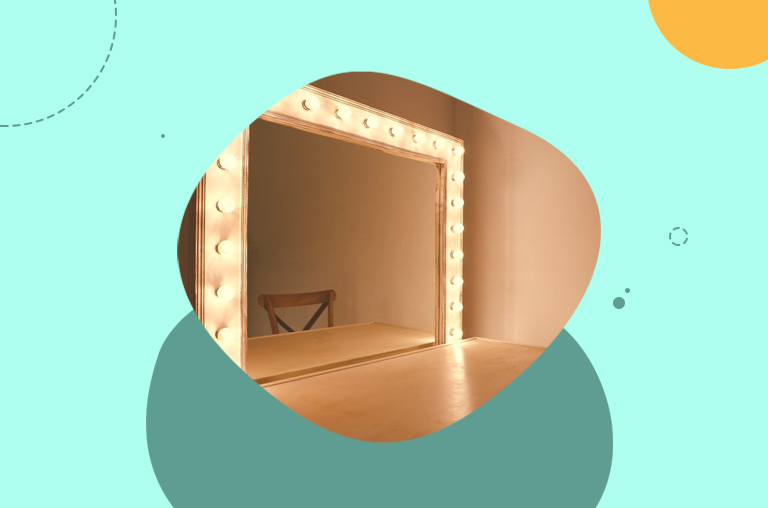 Some mirrors —especially incandescent mirrors— tend to get hot when left on for some time. Some brands even warned about leaving mirrors on for too long can cause a fire hazard. So, get familiar with the mirror you are buying and read their user guides for best usage practice.
Adjustability and Usability of Vanity Mirrors with Lights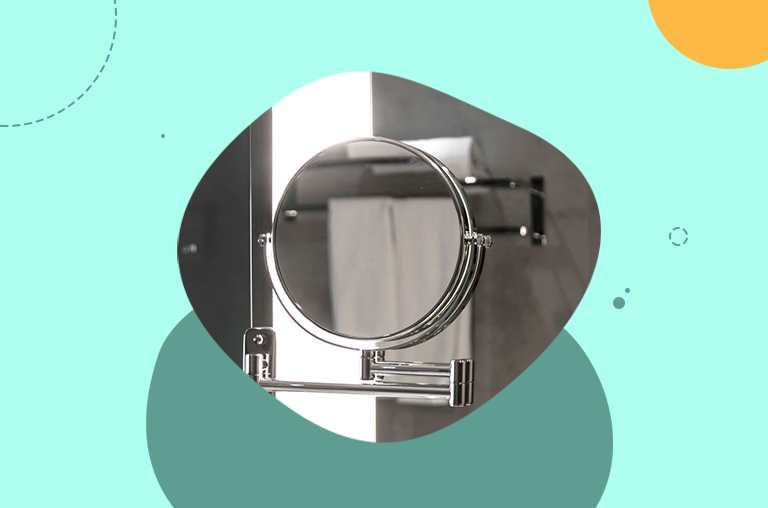 Many of the recently launched mirrors can rotate up to 360°. Those kinds of mirrors are helpful to view each detail on the face. But a tri-fold mirror can help you see your face from all angles. So, you can choose one according to your preference. Also, consider questions like is the mirror adjustable in angle or height? Yes, an 8 inches tall mirror can help see your entire face but you don't want to crouch over your bathroom sink each time! Another important attribute to consider would be the portability of the mirror.
Space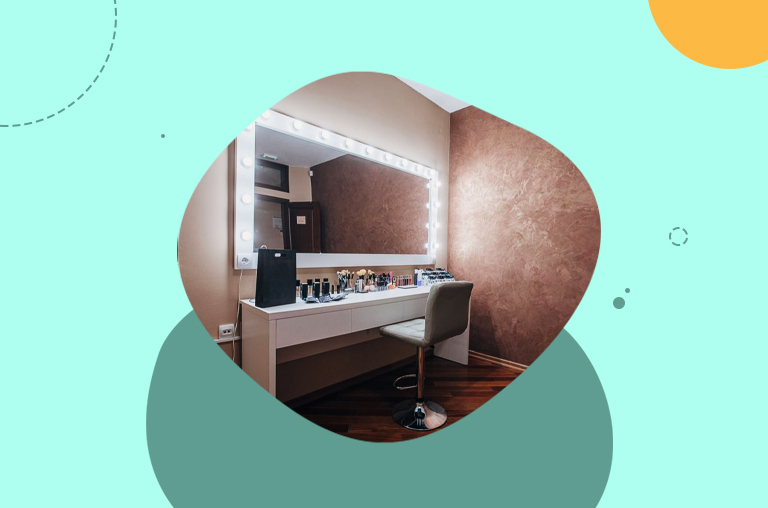 When it comes to vanity mirrors with lights, if you have a permanent location for the mirror, you can choose any tabletop mirror with large LED bulbs with an outlet nearby. Unless the mirror comes with a wireless power option —via USB rechargeable ones or standard batteries— you need it to be tied to a power source.
But for that, you need to know about the space you have on your counter or wall (if you prefer a wall-mounted one). So, measure the mirror's dimensions before you make your purchase. On the other hand, more compact vanity mirrors with lights offer more versatility in terms of usage and placement.
Features and Design of Vanity Mirrors with Light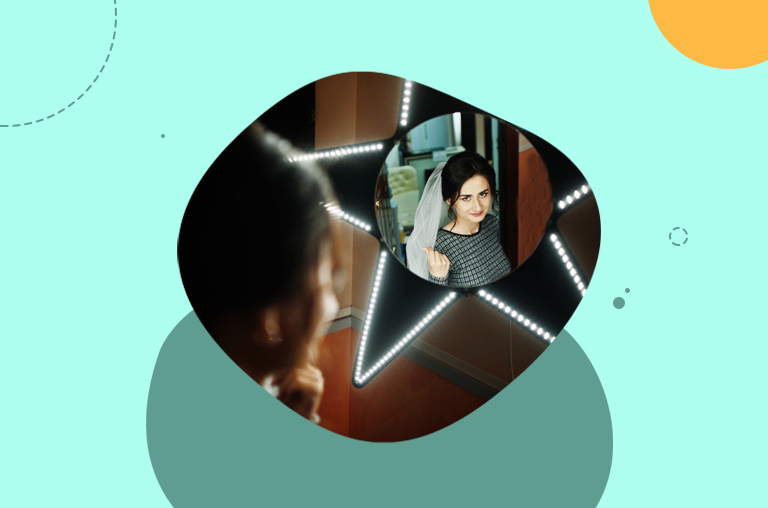 Another key attribute to consider is the additional features the mirror comes with. Plus, does it come with any accessories? If so, are they useful or merely a gimmick? A vanity mirror can also be a home decor piece. And some of those mirrors are true eye-pleasers.
With different shapes, colors, and designs like modern chrome, rose gold, or satin nickel, there are many. So, choose a mirror that will complement your room's style as well as accent your space.
Positioning Of Vanity Mirrors with Lights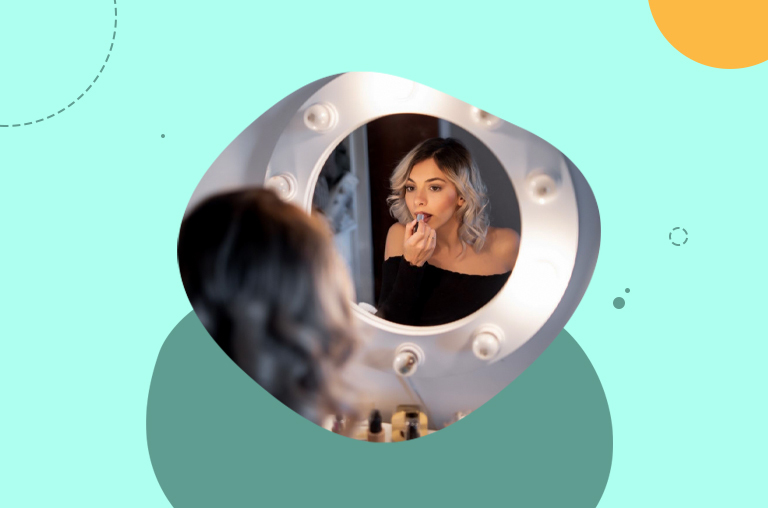 The position of your lighted mirror is important. If you are buying a wall-mounted makeup mirror, you have to place it perfectly because the position has a direct effect on the lighting. Whether you are using a wall-mounted one or a tabletop vanity mirror, place it directly in front of your face. If you have an overhead ceiling light, turn it off to eliminate it casting a shadow over your face. If there is shadow casting, you will end up applying too much makeup.
Best Vanity Mirrors with Lights — Pick Yours!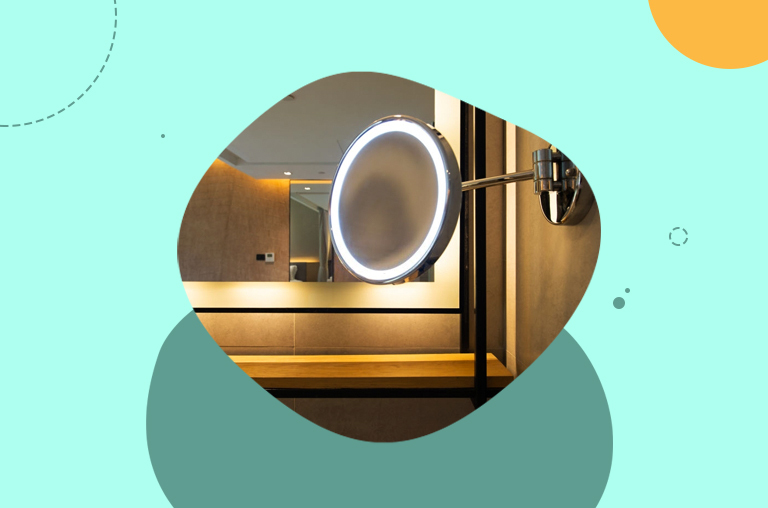 It is possible for you to get confused over the sheer amount of diverse options of these multitasking mirrors on the market. Think, one billion search results! But here I have made that easier for you.
All you have to do is choose one from the list of best vanity mirrors with lights below depending on your need. Be it portable for carrying easily or with magnification glass of 3x or 10x, or a free-standing mirror as opposed to the attached ones, you have it listed here.
I have handpicked a few from the popular and top-rated and top-performing brands as well. Moreover, all of them are tested for their clarity, brightness, size, and adjustability.
Keep reading to know my picks of the 10 best vanity mirrors with lights to help you look your sharpest no matter what your budget allows.
Best Slim Design: Riki Loves Riki — Riki Skinny Mirror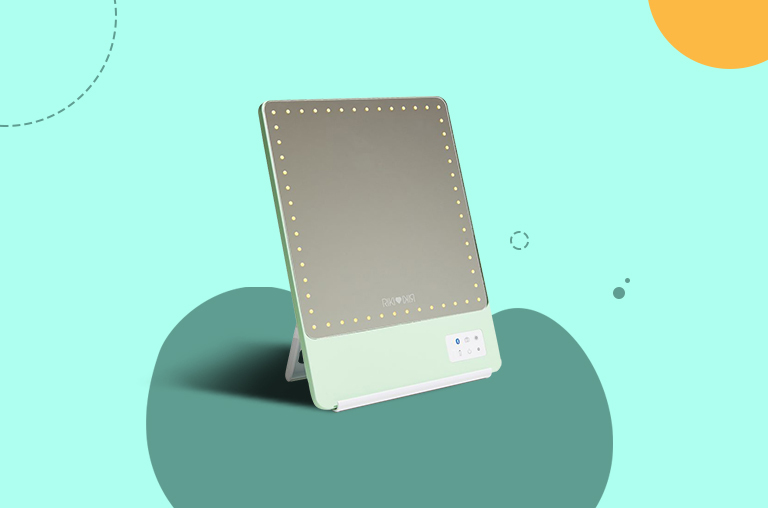 Price: $95
From influencers to beauty pros, everyone loves this lighted mirror. Aside from its super slim design —you can stash it in the narrowest places and ultra-lightweight quality —easy to carry it around, the five stages of dimming with bright LED lights and the magnetic surface give the mirror a huge fanbase.
The 5X magnifying mirror comes with a mini lighted 3X magnifying mirror along with a phone clamp for selfies and recordings, and an adjustable stand. In addition to all of these, it offers customized HD daylight lighting, giving you full control over the details you want to see.
Celebrities like Oprah and J.Lo, many Instagram influencers, and loads of YouTubers use this one among cordless and rechargeable vanity mirrors with lights. You can prop it up on a table or vanity. Furthermore, the Bluetooth connectivity function it offers can make taking selfies and recording videos a piece of cake.
The brand claims that their LED lights have a high Color Rendering Index. All of these make the mirror a great investment if the price tag doesn't scare you.
Best Makeup Ring Light: E.l.f. Cosmetics — Glow on the Go Selfie Light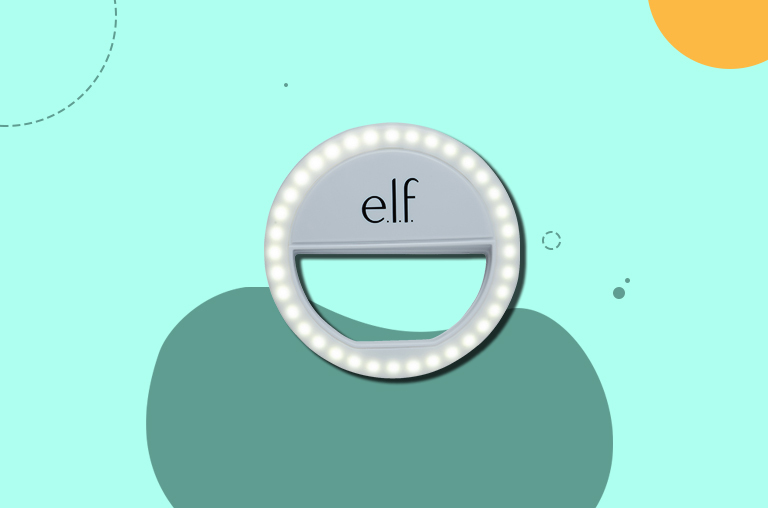 Price: $14.98
Technically, this is not a makeup mirror per se. But if you are concerned about clicking perfect selfies, you can make use of this on-the-go ring light. For an aspiring influencer, this ring light will be perfect. Because, with this, you can turn your phone into a studio light to click perfect selfie shots.
The brand offers 3 levels of brightness and 36 bulbs for the ultimate selfie. Since the light ring is lightweight (3.2 ounces) with 1.5 x 0.5 x 8.5 inches dimensions, it is travel friendly as well. All you have to do is clip the selfie light onto the top of your phone and turn it on pressing the top button.
You can brighten your face by cycling through different lighting settings until you reach the desired light setting. You will have more natural-looking photos.
Best Splurge: Simplehuman — Sensor Mirror with Touch-Control Brightness
Let's call this one the Cadillac of lighted vanity mirrors with lights. If the price tag doesn't add up to the task, the high tech features it offers definitely will. The price tag may make you discard the thought of buying it, but its high-tech capabilities will make up for the almost dent in your wallet. Even the small features will make it a worthy investment. There is the bonus of a five-year warranty as well.
First, let's talk about the brand's Tru-Lux LED light technology with 5X magnification. It replicates natural sunlight and provides the user with an ultra-clear reflection, allowing even subtle variations in the makeup color for flawless application. It also features a motion sensor that triggers the lights to turn on once it senses your face approaching the mirror and it will turn off automatically once you step away from the mirror.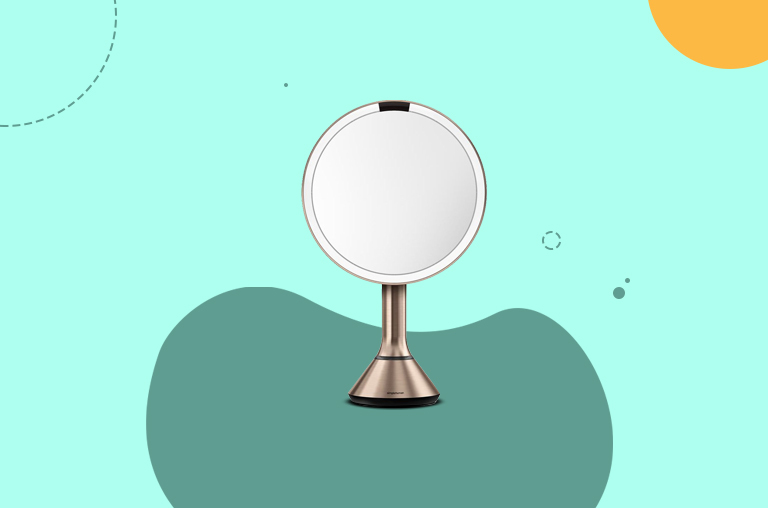 Price: $325
The impressive factor every user loves is the fast and intuitive touch-control over a continuous range of brightness —from 100 lux to 800 lux— via the touch-enabled panel. And unlike traditional makeup mirrors' lighting that needs to be replaced, Simplehuman claims that their long-lasting, surgical-grade LEDs will perform like new after 40,000 hours. But they don't specify how many bulbs they use in the device.
You can adjust the tiltable frame's height from 15 to 18 inches and tilt it back fully for a clear and comfortable view —especially while standing. Another eye-catching plus is that you can operate the mirror for up to 5 weeks on one charge since it is operated with a rechargeable battery (USB cable included). If there is one downside, it would be the one-sided mirror with 5X magnification, but the Tru-Lux LED partially makes up for it. You have four brushed finishes to choose from: pink, white, rose gold, and stainless steel.
Best Budget: Conair Reflections — Double-Sided Lighted Vanity Makeup Mirror
This budget mirror offers countless benefits for the users. Let's start with the double-sided feature with 1X magnification and 7X magnification on each side. This feature is what Amazon reviewers love, according to their star-ratings. Whether you are applying your eyeliner or plucking your eyebrows, Conair's mirror will help you with exceptional reflection.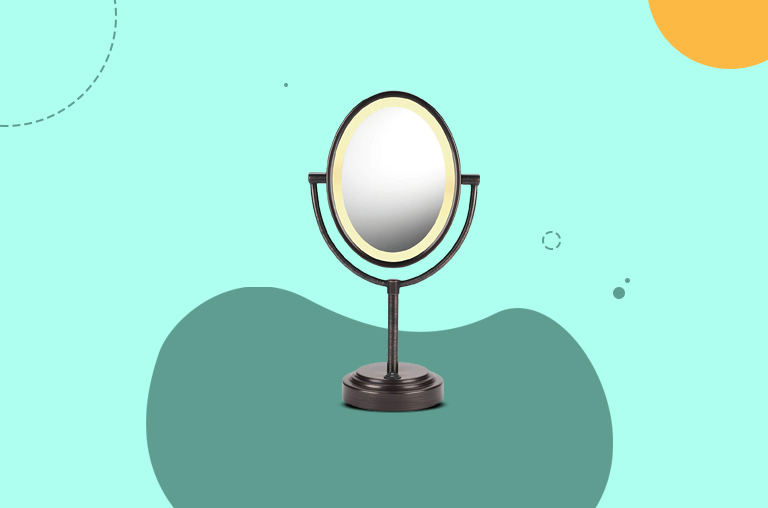 Price: $74.99
The multifaceted mirror gives you soft and candlelight-esque lighting and a halo glow, which is an essential tool for any makeup application. Since they use energy-saving LED bulbs(3), the mirror consumes 70% less energy than regular bulbs. It is oval with 8.5 x 6.5 in., elegantly polished with a chrome finish in a slim design. Conair is one of the leading brands for vanity mirrors and their wide variety of mirrors are loved by many.
Best Tri-Fold: Flymiro Tri-Fold Lighted Vanity Makeup Mirror
This is a mirror that has covered you from every angle. It is a tri-fold mirror with one side split into two: one with 2X magnification and the other 3X magnification. The wide-angle view along with the 180 degrees tilt and folding sides can make your makeup application easier.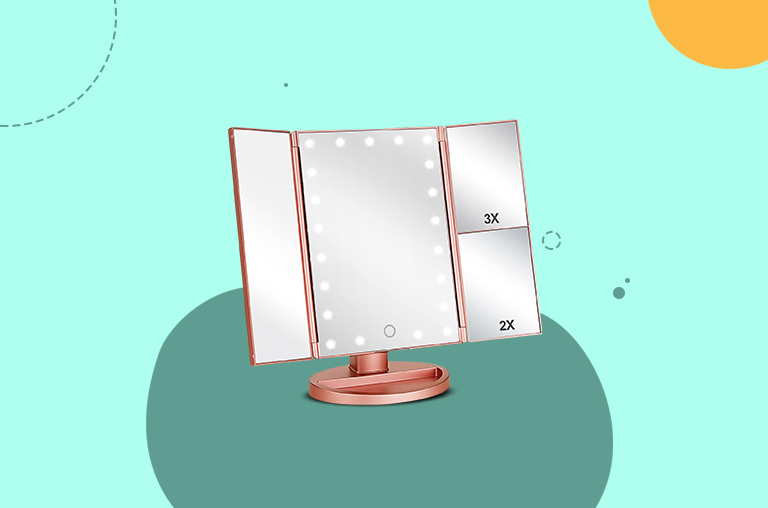 Price: $42.99
Equipped with 21 bright and adjustable LED lights that work by a touch sensor, the mirror is designed for you to apply flawless makeup during nighttime as well. It is operated by USB or four AA batteries. The rose gold shade with a bottom shelf will be a true asset among your chic accessories.
Best Magnification: Koolorbs 10X Magnifying Makeup Mirror with Lights
Being one of the best sellers on Amazon, Koolorbs never lets down its customers. Their 10X magnifying tabletop mirror comes with three light settings —white, white/yellow, and yellow— and adjustable brightness which adds up to its versatility. With this highly not-so-average ultra magnified mirror, you can spot all your stubborn facial hair and hard-to-spot blemishes easily.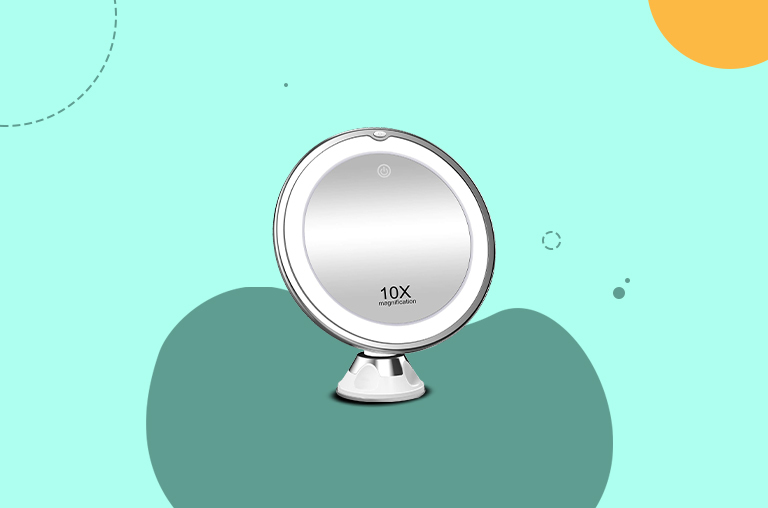 Price: $39.99
For some extra positioning, the 360-degree swivel joint in addition to an integrated suction cup (which affirms the placement) will help you keep the mirror at any angle you want and mount it on any flat surface you want. Then comes the question: what's not to love here?
Best Suction-Cup: SunplusTrade LED 7X Magnifying Makeup Mirror
This mirror would be perfect to use on your bathroom cabinet or mirror or even on the mirror on your vanity table. You don't need permanent drilling to keep the mirror stick firmly. The mirror comes with 7X magnification —which is not too small, not too big either.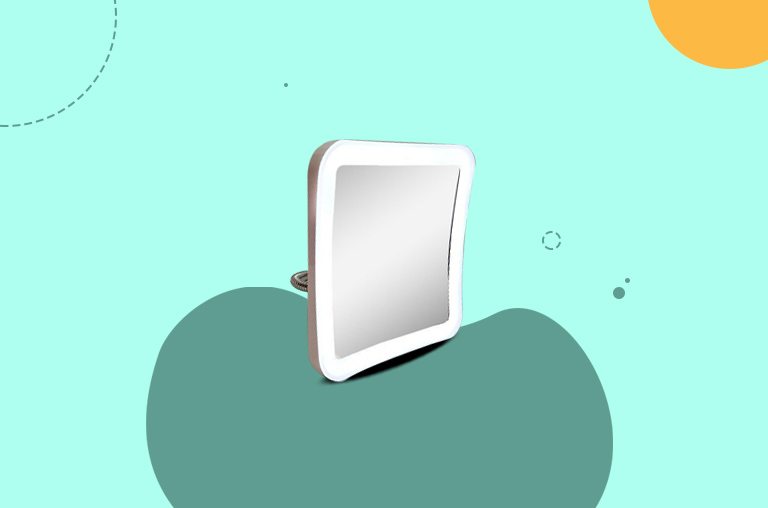 Price: $34.99
After fixing SunplusTrade's suction-cup mirror, you can prevent neck strain that you normally experience from leaning over your bathroom sink during your morning routine. You can easily move it around for a better view, thanks to its flexible gooseneck. Some of its users reviewed how the square mirror seems to give much more coverage than traditional round ones.
Best Cordless: Fancii Illuminated Rechargeable Cosmetic Mirror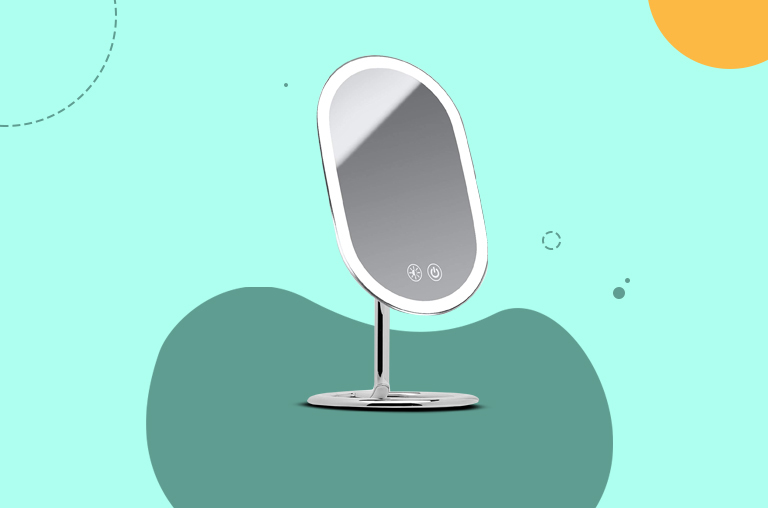 Price: $159.99
Fancii's makeup mirror has some fancy features. For instance, their Tru-Glow light system and three dimmable LED light settings make the next generation lighting more reliable. Not to mention their sleek and fancy design makes them stand out from many other tabletop vanity mirrors with lights.
You can adjust the cordless mirror, thanks to its 90-degree vertical tilt feature. The brand claims that the rechargeable batteries last for days, so you do not have to worry about it either.
Best Smart: HiMirror — Slide
If you are high on technology, you will never fail to love this. Of course, it may leave a dent in your pockets. But the features HiMirror's Slide offers is unbelievably huge, considering it is supposed to be just a makeup mirror. The cutting-edge technology acts as your virtual beauty consultant who recommends beauty products for you. With a skin tracker. Now would be the best time to ask: are you kidding me? But it's true. I mean, with all the "smart products" in the market, a "smart mirror" shouldn't be a surprise.
HiMirror with all its high and mighty technology is unlike other vanity mirrors with lights and offers personalized skincare analysis based on the condition of your skin. From accessing skin issues such as wrinkles, dull complexion, blemishes, pores, and dark circles to guiding you to choose the right products for your skin, the mirror can do everything for you. But the uniqueness doesn't end there. In fact, it has only started. The next shocking feature would be its ability to detect weather conditions to help you prepare your look along with a skincare tip of the day. Another standout feature is its "try before you buy" feature using augmented reality that will allow you to test the newest products through the mirror. You will be able to see how new products you are going to buy will look on you. Virtually.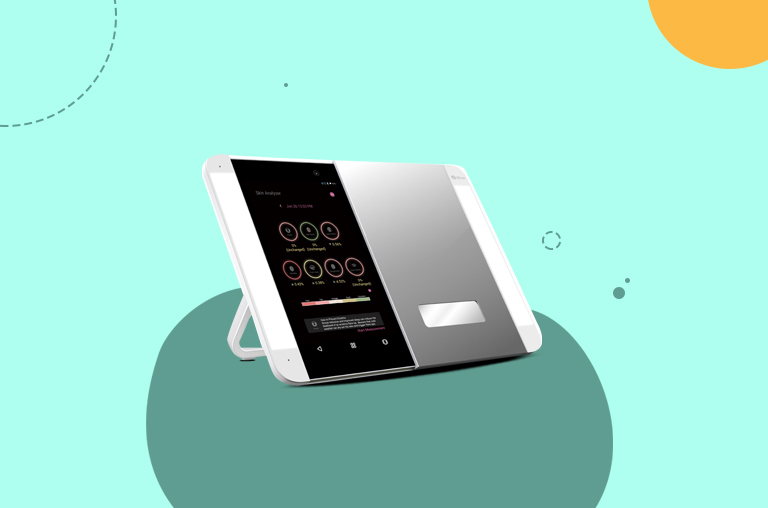 Price: $108.95
Hi-tech features
If the mirror hasn't freaked you out with wonder, here're a few final shockers. This smart touchscreen mirror will be your new radio —streaming Spotify or Pandora— and you can surf through Instagram, Facebook, and YouTube, and video and voice chat with your friends via Google Duo. Now, coming to the main purpose of the mirror, it offers an advanced design of innovative LED lights to simulate five different lightings with adjustable brightness and warmth.
HiMirror's Slide is a true wonder and helpful in many ways. But unfortunately, a few users have complained about it not working as promised while others mentioned it was worth every penny.
Best Compact: Zadro Dual LED Lighted Travel Mirror
Of course, what's a list of vanity mirrors with lights without mentioning a compact mirror let alone this advanced compact! If you are someone who is constantly on the go, this mini travel-friendly makeup mirror will come in handy. Not only is it lighted with LEDs with dual mirrors —5X magnification and 1X magnification, but also collapses and folds itself into two.
Price: $44.99
The sleek mirror opens into an upright standing position for hands-free makeup application. All of which makes it ideal for carrying while traveling.
These are a few of the best vanity makeup mirrors with lights that you can pick from. All of the above mirrors are chosen best for particular factors mentioned respectively. You can choose one according to your preference and needs. Now, here are a few frequently asked questions about vanity mirrors with lights.
FAQ About Vanity Mirrors with Lights
Are vanity makeup mirrors with lights energy efficient?
If you are worried about how much energy your new lighted makeup mirror will use, here's what you need to know. LED lighted mirrors are more energy-efficient and use five times less electricity compared to traditional light bulbs. Moreover, LED lights are directional and will not cast a shadow over your face.
What lighting is best for vanity mirrors with lights?
Since LED and fluorescent lights are brighter, they more closely mimic natural daylight. While they may be too much for you, those lights will give you a much clearer reflection for an even and flawless makeup application.
What is more ideal for makeup application: warm white or cool white?
Warm white lighting is more flattering and softer than cool white. But when it comes to applying makeup, cool white lighting is considered more ideal since it is brighter and illuminates your face better. But make sure that the lighting is not too cool —with blue undertones— either.
What is an ideal magnification for vanity mirrors with lights?
The ideal magnification stands somewhere between five and ten times. Five is an option that will balance well with price and function and can be considered ideal for daily makeup application. Whereas, seven and above gives you a better and much clearer, and closer access to your face, resulting in an even and flawless makeup application. It will help you spot blemishes easily and will be a life savior while grooming eyebrows.