Did you know — Mousse was a thing in the 80s? Popular celebrities like Madonna and KISS flaunted their voluminous hair back then and the style was soon adopted by the folks globally thanks to the styling product — Mousse. However, soon "Mousse" got a bad rap for making hair crunchy and roots sticky. But hold it! Mousse is back with a positive transformation for giving you the hair transformation that you need. It's only a matter of finding the best mousse for curly hair.
Mousse products now contain moisturizing properties such as sunflower oil and wheat protein that give your hair a touchable hold and volume without making them crunchy and coarse. Besides, Mousse shapes your curls, smoothing out frizz, and boosts volume.
However, the main deal about Mousse is to get the right kind. Curly hair can have a spectrum of types and recognizing the product that your hair needs is what's gonna make or break your hair quality. Also, you don't wanna use a low-quality mousse that does exactly what you wanted to get rid of — Frizz!
Feeling overwhelmed? Don't worry. In this blog, we'll go through the best mousses or foams, and the nuances of choosing the best mousse for your hair including its ingredients and usage. So, let's begin!
Factors To Consider When Choosing The Best Mousse For Curly Hair!
When I say, "Mousse can make or break your hair quality", I mean it. Choosing the right kind of mousse is the primary task in the pursuit of getting flawless defined curls. So, here are some factors that you should consider while choosing the right kind of mousse for you: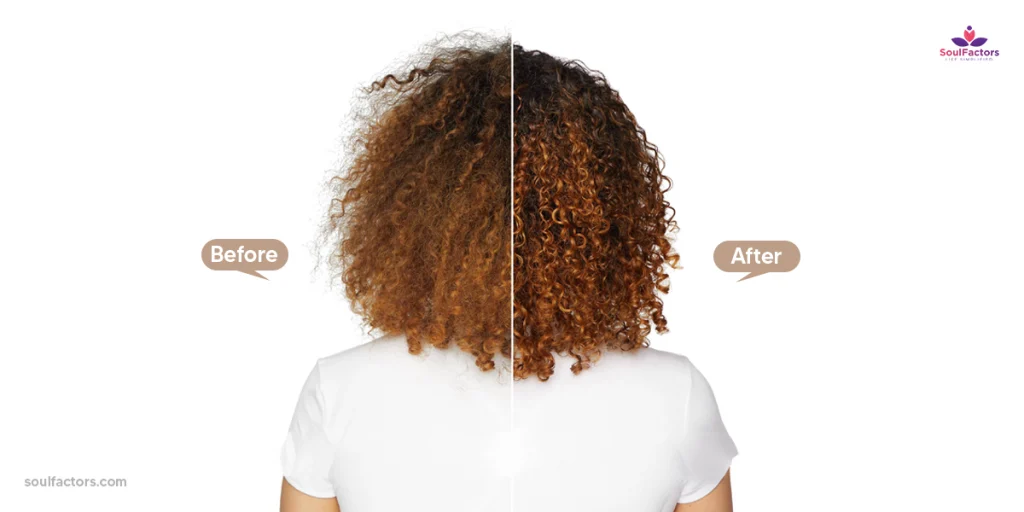 1. Hair Texture And Curl Type
The foremost thing to consider while choosing a mousse for curly hair is determining the type of your hair. The most important thing to consider is the porosity of your hair. Identify how much your hair absorbs and retains moisture. You'll need a different kind of mousse for low, medium, and high-porosity curly hair. Also, you need to determine the pattern of your curls, whether they are tight coils or loose waves.
Settle down with a mousse that is specially made for your curl type to ensure you get optimum results. For example. fine hair might need a lightweight formulated mousse while thicker hair may need a more substantial product to provide sufficient hold.
2. Hold Strength And Longevity
Do you want a touchable hold on your hair or want more long-lasting defined curls? Well, yes, your choice of mousse will also change the way your hair feels. They are available in the range of holding strengths from light to strong. So, whether you want soft and bouncy curls or you want strong and durable curls, there is a mousse for different hold-strengths needs.
Also, some mousse offers all-day effectiveness on your hair while others might lose hold after a few hours. Consider how long you want your curls to last and select a mousse that aligns with your styling needs.
3. Moisture And Frizz Control
Well, all the curly hair peeps know the primary struggle of managing their hair and that is dryness and frizz. Let's face it, curly hair is a blessing but also a package of struggle in disguise. Anyhoo, the mousse of the 80s failed to provide moisture and frizz control to the hair, so the style was out.
However, most of the mousse now has moisturizing properties. So, your job is to get a mousse that gives your hair a defined style but also has nourishing properties. Mousse with ingredients like glycerin and natural oils helps hair retain moisture (1). Pick a mousse that is specifically formulated to deal with frizz.
4. Ingredients And Product Formulation
Mousse is a great product for styling your hair but a wrong mousse might turn out to be a disaster to your hair. Keenly scrutinize a mousse before buying, including its ingredients and formulation. Look for ingredients that are essential for maintaining healthy, well-defined curls.
Avoid mousses containing harmful ingredients like sulfates, parabens, and alcohol. These ingredients build up in your hair blocking its growth. Rather choose lightweight mousse that won't weigh down your hair or stick up to your roots. Besides, there is a mousse with ingredients such as aloe vera, shea butter, and proteins that can help your curls look enhanced, shiny, and bouncy.
Our Top Picks — Best Mousse for Curly Hair
Let's have a look at the features, usage, and customer reviews of our top picks in the mousse for curly hair category:
#1. Moroccanoil Volumizing Mousse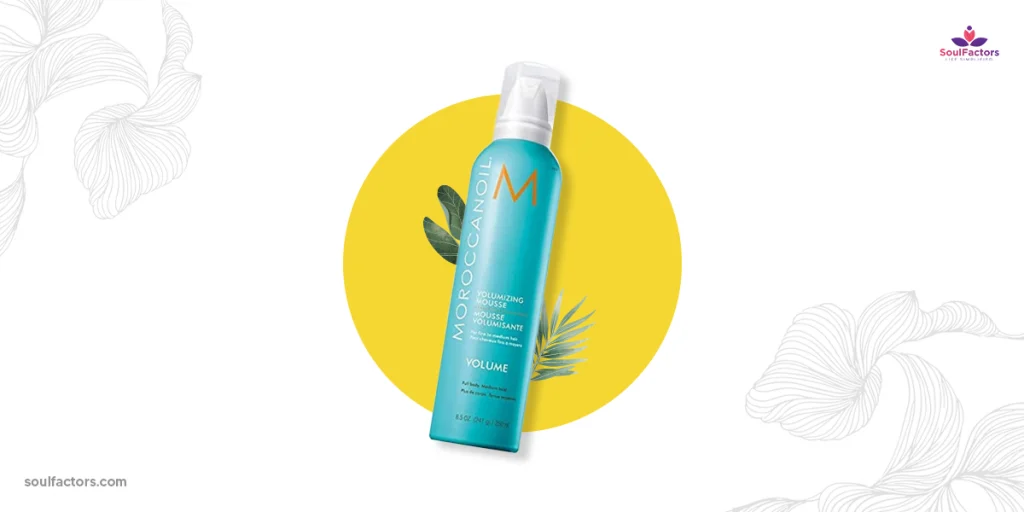 Immaculately defined curls with touchable hold and silky texture are what we curly-hair girls need, and Moroccanoil volumizing mousse does just that. This argon-infused mousse leaves a dazzling shine on the hair while giving them a perfect bounce. It is a milky smooth formula that not only moisturizes the hair but also defined the curls without making them stiff.
Star Ingredients: Argan oil, Polyquaternium-4, Soytrimonium chloride
How to Use:
Shake the mousse bottle well before opening
Dry your wet hair with a towel
Apply a palm-sized amount of mousse to your hair.
Spread evenly all over your hair with your fingers.
Starting at the roots, blow-dry with a round brush
Customer reviews:
Here's what users have to say about Moroccanoil Volumizing Mousse:
"Great Mousse"
Review by Peggy Paul at Amazon
This mousse is very light and nonsticky. It does a great job for the body and smells so good!
…
"Will buy again"
Review by Iamlov at Sephora
I'm shocked by how well this product works. Wash your hair, add mousse, blow dry upside-down, then curl. Gave me the perfect amount of volume and did not feel like any product was in my hair.
Best Mousse for Curly Hair #2. Shea Moisture Curl Mousse
Shea moisture curl mousse promises perfectly moisturized hair. The star-ingredients responsible for that effect are coconut oil, silk protein, and neem oil. Shea moisture curl mousse promotes silky and shiny curls with no sticky residue or crunchy texture.
Star Ingredients: shea butter, coconut oil, hibiscus flower extract, hydrolyzed silk, and neem oil.
How to use:
Dampen your hair and divide them into sections
Apply 2–3 pumps of Shea Moisture Curl Mousse to each section
Comb through the sections
Style as desired
Customer Reviews:
Here is what users have to say about Shea Moisture Curl Mousse
"Just the right amount of control"
Review by wmstlk on Amazon
My hair is not curly but not straight. And humidity will make it frizzy. I add this to my daily routine, and I can keep my hair without frizz.
…
"Perfect for controlling unruly frizzy hair"
Review by Bishal on Amazon
I have been using SheaMoisture Curl Mousse for several months now and I am thrilled with the results! As someone who struggles with frizz and unruly curls, this mousse has been an absolute game-changer.
#3. R+ Co Rodeo Star Thickening Foam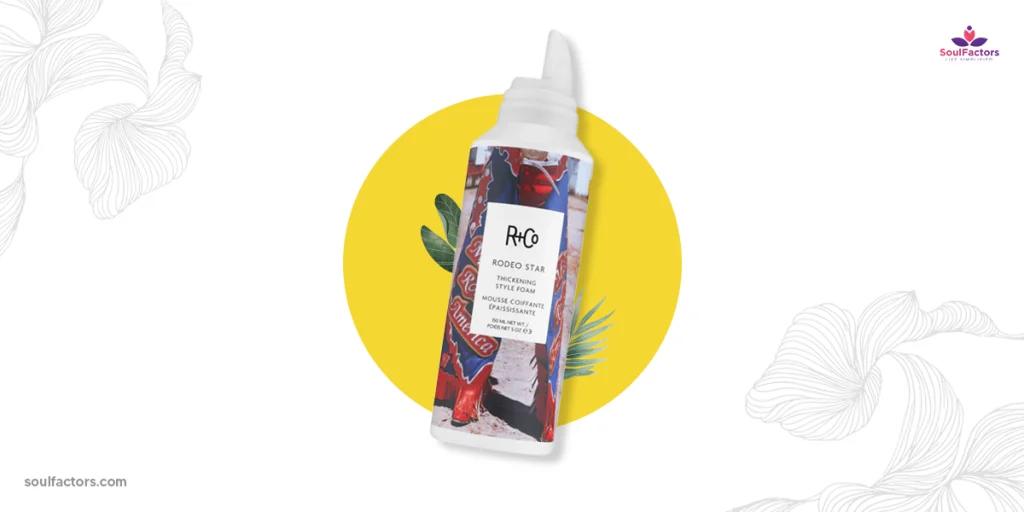 If you're just done with oil and greasy hair than R+ Co Rodeo Star Thickening foam is just the product for your you. It has Moroccan lava clay that absorbs excessive oil from your hair ditching the grease. But will it leave your hair dry? No, because this mousse also features aloe vera leaf extract that deeply conditions your hair and leaves them hydrated all day long.
Star Ingredients: Vitamin E, Kiwi fruit extract, aloe vera leaf extract
How to Use:
Dampen your hair
Divide them into sections
Apply the mousse to each section just enough for the coverage
Blow dry as you normally would
Customer reviews:
Here is what users have to say about R+ Co Rodeo Star Thickening Foam:
"Really adds volume and makes my fine hair look thicker"
Review by Carol J. at Neimanmarcus
I have fine wimpy hair that does not hold a style. I love the Rodeo Star Thickening Foam. It really makes it look like I have more hair than I actually have. It also adds body. Great product for my fine wimpy hair.
…
"Love this product"
Review by Cynthia Brummitt on Amazon
Gives so much volume to my thin curly hair. Smells delicious. I just reordered so I wouldn't run out. I will be a lifelong customer as long as the product doesn't change a thing.
Best Mousse For Curly Hair #4. Pattern Curl Mousse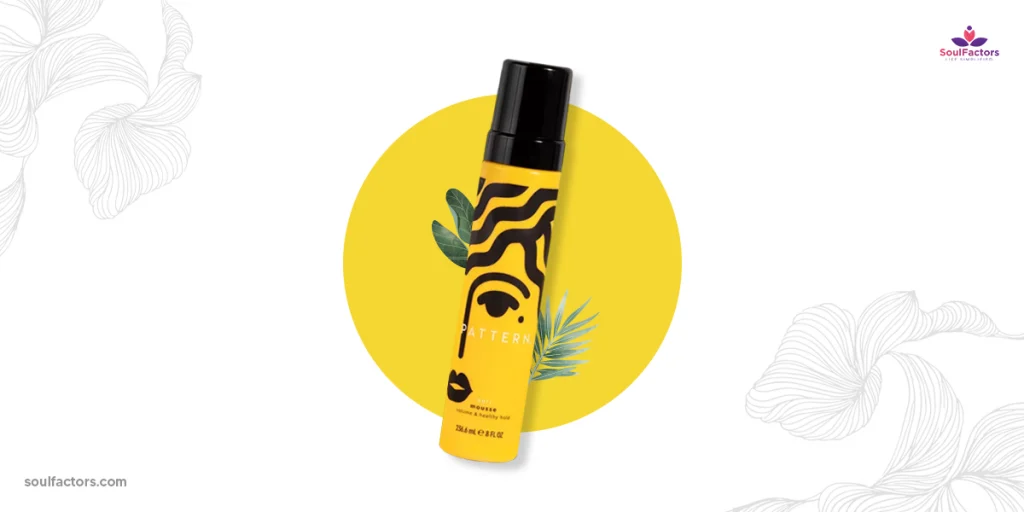 Pattern beauty lineup has its own fanbase. The products by this brand rarely fall short of expectations and the same goes for Pattern Curl mousse. This exceptional formula made with a blend of marshmallow root and castor oil has a fluffy consistency that works great for loose curls. And oh! The curl definition with pattern mousse is just wow!
Star ingredients: Castor oil and Marshmallow roots
How to Use:
Wash and condition your hair
Apply pattern curl mousse to damp hair
Evenly distribute the product from roots to tips
Style as desired
Allow to air dry
Customer reviews:
Here is what users have to say about Pattern Curl Mousse:
"Great Twist-Out Product"
Review by Delischia T. on Patternbeauty.com
I love this product it great for my twist outs. It has a great hold, it helps to define my curls, without a lot of crunch to my hair.
…
"Bouncy Curls 101″
Review by an anonymous verified user on Ulta Beauty
This product gives amazingly perfect curls each time. It is fast drying and leaves my hair soft.
#5. DevaCurl Frizz-Free Volumizing Foam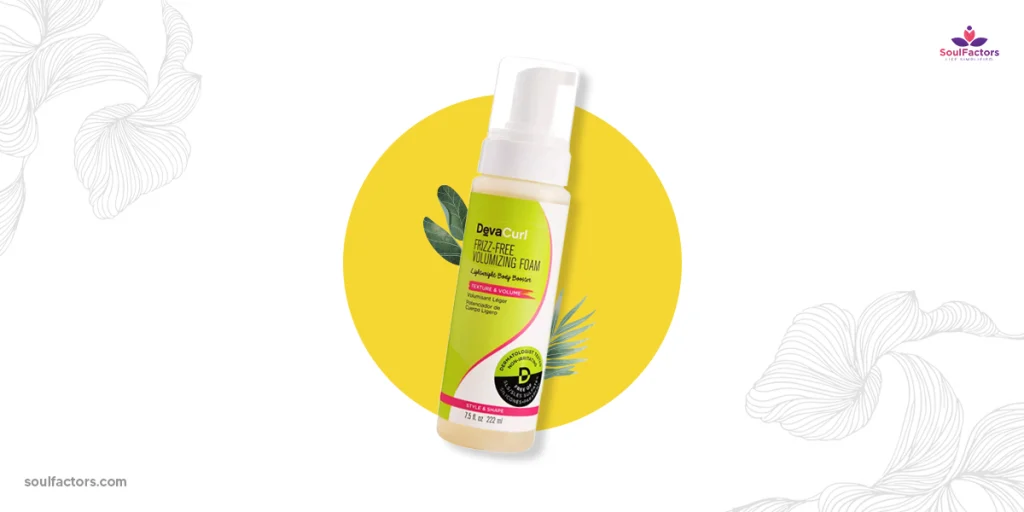 This foam does its magic impeccably on 3A, 3B, and 3C Curl types. It is a lightweight frizz-control formula that gives your curls a sleek definition and visual shine. It also adds volume to your hair while making them bouncy, giving playfulness to your hair.
Key ingredients: polyimide-1, polyquaternium-68, cetrimonium chloride, PEG-10 sunflower glycerides, and maltodextrin/VP copolymer.
How to Use:
Make your hair soaking wet
Pump the foam on your palm
Rub between the fingers and scrunch into the wet curls
Hold and release as you scrunch
Focus the product more on the roots for the extra lift
Let air dry, do not rinse
Customer Review:
Here is what users have to say about DevaCurl Frizz-Free Volumizing Foam:
"Are you kidding me?? Holy grail"
Review by Jen on Ulta Beauty
I have very very fine hair. Instantly tangles, super frizzy, almost any product whatsoever makes it crunchy. This stuff gives my curls an amazing hold without any crunch. Loveeee.
…
"Best mouse I've found"
Review by Abigail Vandewalle on Amazon
My favorite mouse for my waves really holds some shape without being crunchy! Can't imagine my hair without this holy grail product.
Best Mousse For Curly Hair #6. Ouidad VitalCurl+ Soft Defining Mousse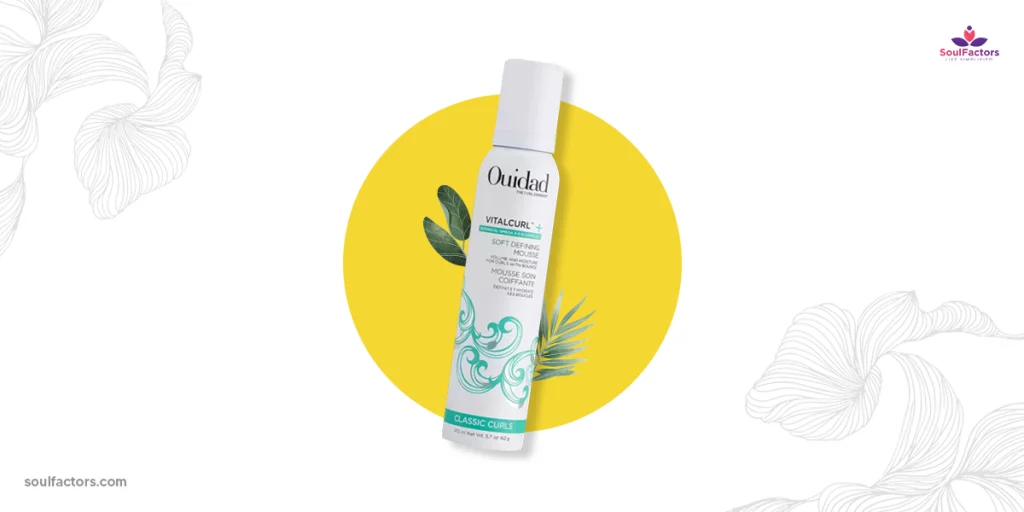 If volume and fullness are your primary needs than Ouidad Vitalcurl will do the job for you. It is a soft-defining mousse with Botanical Omega 3–6–9 Complex that defines the curls while giving it a touchable hold. Besides, it provides consistency to your spirals by adding shine to them.
Key ingredients: omega 3–6–9 complex, chia seed, Japanese camellia, sunflower oils
How to Use:
Dampen your hair.
Apply the mousse evenly from roots to ends
Scrunch and hold to distribute
blow dry with a diffuser or let air dry
Customer Reviews:
Here is what users have to say about Ouidad VitalCurl+ Soft Defining Mousse:
"No Crunch"
Review by Crystal M. on Amazon
This is my FAVORITE hair product. I have naturally loose curls and I just massage some of this through my towel-dried hair, scrunch, and let it air dry. It's SO light but my curls are defined and shine. The best part is that they remain touchable.
…
"Well worth the spend. Perfect soft curls for fine hair"
Review by Stephanie Insunza on Amazon
It is pricey for mousse but this stuff helps my curls hold without that typical crunchy feeling literally every other curl mousse causes.
#7. OUAI Air Dry Foam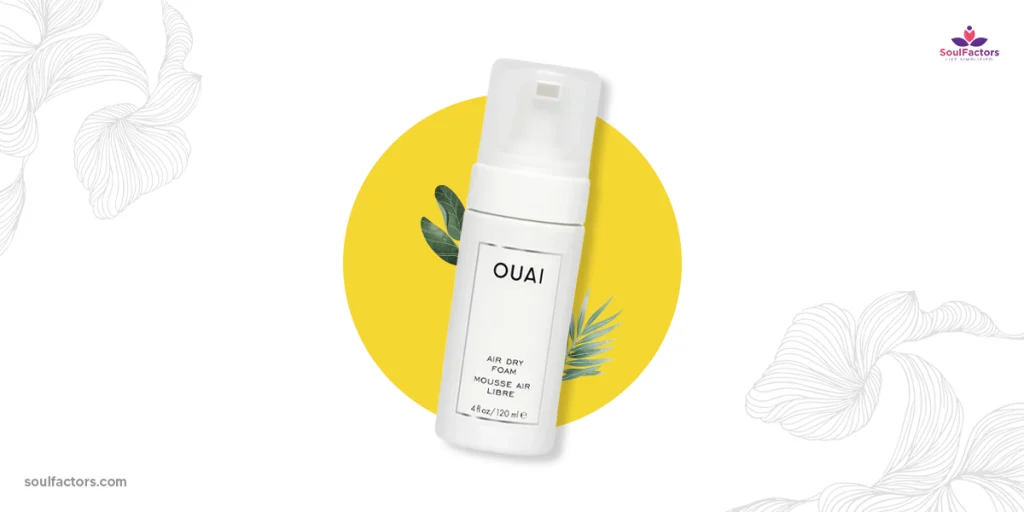 Planning on hitting the beach" You don't wanna miss out on perfect beachy wavey hair! And that look could be achieved with OUAI Air Dry foam that is specially made for defining the natural wave pattern. OUAI Air Dry Foam means no crunch and no frizz. Also, the fragrance of this foam is just out of the word with the notes of bergamot, magnolia, cedarwood, patchouli, and musk.
Key ingredients: Panthenol and Kale protein blend
How to Use:
Wash your hair and squeeze out excess water
Start with three pumps of the foam on your palm and apply
Begin to scrunch
Focus on areas that are more Frizzy or uneven
Let air dry
Customer Reviews:
Here is what users have to say about OUAI Air Dry Foam:
"Works great"
Review by Gintron89 on Sephora
Ugh. I wish I didn't love it so much. After conditioning, I blot my hair dry with a microfiber towel and scrunch this in. It gives my hair a ton of body and isn't crunchy.
…
"Love, love, and love"
Review by Angelica on Ulta beauty
I love it. amazing product. after trying so many products for my curly waves hair, this is, amazing. my hair looks beautiful and I don't feel sticky at all. I married with this products.
How To Apply Mousse For Best Results?
In order to get that badass curly hair with defined spirals and shiny texture, you need to get your mousse application game right.
Start by washing your hair squeaky clean with a cg proof clarifying shampoo which means using a shampoo that has natural ingredients and nourishing properties.
Most mousse or foams work excellently well on soaked wet hair. So, it is advisable to apply mousse when your hair is wet right after coming out of the shower.
After the mousse application, either dry your hair with a blow dryer with a diffuser attachment or air dry. Towel drying is the best way you can dry your hair.
Applying mousse to wet hair allows the product to melt into your hair shaft and disperse evenly giving your hair volume and added texture.
FAQs Related To Mousse For Hair
Which mousse is best for curly hair?
With the goodness of Argan oil, Moroccanoil Volumizing Mousse is the best mousse for curly hair.
Is mousse or gel better for curly hair?
Mousse is good for silky curls with touchable hold while gel is for thick, tight, and coily curls that need strong hold.
Is mousse good for your curls?
Yes, Mousse can add volume, definition, and hydration to your curls without making them crunchy or sticky on roots.
Is foam better than mousse for curly hair?
Foam and mousse are similar products, but foam is usually more lightweight and less sticky than mousse.
How do I get my curls to stay all day?
You can get your curls to stay the same all day with a hair spray
Does mousse help with frizzy curls?
Yes, Mousse adds hydration and definition to your curls, eliminating the frizz.
The Bottom Line
Your choice of best mousse will depend on the type of your hair and your hair care needs. Most of the new-age mousse is made with natural components and nourishing properties, making sure that your hair does not feel awful after styling. However, make sure to check all the ingredients in a mousse before setting down with one.
Mousse can help your hair look more defined, shiny, and silky. It provides a touchable hold to your hair that makes you look and feel amazing. Mousse also promotes extra volume and bounce to your hair which makes your spirals visually stunning.
Do you struggle with curly hair that is coarse and unruly? What are your favorite products for curly hair? Help out your fellow curly hair buddies by commenting down below! Also, let me know what you think about this blog. Until next time, au revoir!