If you are looking for Budget-friendly Christmas home decor ideas, don't worry we have you all covered. What about just bringing Christmas home? Refrain from letting the time strap you from not enjoying the fun and merriness of Christmas.
Here is how you can get Christmas cheer with minimum effort. This year let your house be the Christmas hot seat!
What Is The Christmas Home Decor Trend In 2022?
Before you start decorating for Christmas, look around and get an overall idea of the layout of your space. How big is your area and what theme are you going for this year? If you are looking for the latest trend for Christmas 2022, then this year is all about Atypical Christmas home decor ideas, minimalist style with a hit of vibrant colors. But if you are someone who loves the classic Christmas red and green color then don't be upset or discouraged, classic is always in, you can still be at the top of your game, and we have something for you too.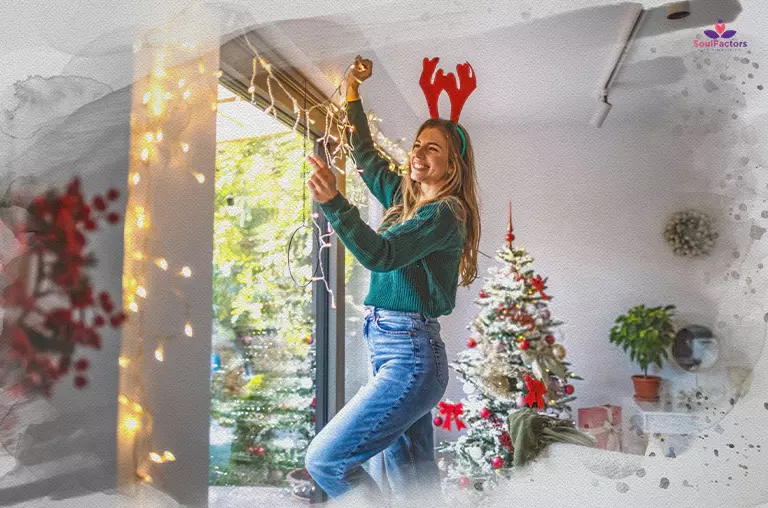 In this article, you will get to know how to add Christmas decor to small spaces as well as large spaces. Various types of themes and decor you can go for this Christmas all while keeping your budget to the bare minimum.
Small Space Christmas Home Decor Ideas
How to decorate a small space for Christmas? Do not let the size of your space put a damper on your Christmas dreams. Shortage on square feet doesn't have to take away your Christmas flair. In reality, it doesn't take much to convert your space into an entertainment extravaganza.
Let's get started.
Let's begin with;
Entrance: Entryway, Hallway, Doorway
It doesn't matter if you don't have a front yard or a grand entryway, you might still have either of the three, entryways, a hallway, or a doorway.
The entrance is the best place to start with your decorations, if you wish to spellbind your guests why not get them when they enter? The good thing about small areas is that even the tiniest of decorations can make a grand impact. Now keeping that in mind choose your decor. Here are some Christmas Home Decor Ideas for the entrance area.
Option 1: You can add a Christmas countdown calendar along with paper bags in white red and green filled with Christmas goodies in your entranceway. This will not only bring the feel of Christmas but seeing the countdown can also bring excitement, especially if you have children.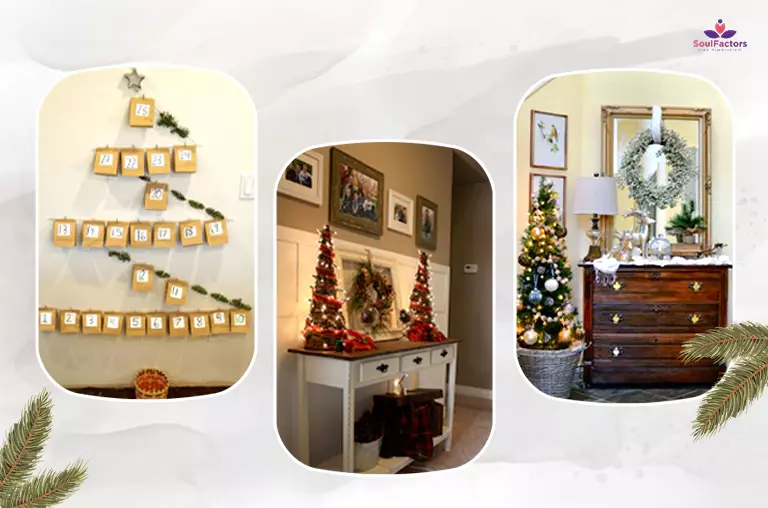 Option 2: If you have a hallway side table then add decor like candles, tiny paper stars, or a star string led lights. Led lights not only add warmth but also make the place look inviting. Led string lights in all shapes are easily available on Amazon, they are low priced but have the impact of lifting the who mood of your space.
????Note: While doing the decor at the entrance make sure you leave some space for the guests to leave their bags, coats, or footwear.
Main Room Christmas Home Decor Ideas
Your main hall or in the case of studio apartments, the hall is the main area for bringing your Christmas mood. Make sure you make the focal point in this room go to the main decor, ie, the Christmas tree. Choose a Christmas tree that goes with the size and width of your room. A big Christmas tree in a small space will make the space look stuffed and less welcoming, not to mention your guests feeling suffocated.
????Tip: You can add more than one Christmas tree if you have the space for it. Especially in the hallway or the kid's room.
If you can't afford an actual Christmas tree, you can go for various DIY Christmas tree options which you can customize according to your color theme. Here are some DIY Christmas tree options(1):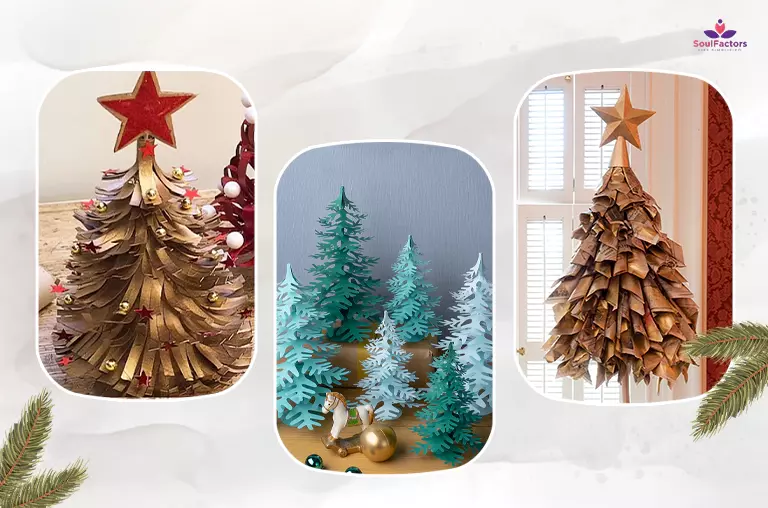 Chalkboard Tree
Wooden cut-out Christmas tree
Wood trees
Paper tree
Stack up tree
Pinecone tree
Pot tree
Wall art tree
Ladder tree
Cutout tree
Wooden Plank tree
Book stack tree
The above are just a few easy options, you can make your own Christmas tree with your ideas. In 2022 atypical ideas are in trend so the more creative you go the better!
Make Use Of The Flat Surfaces In Your Home
Make use of table surfaces or any other flat surfaces around the house by placing decor on top of it. Make use of existing decor or add DIY Christmas home decor ideas such as
Diy wreath
Paper stars
Cut out deers
Santa cut-outs
Candle name cards
Paper lanterns
Candles
Plants and pots
Christmas banner
3D paper Christmas trees
Cardboard houses
Christmas terrarium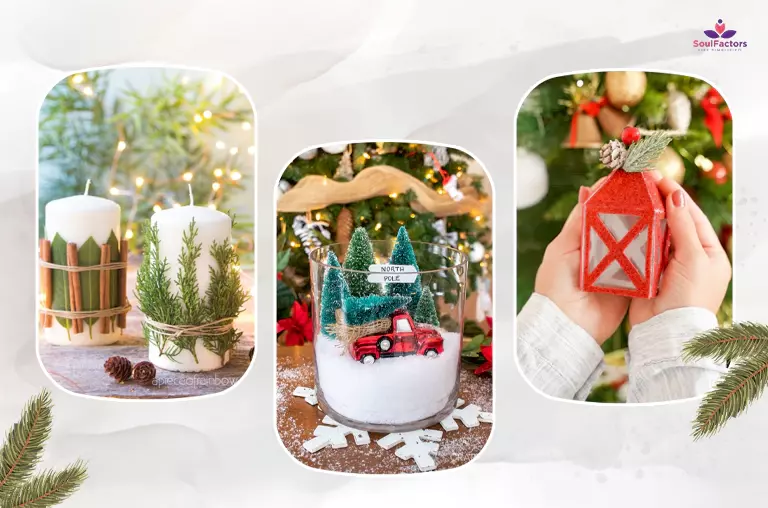 Use Vertical Spaces To Your Advantage
Unlike horizontal spaces, when it comes to small spaces vertical decor makes a huge and lasting impact.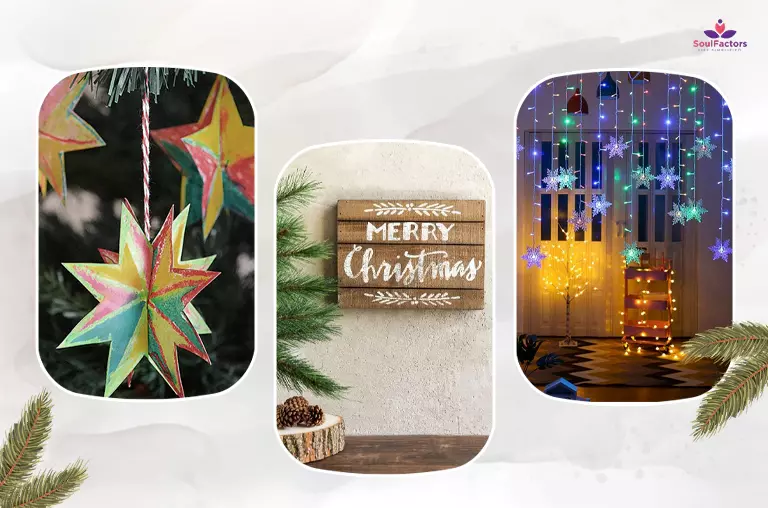 Hang some hand-made stars using command hooks.
Add posters on the walls
Hanging ornaments and pendants on the wall or even better from the ceiling
Hang led curtain lights on the walls
Add picture frames
Make garlands
Use double side tape to stick ribbons
Hang colour full stockings on the walls using reusable hooks.
Large Room Christmas Home Decor Ideas
How to decorate a large room for a Christmas party? For those of you who have large spaces, then you have plenty of options to fill up the space and yet keep things put together.
Lighting, you can go overboard with lighting but make sure the light is warm and subtle
????Note: Adding warm lights to the corners gives the whole room a warm and cozy look
You can create a very festive mood by decorating the Ceiling, you can either hang garlands, snowflakes, or even balloons.
Add warm or white colored curtains and linens.
Include centerpieces like mirrors, multiple Christmas trees, and bowls filled with Christmas goodies(2) or ornaments
Use potted plants to add a bit of green around the house.
If you have a front yard, try hanging plants along with Santa caps, wrath, and jingles.
????Note: All the decor items can be made through DIY, all you need is some chart paper, glitters, colors, and some glue. You can also use cotton balls to make fake snow.
Trending Colour Themes For Christmas 2022
This year you can either follow the Classic Christmas theme, the elegant/ minimal theme, or the total white theme.
Classic Theme
As the name suggests the classic theme is the evergreen theme that never goes out of style no matter how many seasons change.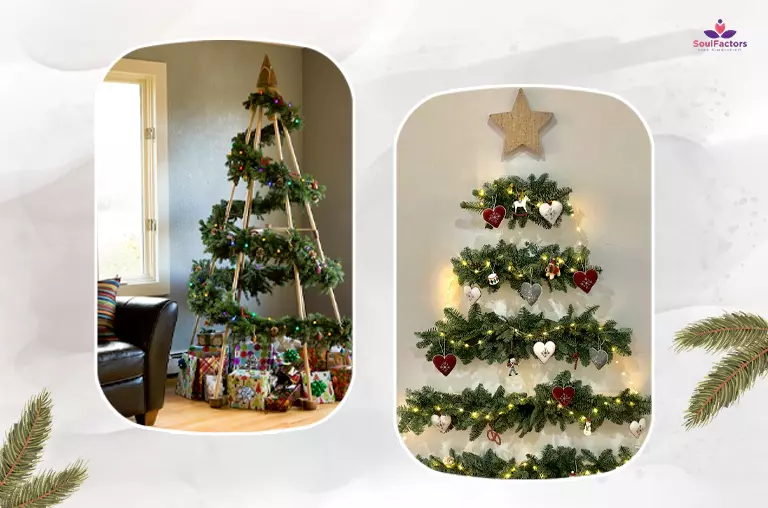 If you want to follow the classic themes then I suggest following the color theme of green, bright red, and gold. The whole idea of classic themes is to spread warmth, coziness, and nostalgia. You can elevate the theme by adding yellow lights around the room, the good old green Christmas tree, and wreaths. Decorate your tree with jingles, snowballs, miniatures of Santa, and fairies. Lar but not least, don't forget to add the red and white socks over the fireplace.
Elegant or Minimalist Theme
This theme can be done in two ways
1: Selecting earthy colors for your decor like mud brown, nude, peach, etc.
2: Choosing dark colors like black, grey, and gold.
The whole vibe of this theme is rich, glamorous, and stylish.
Whole White Theme Christmas Home Decor Ideas
This theme is refined and classy, though the theme is not new to the world of Christmas decor, the theme found its way back into style recently. This is now the most sought-after theme. If your house is furnished all white then this theme would be perfect for you.
Color choices you can add to an all-white Christmas decor are gold, silver, and white.
Whether you wish to follow these themes or not, is strictly a personal choice. You can make use of what you have yet make things elegant by adding a few metallic gold and silver decorations here and there.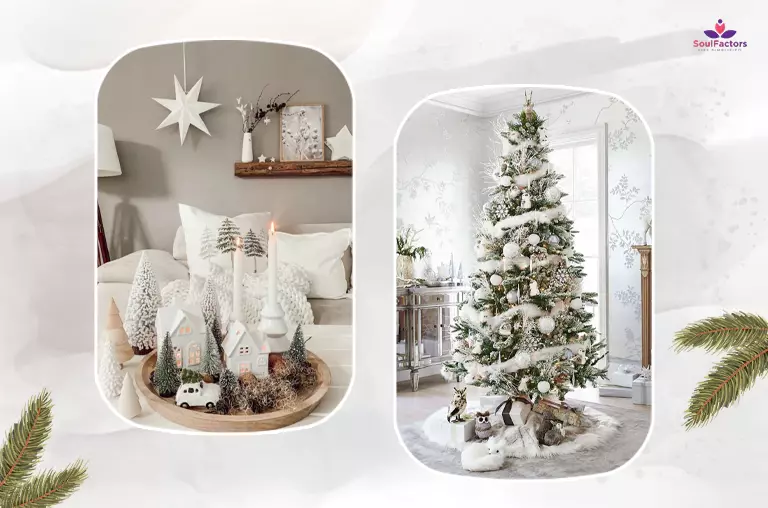 There is no strict rule of thumb with Christmas decor, these days people have been seen introducing soft pink and blue into Christmas home decor ideas, which by the way looks refreshing to the eyes.
Since color blocking and keeping things simple is the trend this year, we are predicting Christmas trees to be in the same pattern. A strict minimal tree with very few to zero decorations.
????The basic rule to keep in mind is to coordinate the decor and the tree with your furniture.
Color Combinations You Need To Try This Christmas
Blue, green, and red
Adding some blue with your regular green and blue will add an ocean vibe to your Christmas decor and it's absolutely refreshing to the eyes.
Copper and Burgundy
Toned down burgundy color along with metallic shades like copper and brass will give your room a very elegant and polished look.
Blue and Gold
A classy and chic combo to add some fun to Christmas decor
Red and purple
To give your decode that rich royal palace vibe combines deep red with rich purple. The results will shock you for sure.
Dusty pink and mud brown
A perfect unconventional combination very surprising to the eyes.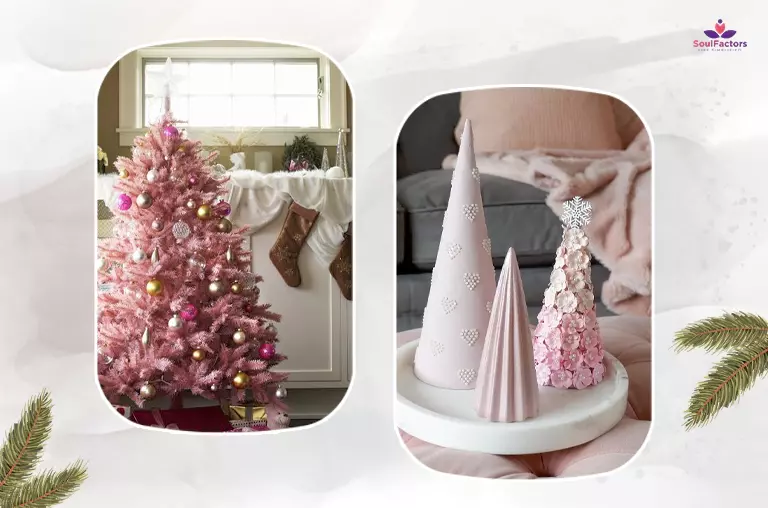 Black and white
Give a complete retro vibe to your Christmas by experimenting with the decor in all black and white.
Shades of green
This is one of the most unique Christmas styles, pair all the decor in various shades of green. The whole forest look to Christmas is very unique and refreshing.
How To Save Money During Christmas?
Avoid debt handover and those uninvited extra bills. These tips can help you save big time this Christmas season.
1. Plan and create a strict budget plan.
2. Stick to the plan no matter what.
3. Set your budget plan including a little extra.
4. Instead of getting everyone a gift, buy one gift and arrange Christmas games. This will not only save money but will also make the night very fun and interesting.
5. DIY- It's amazing how much money one can save with DIY.
6. While spending use cash instead of a card. Card spending is harder to keep track of.
Lastly, enjoy the day. Instead of worrying too much about everything and anticipating how to make things perfect. Slow down and spend the day with your family and friends. Making memories on a special occasion like Christmas will be cherished for many more years to come. Hope you found this article helpful. Lets us knows your thoughts in the comments below.