Christmas Gift For Mom From Daughter: We Covered It For You!
Getting your mom her birthday gift or Christmas gift, the confusion to pick one is inevitable. The more you spend time and energy, the more difficult it is to choose. Well, not anymore!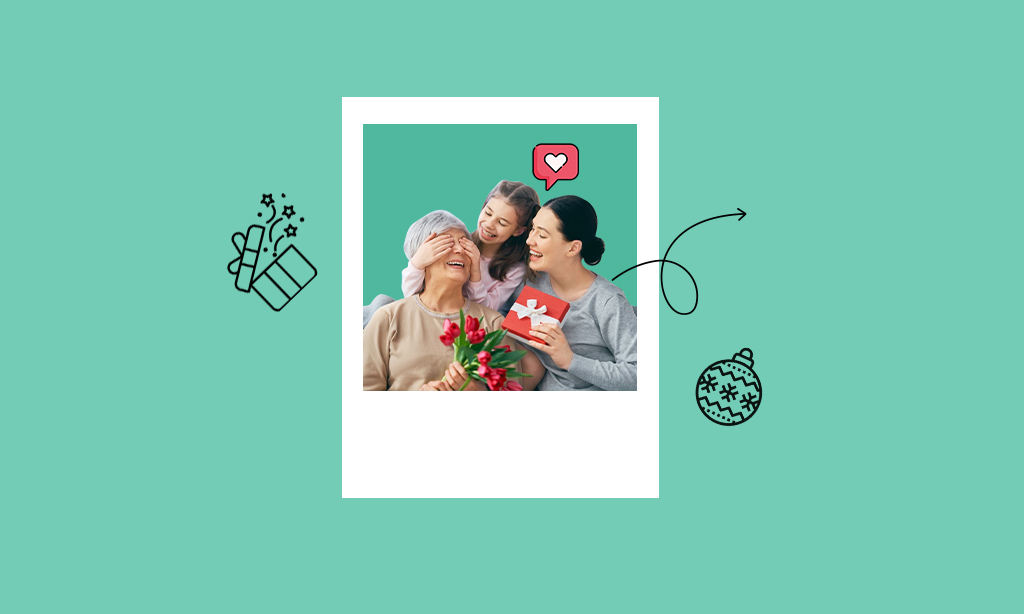 Are you here to figure out a special Christmas gift for your mom from her loving daughter? Because every Christmas, since you can remember, your mother stands by your side while you and your siblings open your presents under the tree. Your mother somehow manages to find perfect gifts for everyone in the family that everyone will certainly love. Truth be told, how she manages to find gifts for every single special occasion with so little time is truly fascinating and beyond our thinking capability.
Your enthusiasm while unpacking makes your mother's day. Right? Why not consider this article of Christmas gifts for mom from daughter and turn the table? Make this year your day by seeing her happy when you give her a thoughtful Christmas present. Bonus? Your mom will be over the moon!
Christmas Gift For Mom From Daughter!
On one hand, she has everything already and on the other, she can buy everything for herself. What can you possibly give someone who already has and can buy everything, not to mention someone who has been there for you since day one?
Through your temper tantrums as a child, high school dramas as a teenager, and questioning life choices as an adult, she has been there for you as a rock in your life.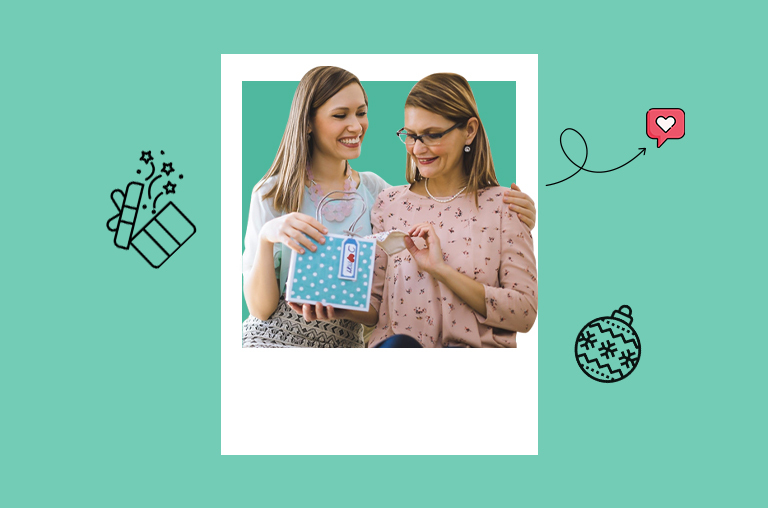 She does deserve the world. You have to show her the unconditional love you have for her!
But since you cannot give her the world in a gift wrapper (literally), you can give her any of the Christmas gifts below. Even if you give her a cheap coffee mug, she will be on cloud nine. Because it's the thought that counts.
But that doesn't mean that you can buy a cheap mug without any personal touch and call it a day.
Take a moment and think about what will light her up. Yes, we have already established that she will most certainly love anything you give, after all, you are her daughter. But let's bring happy tears this Christmas morning, shall we?
Forget the Christmas cards with cheesy lines (I do hope you are way past that stage), cheap lotions, and plain coffee mugs! You are going to give her something so much better than what you gave in your previous years. Put some thoughts and effort into it to make it worth more than the price itself.
What Could Be Her Ideal Gift?
Before we take a look, let's see what she will be more interested in.
If your mom is a master chef and spends most of her time in the kitchen cooking and baking, you know what to get for her! You have a lot to give her. From cooking utensils that will glam up the aesthetics of her kitchen to extremely useful kitchen machines that will save her so much time, your options are plenty.
If she has a green thumb, there are many Christmas gift DIY ideas for a plant lover.
Most mothers wouldn't splurge on themselves —with the exclusion of special occasions that comes pretty rare. So, you can give her a wonderful chance to pamper herself with bath bombs, or a kit with skincare products. Or even better, gift subscriptions of pampering sessions!
All mothers love decorating their house to make it a home. For the mother with a designing root in her, you can give her decorative items, including DIY magnets with pictures, hand-painted mason jars to keep the kitchen alive, or even fairy lights. Let her enjoy lighting up the house!
Another option is solving winter problems with warm solutions. Christmas and winter days are pretty cold and everyone needs a few cozy gifts they can warm up in. You can get your mother cozy and super warm and soft pairs of slippers so that her feet are safe from the freezer cold floor.
Are you still confused? Well, we are here to help.
Christmas Gifts You Can Give To Your Mother
Be it your mother, mother-in-law, step-mom, or even grandma, you can find the perfect Christmas present for her here. Stop racking your brain, we have done all the digging for you.
Browse and choose one (or more) from the list of Christmas gifts for mom from the daughter below. From thoughtful and practical to sentimental and meaningful gifts, our list can help any daughter.
No mother wants her child to spend too much on her, so we got that covered too. You have Christmas presents for your mom that is affordable as well. Keep scrolling!
Spoiler alert: She will love it and may even love you more than your siblings!
DIY Christmas Gifts She Will Keep Forever
Do you know what will make your mother's heart swell? Your effort in showing her your love. So, take some time out of your day and get your creative side out to try any DIY Christmas gift ideas for your mom.
Even if you lack creative cells in your body, there are countless effortless DIY ideas that anyone can excel at! Be it as basic as putting a photo album together with all the fun pictures of your family from the last great trip you took (before COVID-19 obviously) or painting mason jars, or her sunglasses, she will bawl her eyes out. If that's the ultimate goal.
Every mother has a thing for sentiment, you just have to play with the right string to bring the emotions out. But let's forget the typical DIY Christmas presents you do every year and try something different as well! Here are a few of what you can do yourself!
Pressed Flower Art
Who stopped giving loved one's flowers? Nobody! You try giving your mom a bouquet, she will gush over it for a long time. But this old trend that has recently resurfaced could be considered classier than actual flowers.
You can elegantly press flower blooms into a keepsake after some effort. For this, you need a dried flower (can be dried(1) in a microwave (forget pressing them in the books and waiting for weeks!)) and a photo frame in which you can press the flower. It is an admirable piece of art!
DIY Floral Christmas Stocking
Buy plain stockings, iron-on flower patches, and get working! Honestly, this is effortless and may take a few minutes (at tops). All you have to do is iron the flower patches on the stocking and you will have a crafty stocking at the end! What else can make it more Christmasy?
Hand-Painted Terra Cotta Pots
The classic hand-painted planters for a mom with a green thumb never go out of style. If you have any old terra cotta pots at home, it's time to get crazy creative!
Grab your paint cans and start painting! Swipe your brush with different colors for different patterns. All your mom has to do is keep it near the window and keep watering!
Unless you are a perfectionist, the messy hand-painted pot will make you feel accomplished by the end (messiness is strictly reserved for daughters without any artistic bone!) Not to mention how many times you will gush over it each time you see it at home!
DIY Rose Milk Bath Bombs
These sweet-smelling, nourishing, and moisturizing bath bombs made with rose petals, essential oil, and milk powder will give your mom a spa feel. If you have time and a few ingredients these require, you can make these amazing bath bombs your mom will love! (2).
DIY Milk And Honey Soap
Don't disregard the thought of making a bar of soap just yet. This honey-scented, heavenly soaps will only take 10 minutes to make, which makes it the perfect last-minute gift.
If you have honey and milk, start working on this divine smelling soap(3).
Unique Gifts You Can Buy Online
Ads we see from online stores are super tempting. There are just too many options; from gifts to make her daily routines easier to gifts that can make her shed a few tears. A handful of them is listed below. But bear in mind that these are quite expensive.
Google Nest Hub
Not all mothers are tech-lovers. Then, some get excited over the launching of new electronics. For them, finding a Christmas gift is way easier. But your mom, even if she is far away from being a techie-person, will love this gadget.
Because it is not only one of the best digital photo frames but also takes commands from her, such as set reminders, playing music, and streaming Netflix shows. It's going to be her less advanced version of Alexa.
Long Distance In-Sync Lamp
Do you want to tell her how much you miss her when you two are towns away from each other? This long-distance lamp will do the work for you even if you are countries away. Whenever you miss her, all you have to do is let her know that with a simple touch on the lamp.
The sister lamp your mother has will light up with the ambient glow, letting her know that her daughter is thinking of her. Isn't this a sweet gift? It can last beyond Christmas!
Soothing Lavender Heat Pillow
At the end of a tiring day, which is every single day, all your mother needs is a relaxing sleep. Instead of a cotton stuffed pillow she normally uses, give her this calming lavender heat pillow that she can heat in the microwave for two minutes.
A dreamy pillow that will calm her senses and put her to sleep in no time. Not to mention, the chilly night of winter makes this gift ideal.
Polaroid Zip Wireless Mobile Photo Printer
All mothers are unique. But one thing they all have in common is having fun and making memories with her kids, taking pictures, and preserving them to shed tears over them after some years. For such mothers, what could be a better Christmas gift than a pocket-sized photo printer?
She can simply connect it directly to her smartphone and print out the pictures instantly. The bonus point of this easy-to-use printer being able to take it anywhere she wants is worth considering. Or you can buy her a Fujifilm Instax Mini camera.
Matte Magnetic Desk Set
How can you make your mom's work-from-home easier? By helping her work desk to be more organized and keeping the messiness at bay.
This sleek matte back desk set with magnetic cups will hold her pens, paper clips, and every other small item she otherwise throws around. The matte finish will add style to her desk!
Laptop Desk With Serving Tray
Couches and beds (of course) are now the new work desk. Most probably your mom's too. But no one can blame her, it is easy.
So, why not make things way easier for her by this foldable desk/tray/stand tray that does it all? She can work from her bed while enjoying her food. It even comes with a handy drawer! How cool is that? The only drawback is that she may turn into a lazybones and you will be to blame!
Mini Travel Iron
Is she an exploring traveler who'd be in one place a day and another by next week? If yes, this mini travel iron will be perfect for the regular jet-setter. You can only imagine how helpful this little guy will be for her.
Hand-Painted Sculpture
An exceptionally elegant hand-painted sculpture that encompasses the gentle love between a mother and her daughter. If you want to give your mom a sentimental gift, this originally carved sculpture with vines and birds in flight could be your best choice.
She will also receive an enclosure card with a written sentiment "together or apart, always close to me."
Pampering Gifts She Deserves
If you knew the stress and workload of a mother, you would think twice before being hard on your mother. All the stress she goes through must put so much pressure on her body itself.
So, buy her a mini massage gun to keep her body relaxed whenever she is too stressed to move her body. She will thank the heavens once the relaxation kicks in.
If you want to spoil her with such self-care pamperings, you cannot go wrong with these gifts:
Meditation book

she can relax to.

Planner for a productive year ahead.

Gratitude journal to keep her head above the water in times of despair.

Kindle paperwhite to carry her all her favorite books at once.

Blue light specs

to help her eyes from the harsh glare of the screens she uses.

Aromatherapy locket bracelet

that diffuses essential oil to relax her senses wherever she goes.

Foot therapy kit she can make use of.

Fruit-infuser water bottle

as an addition to her better health journey.

Calligraphy starter kit

she can use to refine her skills.

Floral embroidery kit

to keep her hands busy and the walls pretty.

Self-care kit

to let her not forget herself in the chaos.

Nail care set to save her expensive trips to the salon.

Portable FM/AM radio

she can enjoy all day long.

Cozy slippers and clothes for cold winter days.

Makeup products she won't spend too much on.

Essentials gift box

with all the essentials she needs in COVID-days.

Cleaning kit

, if your mom is anything like Monica Geller
Personalized Gifts She Will Treasure
Then comes the thoughtful gifts you can personalize to add meaning and sentiment. There are numerous gifts that you can customize from tee shirts and throw pillows with the print of "WORLD'S BEST MOM" and coffee mugs with your name to personalized necklaces and bracelets.
Let's see what can you personalize.
Burlap Print Of Important Dates
Mothers are always waiting for days to celebrate. Your mom must be no different. You can give her this simple yet elegant gift highlighting all the important dates honoring her loved ones.
Price: $24.99
Birthdays, anniversaries, and dates of all the special occasions in one board. Now, she will be looking forward to the days to celebrate!
Dish Towel With Family Recipe
Not every family has favorite recipes. But if your family has one, this dishtowel that can be customized with your handwritten family recipe can be a Christmas gift.
Price: $25.95
Who knows, this could turn to be an heirloom family recipe that gets passed down generations.
Pet Portrait Necklaces
Do you think you are your mom's favorite? Think again. Even if you are an only child! Because if she has a pet at home, there is no room for doubt about who is her favorite.
Price: $35.00
A pretty necklace engraved with her pet's face and the name is one amazing way to make her happy. The sleek pendant is lightweight, making it easier for her to wear it every day.
Infinity Bracelet With Kids' Names
Price: $36.89
If you are a group of four siblings, this infinity bracelet could be a sweet Christmas present for your mom. It can be personalized to hold four (depending on the size of your family) of your names. If you are an only child, even better!
Mama Bear & Her Baby Bears Cuff Bracelet
Is your mother a fan of cuff bracelets? If yes, she will love this! The stylish sleek band engraved with a mama bear and tiny baby bears is adorable! You have three colors to choose from.
Price: $80
Although a bit expensive (since it is 18k gold plated), you have a 50% discount now. You have other affordable mama bear bracelets, too — with baby bears as charms are too cute!
"What I Love About Mom" Fill-In-The-Blank Journal
I am pretty sure you can't find a cheap yet so thoughtful Christmas present for your mom apart from this journal —unless you are writing a bunch of letters on cheap paper.
Price: $10
This journal will outpour your love for her in 112 pages that you get to fill with memories, inside jokes, and your favorite things about her. Get this pocket-sized journal and start writing!
Custom Handwriting Bracelet
This is beyond beautiful and truly one of a kind! Your mother will adore this, I can guarantee you. Because she will be wearing a bracelet with your handwriting, literally.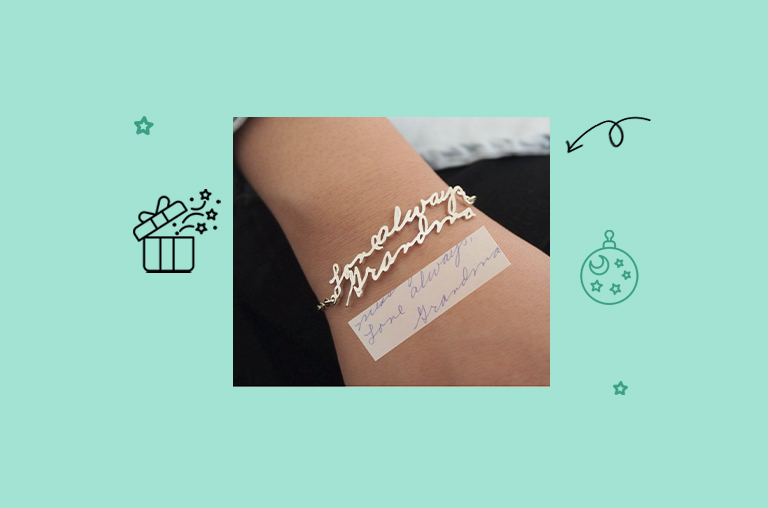 Price: $37.00
You can customize the bracelet with a simple message, an inside joke, or even your name in your actual handwriting. How amazing is that?
Birth Month Flower Necklace
For a mom who cannot help but love flowers, this elegant necklace with her birth month flower encased forever in it is one way to win her heart.
Price: $48
Then again, not everyone can afford it since you already have a list of people to buy Christmas gifts for.
Personalized Fingerprint
Did your mom take your baby feet's footprint and still keep it as a showcase? Well, you can try this for a change. It's a fun and maybe a bit twisted way to keep the grown-up game going.
Price: $30.75
You can customize the necklaces' charm with your fingerprint and hang it around your mom's neck.
Long Distance Coffee Mug
Unlike plain and boring coffee mugs we normally see in shops, this long-distance coffee mug is sweet. Remind your mom that regardless of the distance you spend apart, you are always connected to her through this mug.
It can be customized by location and heart color. Serves as a daily reminder, especially if she is a coffee addict.
Mom Candle With Definition
Price: $24.50
Of course, your mom deserves far more than a scented candle. Hence, a candle with the coolest definition for "mom". She won't fail to remember you each time she sniffs the scented candle. Though you may get confused, you get to choose one scent from a list of many.
Avocado Phone Cases
Price: $26.99
Two halves of an avocado longing to be near each other to be complete. That's the concept of these adorable phone cases. Isn't it perfect to show your relationship with your mother, especially if you are far away from each other?
Subscriptions Or Memberships She Can't Say No To
If anyone deserves to feel spoiled this year's Christmas, it's all the mothers out there trying to keep the house from falling into pieces. Make her happy not once, but multiple times. Is your mother a book devourer?
If yes, your searching job is halfway done. You can choose any books of genres she normally likes reading and gives her a bunch of them.
But that can also be confusing. What if she has already read the book you bought for her? Well, you have a solution here. Get her this "book of the month(4)" membership she can use to get any book she wants!
All she has to do is redeem her membership by heading to the website and start her next book!
Similarly, there are various memberships and subscriptions you can buy for her to treat her for a longer time. You can surprise her with a gym membership, Amazon gift card, spa subscription, jewelry subscription, clothing(5) subscription, flower subscription, or any subscription of skincare products.
What Are You Waiting For?
It is a well-known fact that mothers don't need much to be happy. Particularly from her kids. You know how they are —always giving without taking or expecting. But that's got to change.
You can start that by giving gifts for her (not just for holidays), surprise her, and remind her that she deserves all the love in the world. But for this fast-approaching Christmas, I hope you found the right gifts for her here.