The story of claw clip hairstyles begins way back in the '80s and '90s the era of shoulder pads, neon leggings, and crimped hair. It was a time of bold fashion choices, and the claw clip quickly became an iconic hair accessory of the era. With its easy-to-use design and ability to create effortless updos, the claw clip became a go-to choice for women looking to add a touch of flair to their hairstyles.
Fashion trends have a way of coming full circle, and the return of the claw clip hairstyle is a testament to the cyclical nature of style. What once graced the manes of '90s trendsetters has found its way back into the mainstream with a modern twist. Thanks to Covid most women could not make their regular trips to the salon so the claw clip made a comeback. Gone are the days when the claw clip was reserved for quick and messy updos on lazy mornings. Today, it's a versatile and stylish accessory that can elevate your hair game to new heights, whether you're dressing up for a special event or simply looking to add a touch of flair to your casual everyday look.
Why We Love Claw Clip Hairstyles
Let's face it; not all of us are skilled at intricate braids or elaborate updos. The beauty of the claw clip lies in its ease of use. Anyone, regardless of their hairstyling experience, can master a variety of looks with minimal effort. Whether you're running late for work or attending a last-minute soirée, the claw clip has your back—literally!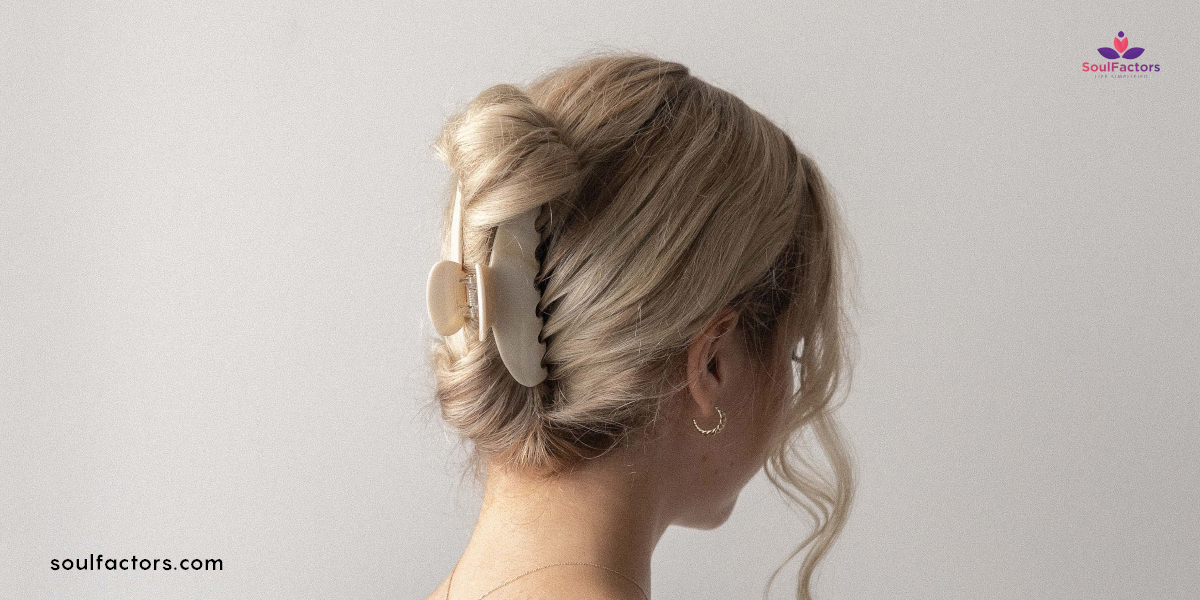 Claw clips come in a myriad of shapes, sizes, and designs, making them adaptable to various hair types, lengths, and styles. Whether you have long cascading locks or a chic bob, there's a claw clip out there for everyone. Plus, they're available in an array of materials, from classic tortoiseshell to sleek metallics, ensuring there's one to match every outfit in your wardrobe.
There's a certain allure in classic hairstyles, and the claw clip embodies just that. With its vintage charm and elegant appeal, this unassuming accessory can instantly add a touch of sophistication to any look. From a casual day out with friends to a glamorous evening event, the claw clip effortlessly transitions from day to night.
One concern many of us have with hair accessories is the potential damage they might cause. With the claw clip, this worry is minimized. Unlike hair elastics or tight headbands that can strain and break your strands, claw clips offer a gentler hold, reducing the risk of hair breakage and damage.
How To Do Claw Clip Hairstyles?
Styling your hair in claw clips is easy and will require very minimal effort.
Step #1: Prep Your Hair
It's important to ensure that your hair is fresh, clean, and completely dry before styling it. Avoid styling damp hair as it can easily get damaged. Give your tresses a good brush to free them from any knots.
Now, here's a little pro tip – if you want your claw clip hairstyle to stay put all day (and who doesn't?), add some texturizing spray or mousse (1).
Step #2: Choose the Right Claw Clip
Alright, ladies, it's time to pick the perfect claw clip for your fabulous locks. If you've got thick and long hair, go for larger claw clips to handle all that volume. On the other hand, if you have short hair then mini claw clips are your best bet.
Claw clips aren't just practical; they're also fashion statements. From chic tortoiseshell designs to sleek metallics, the world of claw clip fashion is yours to conquer!
Step #3: Create Your Hairstyle
Now comes the fun part – styling your hair with the claw clip!
We've got some amazing claw clip hairstyles that can make you look chic in no time.
15 Beat Claw Clip Hairstyles For Every Hair Type
1. Claw Clip Hairstyles For Long Hair
If you have long hair, you can experiment with a variety of claw clip hairstyles. Check out these stylish options for your beautiful locks:
Classic Low Ponytail
Gather all of your hair around the back of your neck, making it secure and even. Hold it in place with one hand to form a low ponytail.
With your other hand, twist the ponytail gently around its base to create a sleek and elegant twist. Keep twisting until you reach the ends of your hair.
Once you've formed the twist, use a medium-sized claw clip to secure it in place. Position the claw clip horizontally or vertically, depending on your preference and hair thickness.
Make sure the claw clip feels comfortable and secure. If you have thicker hair, you may need a larger claw clip for a snug fit.
To add a soft and romantic touch, allow a few loose strands to fall naturally around your face and shoulders. This will frame your face beautifully and give your classic low ponytail a charming and effortless look.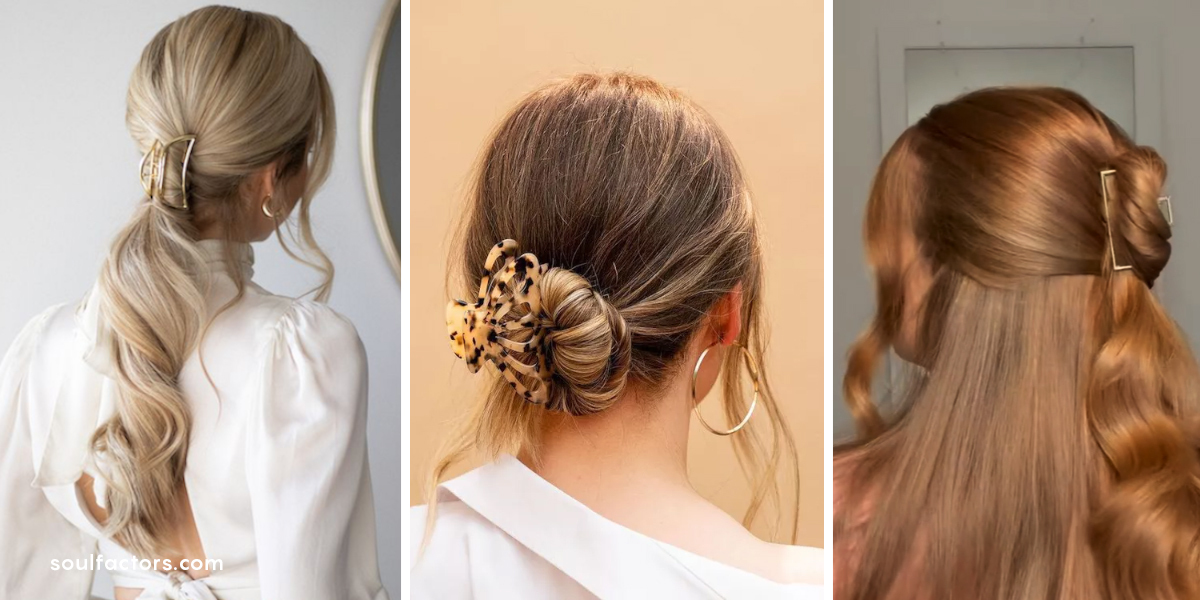 Messy Bun
Gather your hair together and secure it in a high ponytail, keeping some volume at the top for a natural, full look.
After creating the high ponytail, wrap the hair around its base to create a relaxed and tousled bun. Don't worry about making it perfect; the messier, the better!
Hold the bun in place with a large claw clip. You may need a larger claw clip for a solid grip depending on the thickness of your hair and the size of the bun.
To add that perfectly undone touch, allow a few strands of hair to casually fall out of the bun. This will give your messy bun a carefree look.
Chic Half-Up Twist
Take the upper section of your hair and leave out a few strands at the front to frame your face. Hold the gathered hair with one hand to create a half-up style.
With your other hand, start twisting the gathered hair gently towards the back of your head. Keep twisting until you reach the desired tightness and elegance.
Secure the twist with a medium-sized claw clip. Ensure the claw clip feels comfortable and secure, so your half-up twist stays in place all day.
Let the other half of your hair fall loose. For a more effortless look, you can tease your hair by backcombing and applying a setting spray.
2. Claw Clip Hairstyles For Medium Hair
Medium-length hair is versatile, and claw clips can help you achieve stunning styles. Try these cute claw clip hairstyles:
The Braided Crown:
Start by parting your hair down the middle to create two equal sections.
Begin braiding a short section of hair from the front of one side. You can do a simple three-strand braid or a fishtail braid.
Repeat this on the other side.
Bring both braids to the back of your head, overlapping them to make a crown-like shape. Ensure they sit comfortably on your head and adjust the tightness if needed.
Once you're satisfied with the positioning, secure the braids in place with a claw clip. Choose a clip that matches your hair color for a seamless look.
Gently tug on the braids to loosen them slightly and create a softer, more relaxed appearance.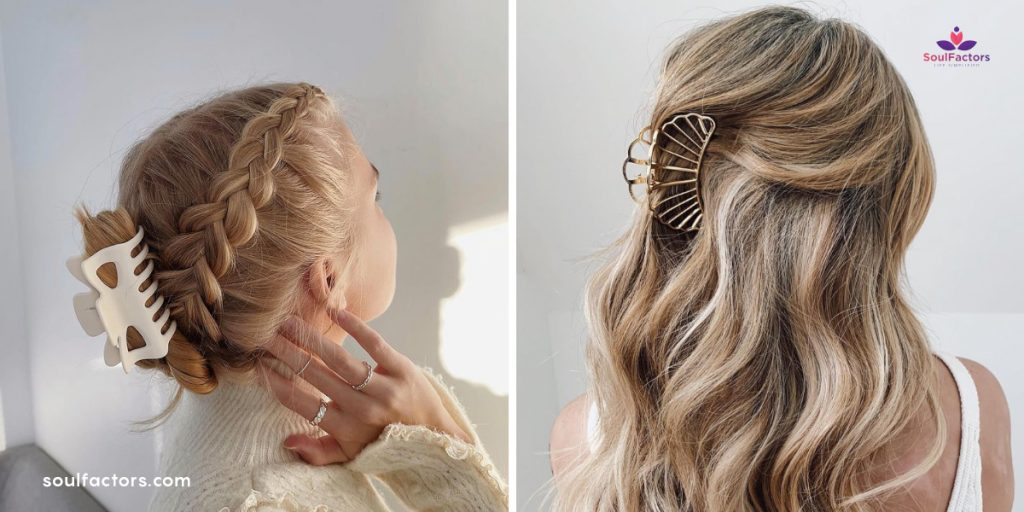 The Mermaid claw clip hairstyle
Apply a heat protectant spray.
Use a curling iron, to create beachy waves. Continue curling all of your hair.
Part your hair down the middle or slightly to one side, depending on your preference and face shape.
For added volume and texture, you can lightly tease the top section of hair with a teasing comb or brush. This step is optional but can enhance the mermaid look.
Using your fingers, gather the top half of the hair at the back of your head and secure it with a gold claw clip.
Half-Up-Half-Down Bun
Gather the front part of your hair, from the forehead to the crown, towards the back of your head.
With the gathered section of hair, start twisting it tightly to form a bun. Keep twisting until the hair naturally begins to coil around itself.
Once you've twisted the hair into a bun, use a stylish claw clip to secure it in place.
Allow the remaining hair at the back to flow freely. This creates the half-up-half-down look, with the bun adding a chic element to the style.
Messy Fishtail Hairstyle with Claw Clips
Make a fishtail braid.
Make sure to keep the braid loose for a messy and effortless look.
Use a pretty or decorative claw clip to secure the end of the braid. The clip should hold the braid securely without pulling it too tight.
Gently pull out a few hair strands from the front on both sides to frame your face. You can leave them as loose tendrils or style them as desired.
Take a moment to adjust the fishtail braid and the claw clip. You can gently tug on the braid to make it slightly messier for a relaxed and bohemian touch.
3. Claw Clip Hairstyles For Thin Hair
Don't let your thin hair limit your styling options. Take notes for these amazing claw clip hairstyles for thin hair.
Voluminous Pony
Step 1 is optional. You can apply a volumizing mousse or spray at the roots for added lift.
Gather all your hair at the crown of your head and hold it firmly with one hand.
Use a classic hair tie to secure the high ponytail.
Divide the ponytail into two sections.
Take the top section of the ponytail, which is closer to the hair tie, and lift it upward. With the lifted section, position a claw clip underneath the ponytail. The clip should be close to the hair tie and hidden underneath the lifted hair.
Gently let the lifted section of hair down, covering the claw clip. The clip will be hidden beneath the hair, giving the illusion of added volume and height to the ponytail.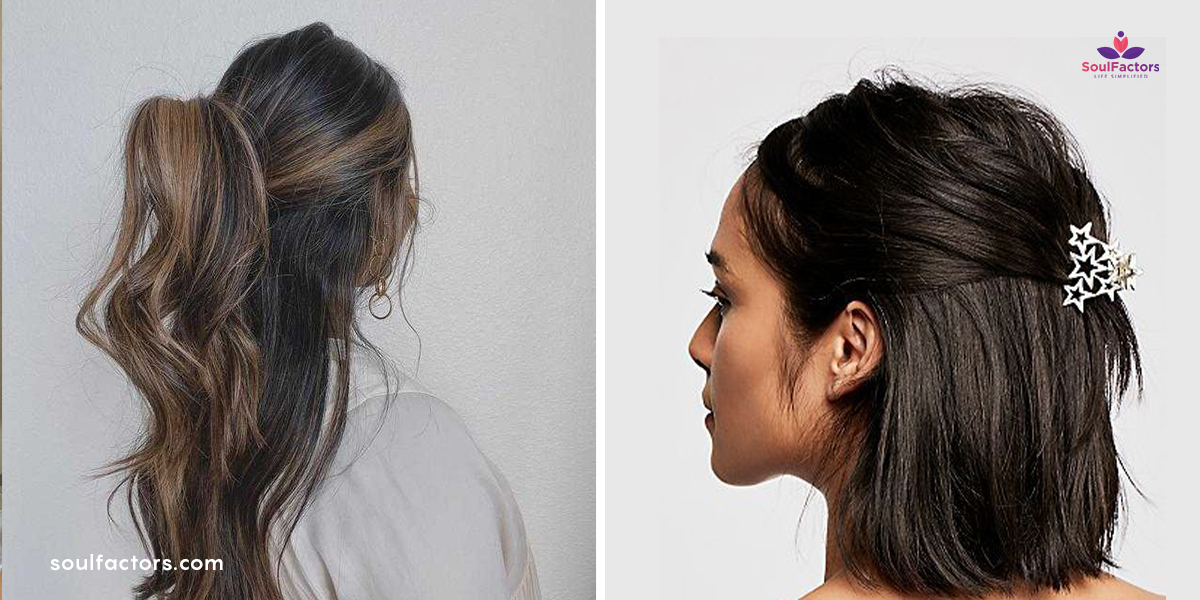 Half clipped back, half down
Tease the crown of your hair gently to add volume.
Using your fingers, gather the top section of hair at the back of your head, just above the ears. Allow the hair around your ears to softly flow down, framing your face naturally.
Securely clip the gathered top section of hair at the back of your head using a tiny claw clip.
Pull out a few hair strands from the front on both sides to frame your face beautifully.
4. Claw Clip Hairstyles For Short Hair
Short hair can rock claw clips too! Try these stylish options:
Side half-up hairstyle
Gather all your hair to one side.
Take two small sections of hair from the gathered side and secure them with two mini hair claws.
Place the claw slightly above the ear for a stylish look.
Gently tug on the hair to create volume and fluffiness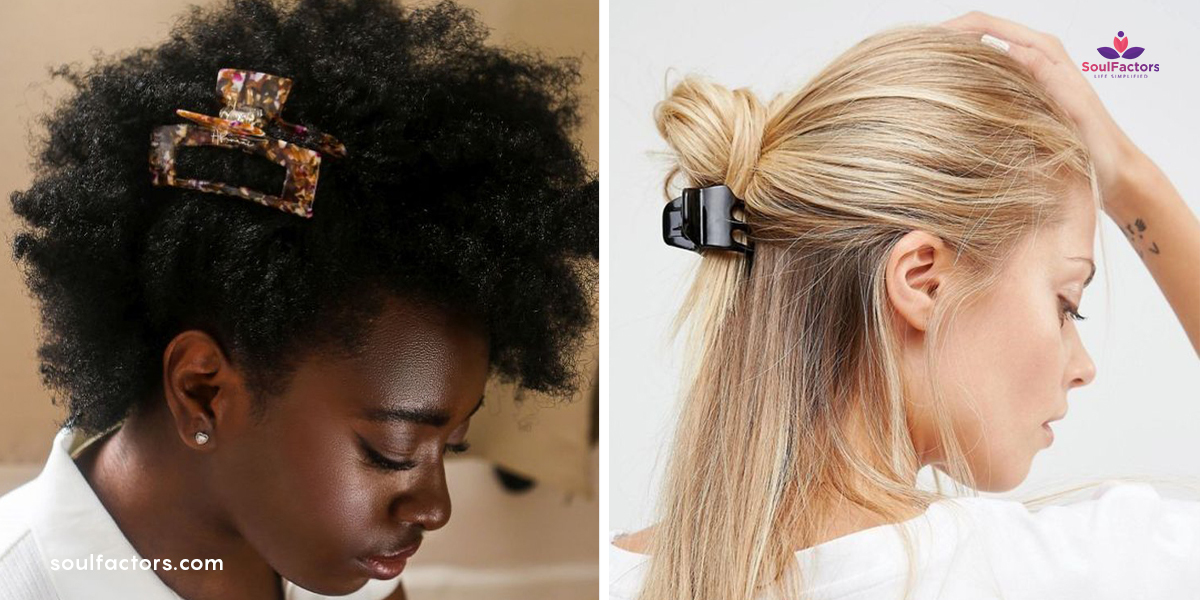 Half Bun Hairstyle
Create two horizontal sections from your hair.
Make a small bun using the top section of your hair. The bun should sit comfortably and not too tight.
Use a claw clip over the small bun to secure it in place.
Let down the remaining hair at the bottom section.
5. Claw Clip Hairstyles For Thick Hair
Thick hair provides plenty of texture and volume to work with.
French Twist Cascade
Gather all your hair slightly above the end of your neck.
Hold the gathered hair in one direction and twist it until it reaches the ends of your hair.
Use a large claw clip to secure the twisted portion of hair to the scalp. Make sure it feels stable and secure.
Let the remaining hair above the twist cascade out of the top of the clip at the crown of your head. This creates a fun and messy look.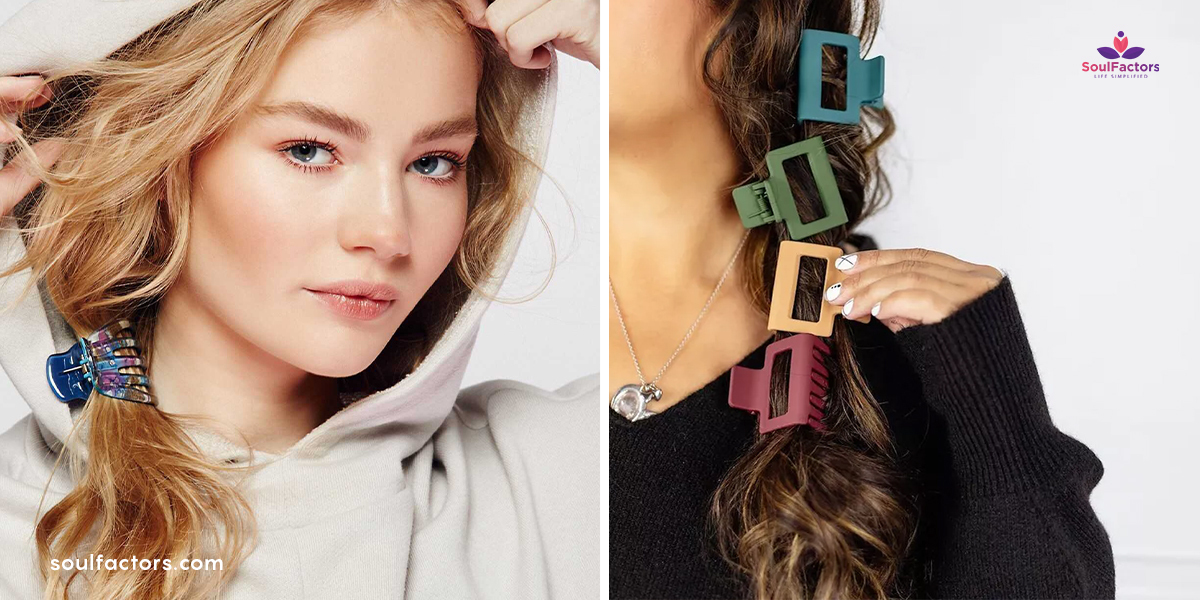 One Side Braid
Gather all your hair to the side you've chosen for the braid.
Starting from above your ear begin creating a standard three-strand braid.
Secure your braid with a hair tie.
To create a relaxed and effortless look, gently loosen the braid by pulling on it slightly.
Using a claw clip, secure the braid at the back of your head.
6. Claw Clip Hairstyles For Curly Hair
Curly hair and claw clips make a perfect match! Curly-haired girls can rock the claw clip hairstyle like nobody else.
Space buns hairstyle
Divide your hair into two equal sections.
Gather one section of hair on one side and create a small bun.
Secure the bun with a colorful claw clip.
Repeat on the other side for the second space bun.
Let down the rest of the hair.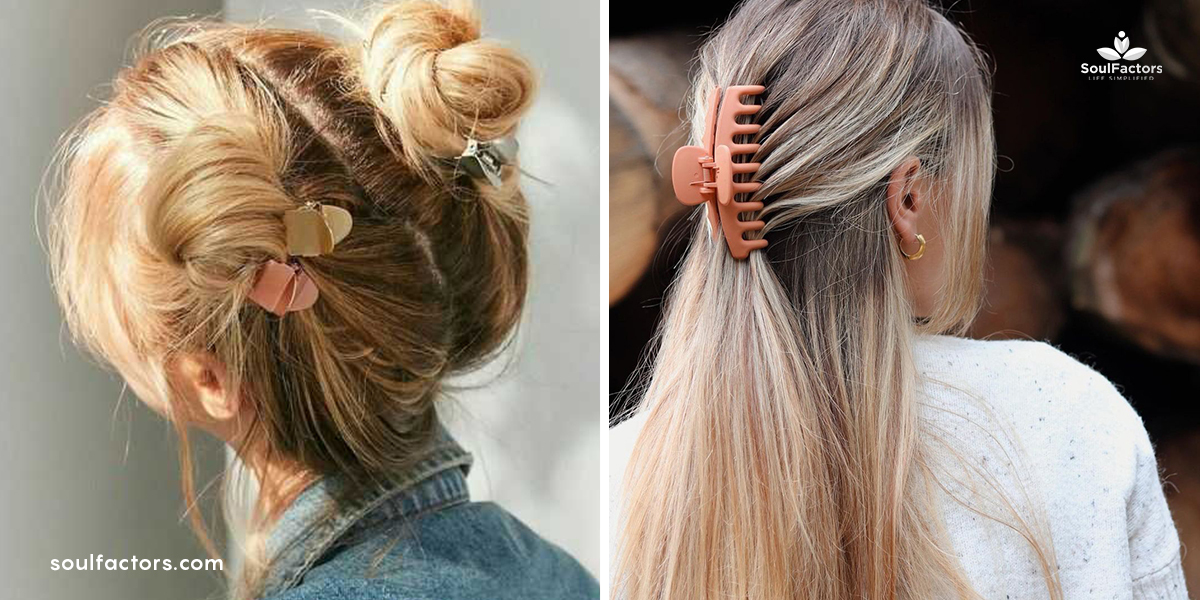 The high clay clip hairstyle
Apply a curl cream or mousse to define your curls.
Take a small triangle section of hair at the top of the head.
Secure the section with a claw clip at the crown of your head.
Fluff and shape the rest of your curls.
Wrapping Up
Claw clips have made a major comeback and they are here to stay. From your mom to Kendall Jenner, everyone swears by claw clips. Whatever your hair type is – long, medium, short, thin, thick, or curly – there's a claw clip hairstyle for everyone. There's a wide range of claw clips available in various sizes, shapes, and materials that will instantly improve your hair game.
Have fun experimenting with different looks that suit your style and personality. From classic low ponytails to chic half-up twists, the possibilities are endless when it comes to creating stylish claw clip hairstyles!
FAQ
How to do hairstyles with claw clips?
Creating hairstyles with claw clips is simple and could be done in multiple ways. To start, gather your hair into a high or low ponytail and secure it with the claw clip for a classic look. For a more chic style, twist your hair into a bun and secure it with the claw clip. There are various styles you could experiment with depending on the texture and length of your hair.
Do claw clips thin your hair?
No, claw clips do not cause hair thinning. When used correctly, claw clips should not put excessive tension on the hair or scalp, which means they do not contribute to hair thinning. However, it is essential to use appropriate-sized claw clips that match the volume of your hair to avoid pulling or tugging. Constantly wearing tight hairstyles, such as tight ponytails or braids, can potentially lead to hair breakage or traction alopecia over time. To maintain healthy hair, give your hair regular breaks from tight styles and use claw clips in a way that doesn't strain or damage your hair.