Nothing works well and quickly as deep conditioning your hair to repair your dry, dull, and damaged hair. Shampooing and regular conditioning do their fair share of repairing and reviving. However, that may not be enough. The dullness in your hair even after shampooing and regular conditioning is solid proof.
What can make a difference to your lifeless hair is the supercharged version of the regular conditioner. Enter: deep hair conditioner. Spoiler alert: this at-home hair remedy works wonders for all hair types.
In this article, learn what makes a deep conditioner different from a standard conditioner, how it works its magic, several of its benefits, and how to deep condition at home. Like always, there are a few products picks along with DIY deep conditioners with natural ingredients.
Deep Hair Conditioning: What Does It Do?
Just like your skin, your hair needs a little bit of TLC, too. Especially if your hair falls into any of these categories —frizzy, dry, dehydrated, dull, shineless, damaged with brittle ends. I am sure the majority of our hair falls into any one of those categories. And for some, it may be a full-blown hair crisis.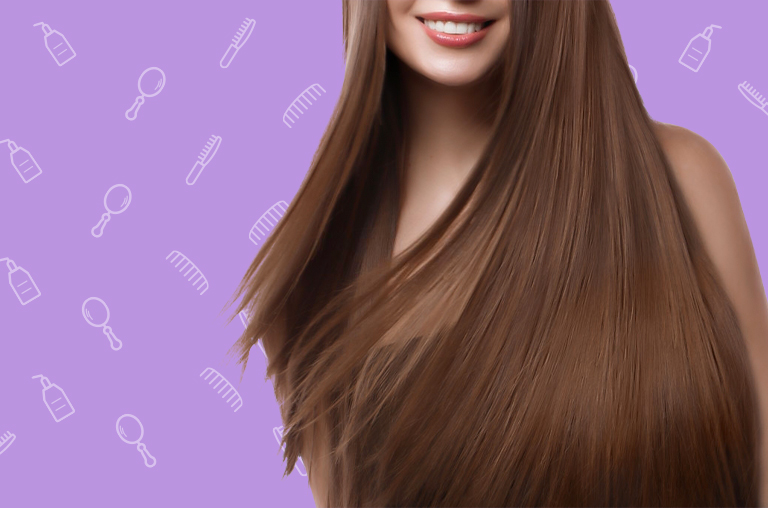 But regardless of where your hair is categorized into, you have one simple, easy, and all-in-one solution, which is a deep hair conditioner. It can do everything from hydrating and moisturizing to giving shine to improving the look, feel, texture, and overall health of the hair. This heavier and more intense version of conditioning gets deep into your hair shaft to deliver nutrients and moisture to repair and rejuvenate strands.
In short, a deep conditioner is a rich hair staple that gives more thorough conditioning of the hair for a long-lasting effect. During the process, your hair is coated with nourishing products, which is why many call this an effective hair mask. But what about the standard conditioning you do? How is deep conditioning different from regular conditioning?
Differences Between Standard Conditioners and Deep Conditioners
Well, for starters, standard conditioners are meant to merely bring back the moisture lost after your last wash. But deep conditioners are for deeper conditioning of dry and frail hair targeted to give smoother, stronger, and healthier hair. You can apply and rinse standard conditioners in less than 5 minutes. Meanwhile, deep conditioners take up to 30 minutes with more potent effects than standard conditioners.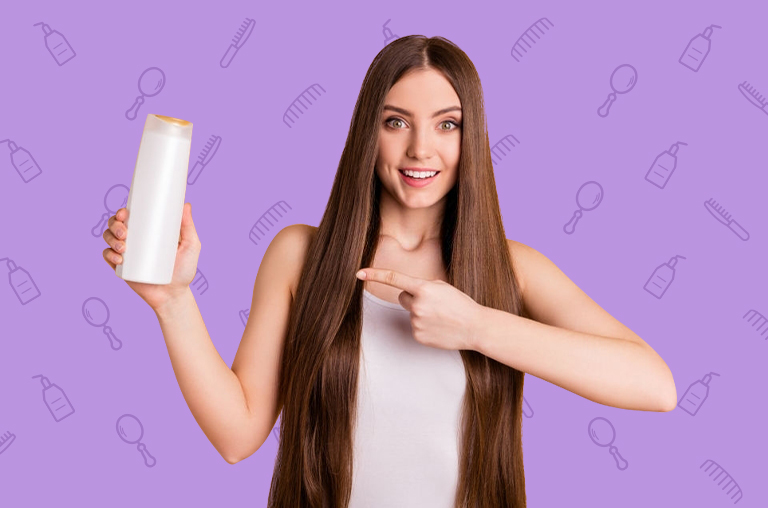 Deep conditioners contain higher concentrations of humectants and emollients(1). They come with thicker, creamy formula or mask offerings as opposed to the thin formula of everyday conditioners. On top of that, heat is applied on deep conditioners allowing it to penetrate deep into the hair shafts and to speed up the process. Also, traditional conditioners are safe to use multiple times a week alone.
Now that you know what deep conditioners do and the difference between the two types of conditioners, let's see what are the benefits of deep conditioning.
Benefits Of Deep Conditioning Hair Treatments
It is true that both conditioners improve the appearance of hair. But a deep conditioning treatment gives way more noticeable benefits to the hair than an everyday conditioner. They are the following:
Hydrates and Moisturizes
Deep conditioning involves coating and treating your hair strands with hydrating, moisturizing, and nourishing ingredients. They contain humectants that draw moisture to your hair strands.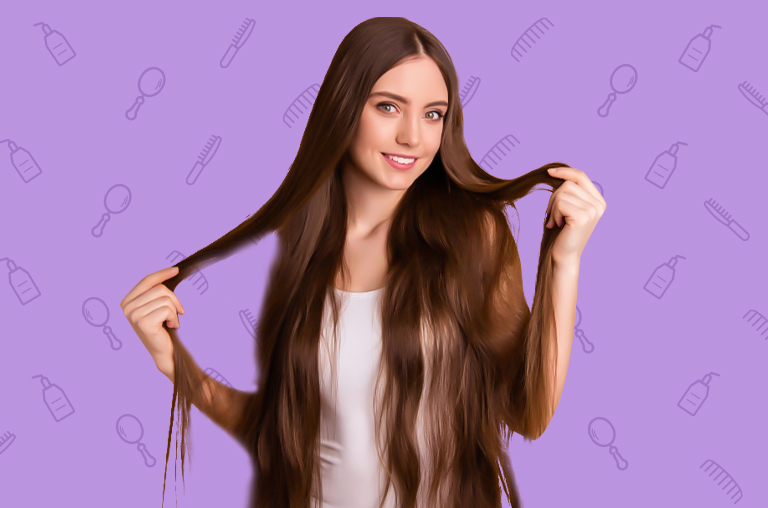 After deep conditioning, your damaged hair will be hydrated and moisturized to improve your hair's moisture content and maintain its health(2). Otherwise, your dry and brittle hair will be prone to breakage.
Repairs and Reduces Damages
Another benefit of deep hair conditioning is that it repairs your damaged hair and reduces further hair damage. An effective deep conditioner keeps your hair hydrated and moisturized while giving nutrients that are essential to repair and reduce damage.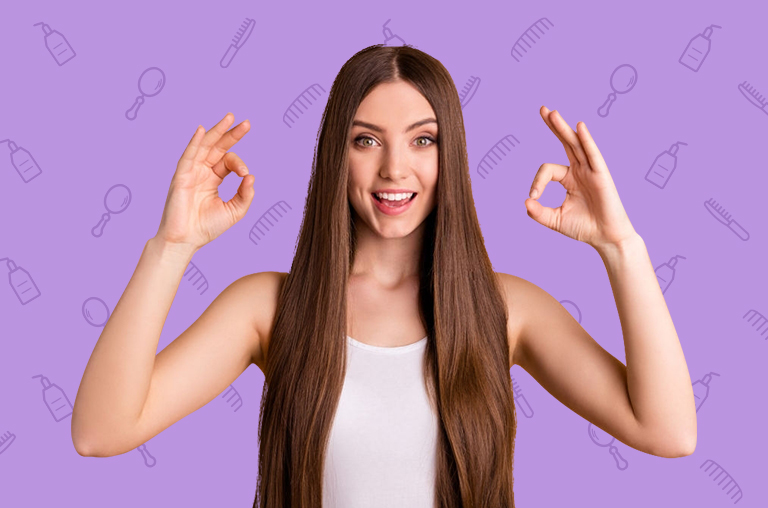 Also, hydration helps to make your hair less prone to damage, such as breakage, split ends, and almost every other damage your hair can go through. It basically makes your hair more resilient to damage.
Deep Conditioning Hair Enhances Shine
By coating your locks with moisture and nutrients, a deep conditioner brings back your hair's natural shine. One of the major reasons why your hair looks dull or lacks shine is the lack of moisture. In addition, the accumulated build-up from the products you use and the weather will make your hair less shiny.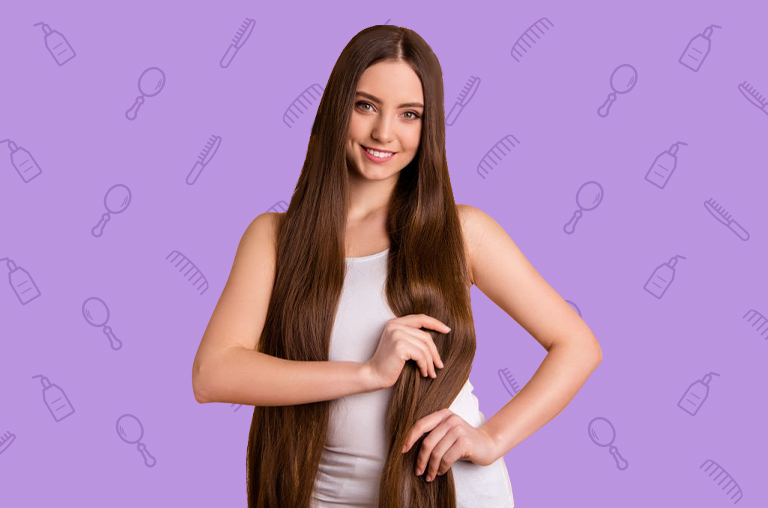 A deep conditioner corrects that issue by penetrating deep into your hair shaft and restoring the lost shine and making your hair softer and smoother to touch.
Strengthens Hair
Almost all deep conditioners are packed with a mighty punch. Meaning, they contain all the good stuff hair needs —damaged or not.
The repairing, strengthening, and moisturizing formula of deep conditioners that are enriched with nutrients help repair your hair from within and strengthen your weak strands and follicles.
Deep Conditioning Hair Improves Hair Elasticity
Improving hair elasticity means reducing hair breakage. With the help of potent formula and its excellent hydration, your hair strands will have increased elasticity.
As a result, your hair has a long time resisting the stretching before it breaks. You get to reduce or prevent hair breakage.
Reduces Frizz
In addition to all of the above benefits, deep conditioners work to reduce frizz as well, as expected.
Because if your hair is moisturized, nourished, and hydrated well enough, the chances of your hair getting frizzy flyaways is highly unlikely.
Helps Color-treated Hair
Anyone with colored-treated hair knows how damaging it can be. Chemical processing? It has the ability to alter your hair strand structure and even weaken the hair. This means more hair dryness and breakage. This is why deep conditioning is recommended for those with color-treated hair.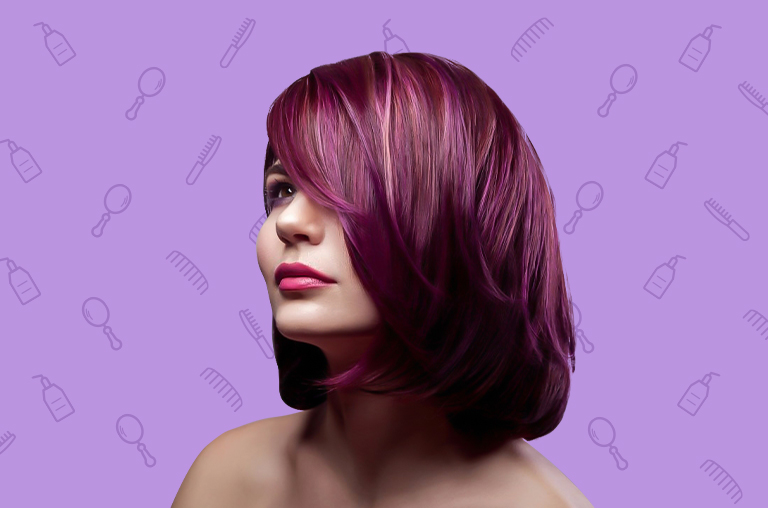 These are the benefits of a deep conditioning treatment. And all of these give a green light to pamper your hair with some TLC. If you are in, check out how to deep condition your hair at home.
How To Deep Condition Your Hair at Home?
Normally, people do deep condition treatment from the salon. But you don't necessarily have to book an appointment to deep condition your hair. You can do it yourself at home, too.
Besides a deep conditioner product or the best DIY deep conditioner, you don't need much to get it done. Follow these steps carefully and you will get healthier hair regardless of your hair type.
Step 1: Choose Your Product According to Your Hair Type
The first step is choosing a deep conditioner for your hair type as well as your hair needs. For fine hair, choose a light formula that won't weigh down your strands.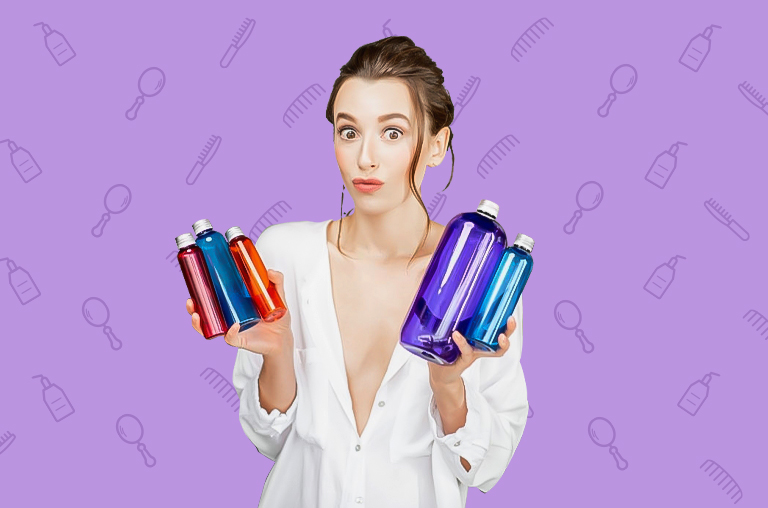 But for thicker hair, something that fights frizz would be best. You need to make sure that the ingredients listed target your hair needs. Your scalp type also needs to be considered.
Deep Conditioning Hair Step 2: Read The Label on Your Deep Conditioner
The ingredient list must be checked before you choose your deep conditioner. If your hair is super dry and needs definition and hydration dose, look for deep conditioners with hydrating ingredients.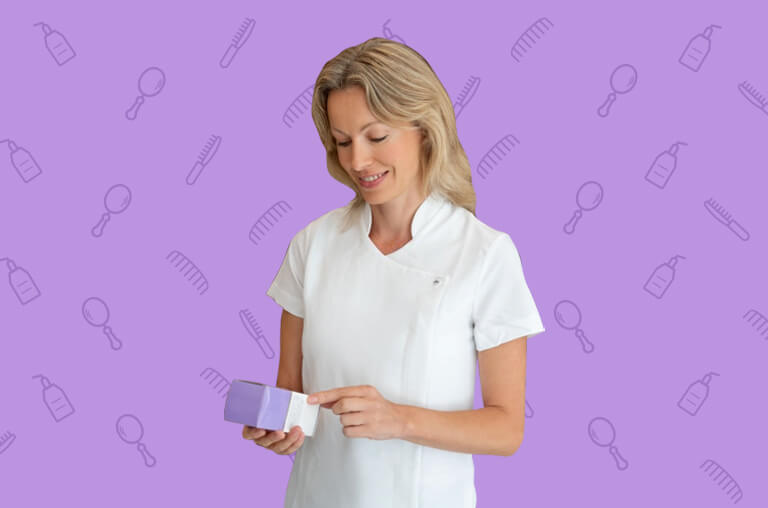 If you want to add life to your dull hair strands, look for a protein-packed deep conditioner. Also, there are a few ingredients you need to look for in deep conditioners (listed below) as only some can penetrate the hair shaft.
Step 3: Shampoo Your Hair
The shampoo part is an optional step. But if your hair is dirty and oily, shampoo it first to allow the deep conditioner to work its best. Choose a mild shampoo that won't strip your hair of its essential oils.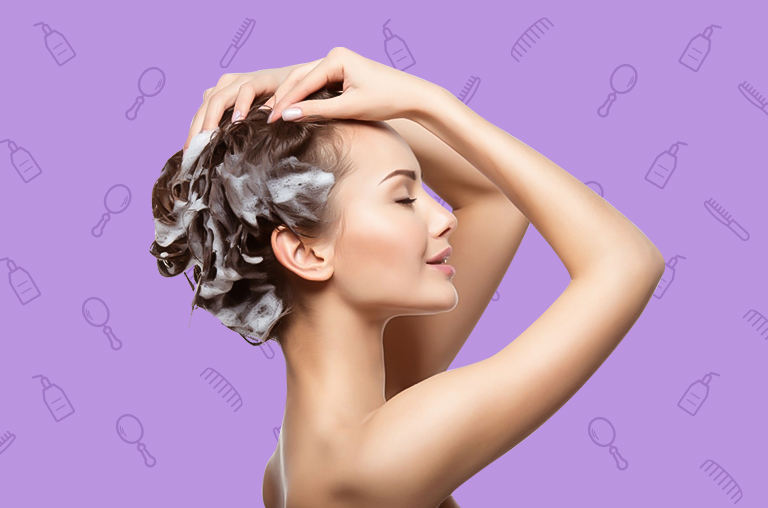 If you have shampooed your hair on the previous day, just wet your hair and clean your scalp. This step will also detangle your hair and open up your cuticles for better absorption.
Deep Conditioning Hair Step 4: Apply Deep Conditioner
Skipping your regular conditioner, apply the deep conditioner on your hair shaft. Avoid applying it too close to your scalp, especially if your hair is oily. Start from mid-length and work your way down to the ends.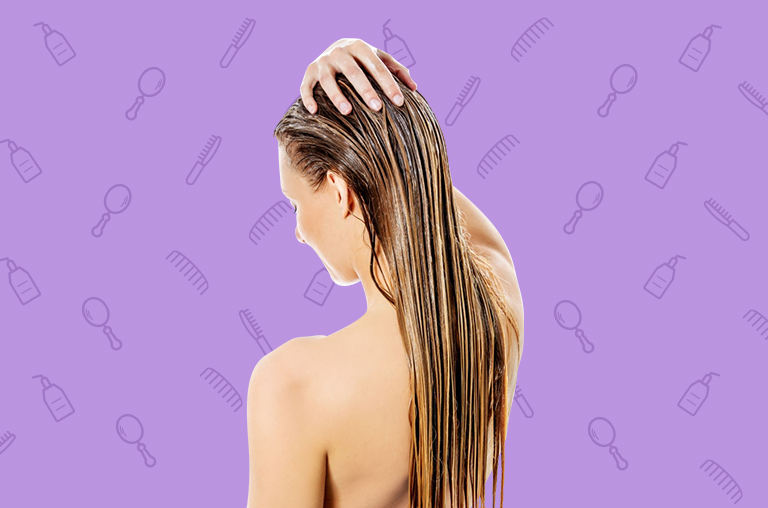 Always make sure that your ends get a sufficient amount of the product as they tend to be super dry. The ends also accumulate single strand knots and split ends. If you have dry and tight curly hair, some suggest applying it close to your roots as well.
Step 5: Comb It Out
This is an optional but highly helpful step to evenly distribute the product while applying. Use a wide-tooth comb to comb the product through to coat all your strands and detangle the little pesky knots quickly.

Deep Conditioning Hair Step 6: Let It Sit
Now comes the time to allow the deep conditioner to set in and work its wonder. After applying, cover your head with a shower cap and wait around 20 to 40 minutes.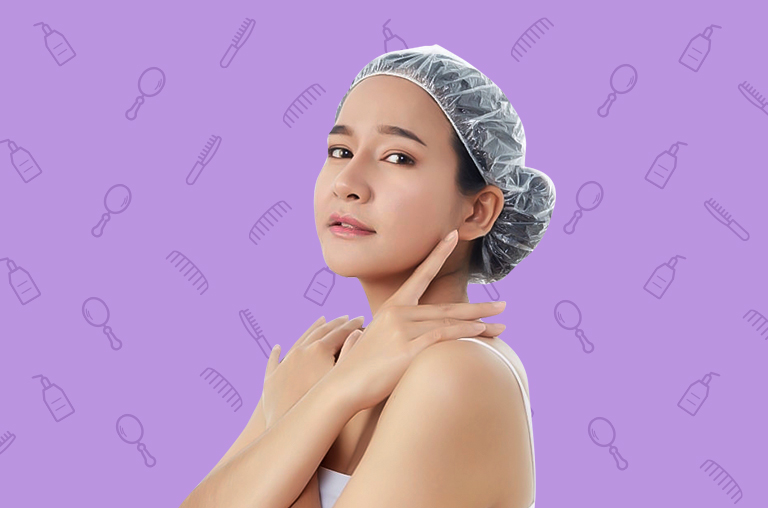 However, depending on the length and thickness of your hair, the time may vary. Most deep conditioners are recommended to stay for 30 minutes unless the package says otherwise.
Step 7: Use Heat
Covering your head may not give enough heat to open up the hair cuticles. So, some products may instruct you to use any source of heat (say, hair-dryer) to speed up the conditioning process.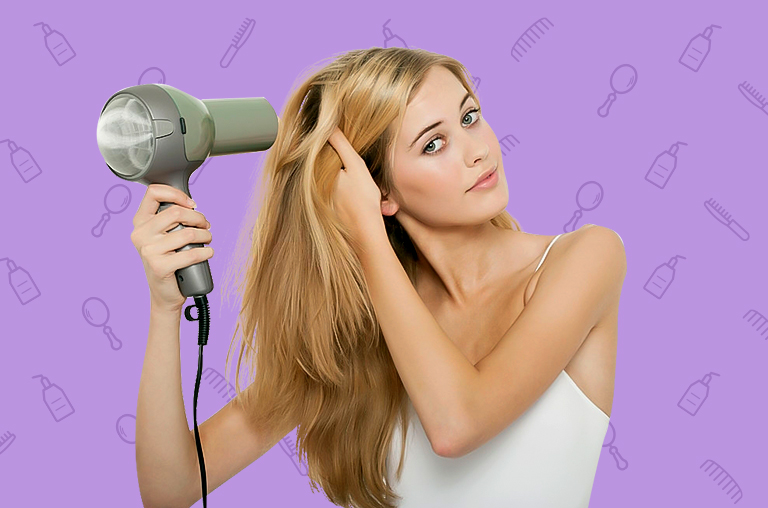 It also helps in enhancing the benefits of deep conditioning. Just make sure that your hair dryer is on the lowest heat setting.
Deep Conditioning Hair Step 8: Give A Cold Rinse
After the recommended time, thoroughly rinse out the deep conditioner with cold water to close the hair cuticles. This helps the hair strands to retain moisture.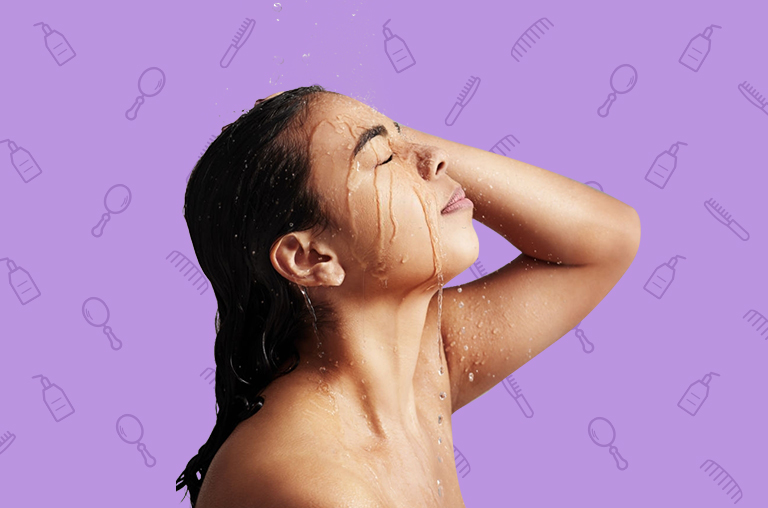 You have to make sure to rinse it out completely as deep conditioners are not meant to be leave-in products. If you want, you can use a mild shampoo after the cold rinse. Then, allow your hair to air-dry.
DOs And DON'Ts of Deep Conditioning Hair

DO
Use steam and heat while deep conditioning
Massage your hair from the mid-lengths to the ends
Rinse it out with cold water
Deep condition your hair regularly
DON'T
Leave the deep conditioner on for too long
Rush the process either
Apply deep conditioner on your scalp or roots
Choose intense formula for fine or flat hair
Use a deep conditioner on sensitive scalp
FAQs
DIY Your Way Through the Hair Damage
Although there are a number of deep conditioners in the market, you can never go wrong with homemade deep conditioners for damaged hair. In case you want to go all-natural, here are the best DIY deep conditioners for your dry, dull, and damaged hair.
| | |
| --- | --- |
| | Take 1 cup of warm coconut oil or olive oil and mix it with 1 cup of honey. Then, apply it to your hair and rinse it off after an hour. |
| | Mash 1 banana and mix it with 2-3 tbsp of yogurt. Add 2 tbsp of honey and olive oil to the mix. Then, apply and rinse off after an hour. |
| | Mix 1 egg with ½ an avocado and 1 tbsp of olive oil using a whisk or fork. Then, apply and rinse off after an hour. |
| | Blend 1 cup of Greek yogurt with ½ an avocado, 2 tbsp of olive oil, and 1 tbsp of honey. Then, apply and rinse it off after 20 minutes. |
| | Mix ½ an avocado with ¼ cup of mayo and stir until smooth. Add a couple of drops of your favorite essential oil (optional). Then, apply and rinse it off after 20 minutes. |
Note: You can store these DIY deep conditioners in the fridge for 2 days. Any longer than that, you risk bacteria growth.
Ingredients For Deep Conditioners
Now that you know how to make a deep conditioner at home, things will be easier. But if you want to buy a deep conditioner, you cannot simply buy just any deep conditioner. Always look through the ingredients list and check if these are included:
Protein: If your hair is damaged from heat and other processing or color-treated, look for a deep conditioner with protein to strengthen your hair.
Humectants and emollients: These two are necessary for deep conditioners to hydrate your hair and reduce moisture loss. They make your hair manageable by detangling the knots and avoiding breakage. Look for: coconut, olive, avocado, argan oils, shea butter, honey, aloe vera, and vitamin B5. You can also choose deep conditioners with synthetic emollients such as dimethicone, dimethiconol, cyclomethicone(3), and amodimethicone.
Natural ingredients: Make sure the ingredients are organic and without parabens. Tea tree oil is an excellent ingredient to look for.
Best Deep Conditioning Hair Products for All Hair Types
If you want to go all easy and save time, you can choose any from the best deep conditioners listed below. They are tailored to different hair types and needs.
Best for Dry Hair

Alterna Caviar Anti-Aging Masque

Hydrates and moisturizes the dry and coarse hair strands luxuriously with caviar in the formula.

Best for Damaged Hair

Kérastase Résistance Hair Mask

With refreshing, rebuilding, and revitalizing properties, this deep conditioner revives damaged hair strands.

Best for Curly Hair

Rene Furterer Karinga Ultimate Hydrating Mask

With a thicker formula designed for curly hair, this deep conditioner penetrates deep into the textured, kinky, and coiled curls for a boost of hydration

Best for Relaxed Hair

Davines NOUNOU Hair Mask

Using tomato extract, Davines' hair mask deeply conditions the hair and does not leave your strands like straw.

Best for Fine Hair

Christophe Robin Regenerating Mask

This regenerating deep conditioner adds thickness, restores the skin barrier, and locks in moisture. All thanks to ceramides.

Best for Frizzy Hair

The Mane Choice Heavenly Halo Deep Hydration Mask

An effective deep conditioner for improved elasticity to get rid of frizz.

Best for Color-treated Hair

Olaplex No. 5 Bond Maintenance Conditioner

The brand promises to revive color-treated hair strands that are dull and restore the natural shine.

Best Protein

SheaMoisture Manuka Honey & Yogurt Hydrate Repair Protein-Strong Treatment

To restore and strengthen your hair, use this protein-packed deep conditioner.
FAQ
Do you use a conditioner after deep conditioning?
No, it is not necessary to condition your hair after deep conditioning it. But if your hair is too damaged, you can use both for an extra reparative measure. Also, keep in mind that it may add product buildup and weigh down your hair. So, the best option is not to use a regular conditioner after deep conditioning.
How long do you condition your hair?
It usually varies from product to product, which is why you need to thoroughly read through the directions given on the package. Most products recommend not leaving it on for more than 30 minutes. Because you can over-condition your hair.
Can you over-condition your hair?
Yes, it is possible to over-condition or over-hydrate your hair. If you leave on the deep conditioner for too long or too often, it may cause a moisture-protein imbalance. This makes your hair prone to breakage, makes your strands feel limp, weak, lifeless and prevents other products from penetrating through your hair shaft.
How often should you deep condition your hair?
This depends on your hair type, texture, and needs. If you have fine and straight hair, deep condition it just once or twice a month. For dry, textured, or chemically processed hair, you can deep condition once a week to benefit from the process.
When to deep condition your hair?
The short answer is: whenever you feel like your hair needs moisture, it's time to deep condition!
Final Thoughts
Deep conditioners are a great hair staple to keep your hair hydrated, moisturized, and to restore and maintain the luster intact. But you need to know your hair type and its needs before deep conditioning your hair at home. Your hairstylist could help you with that. Once you know the basics, it is easier than you think!