Lynsey Lim, a Singaporean woman, started out her career as a bank officer. Now her lip scrubs and dry shampoos are on par with top brands, among the most sought after by shoppers online. We have heard stories of women who turned their passion into a career. Lynsey Lim is one among them, yet her story is different and inspiring.
As a teenager who gave a shot at making her own skincare products, never did Lim in her wildest dreams imagine herself to become the owner of an online number-one selling skincare product. It was budget constraints and lack of suitable products in the market, she says, that drove her to try making her own products.
Now her product range expands across lip masks, lip scrubs, dry shampoos, skin booster oils, hair serums, nipple balm and clay masks, among others. And the brand name "Handmade Heroes" has become a household name in Singapore, Malaysia, USA and several other countries.
The Birth of Handmade Heroes
Her sister's marriage was the turning point in the future of Lim's handmade products. Lim, who was in her 20s back then, gave the bride and the bridesmaid a wedding surprise by gifting them her handmade skincare products. They were swept off their feet by the life-changing recipe, and the demand came pouring in. From there the popularity of her creations grew among friends and family circles- recalls Lim.
"It actually spread from word of mouth. Her bridesmaids started buying from me, and then it just snowballed from there," said Lim.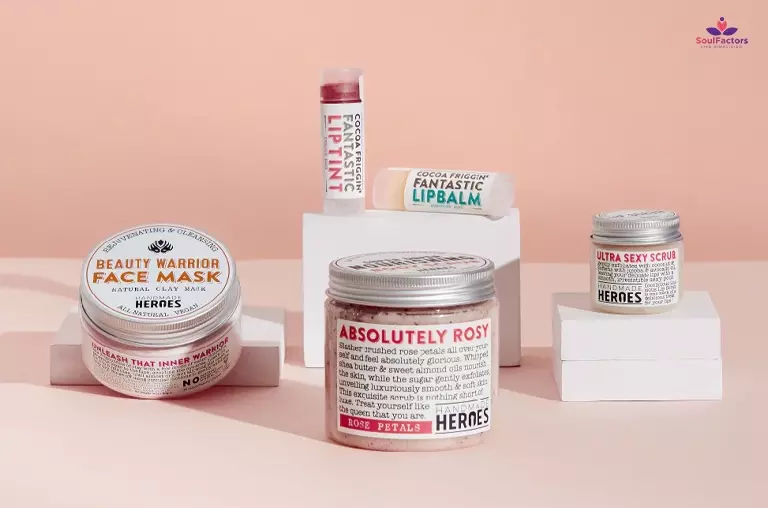 With more users came more positive feedback, which got her thinking of her hobby as a potential business opportunity. "Back then, I didn't have a child yet, so if there was any time, it would have been then. I gave myself one year."
At the time, Lim worked full-time in a bank's treasury department dealing with foreign exchange — her first job right after graduating from university. She left the stable job in 2014 to start Handmade Heroes with her then-boyfriend and now-husband, Adi Ong.
"From there, I dedicated myself to refining my formulas, scaling up production, and building a brand that could reach a wider audience," continued Lim.
In the early days of selling, it was just her making her products by hand and her husband taking them to pop-stalls for sale.
The business moved to its next step as she came to know from a market vendor about online sale, following which she listed it on Amazon. Before she knew it, her business was growing internationally. Relating how Amazon played a huge role in this, Lim says,
"One of Amazon's strengths is that it's really easy to get into and to list in another market — from the US to Europe, or even Australia or Canada," said Lim. "They have services to help you with taxes and compliance. It made it a very natural path to go into,"
Her products can be seen to have consistent positive ratings and reviews from customers all over the world.
For several years now, Handmade Heroes Ultra Sexy Scrub has been the number one best-selling lip scrub on Amazon for several years now. When asked how the business is doing, Lim said that it is "going very well" and that they are "on track to double sales" this year.
Since becoming the #1 best-selling lip scrub on Amazon, sales of the Ultra Sexy Scrub have increased fivefold. There are over 18,000 reviews of the product on Amazon, with an average rating of a whopping 4.4 out of five stars.
Another one of their products, the Drop Dead Gorgeous Dry Shampoo, recently reached number two (in its category) on Amazon.
"Having our lip scrub and the dry shampoo as the number one and two on Amazon really means a big deal to us, because it shows that we can compete with the big brands out there. It puts us on the same playing field, and coming in as number one reaffirms that what we are doing is right," said Lim.
Going Global
With the rising demand, the two-person run enterprise began to face difficulties to meet demands in terms of quantity. This led to the opening of a new factory in Malaysia, their first overseas venture.
Lynsey Lim explains how her product was not just about delivering quality products, but earning the good will of customers in multiple ways. Handmade Heroes is now purported as all vegan and all natural.
Sustainability is another factor that Handmade Heroes focuses on. Talking about their Clean Formulas that are Micro-plastic and Synthetic Chemical free, their website (1) reads:
"Our clean, cruelty-free, vegan formulas are just the start. We don't use any marine toxic ingredients, micro-plastics beads or synthetics chemicals (dyes/ synthemic fragrances/SLS) that can leech into the oceans. These toxic ingredients have shown to affect marine life, by being consumed by fishes, polluting the waters and damaging coral reefs.
Instead of micro plastic beads, we use salt and sugar as natural exfoliants… From production to packaging, we are constantly looking for ways to be greener and as sustainable as we can be."
Lim says, "In addition to the daily challenges of running a business, such as managing inventory and production timelines, we were committed to upholding the highest quality and ethical standards for our products," She asserted that all of Handmade Heroes' products are Halal-certified, GMP-approved, dermatologically-tested, and "strives to be carbon neutral".
Hundreds of thousands of women all over the world are now grateful for this one woman's dedication and passion that made so many skin care solutions accessible to them.