The Mermaidcore fashion trend is among the hottest in 2023. Mermaidcore designs are inspired by sirens and the ocean. This latest trend includes elements of marine creatures, ethereal silhouettes, textures with metal embellishments, and aquatic color
Outfits inspired by the mermaids core fashion trends will make you go grooving under the sea. Contrary to the minimalist fashion that people have been following for quite a while now, the Mermaid Core trend is a colorful and sparkly entry into the fashion world.
If you think you need a degree-holding stylist to ace the mermaidcore trend, then I have good news for you. This is the kind of look that you can adorn at home with a few under-the-sea-inspired elements like shells, pearls, blue-hued fabric, etc.
In this blog, you'll learn all about the mermaidcore fashion trend, so that you can step into your Ariel self this summer.
What Is Mermaid Core Fashion?
The Mermaid core fashion trend is inspired by the sea elements. It includes outfits, make-up, bags, and shoes that have elements of the sea. The idea is to mimic the mythical sea creatures in order to appear in a mermaid self look.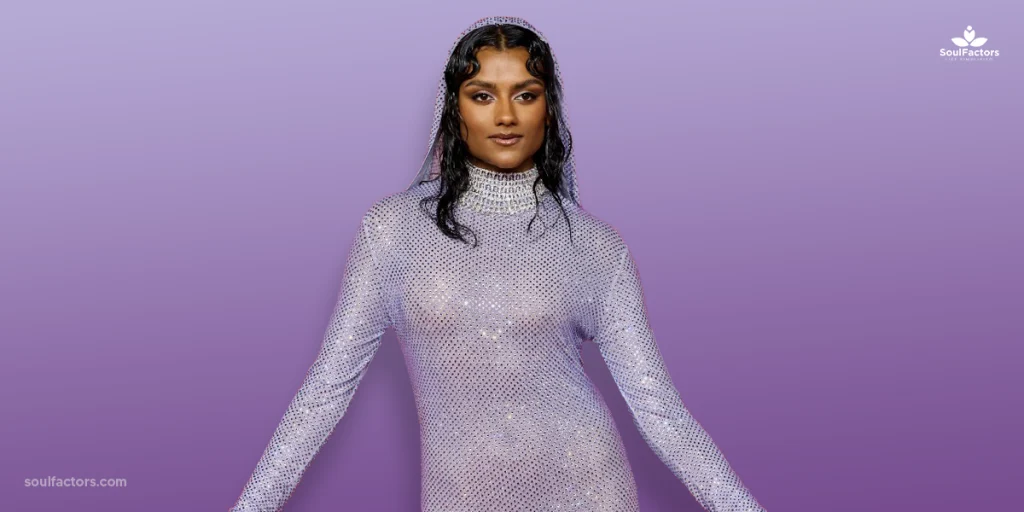 Mermaid core fashion inspirations range from aesthetic crochets to sparkly embellishments with a spectrum of sea-inspired color hues of blue, green, purple, etc.
This trend is taking over the internet one post at a time and why would it not, as mysterious as the sea is, the mermaid core fashion trend gives an enchanting and mysterious look to the wearer.
Mermaidcore Fashion: Making A Splash
The trend is getting crazy online. The hashtag #MermaidCore has over 200 million views on TikTok. Research for Mermaid Core has exploded on Pinterest and is in vogue on Instagram. The trend is further boosting after Halle Bailey's new role in Disney's live-action adaptation of The Little Mermaid.
The little mermaid herself wore a Dolce & Gabbana Baby Blue Ball Gown at the Oscars in 2023.
At the 2023 BET Awards, Leigh-Anne Pinnock resembled the 1920s-inspired mermaid-inspired scalloped gown by Georges Hobeika.
Naomi Campbell's Schiaparelli Couture gown gives off the sparkle aspect of mermaidcore and pearly vibes.
Zendaya wore a multicolored, silky, sparkling minidress at the 2023 SAG Awards.
Jessica Chastain wore a sequined seashell Oscar de la Renta gown at the 2023 Golden Globes.
Most of the New Arrivals Resort's 2023 collection is adorned with deep blue embellishments.
The internet's obsession with outfits, shoes, jewelry, and make-up inspired by the mermaid has become very strong.
Mermaidcore Outfits
The Mermaid core outfits have an oceanic color palette. This has nuances of turquoise, deep blue, aquamarine, and other shades of blue, which gives the outfit aquatic vibes.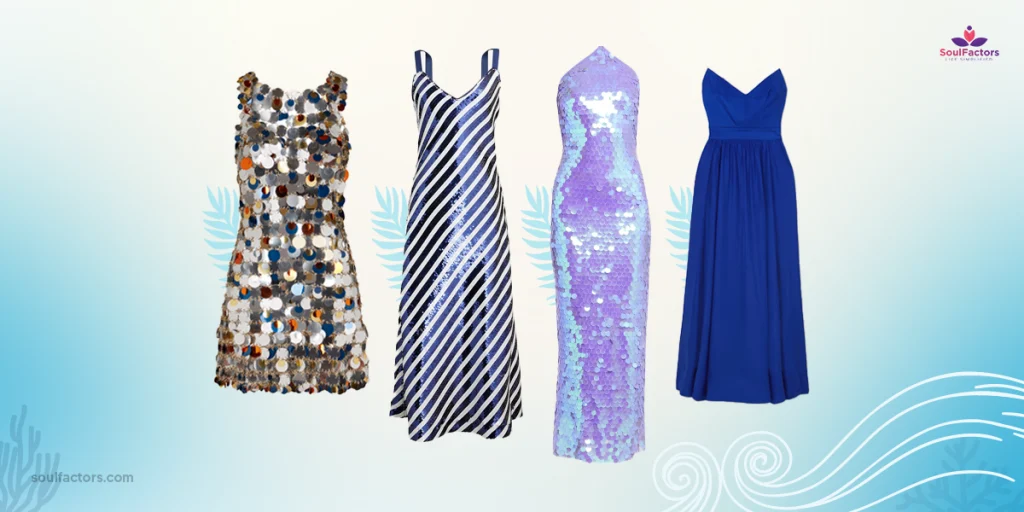 Ethereal Silhouettes: The Cascading dresses, skirts, and ruffles, layers of translucent fabric or asymmetric hemlines, and aqua-inspired prints that depict mystical creatures, seashells, pearls, and underwater scenes contribute to the mermaid aesthetic.
The inclusion of scale patterns and textured fabric adds a fanciful touch to the mermaidcore outfits.
Mermaid Core Shoes
If we seek Mermaidcore Shoes, they have an iridescent and shimmering finish with ocean colors.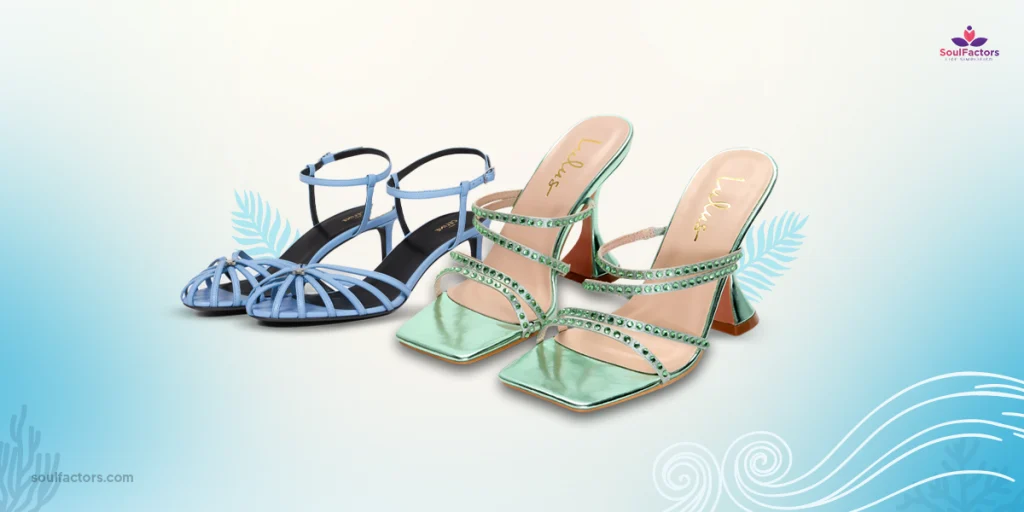 Iridescent footwear gives a luminous effect, and it can come in various styles and colors. Pearl and Seashell details give the sandals an eye-catching and elegant effect.
Mermaid Core Make-up
The Mermaidcore makeup is creating a mystical look inspired by the Mermaid aesthetics. It includes glittering eyeshadows that have nuances of sea green, deep blue, and aqua colors.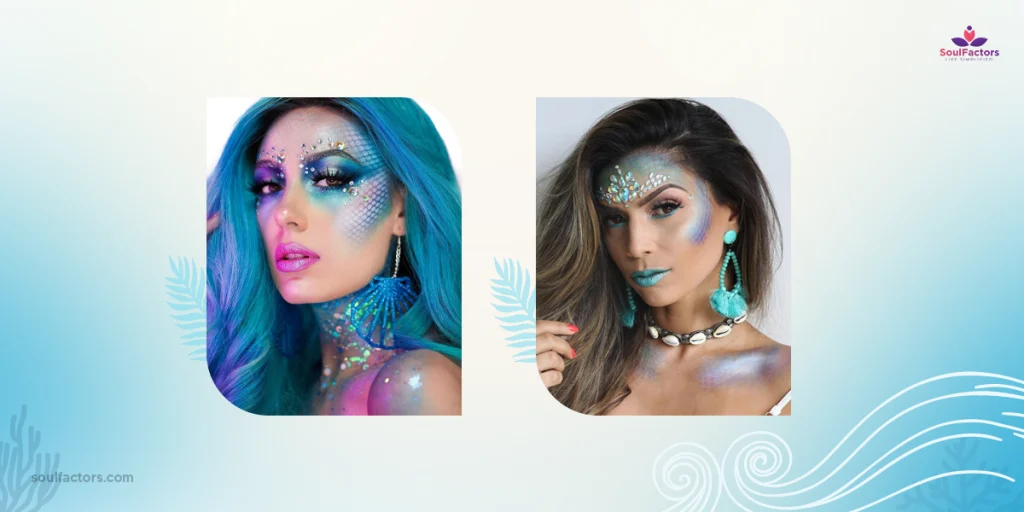 Use of pastel highlighters to create a shiny, ethereal glow and give an iridescent effect.
Glossy and metallic lip color for beautiful mermaid lips, Face glitter, and long-winged eyeliner to embrace the look and give it the perfect mermaidcore makeup look.
Mermaidcore As A Form Of Self-expression
Mermaidcore as a form of self-expression allows individuals to embrace their unique style, connect with nature, embrace their imagination, empower femininity, and escape into a magical and enchanting world. It also provides a platform for people to truly express themselves and create a personal style that resonates with their inner desires and aspirations.
Defines Individuality: The mermaidcore outfits that an individual creates reflect their personality, taste in fashion, and unique style.
Symbolizes femininity: The mermaidcore is a symbolic representation of feminine energy, strength, and empowerment. It is a reminder to feel powerful and comfortable in our own skin.
Acts as an escape: Mermaidcore fashion is an escape from reality to a beautiful mystical realm. Mermaid-inspired fashion encourages an individual to be more creative.
Connects with nature: The mermaid aesthetics inspired by seashells, pearls, mystical creatures, and aquatic colors connect an individual with nature and express their love and desire for the beauty of nature.
Long story short, the Mermaid Core Fashion trend is the biggest and most popular trend of 2023 so far, which incorporated charming, mystical, and elegant aesthetics inspired by mermaids (1).
The mermaid core embraced the pearlescent and shimmering fabric, textures with metal embellishments, and oceanic colors.
FAQs Related To Mermaidcore Fashion Trends
1. What is the biggest trend for 2023?
The Mermaidcore aesthetics is the biggest most favorite TikTok trend of summer 2023, with over 200 million views on #Mermaidcore.
2. What styles will be popular in 2023?
Styles such as Mermaidcore, Rom-Comcore, '80s Barbiecore, Denim-On-Denim, Pastel colors, and Sequin dresses are some of the styles that will be popular in 2023.
The Bottom Line
The mermaid core fashion trend has got the internet by storm, and everyone is mesmerized to see this fashion as they should be. The captivating and mystical aesthetic of this trend is opposite to the prevailing minimalistic fashion. Mermaidcore fashion embraces vibrant colors, sparkly embellishments, and ethereal silhouettes that make the overall outfit look like a mesmerizing creation of the sea.
From cascading dresses to pearled-up shoes and enchanting glittering make-up. Mermaidcore offers a very mystical and unique form of self-expression that seems like being a pretty Barbie in the world of all things beautiful.
The mermaid core fashion trend has got a crazy amount of applause from the internet whether it be TikTok, Pinterest, or Instagram. It is crystal clear that the fashion trend has made quite a sensation among fashion enthusiasts.