Have you noticed how a single line from an eyeliner can make your eyes look awake and alluring? With a single swirl and an eyeshadow swipe, your eyes can glam up from dull and drab to dreamy and dashing in a matter of minutes. So what are 2023's trending eyeshadow looks that will absolutely stun everyone you cast your glance upon?
Both a soft flush of colors across the lid and a fierce underline can lend a gorgeous look. Because eye makeup is the polestar of pouting millennials, chico.
Trending Eyeshadow Looks In 2023!
To make the eyes appear brighter and vibrant, you need to perfect your eye makeup (1). For that, all you need is an eyeshadow palette with pops of colors, blending tactics, and steady hands. You will have your dreamiest eyeshadow look, so gorgeously done!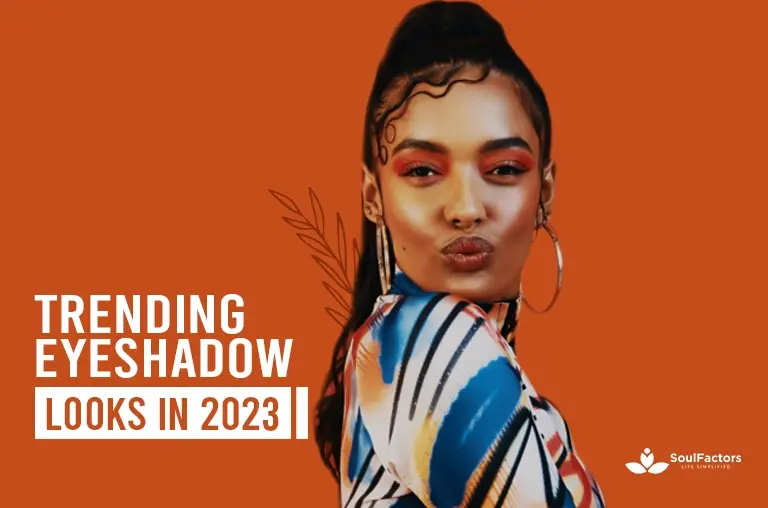 How To Apply Eyeshadow For The Best Eyeshadow Looks?
Before we get into trending eyeshadow looks in 2023, here's a step-by-step walkthrough of how to apply eyeshadow. It doesn't have to be as frustrating as it seems to ace the perfect eyeshadow looks. Especially with this guide. But what's more frustrating is choosing the shade you want to dress up your eyes with.
As opposed to what people commonly believe that there is a strict color code for each eye color, there are no rules regarding eyeshadow colors. Even if some shades can bring your eyes out more than the other, particularly in regard to your skin tone. Both a sliver of silver on brown eyes, and a glittering green on blue eyes can look absolutely stunning. So, follow the steps and blend away!
Prime and Prep
After choosing the right eyeshadow palette with the shade perfect for your skin tone, prep your face. Here, your best companion is an eyeshadow primer. Prepping the base is an important step you shouldn't forget. To help your makeup last longer.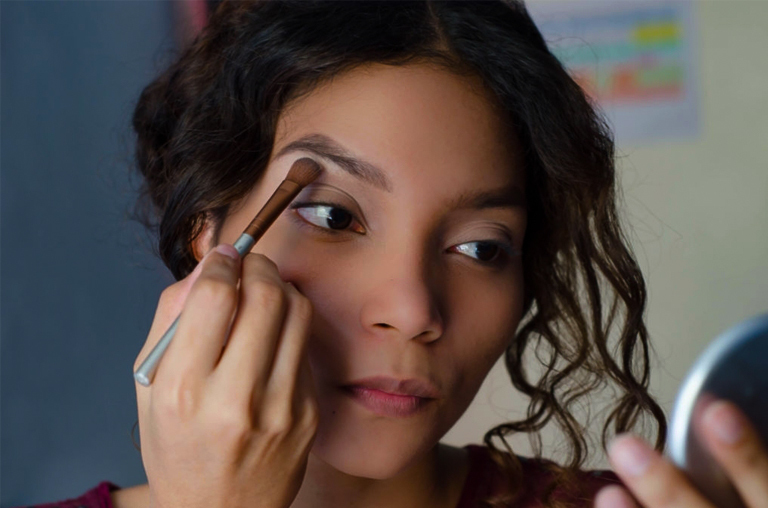 Especially if you are going for a summer look or if you have greasy lids. To prevent creasing and smudging, and minimize the pigmentation of your shadow, you need to prime your lid. Even in humid temperatures, your eyeshadow will last for hours without smudging. You can either use your fingers to apply the primer or a makeup brush —for an even application.
Apply a Neutral Base
The applied primer has to dry. Give it some time to dry and then, choose a neutral color as the base color. There are too many colors to choose from in an eyeshadow palette, so it will be confusing to choose one from all at once. The best option is to choose a natural and neutral color that can be blended perfectly with your skin tone —not too light, not too dark.
Use a medium eyeshadow brush and sweep the color across your lid up to the crease. Make sure that the entire lid is covered. Lightly tap the eyeshadow on your eyelid and extend it up to your brow bone to make sure that all primed areas are covered with the shadow. Even if you are prepping a basic everyday look, a neutral layer can cover up any discoloration on the lid and make your eyes pop. Besides, this is the base from which you will build the rest of your preferred look.
Blend to Add Depth to the Crease for the Perfect Eyeshadow Looks
The next step is adding depth to your crease. Use a brush and blend a shade that is darker than the neutral base into your crease, starting from the inside of the eye. With a thin line growing thicker as it extends to the outside of your crease, blend and match your lid to have the shades contrast each other.
Blend and blend more, patiently in a circular motion. You can master the blending with more practice. Using darker shade can define and darken your eyes. Especially if you are aiming for a dramatic eyeshadow look.
Highlight to Define
Another step is highlighting above the crease and under the brow with the lightest color in your palette. To define your brow bone, sweep the color up to the brow bone, and utilize your highlighter. But always use a lighter shade to not take the focus from your overall look. If possible, use two shades lighter than your skin tone. And try to use a makeup brush to blend, especially if you are a beginner. An eyebrow brush will help your blend perfectly from light to dark to light.
Press Your Inner Corners to Open Your Eyes
Inner corners of your eyes should not be forgotten. As a finishing touch, press a light shade into the corners of your eyes to open up your eyes. It doesn't always have to be a light shade either.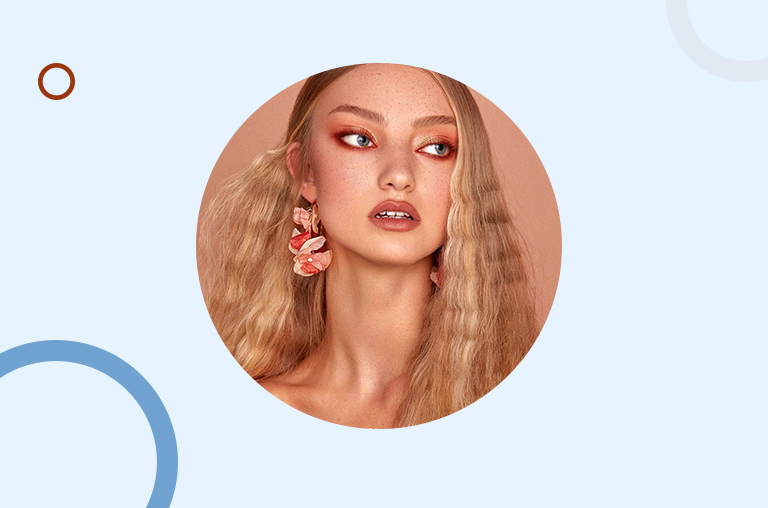 You can even use glittering gold to pop your eyes open! Always use your pinkie finger to press the inner corner for it to look natural —any other finger will be overdoing it. This small trick can do wonders even if you didn't get your beauty sleep the day before.
Lift your Eyelashes to get the perfect eyeshadow looks
Don't forget mascara! An eyeliner is completely optional, but a few coats of mascara can help even simple eyeshadow looks. This feathery compliment can volumize your eyelashes, lengthen, and lift your eyelashes to give a magnificent finish to your look.
Fun tip: Do not forget to have fun with your eyeshadow! After all, color palettes and color wheels are not to be followed strictly. So, play with the colors you have and blend them to get your desired hue!
Eyeshadow Looks To Try: From Subtle To Shimmery
Even a subtle blush of eyeshadow can light up your eyes and their color. Be it with the subtle and sultry richness of neutrals or the boldness of intensely deeper shades, your dolled up eye makeup will make your eyes meticulously defined and stunningly contoured. You don't need a huge palette with numerous shades to get the look you prefer either. Rather, if you know how to swirl and blend, you only need a few shades to get the look. If you are wondering what the trending eyeshadow looks in 2023 are, below is a compiled list.
Trending Eyeshadow Looks #1. Flaunt The Neon
I adore these lime green winged-eyes with all my heart! The neon shade is what makes the look so lustrous and to say it only took one perfected line of eyeshadow! Paired with rich black eyeliner while leaving the waterline bare, this look is absolutely mesmeric. Undoubtedly, this shade is unbelievably diverse and all skin tones can wear it right.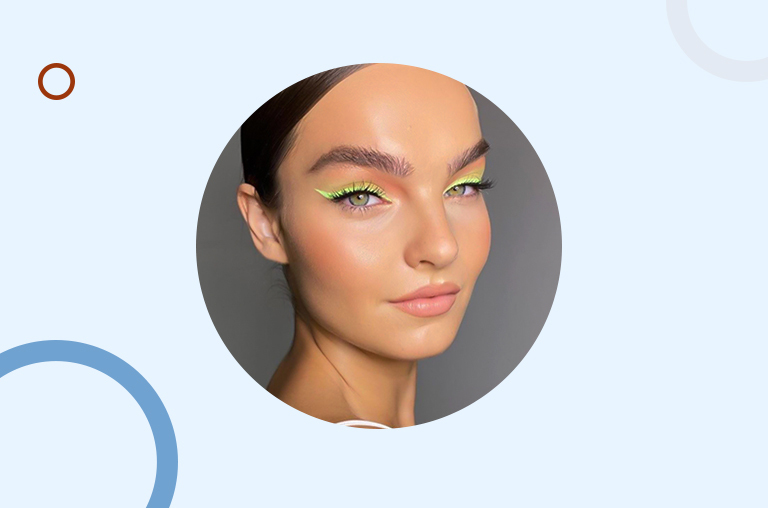 #2. Green Mermaid
Who knew green eyeshadow can be heavenly! If you have never steered away from neutrals, it is no shocker that you are missing out on so many shadow looks! And this green shadow is a true blend of heaven! Any eye color can make use of this ethereal look.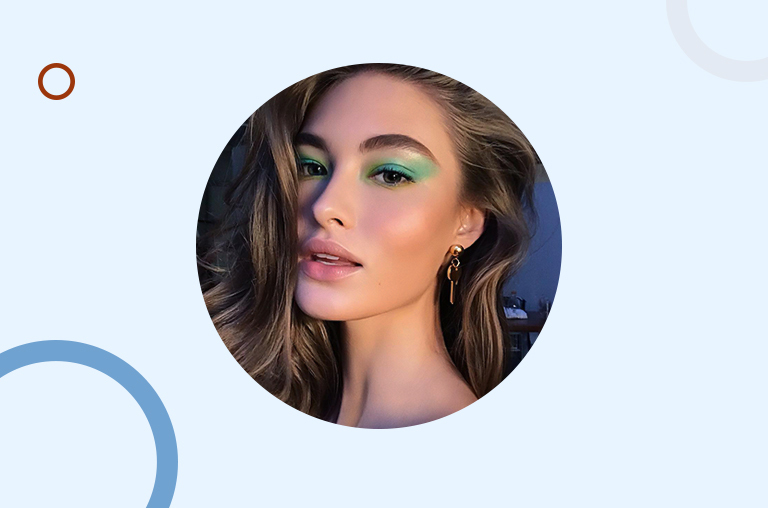 #3. Grassy Opaque
The flush of smudged timber on your eyes can be gracefully powerful. One amazing good news about this look is that you don't have to worry about it being messy. Since the look itself is done messily, you can go with the smudged look to make it more sublime.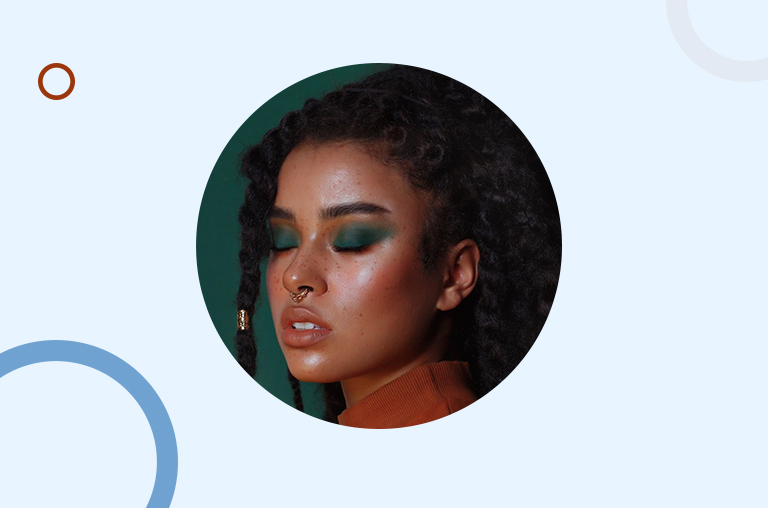 #4. Vibrant Liner
I am completely obsessed with this eyeshadow look. The hot neon pink on dark orbs and dark complexion? What a beauty! She looks stunning with this simple yet phenomenal shadow look created with barely one line, doesn't she? And, how is this skin even real?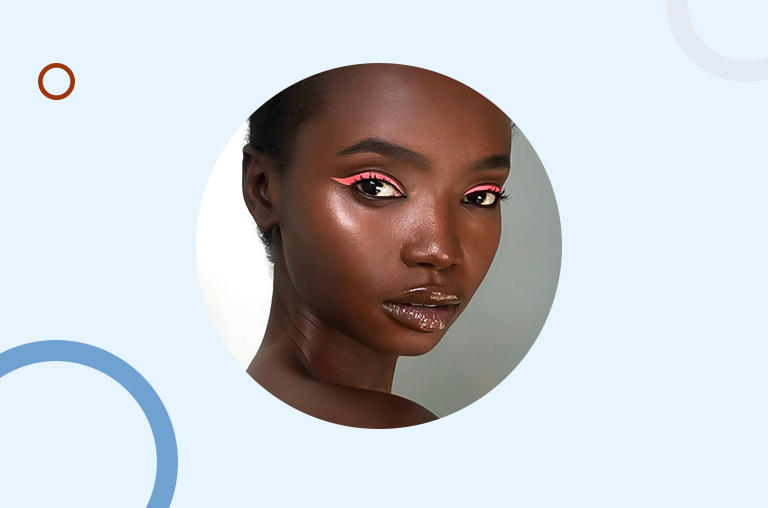 Trending Eyeshadow Looks #5. Lovely Lilac
The glare of lilac along with pink shadow is radiant at every turn. This intense look of the vibrant color with an added detail in the center that illuminates the whole look is done with just a swipe. An electric blend of pink and lilac is enthralling.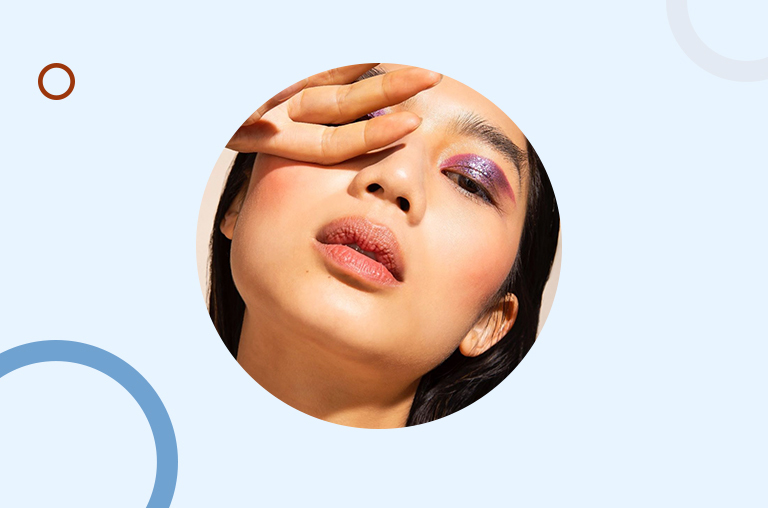 #6. Classic Precision
Black is a versatile shade and it is flattering on every skin tone! The possibilities with a black shade (even a thick layer of eyeliner in this case) are endless. And this effortless eyeshadow look is literally a glowing perfection. The earthy-toned base matured with a defining liquid liner that ends in cat-eyed wings is classic and never out of style. It is bold and can be your go-to style before an evening outing. Even hooded eyes can benefit from this one!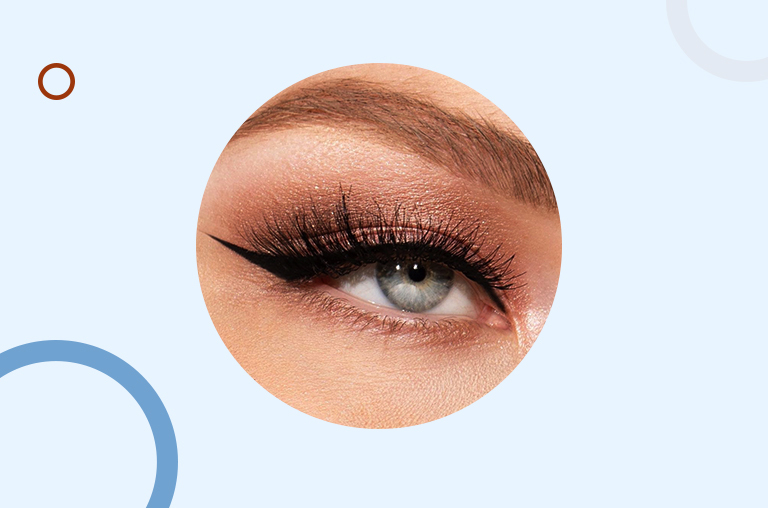 #7. For The Love Of Neon
Are you a neon lover? If you are, then this one's for you. This multidimensional finish is the epitome of divinity! I am gushing over the novelty of prismatic accents of these neon hues and drooling over how utterly exceptional does it look! The cat-eye gives a playfully exotic polish to the look. Mix and match any neon colors you have and recreate this exclusive eyeshadow look!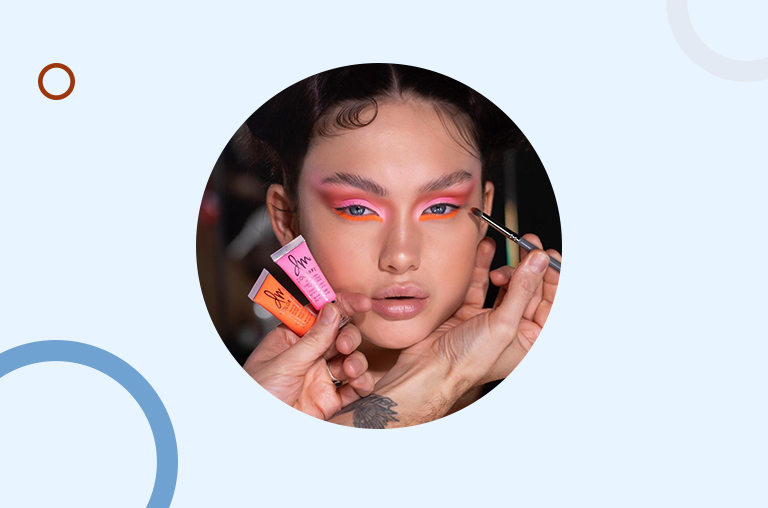 #8. Dramatic Line of Blue
Get creative and go above and beyond the traditional eyeshadow looks. This look here is about drama and not in any way about perfection. A vibrant Carolina shade amidst the neutral layer of soft nude shade on grey eyes with blue specks looks magnificent. The white line on the waterline and false lashes add to the drama more vigorously. Wait not, pick your shades and try it now!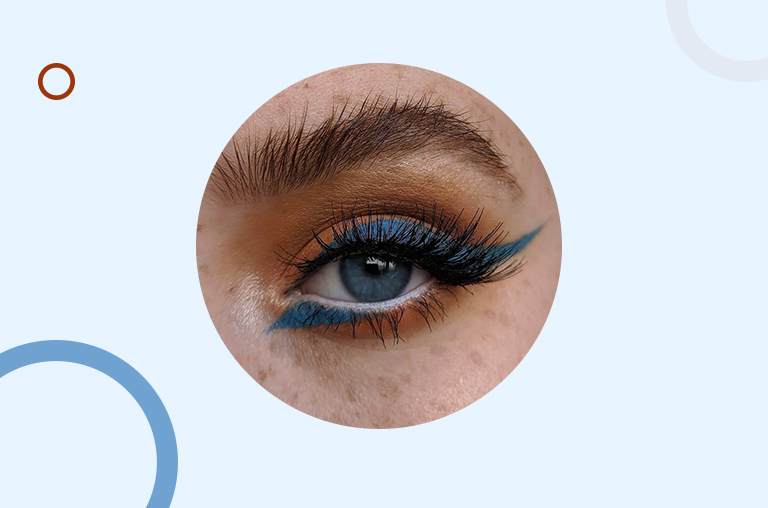 #9. Dreamy Rose
Fuzzy wuzzy brown? Yes, please. This dose of loveliness is all you need before a date. All you need to do is apply the lightest shade of the color on the eyelid and then move across to your crease while blending for deeper tones. Don't forget the tint of glitter in the inner corners!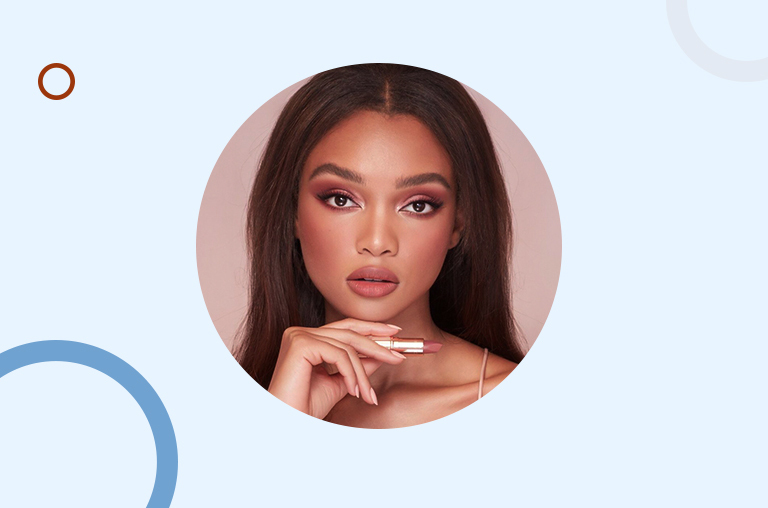 Trending Eyeshadow Looks #10. Double Dash Of Peach
Owing to the two strokes of copious eyeliner, the narrow spark of glitter stands out with this eyeshadow look. One thick stroke on the upper lid and a thinner line on the crease makes the look unique from what we are used to. A few coats of mascara can add the finishing touch. Regardless of the eye color, you can rock this bare minimal style with peach golden or any shade that will be contrasting to the neutral base.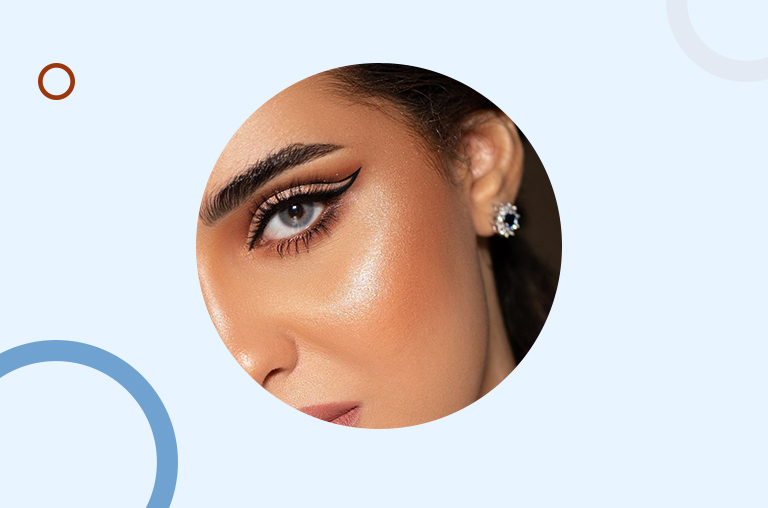 #11. Neon Blush
Neon pink with sparkles? Now that is intimidating yet visually pleasing. I mean, look at the perfection here! She has shimmered in all right places even towards the brow bone. But that detailed shimmering made all the difference. The highlight of the look is the swipe of neon pink after the black line.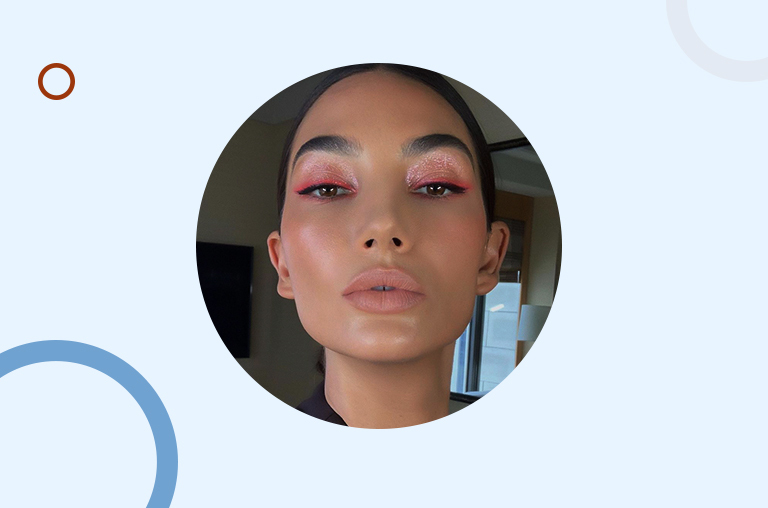 #12. Sultry Bronze
Good old black smokey eyes have never been not classy. But if it is coupled with shimmering golden bronze, the shadow look will be sexy and exquisite. This enchanting look on grassy orbs with matte black eyeliner is captivating yet teasing. The mix of glitz and airbrushed finish made the look extra sultry.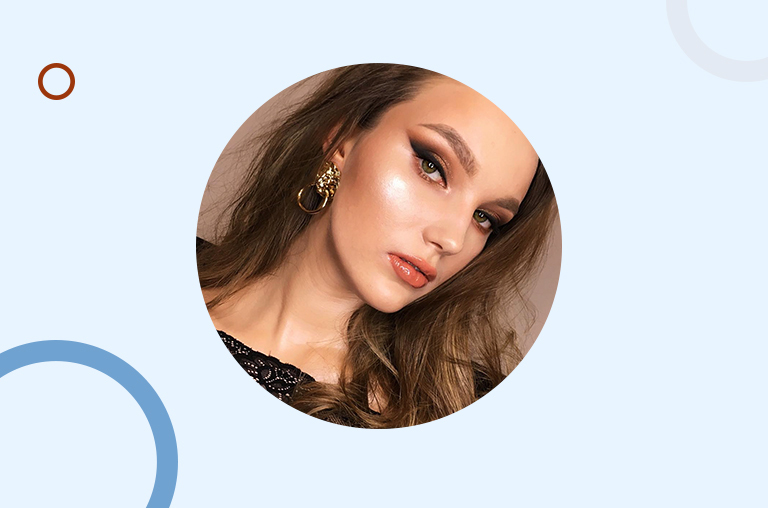 #13. Jeweled Lids
Green jewels on forest golden orbs can turn heads without a doubt. With a simple winged eyeliner and coats of mascara, you can finish the look by pasting the gemstones on your lids. If you have gemstones with you, make a statement looks like this one!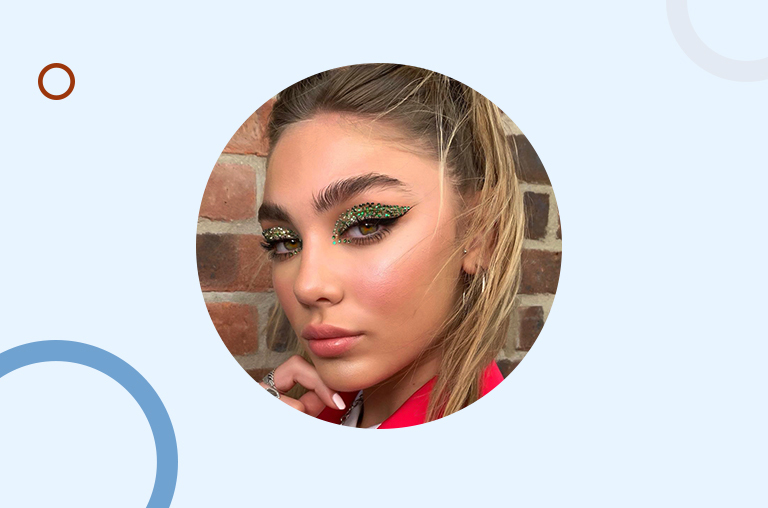 #14. Flash Of Fire
The raging flow of hot red across the eyelid could be an eyeshadow look you didn't know you needed. You do not need to keep an eyeshadow palette handy with multiple shades either. Because one single shade of cherry glaze is enough for this desired mighty punch.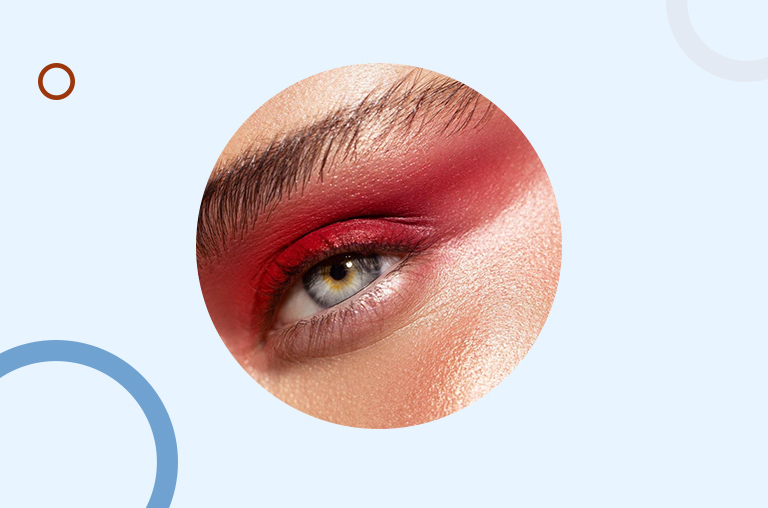 Trending Eyeshadow Looks: #15. Candy Pop
Chloe Moretz slayed this look! With a glint of baby pink amidst the flare of all the blues, you can blend at the end of the crease for a smokey effect. The cohesive blend is totally worth a try!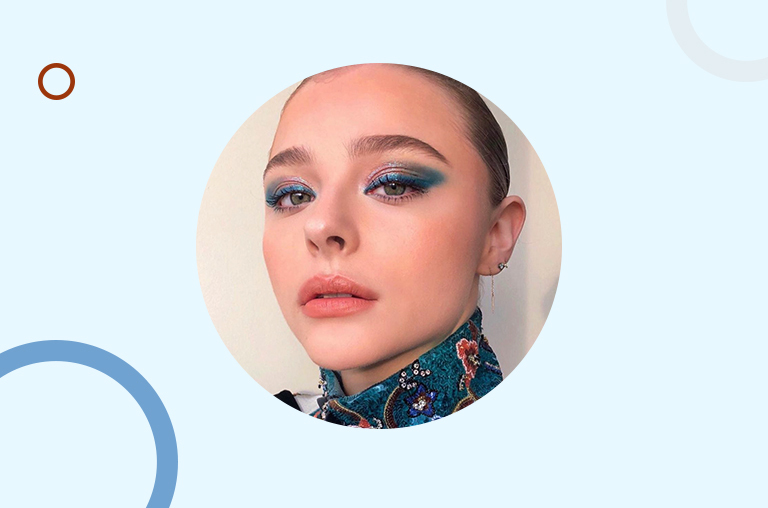 #16. Glittering Shadow
Who doesn't like having glittering eyes? Both subtle glitter and sparkling glitter can enhance your eyes. But here, the subtle swipe of golden glitter on the eyelid is enticing. A warm golden shade is blended across the eyelid and finished with a darker shade towards the crease. You can put a line across the eyelid with eyeliner and add a flush of warm shade under your eyes as well.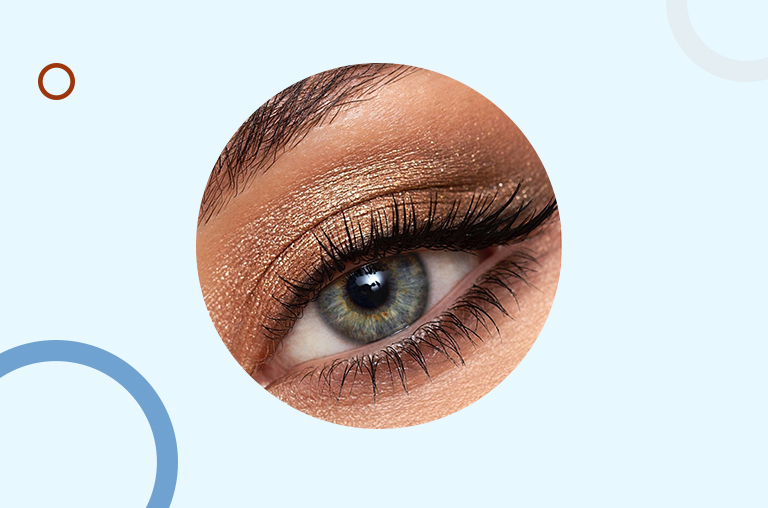 #17. Silky Glamour
A pat on the back for the artist here. The multi-toned finish makes this look unique and that pop on the inner corner of the eyes perks up the orbs. If you choose this one, the soft shimmer of rich shades will add warmth and make your eyes stand out.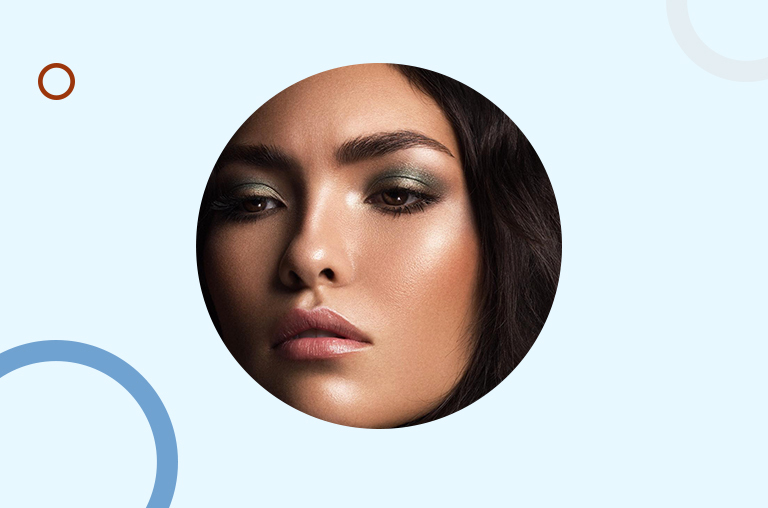 #18. Festive Eyes
We have been served with a lot of glittering eyeshadow looks but they are never enough. You can totally elevate a simple look of eyeliner with golden glitters. This finish with a bare waterline can frame your eyes of any color. I am not saying that putting glitter does not tend to be messy. But it can be done sans the messiness. Which is by using a glitter cream eyeshadow with a doe-foot applicator. This will help you get precise placement!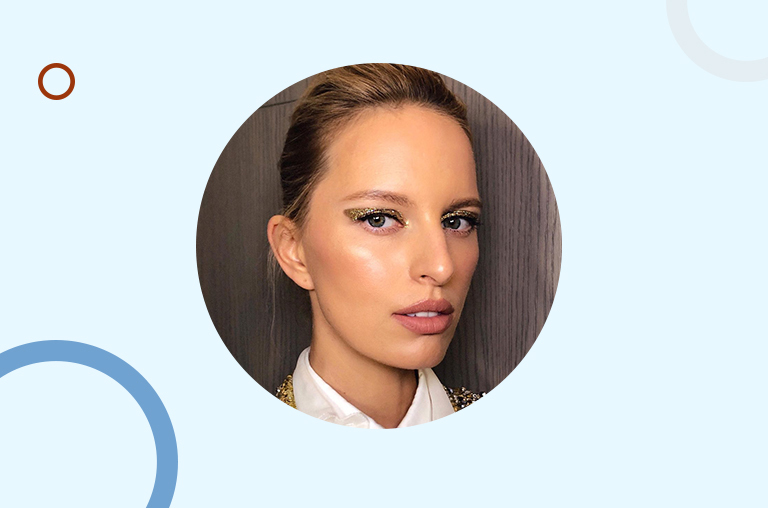 #19. Fiery Green
I am here for this fierce radiance! The hazel-eyed beauty, even sans using a mascara, has smudged this electric light lime shadow flawlessly. You can apply the shadow and highlight for desired vibrancy with an equally fierce underline.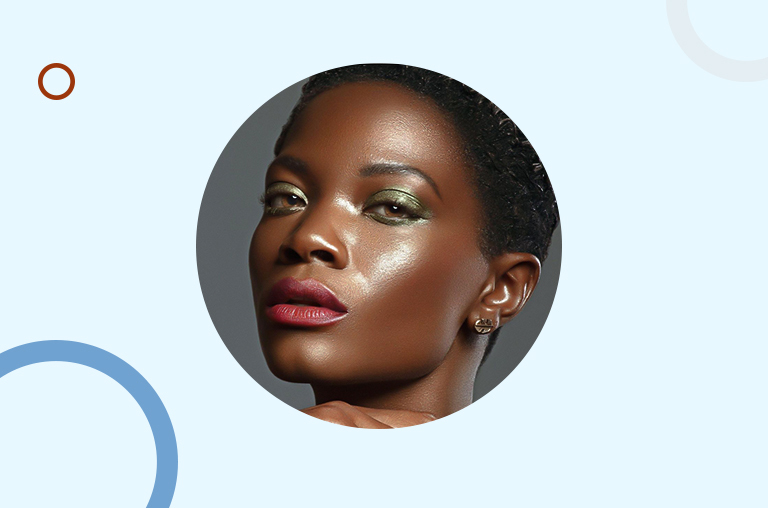 Trending Eyeshadow Looks: #20. A Touch Of Glow
You might always leave home with seamless winged eyes. But what if you can add a tiny difference and it can make your entire look appear winning? Master the inner corner trick and press a splash of any dynamic color in the inner corners of your eyes. The relief is black can go with basically any color, so pairing black eyeliner with your choice of vibrance can zest your eyes.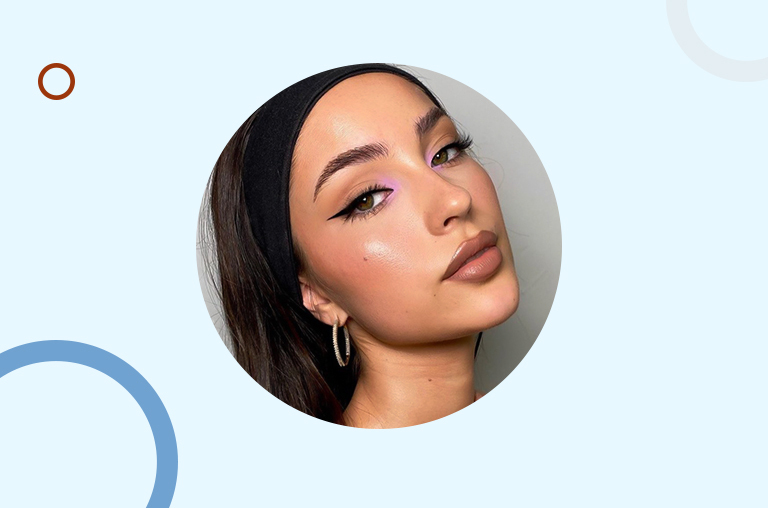 #21. Jazzy Wings
The slight shade of dark burgundy smothered upwards takes the attention of the beholder. This luscious eyeshadow look is seductive and glamorous especially when combined with such glowing shades. The finishing touch of this incredible look is lining both lash lines with a long-lasting black eyeliner, with one end meeting the other.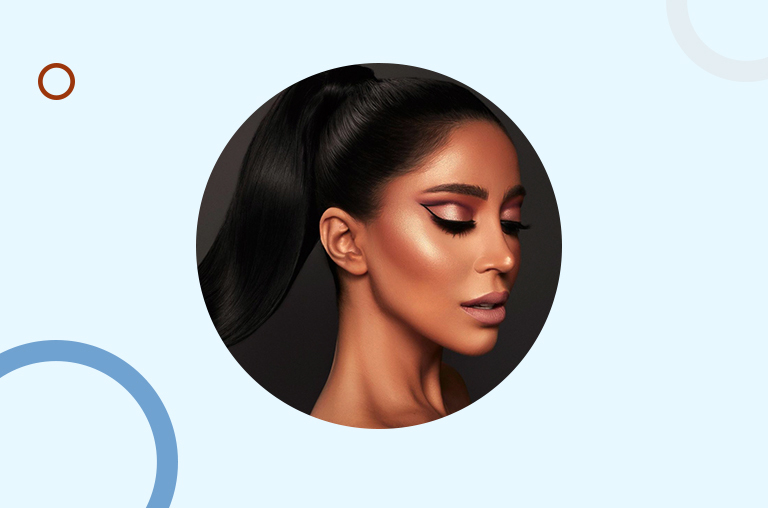 #22. Tainted Elegance
And another look with contrasting shades of eyeshadow complemented supremely with shreds of black. Trace the wing out with eyeliner and follow it with purple eyeshadow to perfect the wings! This slightly flamboyant eyeshadow look is perfect for any color of eyes.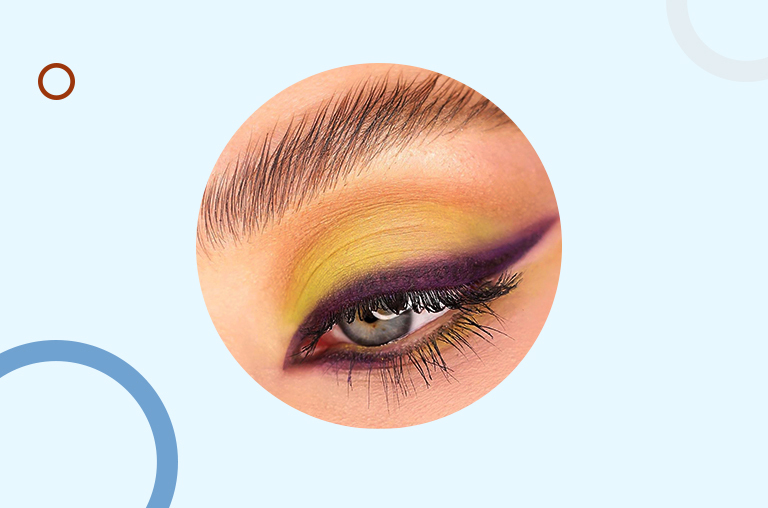 #23. Cosmic Beauty
All that glitters isn't gold but this beam of glint is golden! If you have some time to spare, try this cosmically inspired look that can never go unnoticed. Since the glitters are black, it can go perfectly with any eye color. You can swipe your lash lines with a sheer layer of glazing neutral shade.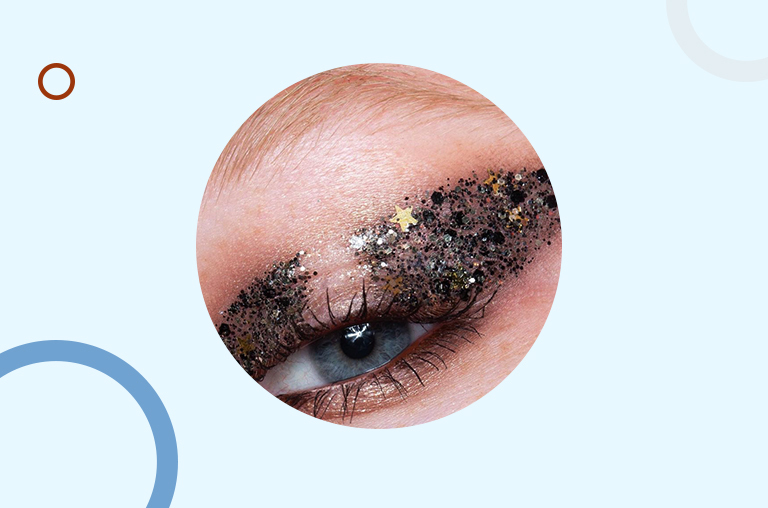 #24. Icy Highlight
Another glitters, but some glitters cannot hurt, right? This is a perfect blend of baby blues and baby pinks with a hue of icy silver that adds up the glitter. In this look, even the inner corner of the eyes are pressed with shiny glitters. But that tiny detail made the look more pretty!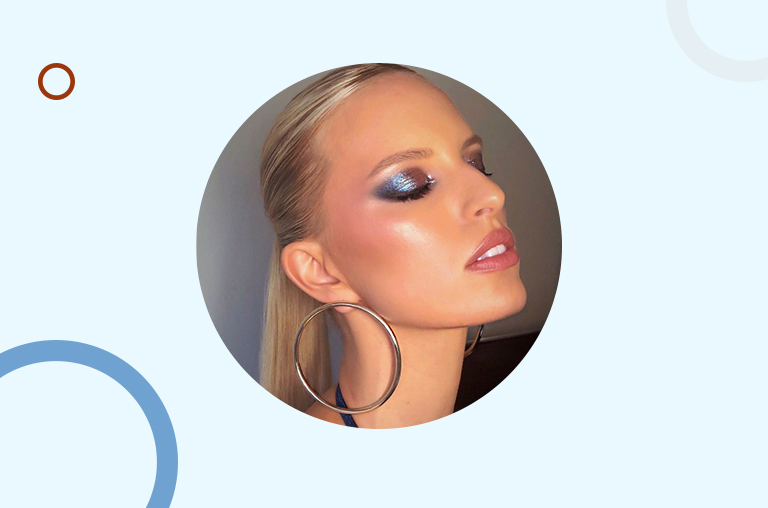 Trending Eyeshadow Looks: #25. Crimson Crease
Red and blue are an amazing combination, which makes this splash of red on blue eyes look edgy and chic. With a minimal application of hot red shade under the bottom lash line pops the blue color out. To get the flawless winged eyes (as in the picture), you can trace the wing with eyeliner first. Thus the shape won't be compromised.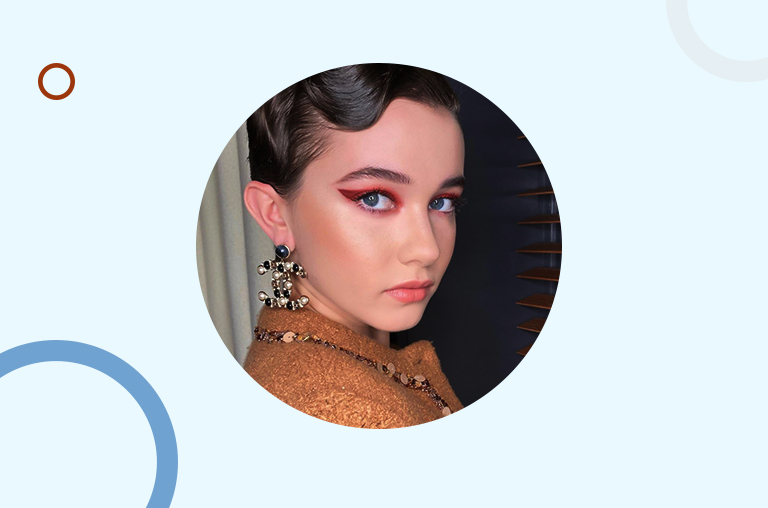 #26. Mushy Magic
Why use the same neutral colors in the same traditional ways when you can make a difference? This soft orange shadow with a black lined upper lash line is tempting. Apply a soft shadow across the eyelid and swipe a soft underline as well. Show off your hotness effortlessly!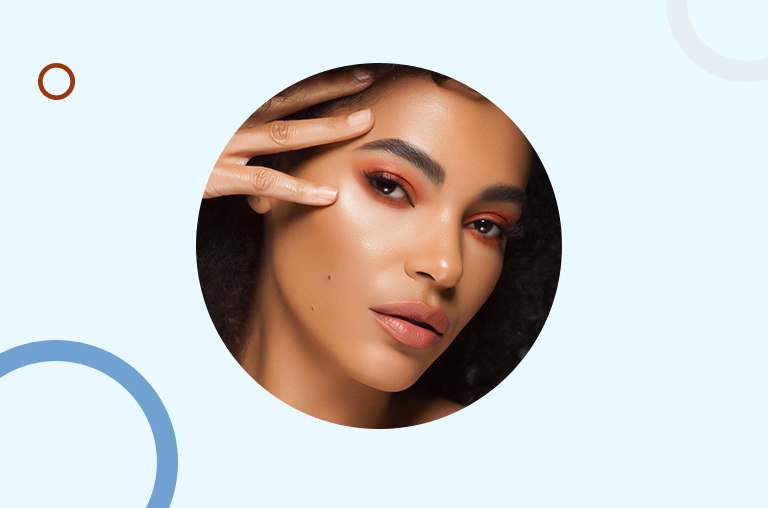 #27. Soft Glow
You cannot help but love the contrast between the shade of the eyeshadow and the color of the eyes! Depending on the color of your eyes, you can recreate this look by choosing a contrasting eyeshadow. Start by blending on the lid with an eyeshadow crease brush, covering the entire lid, and then continue blending outward past the crease. This can give you a lively look with soft smokey eyes. And, finish with a pop of light shadow in the inner corner.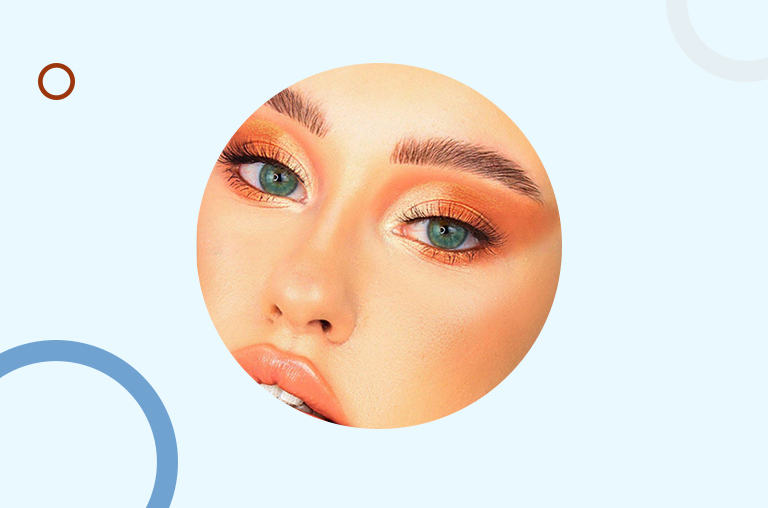 #28. Sparkling Glitters
If you are going to a party, choose this sparkling shadow look with ruby gold. A mesmerizing look needs all the glitter! Add liberally until you get the amount of sparkle you desire. Finish up by using a darker shade of eyeshadow as eyeliner and a few coats of mascara. With a metallic shimmer and glimmer, this is an incredible eyeshadow look on blue eyes or any eyes for that matter.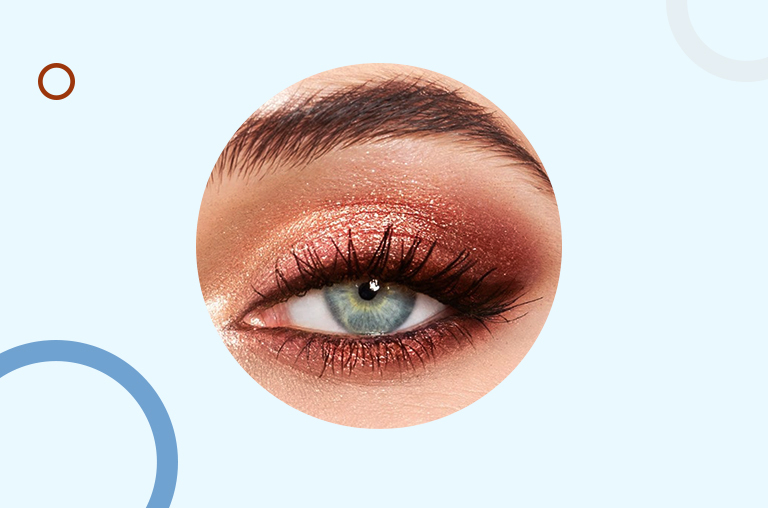 #29. Green Paradise
A bright and dark mixture of green and gold is the way to go! Bring attention to your eyes with this look that can win the olive skin. If you are going with nude makeup, the shadow of forest glow can complement your look.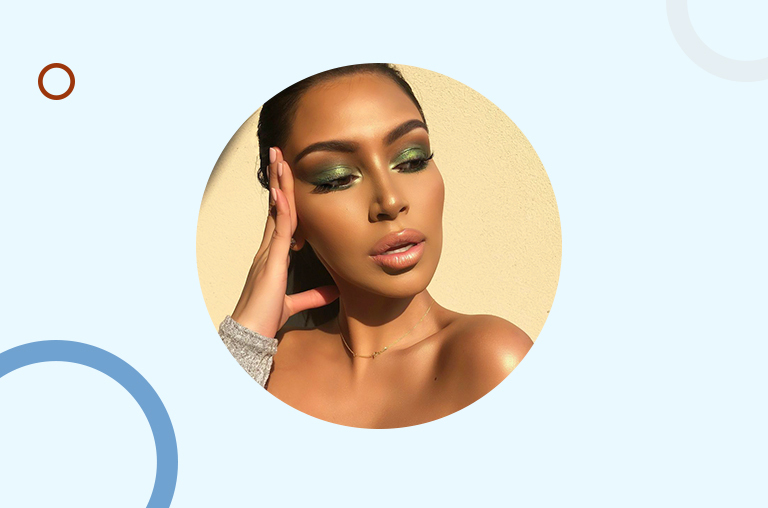 Trending Eyeshadow Looks: #30. Cool Rose Gold
With a slight shimmer, this could be your weekend eye makeup. It is a bronzy blend of two sister shades that can never go wrong! Depending on your eye shape, you blend up toward your brows and can gauge where the color needs to stop. Nevertheless, this look can match any eye color.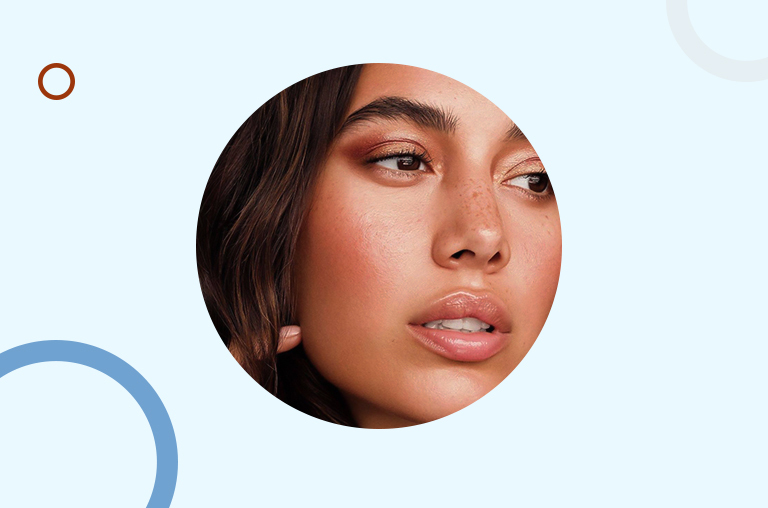 And that's a wrap ladies! With this long list of 30 eyeshadow looks, you can never whine about not having one perfect look. If you get confused about which one to choose from these spellbinding ones, I can totally understand. Because each of these looks is truly charming! From simple and natural eyeshadow looks to colorful and unique trending eyeshadow looks for different eye colors, this list can help you with a look that matches your outfit and occasion. So, grab your palette, pick your shade and look, and blend away!