Rice has been a staple food in many different civilizations for centuries and has a rich history. Interestingly, rice was used as a currency and in several religious ceremonies. Long before the advent of rice water shampoo, rice water has been a traditional beauty treatment that offers several rewards for your hair health. Apparently, there's no limit to the benefits of rice!
Rice water is extremely good for your hair because it contains inositol which can penetrate deep into your hair and provide nourishment from the inside out. If you don't have time to make rice water to nourish your hair, we have an easy solution for you. In this rice water shampoo review, we will cover the 5 best products that you can apply to cleanse your hair and receive profound nutrition.
The 5 Best Rice Water Shampoos
If you are an old-school person who likes to keep things simple, what we have here is just the right thing for you. The incorporation of rice water into shampoos and conditioners is a masterstroke by the hair product industry. It enables people to improve their hair quality by natural means. People who despise the use of harsh detergents and sulfur in their shampoos can take shelter under the rejuvenating power of rice water.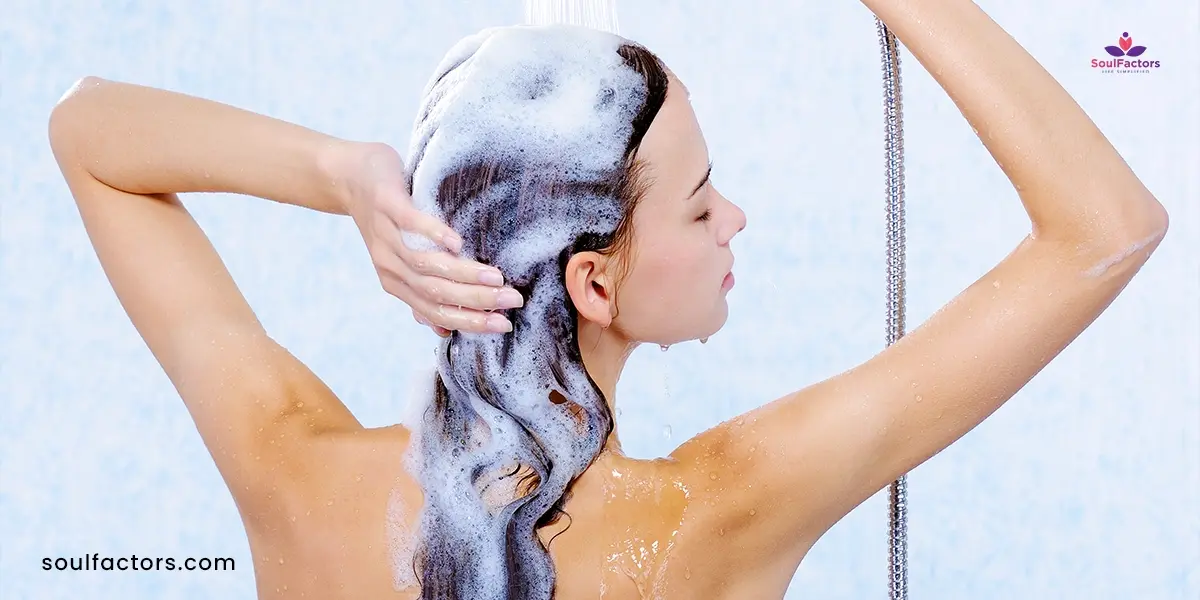 We have the 5 best rice water shampoos to help you transform your hair care routine from ordinary to extraordinary.
1. Kitsch Rice Water Shampoo Bar for Strengthening
For a bottle-free shampoo experience, choose the Kitsch shampoo bar. This shampoo bar can nourish your hair from root to tip to allow you to have a salon-like experience in your home. With the goodness of amino acids and vitamins, Kitsch Rice Water Shampoo Bar can offer the ultimate hair care to women.
Kitsch was established in 2010 and is owned and run by women on pure hard work. It is the birthchild of empowered women who create quality products for other women to make their lives easier. Kitsch haircare range is adored by women all around the globe for its diverse nature and effortless application.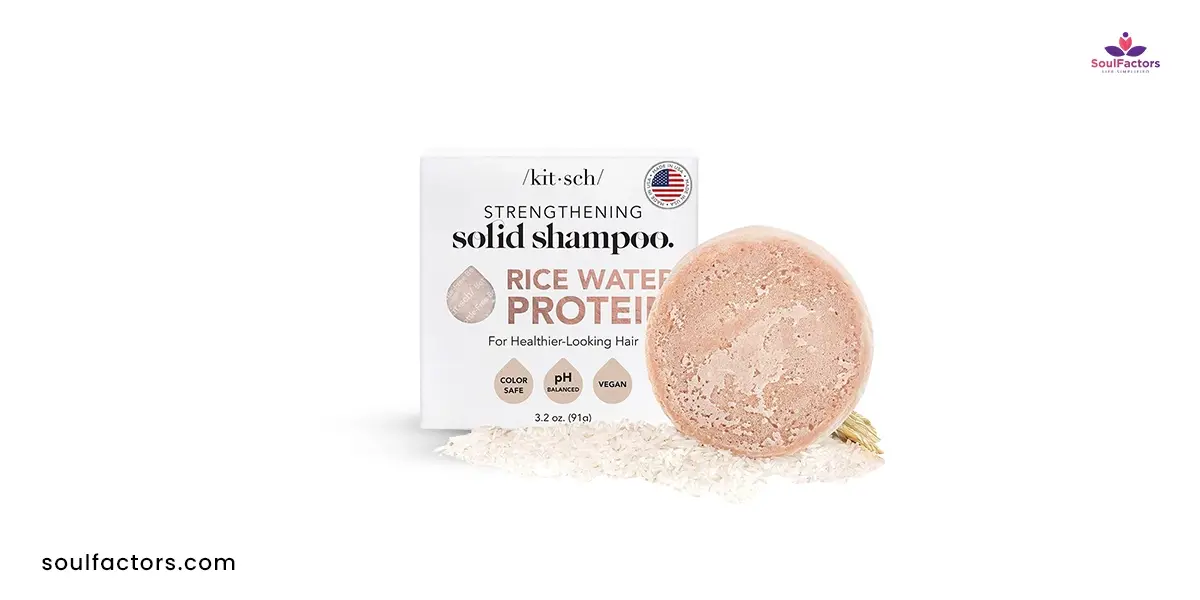 Price: Starts at $33
Features
This rice water protein shampoo bar replenishes your hair strands with essential nutrients that make them smooth and silky.
It can unclog hair follicles and prevent split ends to encourage active hair growth (1).
You will smell a beautiful natural fragrance in Kitsch Rice Water Shampoo Bar which is derived from mandarin and white tea.
Pros:
There are several positive Kitsch reviews where people have claimed to get shinier and silkier hair after using this rice water shampoo bar.
This shampoo bar is free from sulfate, silicone, and paraben.
It reduces single-use plastic consumption by coming in the form of a bar.
You can club this shampoo with a conditioner bar and receive an all-encompassing experience.
Cons:
Some people might not be too receptive to the idea of using a shampoo bar.
You need to store shampoo bars properly while travelling or you might end up buying a new one every time you move around.
2. ProBliva Rice Water Shampoo and Conditioner Set for Hair Growth
It is the most powerful haircare duo on our list. ProBliva Rice Water Shampoo and Conditioner Set for Hair Growth comprises natural ingredients that nourish your hair follicles and strengthen your strands. This shampoo is rich in antioxidants, vitamins, amino acids, and minerals that help you achieve real and noticeable results.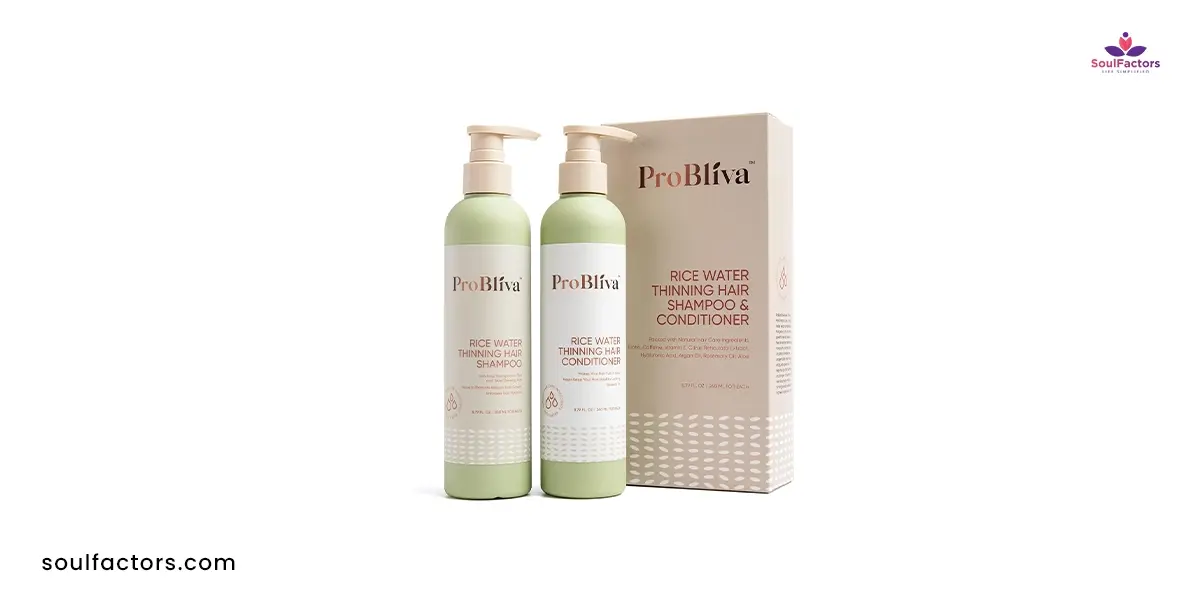 Price: $34.90
ProBliva is a brand that offers natural and luxurious products to guarantee personal care with its amazing formulations. It has been created by a celebrity stylist who works closely with hair and beauty experts to help you age like a fine wine.
Features
The greatest strength of this rice water shampoo and conditioner lies in its ingredient content which boasts a spectacular range including biotin, vitamin E, hyaluronic acid, rosemary oil, argan oil, and caffeine.
ProBliva can restore your scalp's natural pH level to reduce hair loss.
You can get thicker and fuller hair with this one which is a quick solution for thinning hair.
Pros:
This shampoo is suitable for all hair types which means you don't have to think twice before applying it.
It is a natural detangler that can help you manage longer hair easily.
It is free from paraben and harsh chemicals.
ProBliva shampoo has a minty smell whereas its conditioner has a floral scent that lingers for hours.
Cons:
It might take you considerable time to notice a big difference in your hair quality.
3. Ikimi Rice Water Shampoo and Conditioner Bar Set for Hair Growth
With the wholesomeness of hydrolyzed rice extract, shea butter, milk extract, and cocoa seed butter, Ikimi Rice Water Shampoo and Conditioner Bar Set works wonders on damaged hair. The shampoo bar repairs and nourishes your hair from root to tip and causes a resurgence of vitality in your locks.
Ikimi has set the bar really high for other haircare brands with its solid product line. This brand produces sulfate-free products with effective formulations that feature plant extracts. Its products have received trusted sustainability certification(s).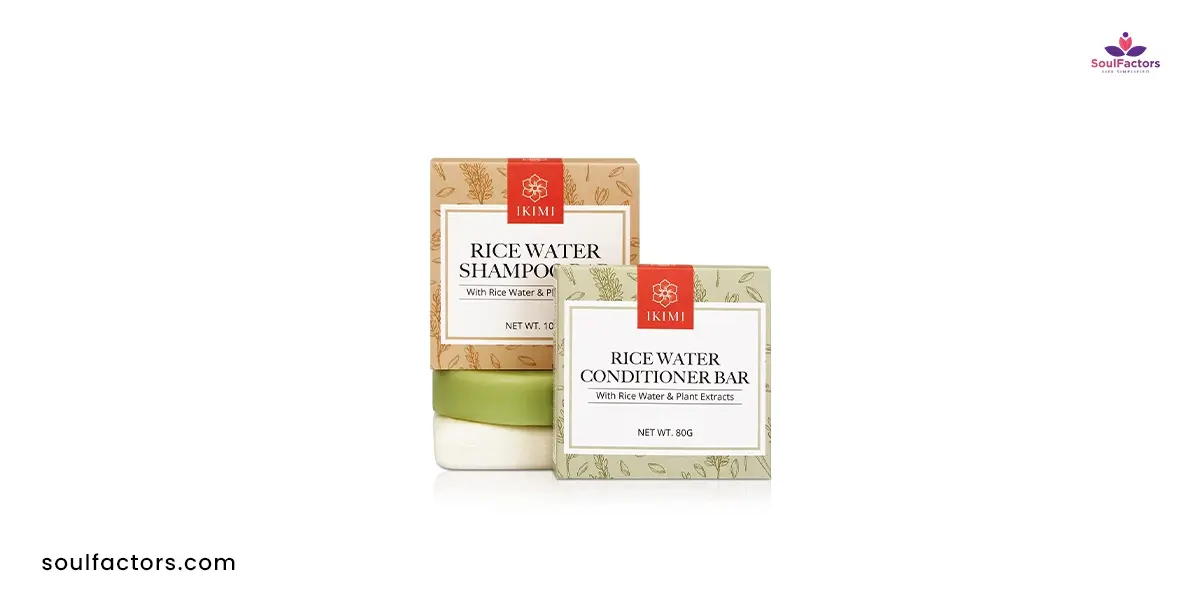 Price: $15.99
Features
The formula of this rice water shampoo bar comprises essential vitamins and minerals that support hair growth.
It has a light, pleasant scent that will soothe your senses.
This shampoo bar replenishes moisture, restores natural shine, and tames frizz.
It deeply moisturizes your hair to help you manage it better.
Pros:
Ikimi shampoo and conditioner bars are travel-friendly and long-lasting.
These bars are suitable for all hair types.
Every rice water shampoo bar lasts for up to 80 washes which makes them a sustainable alternative against bottle shampoos and conditioners.
You can notice the difference in your hair shine, thickness, and overall quality in just a few months.
Cons:
Shampoo bars have been found to leave a waxy residue on the hair if you don't rinse it thoroughly.
4. Shampoo & Conditioner Set by MyKirei By Kao, Japanese Tsubaki & Rice Water
You will fall in love with the color, packaging, and results of this vitamin-rich rice water shampoo that has been developed by haircare experts after extensive research. The Shampoo & Conditioner Set by MyKirei By Kao features Japanese Tsubaki and rice water in potent quantities to produce desirable results on your hair health.
MyKirei by Kao aims to make beauty simple. It recreates powerful formulations and makes them available publicly to benefit the greater good. This brand cares for the environment and uses up to 50% less plastic than its traditional competitors. The Kao Group has a legacy of more than 100 years which makes its products trustworthy.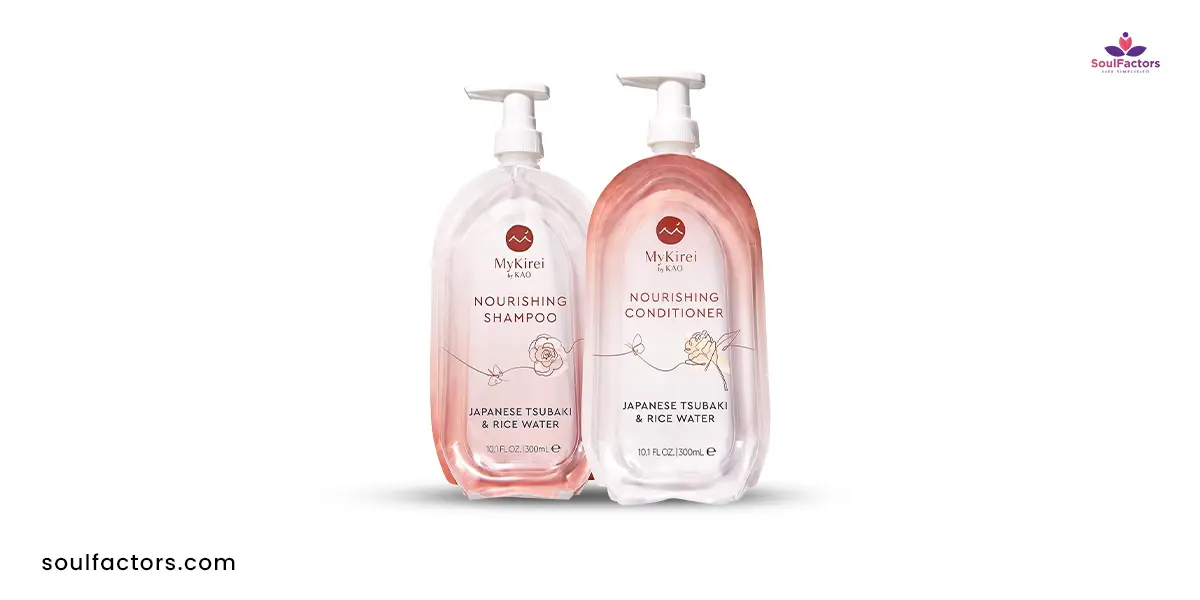 Price: $36
Features
It uses a lightweight formula that wraps your hair in hydration and nourishment without making you feel heavy.
This rice water shampoo and conditioner set detangles and smooths all hair types.
The formula of this shampoo is rich in protein, glycerides, and vitamins. Together, they open the gates to shinier and thicker hair.
It washes away impurities, dirt buildup, and pollutants and cleanses your hair perfectly.
Pros:
This shampoo is paraben-free, sulfate-free, vegan-friendly, and cruelty-free.
It produces a pleasant smell that can calm you done and have a therapeutic effect.
The Shampoo & Conditioner Set by MyKirei By Kao, Japanese Tsubaki & Rice Water has received several positive reviews.
Cons:
When switching from conventional shampoos to rice water shampoos, you might experience an adjustment period during which your hair feels different or oilier than usual.
5. Mielle Rice Water Shampoo
The Mielle Rice Water Shampoo infuses your locks with the nourishment they need to be luxuriously thick. It is designed to add body and shine to your hair so that you can elevate your style with head-turning volume. This shampoo helps you undergo a massive hair transformation leaving you with a supple and beautifully hydrated mane.
Mielle Organics is a haircare and beauty brand that has taken the market by storm with its unique formulations and innovative products. This brand was founded in 2014 by a woman named Monique Rodriguez who shared her hair care regimen and caused a frenzy online. Its products have been delivered in 87 countries where they were well received by women.
Price: $9.99
Features
You can say goodbye to dull, breakage-prone hair with the help of this rice water shampoo and say hello to voluminous, vibrant locks.
The deep-cleansing formula of this shampoo can leave your hair refreshed, revitalized, and ready for styling.
This shampoo reveals your hair's natural beauty with enhanced shine and bounce.
The Mielle Shampoo is your go-to solution for thirsty, dry hair. It is infused with the hydrating properties of rice water that can tackle dry and untamed hair very well.
Pros:
It is one of the most budget-friendly rice water shampoos on the market making it a popular favorite.
It is rich in amino acids, vitamins, and minerals which can help strengthen the hair shaft.
It can result in improved hair elasticity with its rich inositol content (2).
Cons:
The Mielle Rice Water Shampoo may not suit other hair types as well as wavy and curly.
Benefits
The usage of rice water in shampoos has gained immense popularity over the years due to its many benefits. Let's check out the most amazing benefits associated with using rice water shampoo.
Improved Hair Texture – Regular use may contribute to smoother, shinier, and more manageable hair. It can help you reduce frizz and increase hair elasticity.
Strengthens Hair – The main component in rice water is inositol which can strengthen the hair shaft and reduce its breakage. This can lead to longer, healthier hair over time.
Balanced Scalp: The pH level of rice water matches your hair, which means it can maintain a balanced scalp environment. It is particularly beneficial for those who have a dandruff-prone scalp.
Increased Hair Growth – Rice water can improve blood circulation to the scalp and unclog hair follicles to allow them to receive more nutrition.
How To Make Rice Water Shampoo?
If you don't want to opt for a readymade rice water shampoo, you can make your own at your home with a few simple ingredients. Here's what you'll need:
Water
Rice
Other ingredients like essential oils or aloe vera for fragrance
Instructions:
Wash the rice – Remove excess starch and impurities by rinsing the rice thoroughly under running water.
Soak the rice – Take a clean bowl and put the rinsed rice in it. Add 2-3 cups of water and let it soak for an hour.
Strain the rice water – Strain the rice water into a separate container.
Mix in optional ingredients – If you want to add essential oils or aloe vera gel for fragrance, mix them into the rice water at this stage.
Store and use – Transfer this solution into a clean, airtight container for storage. Shake well before each use.
How To Make A Shampoo Bar?
It is an extremely rewarding experience to make a rice water shampoo bar at home. We have listed the step-by-step guide on how to make your one on your own.
Ingredients:
Rice water
Lye (sodium hydroxide)
Oils
Optional additives
Equipment:
Gloves
Soap mold
Heat-resistant containers
Stick Blender
Instructions:
Prepare the rice water by soaking it in water and straining the water.
Grease the soap mold or put a parchment paper on it for easy removal
Measure the ingredients according to your chosen recipe to make sure that the soap turns out well.
Mix lye and rice water gradually while stirring.
Melt and combine oils until they are fully melted.
Combine rice solution and oils with the help of a stick blender.
Pour the solution into the prepared soap mold
Cover the mold with a plastic wrap and let it cool down in a dry place for 1-2 days.
How To Use Rice Water Shampoo?
There are no complications that can arise with the application of a rise water shampoo for hair growth and overall improvement. Here's how you can use a rice water shampoo effectively:
Wet your hair from root to tip with lukewarm water.
Apply the rice water shampoo according to your hair length.
Gently massage the shampoo into your scalp using your fingertips
It is best to work the shampoo down the length of your hair.
Leave it on for about 5-10 minutes to let the nutrients penetrate into your scalp.
Rinse your hair thoroughly
Follow up with a rice water conditioner (optional)
Are There Any Side Effects Of Using Rice Water Shampoo?
While rice water shampoo is generally considered safe and natural, it can have potential side effects for some individuals.
Over-proteinization
Dryness
Scalp sensitivity
Allergic reactions
Bottom Line
In this rice water shampoo review, we learned that it is an effective and affordable solution for those women who seek healthier and stronger hair. Rice water has a rich nutrient profile making it a potent shampoo for reducing hair breakage and enhancing hair texture.
Although there is limited scientific evidence supporting the benefits of rice water, this centuries-old hair care solution speaks to its enduring popularity. Whether you purchase commercial rice water shampoos or create your own at home, it's essential to approach its usage with patience and consistency.
FAQ
Is Rice Water Shampoo Good For Your Hair?
Rice water contains many vitamins, minerals, and amino acids that deeply nourish your hair and promote growth, shine, and thickness.
Which Is Better Rice Water Shampoo Or Onion Shampoo?
It is a question of personal choice. Most onion shampoos have a strong smell that cannot be tolerated by many.
Does Rice Water Thicken Your Hair?
Yes, rice water can promote hair growth and add volume to your hair making it appear thicker.
Does Rice Water Shampoo Bar Help Hair Growth?
Yes, a rice water shampoo bar can deeply cleanse your hair and supply nutrients to enhance hair growth.