Are you tired of battling with frizzy hair every morning? And, are you also struggling with its dry and unmanageable nature? Well then, we heard about your struggles and decided that your search for selecting the right haircut for your unique hair type should end here. Dive into the top haircuts for frizzy hair and explore how they can turn your unruly mane into a gorgeous crown.
Haircuts For Frizzy Hair: Styling Solutions And Transformative Tips!
Before we proceed with the haircuts for frizzy hair, it is important for you to understand what causes frizz. Factors like humidity, a lack of moisture, damage, or simply your hair's natural structure can all be the culprits.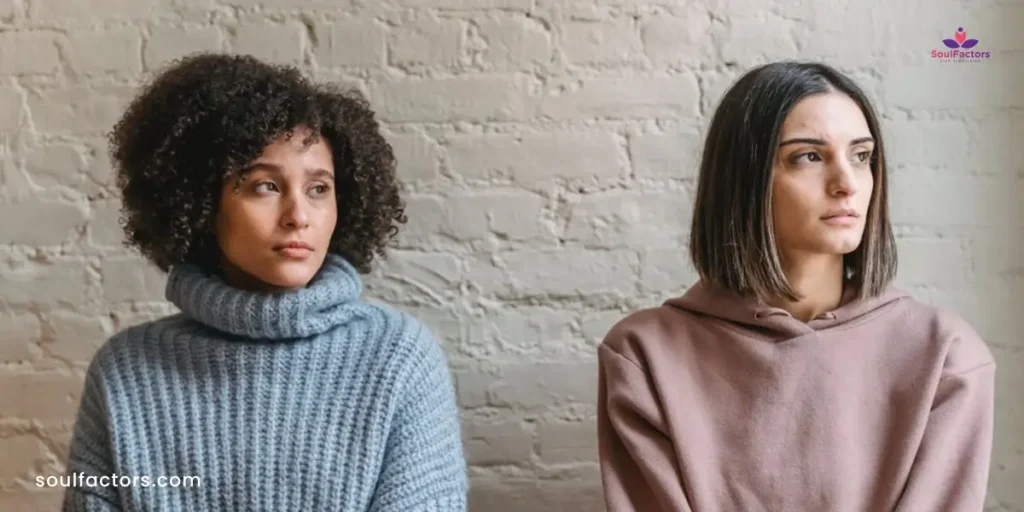 So arm yourself up with all the knowledge you get from this article and tailor your hair care routine and haircut choice to deal with all your concerns.
Best Haircuts For Frizzy Hair
Frizz can be a challenging hair issue to deal with for you. But would you believe us if we tell you that it can be tamed and even used to enhance your overall look with the right haircut? The following hairstyles are just for you if you struggle with thick, wavy, and frizzy hair. Let's take a look.
1. Long Layered Haircuts For Frizzy Hair
The long layered cut is timeless and versatile. It is perfect for those who love the length of their hair but crave movement and depth, especially for those who have good volume, those who are over 50 years, and those who have a square face. This haircut can also be tailored to flatter any face shape. A myriad of layers interplays to form a harmonious cascade and it will make your hair dance with every turn of the head.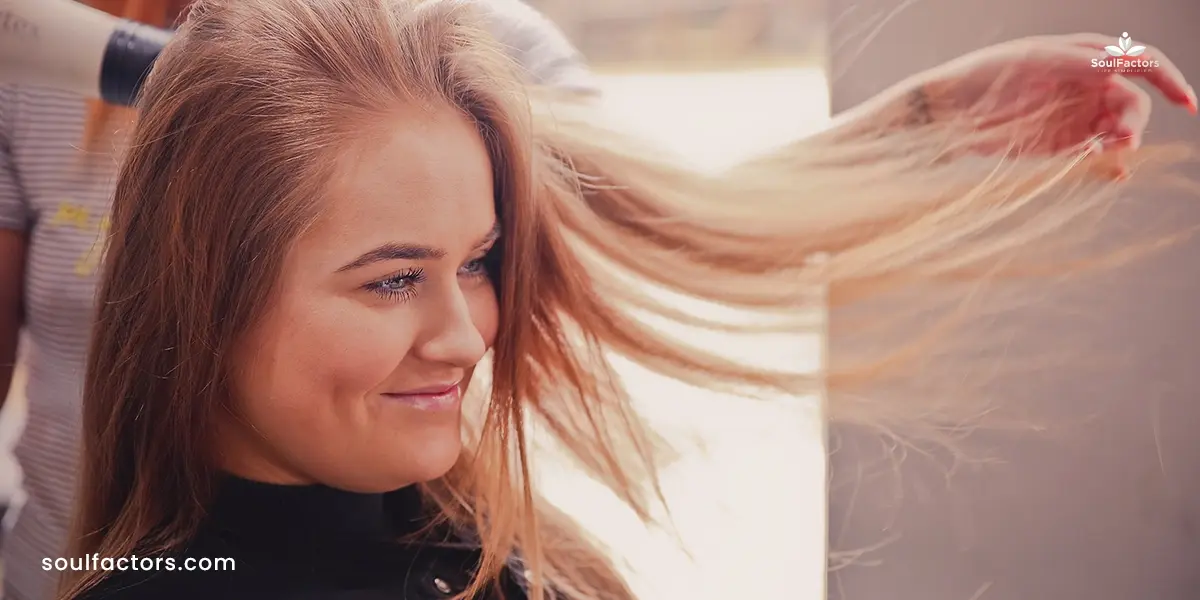 The Look:
To understand this better, imagine the sun-kissed waves of a beachgoer or the refined tresses of a red carpet diva. What if we tell you that both these looks are possible with a long layered cut?
Different lengths are woven into the cut and it adds an alluring contrast. It starts from shorter layers near the face to gradually longer ones as they reach the end. This design instils a sense of volume and dimension and elevates the dynamics of the hair- it just makes your hair look lively and full of movement.
Benefits:
Do you know that frizz often finds its most evident expression in uniform, lengthy hair where it can cause the hair to look like a singular mass? The magic of the long layered cut lies in its strategic distribution of volume. It breaks the monotony of a one-length look and diminishes the opportunity for frizz to dominate any one section. The layers can also work in tandem with your hair's texture and sculpt it into more defined and structured waves if you naturally possess waves or curls.
Styling Tip: Gently towel-dry your hair to remove excess moisture after shampooing to truly make your long layered cut shine. Apply a dollop of lightweight serum or a few drops of hair oil by focusing more on the mid-lengths to the tips. These areas are the oldest parts of your hair and they are more prone to dryness and frizz. The serum or oil will act as a barrier by sealing in moisture and ensuring the layers flow seamlessly. Use a round brush to shape and layer while blow-drying to get a beautifully blended, frizz-controlled cascade-like look that celebrates the intricacies of your layered cut.
2. Bob With Side Bangs Haircuts For Frizzy Hair
The bob is a haircut that has been in vogue for decades- its timeless charm captivates women from all walks of life as it suits people with an oval face and even those who're above 50 years. While you might know that the traditional bob carries its own allure, these low maintenance haircuts for thick frizzy hair, like the bob with side bangs, infuse a hint of modernity into this enduring classic. This cut encapsulates the spirit of the contemporary woman who is pragmatic yet poised, minimalistic yet fashionable.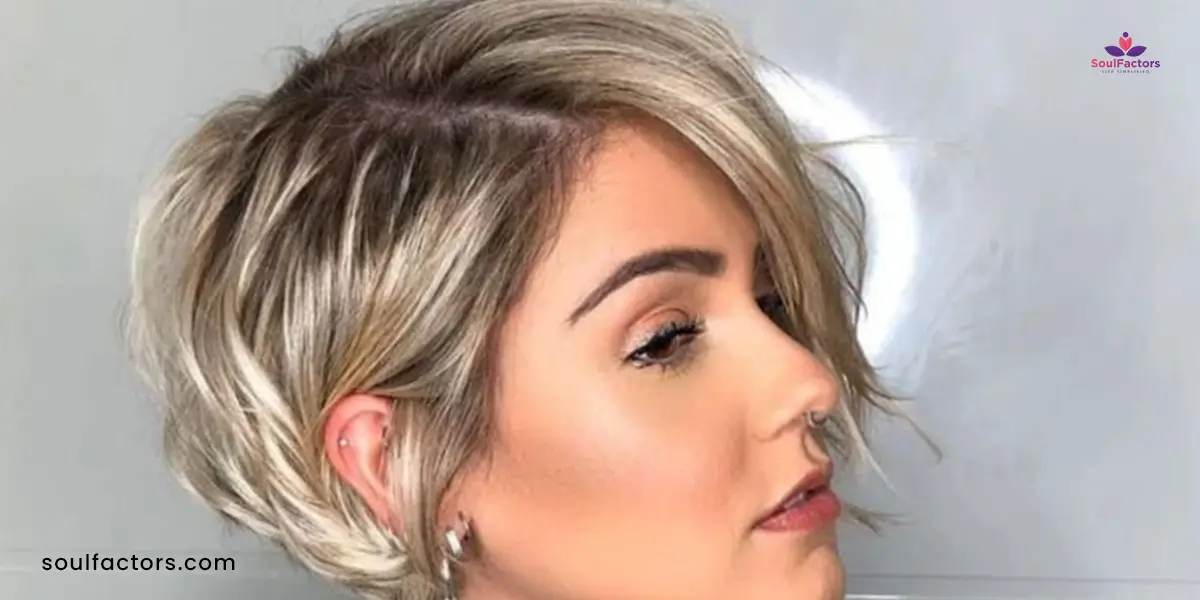 The Look:
To put it simply, the bob with side bangs marries the sharp, neat lines of the bob with the soft, sweeping allure of side bangs. The length of the bob cut typically hovers around the jawline giving your face a defined contour. The addition of side bangs introduces a gentle curve that will soften your face's angularity; it will impart a youthful touch too.
Benefits:
One of the primary plus for adopting a bob is its shorter length. Shorter strands translate to younger hair, which often means healthier and less prone to frizz. The side bangs that cascade gracefully across the forehead serve multiple purposes. They offer a distraction from any potential frizz to your hair. This particular style also channels other people's gaze towards your eyes.
The benefits are not over yet! These bangs introduce an element of intrigue by disrupting the uniformity of a standard bob and adding a layer of sophistication. Lastly, the bob with side bangs doesn't demand hours of styling, making it a best-buddy haircut for those who look for low maintenance haircuts for thick frizzy hair.
Styling Tips:
Start with damp hair to achieve a sleek, frizz-free look with your bob and side bangs. Use a flat iron to gently straighten the bangs if you're aiming for a polished finish to ensure that they blend well with the rest of your hair. Once that's done, a spritz of anti-frizz spray will help these kinds of haircuts for thick frizzy hair retain their shape and sheen and guard against humidity.
A nourishing leave-in conditioner is a game-changer for this style. Apply it generously by concentrating on the tips of your hair. This ensures that your bob remains hydrated and bouncy with minimal susceptibility to frizz. You could also introduce soft waves using a curling wand to add volume and texture to your chic bob.
3. Shaggy Medium Haircuts For Frizzy Hair
Drawing inspiration from the rebellious spirit of the '70s and '80s rock-n-roll era, the shaggy medium cut is an attitude for all those who are looking for haircuts for thick wavy frizzy hair. This medium-length cut is similar to those of music icons and movie stars, and it exudes an effortless sense of style which is characterized by its voluminous layers and dishevelled appearance. It is a perfect choice if you have a round face.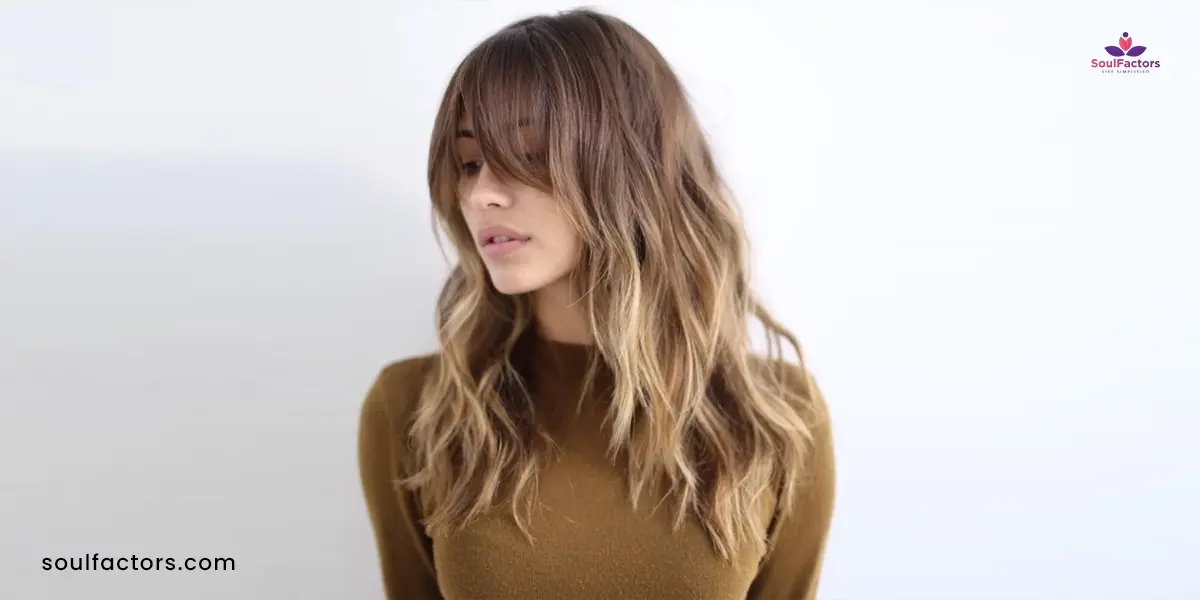 The Look:
The shaggy medium cut stands halfway between short bobs and longer tresses and it strikes a perfect balance for those not ready to commit to either extreme. This hairstyle is defined by a lot of layers of varying lengths all of them coming together to create an intentionally messy and voluminous look. The layers offer depth and dimension and ensure that the hair never looks flat.
Benefits:
The shaggy medium cut can be one of those godsend haircuts for frizzy hair. Its intrinsic design works with the frizz rather than against it. The many layers in the cut give the hair a natural lift and will help make it look fuller and more dynamic. This can be extra beneficial for those with thin hair as it imparts an illusion of thickness. If you're someone who loves a style that celebrates imperfections, just go for it.
Styling Tips:
A few styling tricks can elevate its appearance even when the shaggy medium cut is low-maintenance by nature. Begin with a texturizing spray or cream, applying it generously to damp hair to enhance the natural texture of your hair. It also gives you a hold that keeps the layers distinct and defined.
If you're thinking of how to add a bit more structure to the shag, we got you! A curling wand can be a great tool. However, you should pick random sections instead of curling every strand. This irregular approach ensures that some parts remain straight while others curl up and add to the messy charm of the cut. Use a smoothing serum to tame flyaways while still preserving the shag's rugged aesthetic.
4. Pixie Haircuts For Frizzy Hair
The pixie cut has long held its place in the pantheon of timeless hairstyles championed by icons like Audrey Hepburn, Halle Berry, and Emma Watson. Its allure lies in its ability to combine femininity with a touch of audacity. It is a statement, a declaration of self-confidence and a love for minimalistic beauty. While most associate the pixie cut with straight hair, its adaptability to frizzy textures has made it a popular choice among many.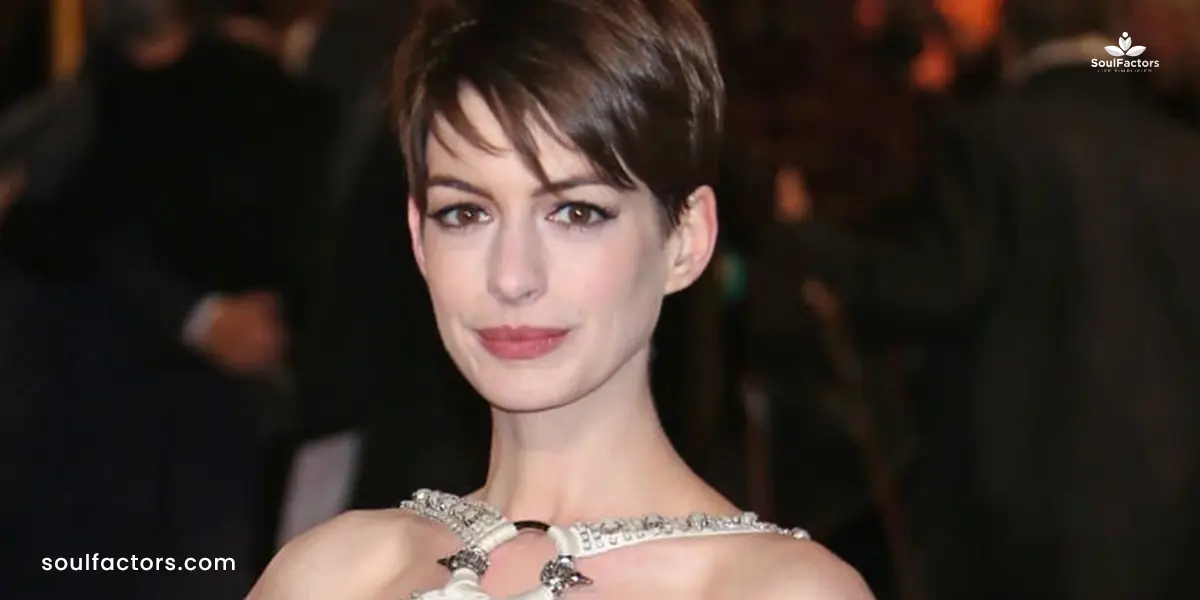 The Look:
The pixie cut is all about confidence and character and it mostly evokes an image of a mythical woodland creature out of you. Its super short length is juxtaposed with strategically longer strands and it can be styled in a myriad of ways- from sleek to tousled. The pixie offers a world of styling possibilities despite its diminutive length.
Benefits:
The pixie cut presents a practical solution to frizzy hair woes because of the short length- less hair inherently means fewer chances for frizz to manifest. Shorter hair is also less prone to environmental factors like humidity which often exacerbates frizz. This also means less time spent on styling and damage control.
Do you know what the added bonus is? It exudes a contemporary, youthful vibe, making it a perennial favourite among trendsetters. Its shortness accentuates facial features and draws attention to the eyes and cheekbones, acting as a natural highlighter for one's face.
Styling Tips:
The pixie cut can be enhanced with a few styling products despite its effortless appearance. For those days when you want a more structured look, a dab of styling wax or pomade can give your pixie the desired texture and definition. It allows you to play with the longer strands, spiking them up or smoothing them down based on your mood. A lightweight serum can be your best friend daily to ensure that any potential frizz is kept at bay and your pixie looks sharp and sleek all day long.
More On Maintaining The Haircuts For Frizzy Hair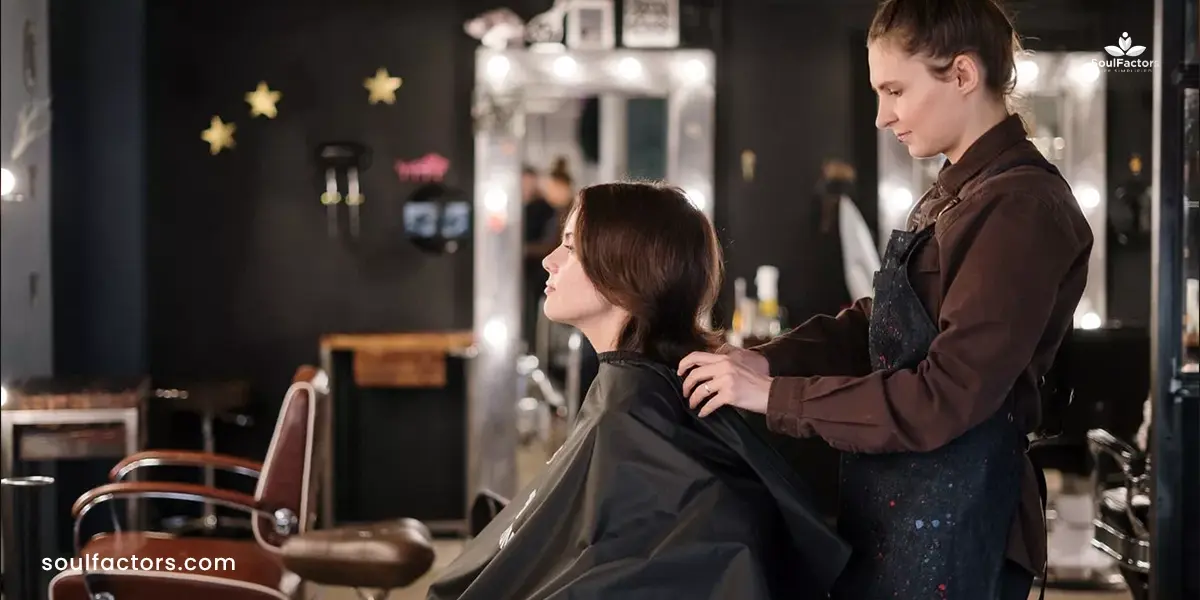 The Right Products Matter:
Having the right haircut is just one part of the equation. You need to invest in quality haircare products to truly combat frizz. Serums, leave-in conditioners, and oils can keep your hair moisturized and reduce the chances of frizz. Remember, it is not just about choosing haircuts for frizzy hair but maintaining them with the right products.
Ask the Experts:
Consult with a hairstylist if you are unsure which cut is right for you. They can analyze your hair type, its thickness, and natural fall, and recommend the most flattering and manageable haircuts for thick frizzy hair.
Tips For Maintaining The Haircuts For Frizzy Hair
Resorting to haircuts for frizzy hair can save you to a great extent, but taming frizzy hair is a journey you have to be on continuously. You can achieve beautiful, frizz-free locks with proper care, techniques, and products. Dive into a more in-depth understanding of managing and maintaining your hair.
✅ Deep Conditioning
Hair that's dry and damaged tends to become frizzy. Deep conditioning can effectively counter this by nourishing the hair from within, restoring its moisture and forming a protective shield against external aggressors.
Treat your hair to deep conditioning once a week or every other week. The frequency can vary based on how dry your hair is. You need to ensure that you use a mask or conditioner suitable for your hair type for maximum benefits.
✅ Choose Sulphate-Free Shampoos
Sulfates in shampoos can be harsh on your hair. They strip hair of its natural oils and make it vulnerable to frizz. Opt for shampoos that are explicitly labeled 'sulfate-free' or designed 'for dry and frizzy hair' while shopping. Trust us when we say that you'll notice improved hair texture over time.
🚫 Limit Heat Styling
Using heat tools frequently can weaken hair cuticles and make them prone to breakage and frizz. Let your hair dry naturally wherever feasible. Always invest in a quality heat protectant spray to minimize damage if you must use heating tools.
✅ Use A Microfiber Towel
The coarseness of regular terrycloth towels can cause hair cuticles to fray, leading to more frizz (1). Ditch aggressive rubbing and gently press your hair with a microfiber towel. This technique absorbs moisture without causing any friction.
✅ Use The Right Serums and Oils
The right serums and oils will help envelop the hair shaft seal in essential moisture and act as a shield against humidity- a primary culprit when you choose haircuts for thick wavy frizzy hair. Essential oils like argan and coconut are fantastic. You can also consider branded serums tailored for frizzy hair, but use them sparingly- over-application can weigh hair down.
🚫 Avoid Overwashing
Daily washing can rob your hair of essential oils and cause dryness and frizz. Gauge your hair's needs. Washing 2-3 times a week is optimal for most people (3). Dry shampoo can refresh your locks without causing dryness on non-wash days.
✅ Get Regular Trims
The ends of your often become split or damaged as hair grows. These split ends can travel up the hair shaft and cause more widespread damage and frizz. Schedule a trim every 6-8 weeks to trim and keep your hair near, feeling soft, and free from damaging split ends.
✅ Use A Wide-Tooth Comb
Traditional brushes can be rough on tangled hair. Wide-tooth combs are gentler as they reduce the risk of breakage and consequent frizz. Use the comb to detangle your hair post-shower when it is still damp. Start at the ends and work your way up to minimize breakage.
✅ Embrace Natural Hair Masks
Nature offers ingredients rich in nutrients beneficial for hair. For instance, bananas are rich in potassium and they can strengthen hair and reduce breakage. Honey acts as a natural humectant and helps draw in moisture.
Experiment with DIY hair masks, blending ingredients like bananas, honey, yogurt, or avocado. A fortnightly treatment can substantially nourish and rejuvenate your hair well.
Before We Conclude
While frizzy hair might seem challenging, the right haircut can truly change the game. There is always a style out there that will make you fall in love with your hair all over again regardless of whether you're considering haircuts for wavy frizzy hair or something for thicker textures.
FAQ
Which Haircut Is Good For Frizzy Hair?
Layered cuts, bobs with side bangs, shaggy medium cuts, and pixie cuts are popular choices.
Should Frizzy Hair Be Long Or Short?
Both can work. Long hair can weigh down frizz; short hair reduces the frizzy surface area.
Should I Get A Haircut If My Hair Is Frizzy?
Yes, a proper haircut can help manage frizz, but it's also essential to maintain good hair care.
How Do You Cut Down Frizzy Hair?
Go for haircuts for frizzy hair, trim your hair regularly, use deep conditioning, invest in anti-frizz products, minimize heat styling, and pat dry with a microfiber towel.