Not paying attention to what you wear inside your outfit could be a bigger mistake than you think. If you wish to look sexy and appealing, not to mention the extra boost of self-confidence, this Lingerie Guide for Women can help you find the right type of lingerie, making your clothes fit just right. This article covers how to pick the perfect lingerie and the types you should avoid for your body type.
Lingerie is not only about looks; it's also about comfort. What most people find difficult is balancing both. We will recommend some aesthetically appealing and well as comfortable lingerie that will fit you like a second skin. Keep reading to find out how you can embrace your body as you have it. No more skipping pretty dresses or tops that you love because you are worried your tummy might show or your boobs might look bigger.
Importance Of Choosing The Right Lingerie For Your Body Type
Nice lingerie is an extravagance every woman deserves! What a woman chooses to wear under her clothes is actually directly reflected in how she carries herself. Your status in society, single or not has nothing to do with choosing the right lingerie but the status of your confidence is directly linked to the appeal and comfort provided by the lingerie. Here lies the importance of a lingerie guide for women.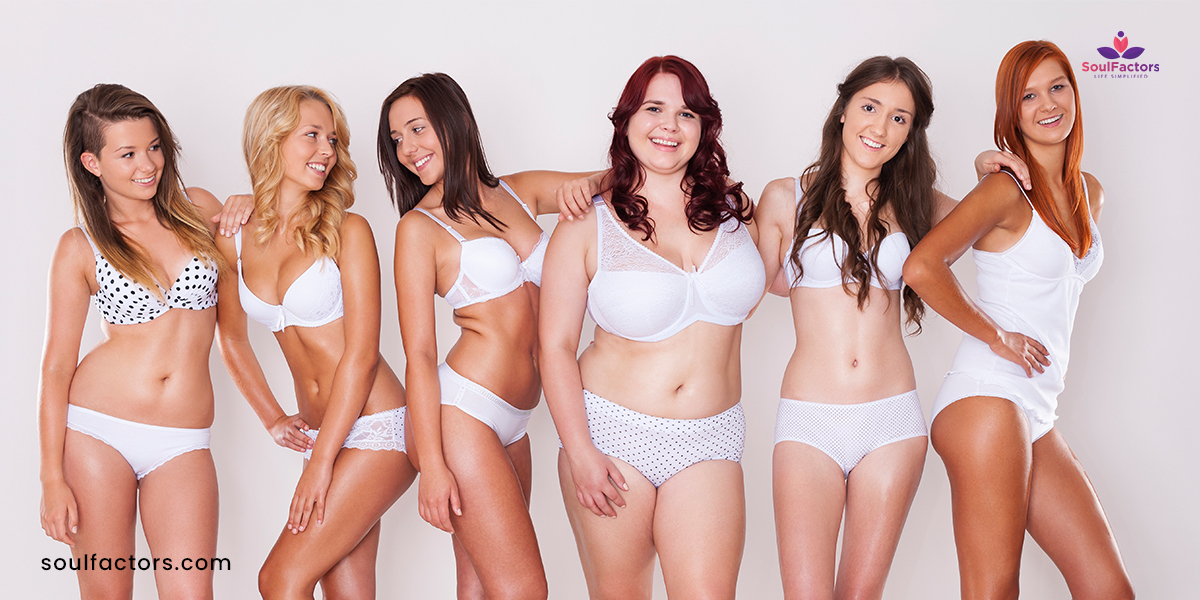 Today there are many brands that make lingerie for all kinds of body types and not just a single body type. The freedom to choose and have options is great but can also get overwhelming and quite confusing which is why the majority of women end up wearing the wrong lingerie under the right dress. Before we get into the different types of lingerie and what to wear under different types of outfits, it's important to identify your body type. Determining the body type is the most basic step that needs to be figured out. Here is a guide to get you started.
Lingerie Guide For Women: Understanding Different Body Types
To determine your body type stand in front of a full-size mirror of your undergarments or naked and see what category you fall into in the different body types given below.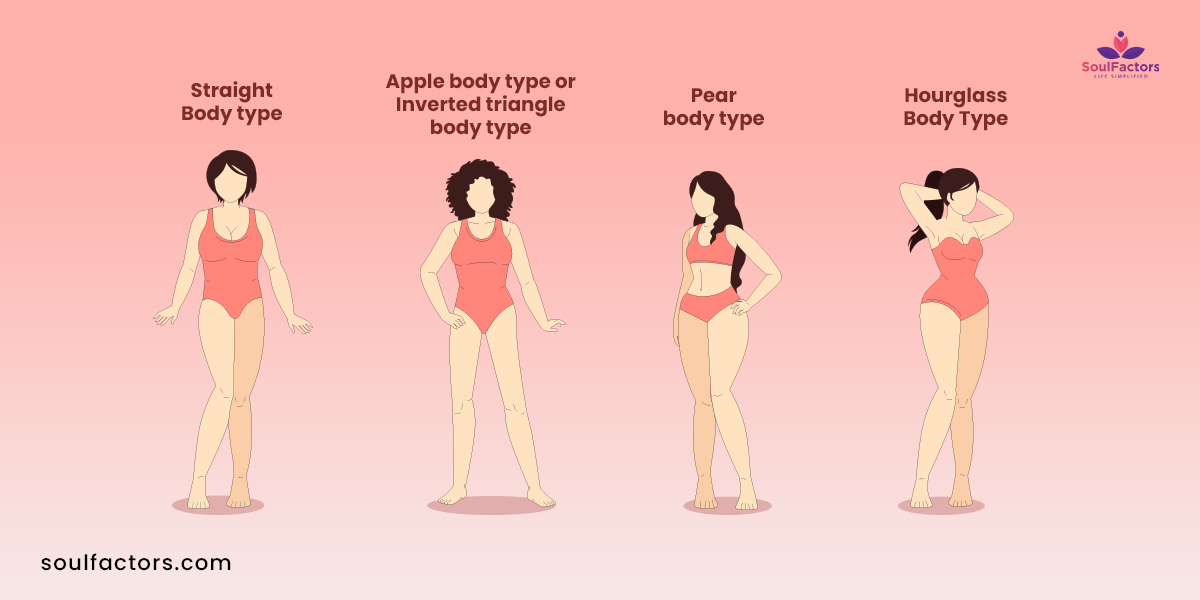 Lingerie Guide For Women: Straight Body Type
If your body appears to look straight from top to bottom without curves or definition on your waists and hips then you are most probably a straight body type. Most athletes have a straight body type. Your body would look good in a tube dress, an empire dress, and anything that creates an illusion of a curved waist.
Apple Body Type Or Inverted Triangle Body Type:
If you have a wide shoulder, flat bottom, and a round torso you might be an apple body type. Apple body types also tend to have a heavier chest, and less defined waistline with a slim lower body. (1) Apply body types mostly gains weight in their upper body. This lingerie guide for women will be especially handy for them.
Pear Body Type
Women with small chests and wider/ fuller hips fall under the category of pear body type. If you fall into the pear body type, then your curvy waist and fuller hips are your strong point flaunt it.
Lingerie Guide for Women: Hourglass Body Type
Approximately equal bust and hips, curvy well-defined waist, proportionate upper and lower body. If you have all of them then lucky you, you fall under the category of hourglass body type. (2)
Oval Body Type
Fuller chest, rounded waistline, and narrow hips are the key traits of an oval body type. Clothing that consoles the waist and makes your midsection look smaller would look flattering n this body type.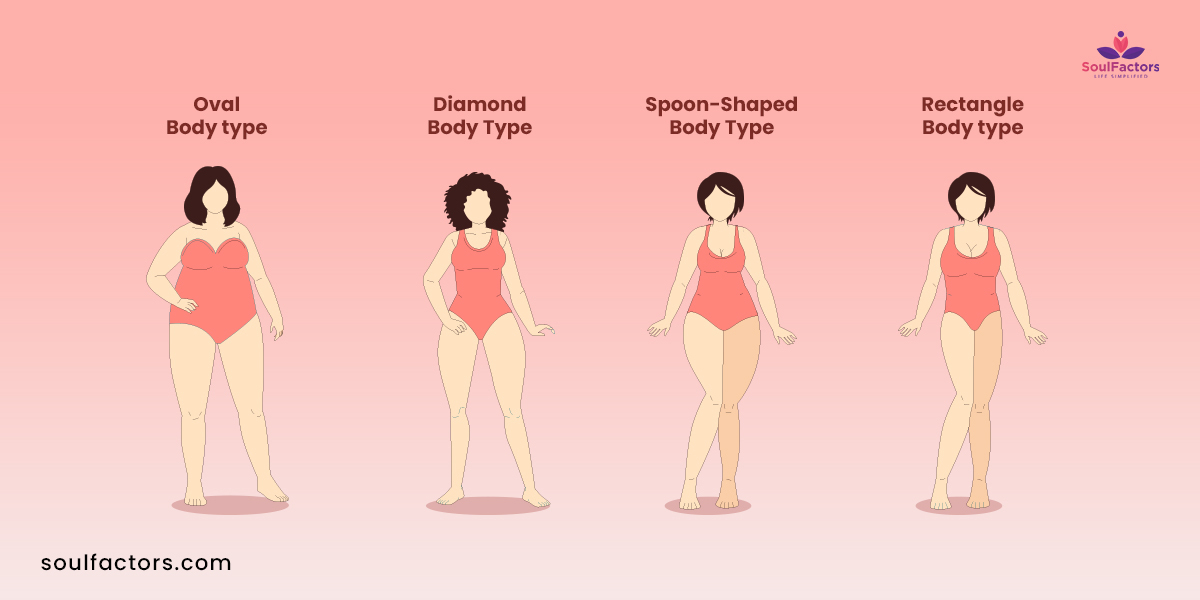 Diamond Body Type
Small busts, thighs that are broader than shoulders, and slender legs identify as diamond-shaped body types. Women with diamond-shaped bodies can show off their toned legs as well as wear clothing that brings more attention to their shoulders.
Lingerie Guide For Women: Spoon-Shaped Body Type
Women with spoon body types tend to accumulate fat at the waistline and hips while their upper body remains slender. This might make you wonder how it's different from the pear-shaped body type, spoon shape tended to have stomach fat while the pear-shaped body type might not have fat accumulation in their midsection.
Rectangle Body Type
If your mid-section measures the same at your shoulders and hips then you have a rectangle body type. The undefined curves and missing round hips can be compensated with the right type of dressing and lingerie.
Different Types of Lingerie: How To Choose The Perfect Lingerie?
Before picking up something from your nearest lingerie store, get your hands on a lingerie guide for women and make sure you have your goal set. The key is to
Pick a lingerie that flatters your figure.
Conceal your problem areas.
That's breathable and flatters your body type.
Once you have an idea of what flatters your body and what doesn't, choosing lingerie that's going to suit you becomes easy. Here are some basic tips you can follow:
Lingerie Guide For Women: Different Types Of Bra
Women and Bra, the controversial yet inseparable duo have been in a "love-it-or-hate-it" kind of relationship since the day they were introduced to each other. Even though most of us hate bras we put up with it since we cannot do without the love and support we get from bras. After you are done understanding what type of bra your body needs your whole dimension with the bra is going to change.
Basically, bras can be categorized into four basic types based on
Making – Wired, non-wired, padded, and non-padded
Coverage – Full coverage and demi cup
Neckline – Plunge, sweetheart, and balconette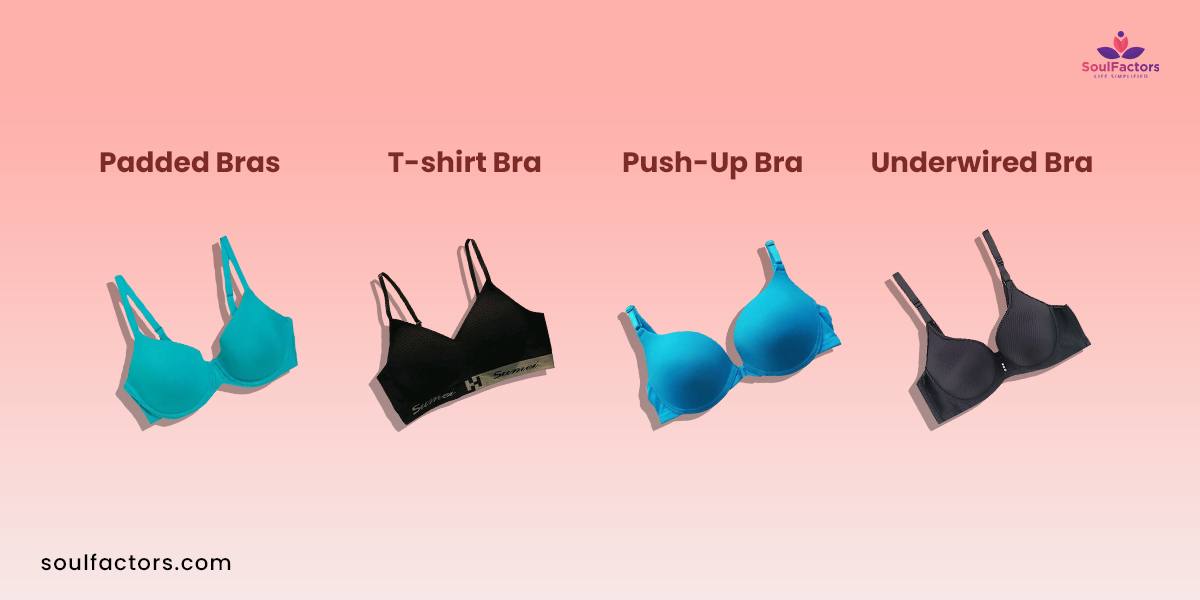 Padded Bras
Padded bras can suit all kinds of breast types and can be used every day. They work best when worn under thin dresses and t-shirts. They help in hiding visible nipples. A padded bra is also great to add shape and dimension to the breasts like water bra. If you have a heavy chest, opting for a lightly padded bra would work best for you.
T-shirt Bra
Padded bra and T-shirt bra are very similar to one another. As the name suggests t-shirt bras are to be worn under t-shirts but also work great under body con or other tight dresses. Tshirts bras are also great for all body types.
Lingerie Guide For Women: Push-Up Bra
If you are worried that your breast is saggy and small then a pushup bra, along with this lingerie guide for women, is going to be your best buddy. If you are lucky enough to find a pushup bra that's comfortable then you can even wear it on regular occasions. Pushup bras come in different varieties depending on the amount of push and hold you need.
Underwired Bra
Wired bras can be padded or non-padded. Unlike push-up bras that give heavy lifting wired bras are designed to give a less obvious lift and shape to the breast. Women with saggy or heavy breasts can try this kind of bra for extra support and style.
Convertible/ Multiway Bra
This bra is a must-have for all irrespective of your body type. It's one bra that goes with all outfits, you can get a convertible bra in any type such as padded, non-padded, wired, or non-wired.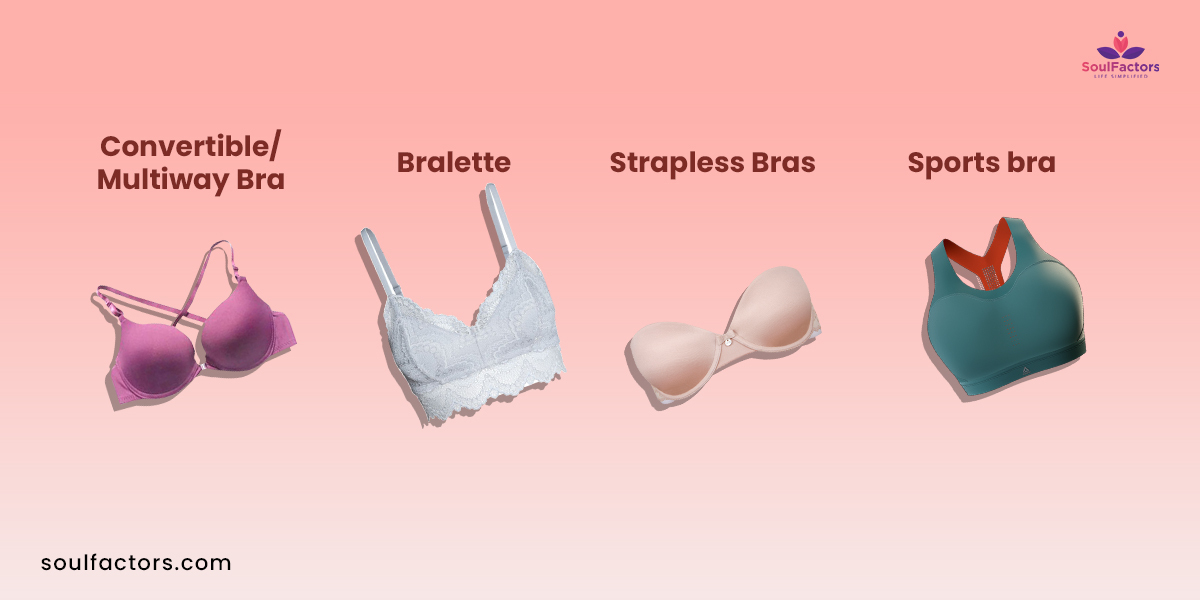 Bralette
Bralette is all about style and comfort. 2023 has bought crop tops back into the fashion game and guess what, a bralette serves as both a bra as well as a crop top. You can get bralettes in padded as well as non-padded variants. It's easy and comfortable to wear and just trendy to style with jeans and skirts. T suits almost all body types too.
Lingerie Guide for Women: Strapless Bras
A strapless bra is a type of bra that does not have straps and can be worn with off-shoulder dresses. Strapless bras are suitable for those women with small breasts.
Sports Bra
Sports bra is great for every body type as it must hold your breasts in place during any kind of physical activity.
Lingerie Guide For Women: Different Types of Panties
Similar to bras panties too come in different types which need to be chosen depending on the body type.
Bikinis
Bikini-style panties have been around for the longest time. If you have a well tones legs then bikini-style panties can help your legends look more longer and appealing. Bikini panties are decent, stylish, and comfortable at the same time.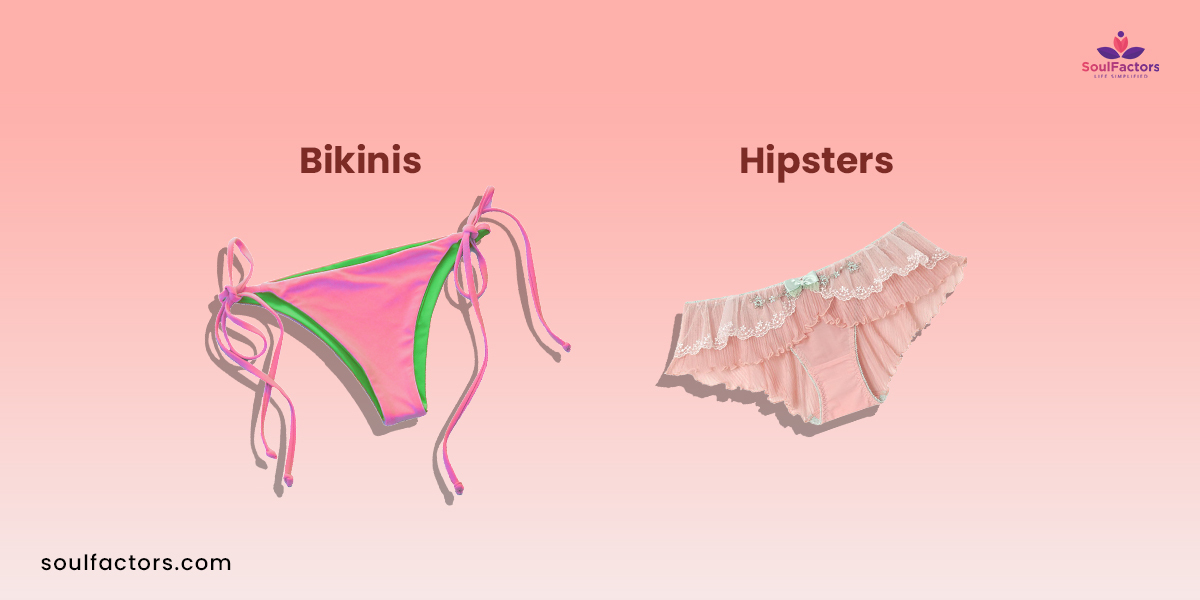 Hipsters
Basic and comfortable is the definition of hipster panties. If you are too conscious about your thighs or hips showing too much, then Hipster gives you the right amount of coverage without compromising on the style. Hipster panties come in different variants such as a thick elastic band for a cool tummy tuck or the band if you want to show off your well-toned midsection, the choice is yours.
Lingerie Guide For Women: Boy Shorts
Every woman must have a pair of boy shorts, they are comfortable and stylish at the same time. If you are on the heavy side ten wearing boyshorts can help you reduce the friction between your thighs and also give you great coverage at the back and front. They are great choices to be worn under any dress.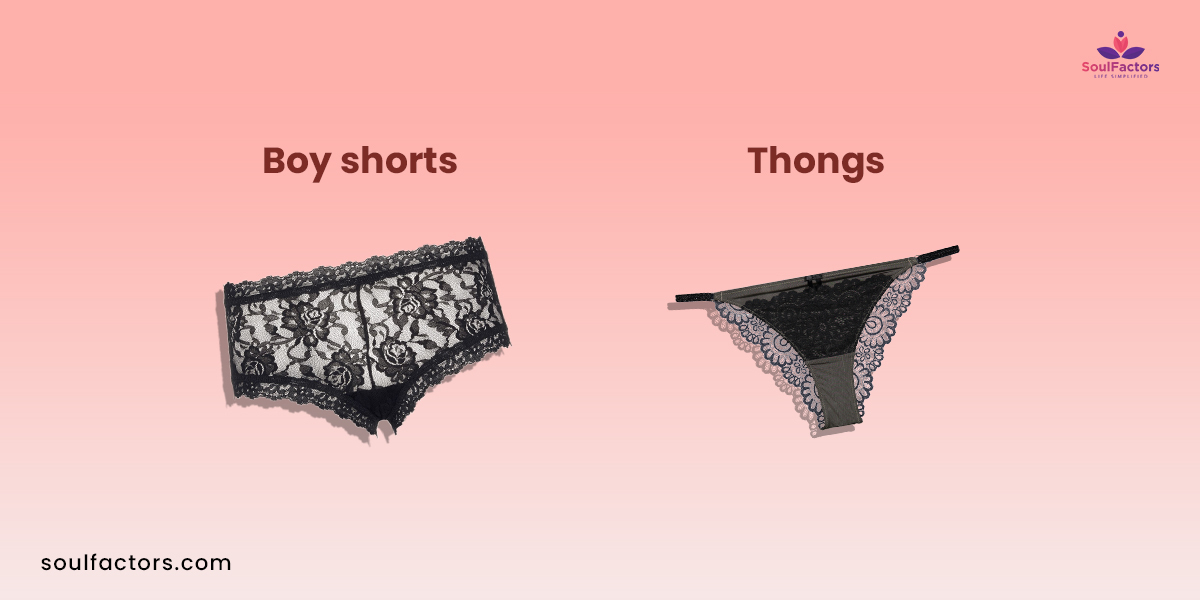 Thongs
Work great on hourglass figures or women with toned bodies who are comfortable without any back support. Thongs (3) are sexy and can make any woman feel sexy in them. Thongs are also great if you are not a huge fan of seemed panties and don't want visible lines.
FAQ
How Do I Know When My Bra Does Not Fit Properly?
An ill-fitting bra will have any of the following: Digging straps, spilling of the breast in the top or sides of the cup, back strap riding up, unformaotable feel, or feeling loose.

What Type of Bra Is The Best To Wear?
The best type of bra is the bra that fits your right, helps you flaunt your body type, and keeps you comfortable throughout the day.
Do Women With Small Breasts Need To Wear A Bra?
When to wear a bra o not is a personal choice, we recommend wearing the bra you are confident and comfortable in. Padded t-shirts bra or push-up bras makes smaller breasts look good.
Why is it important to have a properly fitting bra?
Poorly fitted bras can cause back and neck problems and make your breasts look less appealing and saggy.
Conclusion
The importance of choosing the right kind of undergarments is just as important as choosing the right dress or jeans. Even if you are someone who is slightly conscious about your body type or you are worried about your tummy or sagging boobs, the right kind of inner can help you fit that and dress confidently. I hope you found this article useful. What's your body type and what kind of lingerie gives you confidence, let us know in the comments below.
Keep slaying!