Are you new to the ombre lips style? If you are a fashionista, you must have encountered the Ombre trend in hair and fingernails. Therefore, the same process used in textile ombres is being used in "Ombre lips." It simply creates an appealing look by shading your lips. It means that two different colors are applied and are distinct but monochromatic.
If you were wondering, "ombre" is the French word for "to shade." It's a technique used in cosmetics and textile dying that involves blending many colors to create a gradient from light to dark inside a single pure color, creating an impressive outcome. However, the appearance may look very tacky if not done correctly or with the wrong products.
So, keep reading to the end to learn how to do ombre lips, what products you need, and how to make your ombre lipstick.
What Is An Ombre Lip?
If you know about the ombre style nail and hair art, then it's easy for you to comprehend ombre lips. Ombre lips is an art used in lip makeup. Creating it is easy, just put on two or more shades of lipstick that blend to make a shade on your lips. For ombre lips, you can choose lipstick colors that match or that stand out from each other. In either case, you can use different lipstick, such as standard, matte, liquid, lip gloss, lip liner, and lip pencil.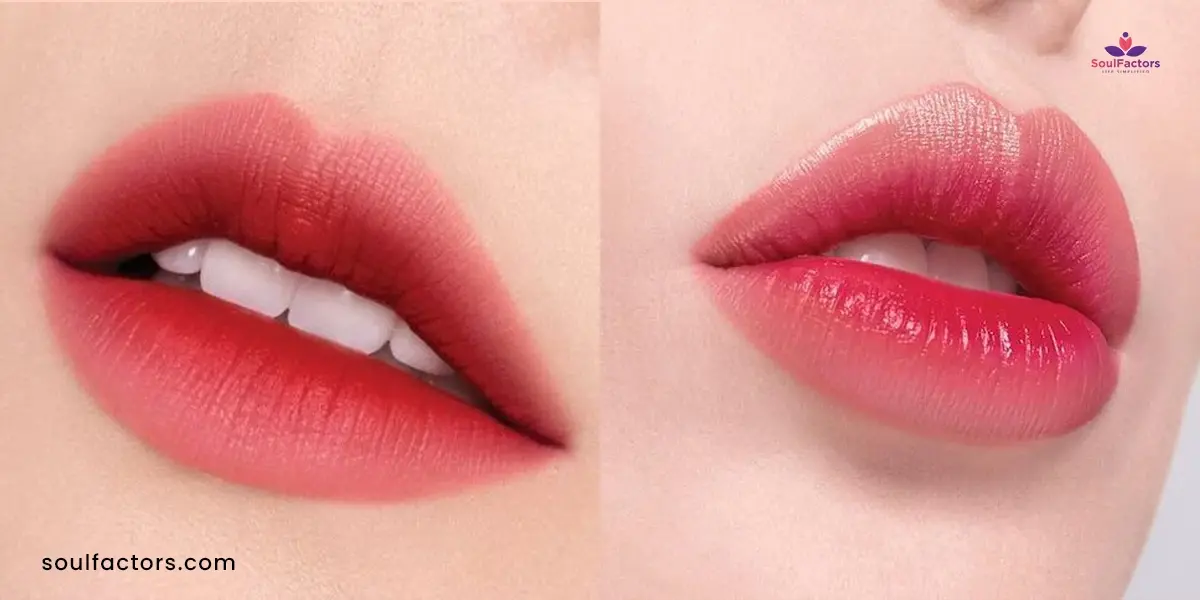 When done correctly, ombre lip application can give the impression of broader lips or round out a glamorous makeup look. But it takes work for first-timers to do it right. With the help of this "ombre lips tutorial," it's not that hard to do this. Note that the secret lies in choosing colors that merge well. For example, if you want "red ombre lips," it's recommended to experiment with different red colors until you acquire that perfect shade.
Before I show you how to do Ombre lips, let's find the products you need to make that gradient look on your lips.
What Products Do You Use For Ombre Lips?
Which kind of lipstick colors would you prefer—complementing or contrasting for ombre lips? Rest assured, when executed accurately, any color pattern can achieve the desired outcome of creating larger, gradient lips. The critical factor in achieving desired results is the selection of appropriate products. It is important to note that ombre lips encompass a variety of designs. Hence, considering your desired design when selecting the proper products and colors is advisable.
For fuller lips
Apply a darker shade to the inner part of your lips and blend with a softer shade on the outside edges to achieve this look. The ombre appearance created by this lip creates the optical illusion of larger lips.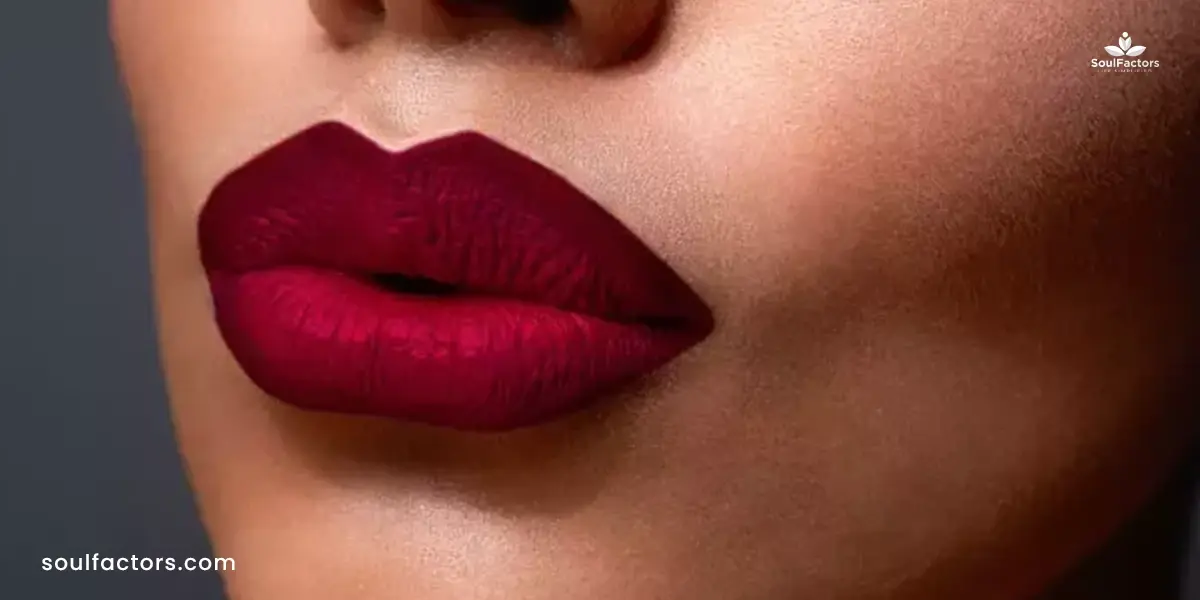 Creating a horizontal ombre
If you want to achieve a horizontal ombre, choose one Color for the middle of your lips (from the cupid's bow down) and another for the outer parts of your lips. This ombre lips design is fantastic for a night out.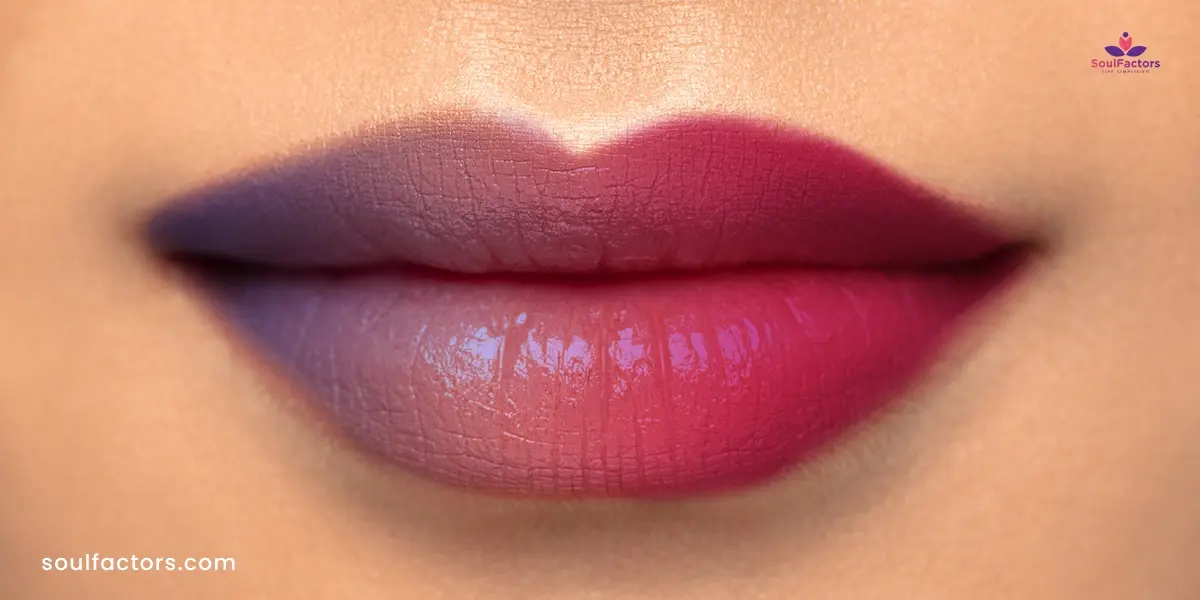 1990s makeup lips look
Line the outside edges of your lips with a dark lip liner and fill in the rest with nude lipstick. After blending the colors, use a clear lip gloss to create a glossy pout.
Now that we have seen different product goes with different designs, here are the main products for making Ombre Lips:
Lipstick
Alternative lipstick's
Concealer
Lip brush
Lipliner
Lip balm
Clear Lip gloss
Shimmery pale highlighter eyeshadow
Tissue paper
After reading the product list, you don't need anything fancy to acquire ombre lips. For individuals interested in fashion, it is highly likely that most of these items are already within your makeup collection.
Now that we don't want to distinguish anyone, whether a beginner or a pro, let's show you how to do an ombre lip, from the basic steps to the most vital one.
How To Do An Ombre Lip For Beginners?
To achieve a seamless "red ombre lips" appearance, it is imperative to ensure that the chosen lipstick color harmonizes with the attire worn. Nevertheless, it is possible to modify how lip color is shaded, created, and blended to one's preference.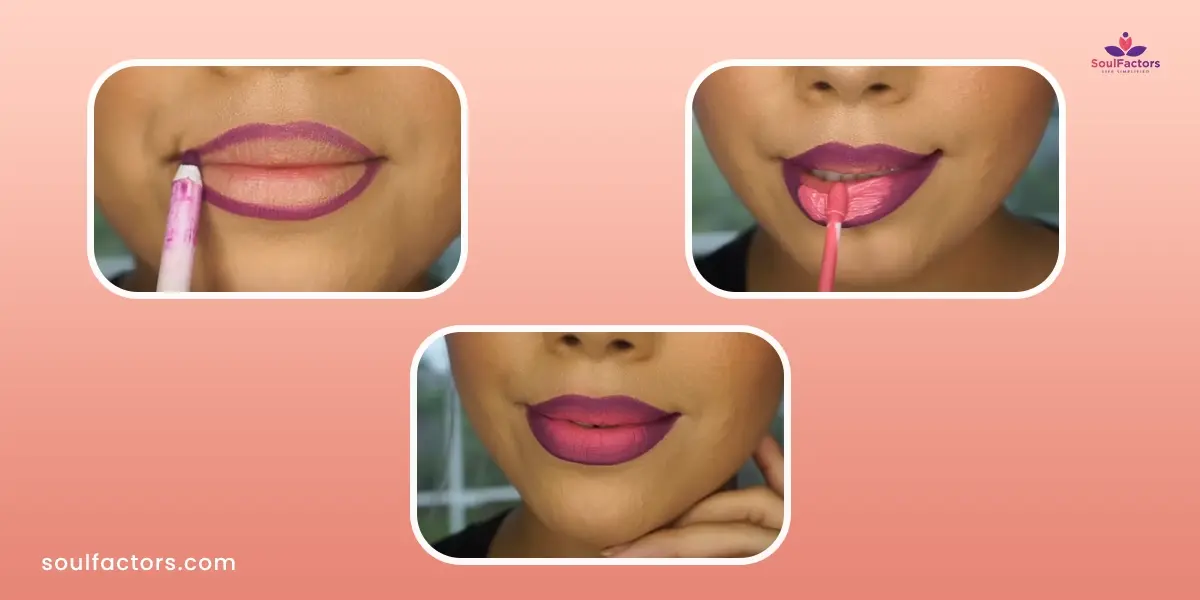 To achieve an aesthetically pleasing Ombre lips appearance, do this:
Step 1: Select your preferred color
The trick is to choose two colors that can be mixed to make a color pattern you want on your lips.
For the Ombre lips effect, you should first know which two colors can look good together on you.
Choose the colors. For the first Color, you could choose "Red." Note that this is the main Color to be used on your lips.
Remember, ombre lips require two colors, therefore, choose another one. Ensure that it is either lighter or darker than the first chosen Color; here, you may use "brown" or "pink" as an example. To avoid sudden lip color changes of an un-uniformed look, use a shade close to the base chosen Color.
Step 2: Choose the technique to apply
Remember that there are different ways to make the Color fade on ombre lips. You can choose a modest lip ombre like "ombre red lips" or a dramatic one like "Korean ombre lips." Here, you are privileged to decide what makes you feel the best. Some of the techniques that you can use are:
Lips with different shades, with one being noticeably darker.
Having a variation of colors on the lips' from the outermost edge to their innermost part.
Go horizontally at the middle of your lips and then from side to side so that one part of your mouth is lighter than the other.
Step 3: Prepare your lips for the Ombre effect.
Do this:
For the best look, start by exfoliating your lips. Scrub your lips bit to remove dry skin for a smooth application.
After cleaning and drying your lips, moisturize by applying lip balm and wait 10 minutes.
Remove the balm with tissue to expose the foundation for your gradient.
Step 4: Outline ombre lips
A lip liner is your best friend if you're going for an ombre lip. Do this:
Pick a lip pencil that has a near color match to the lipstick you intend to wear.
After settling on a shade, use it to outline the lips and fill them in. As a primer, this will ensure your lip art looks great all day and night.
Step 5: Start with the darkest lipstick
Do this:
Start with the darkest hue and trace the lip line with the wand's tip; then, using your fingertips or a dry cotton bud, blend the Color inwards for a more natural look.
Step 6: Go light at the center
Do this:
When the darker shade has set, use the lighter one to line the inside of your lips.
Then, using the tip of your finger, mix the liquid lipstick outwards to overlap with your darker lipstick. As for you, that's it. Your "ombre red lips," for example, are done.
Therefore, one must carefully select appropriate colors and employ a specific application technique to get an Ombre lips effect.
But must all the products we listed above be used when doing "ombre red lips," for example? Here are some of the products you can do ombre lips without.
How To Do Ombre Lips Without Lip Liner?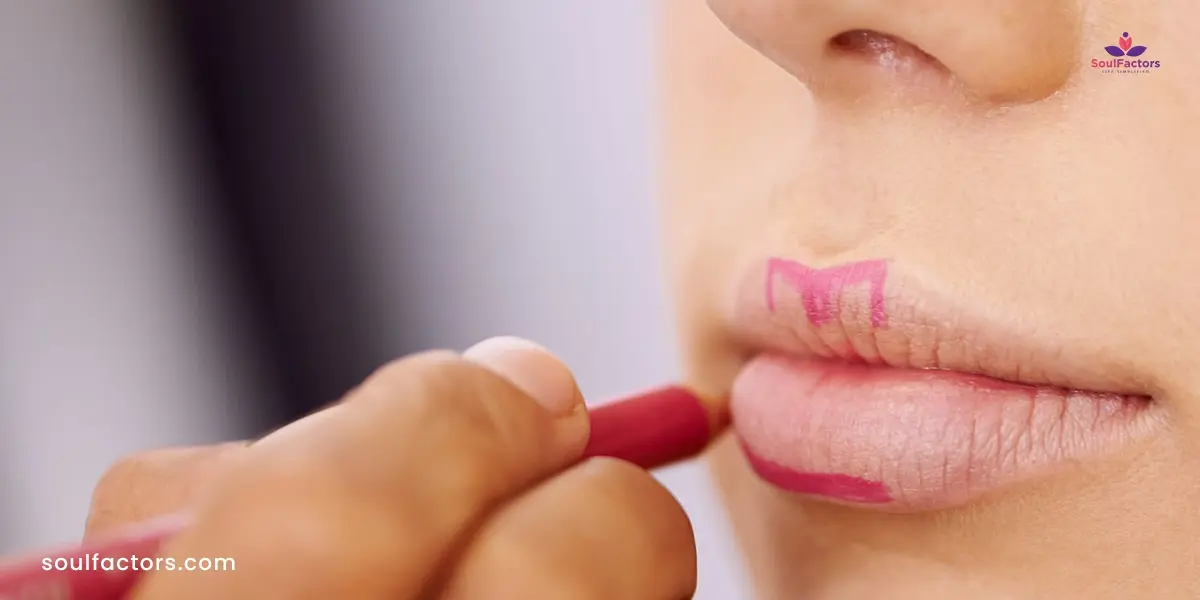 Lipstick that is both precise and thick and has a velvety appearance is essential for creating a beautiful ombre lip design. Its fine point is ideal for precisely outlining the borders of your lips. Lip liner is most effective for marking the natural contours of the lips. If you don't have a lip liner, you can still apply your lipstick, but you should take extra care to stay within your natural lip line.
How To Do Ombre Lips With Lip Gloss?
Lip gloss is applied before or in place of lipstick to enhance the lips with shine and a hint of Color. However, lip gloss is not strictly necessary if you take care in selecting your two well blending colors for ombre lips. As a matter of fact, it's better for lips to have that more natural look than excessive shining.
How To Do Ombre Lips With Eyeshadow?
If you don't have eyeliner, you may always use eyeshadow instead.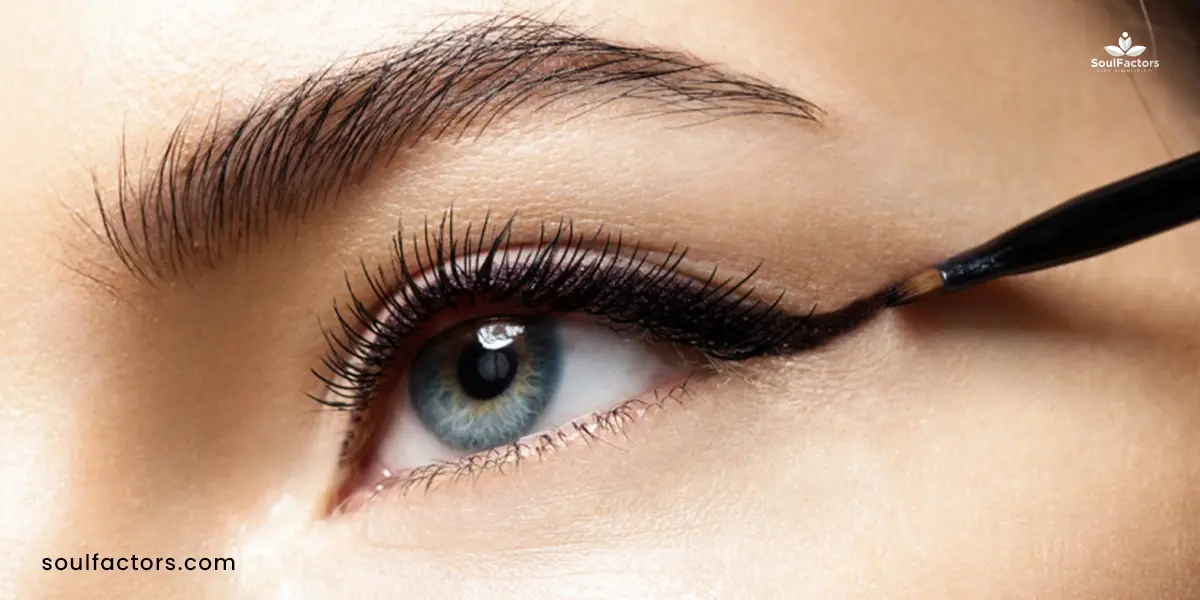 The fact that you may choose any hue you want for your eyeshadow is a perk. However, if the eyeshadow brush is too dry, dipping it in water and then dipping it back into the eyeshadow might help you achieve the greatest possible color match so that you may define your lips' natural contours with precision.
With that, you can easily do Ombre lips, but do you have to buy all the products? Here is how to make ombre lipstick.
How Do You Make Ombre Lipstick?
Do you know many lip makeup products have ingredients that can remove your lips' natural nutrients? This affects your lips and is hard and expensive to treat in case of an infection. So, why can't you make your natural lipstick at home? For example, you can do "red ombre lips" with lipstick made from beetroot. You can easily make ombre lipstick at home:
DIY Lipstick At Home With Beetroot
You can make your own lipstick at home with the following ingredients:
Grater / Food processor
Container
A beetroot
One teaspoon of coconut oil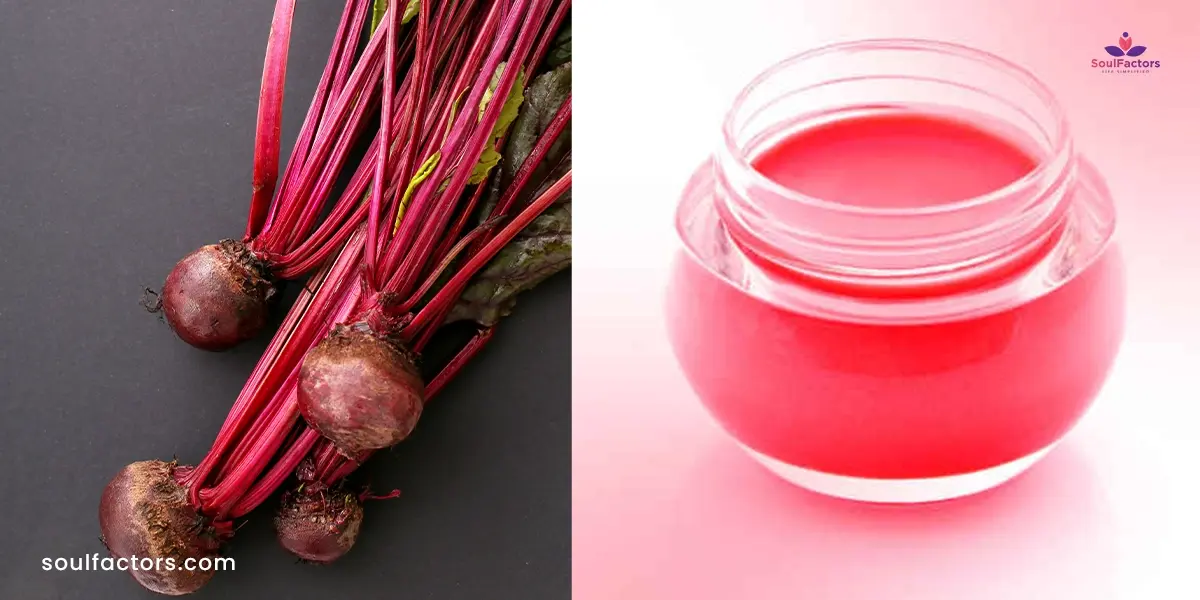 Follow this procedure:
After cleaning the beetroot, remove the peel by scraping it. The beet should be sliced thinly and processed in a food processor until a liquid residue is visible. The juice can also be extracted by grating a whole, peeled beetroot. And please do not mix with water.
After the beetroot is all set, squeeze or extract the juice and put it in the fridge.
Take the beetroot juice and a teaspoon of coconut oil and mix them. You can either use a. Use less coconut oil or more if you prefer a tint to achieve a darker shade.
Now that the product is purely homemade and with no preservatives, always store it in a fridge and use it for up to 30 days (1).
However, beetroot is not the only fruit that can be used for lipstick production. You can also use berries, pomegranate seeds, rose petals, etc. as per the Color needed.
Summing Up!
Have you seen women who have beautiful art on their lips? The name of it is Ombre Lips. We hope that this "ombre lips tutorial" was enough to teach you everything you need to know about how to do ombre lips. The best way to get Ombre lips looks to carefully choose the right colors and apply them in a certain way. Remember that the lipstick color you choose should match well.
No matter what kind of ombre you select, like "Korean ombre lips," follow the steps above for the best results. But we've also seen that some items must be used while others, like eyeshadow for eyeliner or even homemade lipsticks, can be used instead. Please tell us about your experience with ombre lips and what items and styles you like best.
FAQ
Are Ombre lips permanent makeup?
No, ombre lips are merely blending two colors on your lips. In contrast, permanent lip makeup is where you have ink tattooed on your lips.
How long do ombre lips last?
Ombre lips last just as much as usual lipstick application; however, using primer and concealer on your lips before putting on lipstick can help it last longer.