Owning one of the best waterproof foundations is a summer staple. Here's why.
Notice how you have to scrub your face until your skin turns pink to remove your makeup but somehow one dip in the pool melts the foundation off your face? Forget getting into the pool, even sweating during warm summer days breaks up your flawless foundation in record time. So, your obvious solution here is wearing the best waterproof foundation for summer! Keep reading to find a list of the best waterproof foundations to keep your foundation from melting off!
Best Waterproof Foundations For Sunny Summer Days
Who isn't a summer lover?! What is not there to love about summer? Everything about summer is heavenly except that streaky foundation none of us desire. Most of the foundations you use will most certainly melt off your face even without profusely sweating throughout the day. That's summer for you! What a sweaty excuse!
But does that mean you have to stay clear of your makeup products right when the temperature climbs from warm to hot? Does that mean you cannot wear any makeup on your face without expecting it to melt after an hour or two? No! Why else would makeup brands come up with waterproof formulas?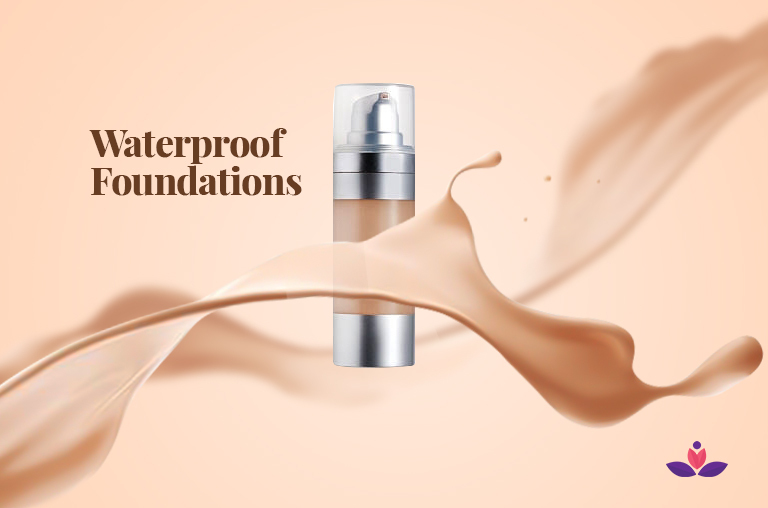 Waterproof foundations are true summer saviors! You do not have to worry about your makeup melting off at all. In fact, they are specially made to withstand water, sweat, and tears. So, you don't have to sweat it —quite literally!
To help you make your lounging days as sweat-free as possible, several brands offer foundations made with higher levels of polymers and waxes to block out moisture. But of course, it has drawbacks too. Waterproof foundations feel heavier on the skin but the best waterproof foundations come in lightweight formulas as well.
And some may contain comedogenic(1) ingredients. So it is necessary to remove the foundation once you get back home. Also, it will be best to keep an effective makeup remover with you to clean your face off a waterproof foundation. If it doesn't come off easily, you can bet the foundation is a great choice!
Choose Your Waterproof Foundation to Keep Your Makeup from Moving Even an Inch
A few nightmares of summer include splotchy foundation and running mascara. To help get you through your summer days, I have made a list. Whether you are relaxing by your poolside, or simply commuting to your work on bright sunny days with scorching heat and sticky air, this list will help you.
It includes all types of foundations in a multitude of categories from the best waterproof foundation for swimming to the best waterproof foundation with SPF to the best drugstore waterproof foundation.
You can prevent your foundation from slipping and coming off on your fingers and clothes by choosing the best waterproof foundations from the list below. These foundation formulas promise coverage that lasts all summer so that they can outlive your hottest summer days. So, no more worries for salty beach waves or chlorine-rich blue water in pools!
#1- Estée Lauder Double Wear Waterproof Foundation
This long-wearing foundation is a classic, cult-favorite foundation that is still termed as "unbeaten" among the fans. With an array of shades for all skin tones, this industry-standard foundation from Estée Lauder promises 24-hour long wear.
Even with it's lighter than most waterproof formulas. It will remain in makeup artists' kits as long as it keeps its word of full coverage with the gorgeous finish it offers now. You can blend uneven tones and blemishes into a seamless finish.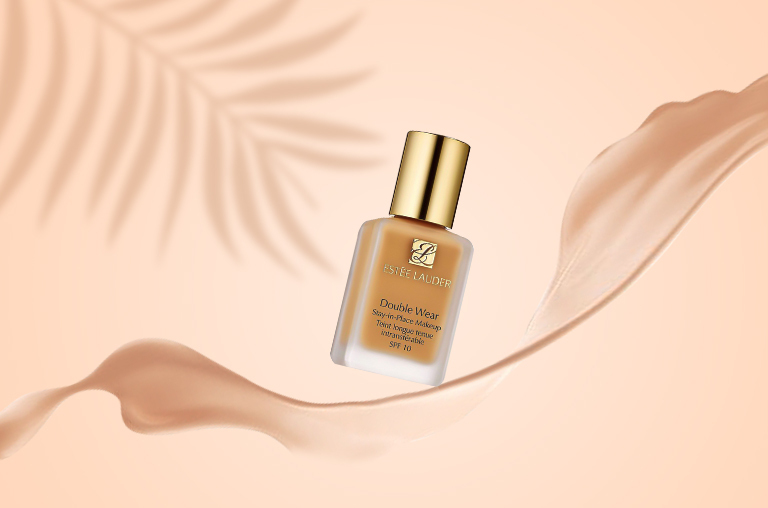 Price: $43
However, it may still feel a bit heavy on your skin. So, if you are one of those who doesn't like feeling the foundation, this one may not be for you. If you ignore that particular part, you might love this part!
The makeup artist Tobi Henney credited this OG foundation as one of the best for oil-prone clientele! It controls oil and locks out moisture in the humid air. So, any oily skin can benefit from this one.
Best Waterproof Foundations #2- MAC Pro Longwear Nourishing Waterproof Foundation
This waterproof foundation was started as a concealer archetype but developed into a formula that can be used as a concealer as well as a foundation. It blends effortlessly into your skin, even on the most humid day, to give a satin-matte finish. The added benefit of concealer makes this foundation fancier than the rest!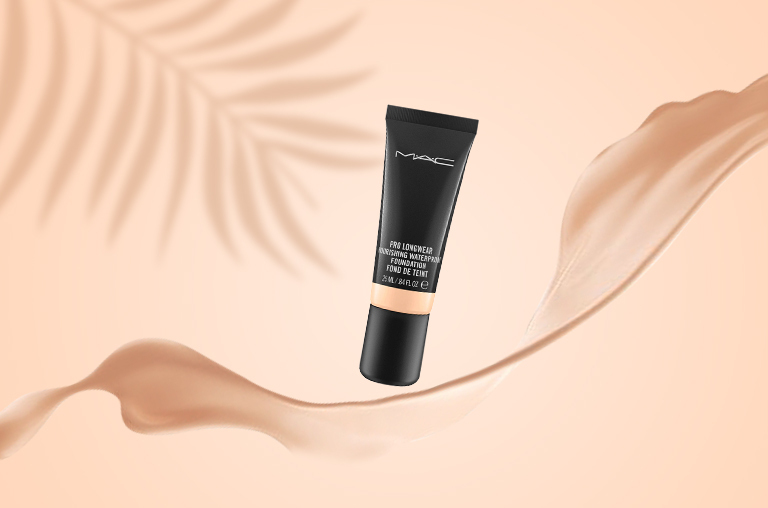 Price: $36
With both sheer and full coverage, this foundation offers 36 hours of wear. Considering the hours of daylight in a day, you may find the longevity factor overdone. But this factor makes this foundation one of the best waterproof foundations for swimming!
Anyhow, for anyone looking for a waterproof foundation with longevity as your principal goal, go for MAC's oil-free Pro Longwear foundation. Its staying prowess along with its lightweight formula (both feel and texture) makes it ideal for a pool party without feeling thick or cakey.
#3- Kat Von Dee Lock-It Foundation
To even the dark, uneven spots along with discoloration and acne scarring, use this foundation from Kat Von Dee. It gives full coverage without budging or moving an inch of your final look of a matte finish to help you keep your flawless look through shine or rain.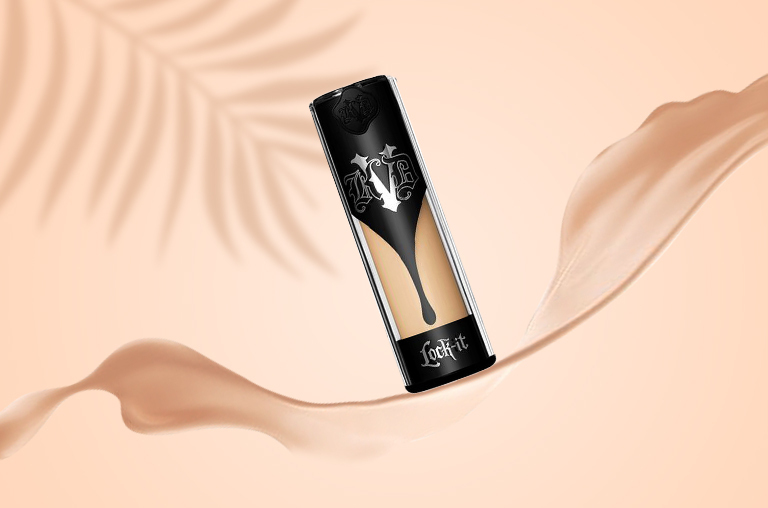 Price: $44.40
As it goes a long way, you only need to apply a droplet of this foundation and build with it to your desired coverage. Anyone from normal to combination to oily skin can use this paraben and phthalates-free foundation. It comes in a full-size bottle but if you want to travel with it, you can pack the mini tube the band offers.
Best Waterproof Foundations #4- Tarte Amazonian Clay Full Coverage Waterproof Foundation
As the brand says, infused with the best ingredients nature has to offer, Tarte's waterproof foundation glides on like silk but wears like iron. It blends Amazonian clay for longer wear with vitamin E —an anti-inflammatory emollient and antioxidant— and mineral pigments to soften the skin.
Along with covering your hyperpigmentation and acne scarrings, the foundation smooths the appearance of fine lines and large pores. You can pick the right shade according to your skin tone from the 40 available shades.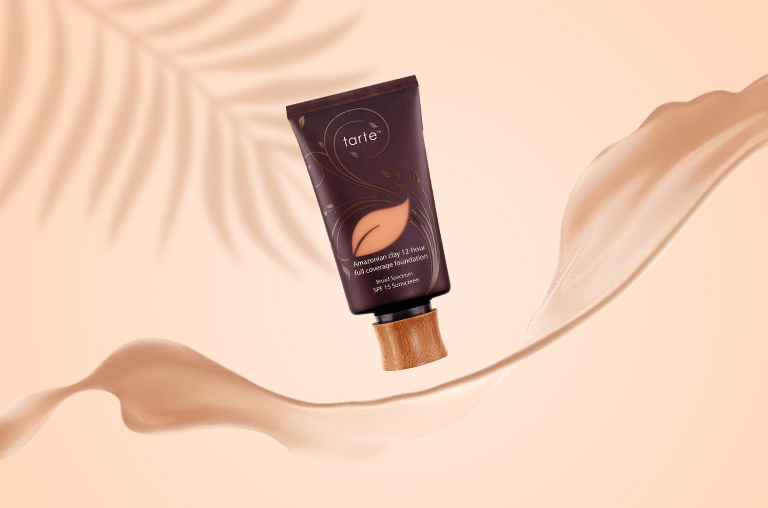 Price: $40
The best thing about this foundation is its lightweight formula that builds into an airbrushed, natural matte finish with its triple whipped mousse texture.
Also, it is made as an oil-free yet hydrating foundation that gives 12-hour long wear with SPF 15. The bonus: this is another of the best waterproof foundations for swimming during summer!
#5- NARS All Day Luminous Weightless Foundation
An oil-free liquid foundation that lasts through just about anything in the time circle of 16 hours. With just one drop, you can build this weightless foundation into full coverage, gorgeously luminous matte finish that looks completely natural.
Unlike several other foundations that leave a chalky mask on your skin, NARS' foundation delivers what you desire. Though it is made oil-free, foundation for anyone with dry skin, normal, or combination skin can use this product that has water, sweat, and sebum-resistant formula.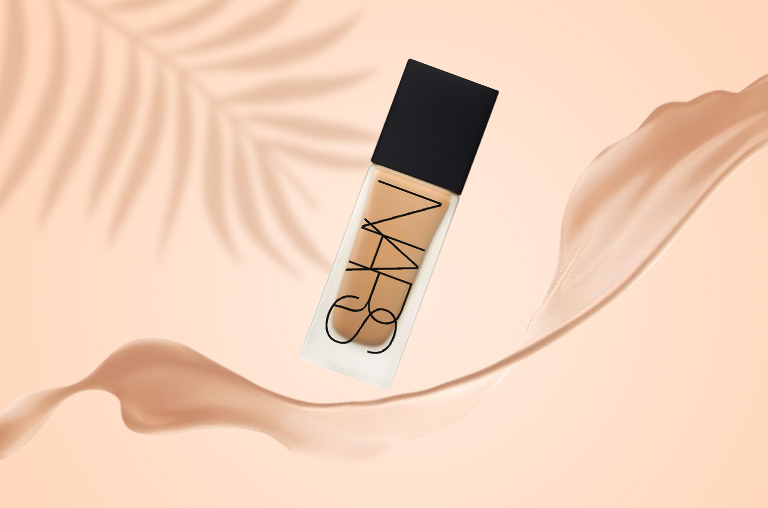 Price: $38
The highlight is of course its ingredients. With vitamin A, C, and E and a mix of scarlet spiderling root extract, the foundation helps in neutralizing discoloration over time for an even skin tone and protecting the skin by delivering antioxidant properties. Its Tone Correcting Technology takes care of the discoloration part so effectively.
Though the band offers only a handful of shades, the shade range is amazing. If you want to know more goodies about this, hear this: it's free of mineral oils, parabens, sulfates SLS and SLES, phthalates, coal tar, fragrance, and just about anything that is a cause of concern.
Best Waterproof Foundations #6- Giorgio Armani Power Fabric Matte Full Coverage Foundation
Known as the magical waterproof foundation best for splurges, Giorgio Armani's Power Fabric foundation came out into the spotlight right beside its sister formula. With 30 different shades, you can choose your right shade for full coverage, natural velvet-matte finish that feels like your second skin.
This one is more often categorized as a summer must-have due to its sweat-resistant formula. Especially with the bonus of an SPF 25.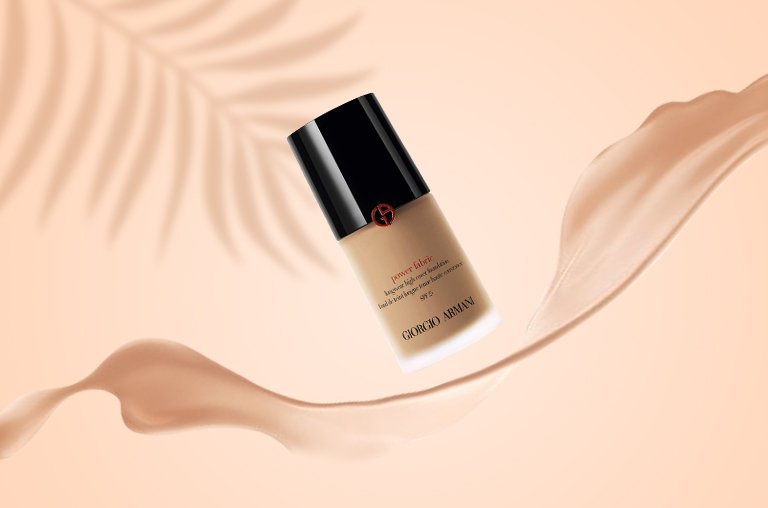 Price: $64
Now let's talk about Armani's exclusive glow secret: their Micro-fil™ technology! It makes all the difference. From the thinnest and lightest texture for seamless blending and layering to the luxurious formula for a luminous matte finish, the technology plays a huge role in helping the foundation feel like a second skin
Unlike traditional pigments that are round, this technology allows the pigments to lay flat on the skin. This, in turn, helps the foundation in blending flawlessly to a natural velvet finish. And of course, the UVA/UVB sunscreen protection of SPF 25 promises sun safety. Can't forget that!
#7- Dior Backstage Face And Body Foundation
One of the best waterproof foundations for the face and body! This sweat-resistant, waterproof foundation with buildable formula guarantees medium coverage with a natural finish on both your face and body.
You can achieve an even and perfect complexion that resists even an intense workout session, sticky humidity, and high temperatures. The pigments in it create a natural, matte finish through all of that worries you when wearing a foundation in summer.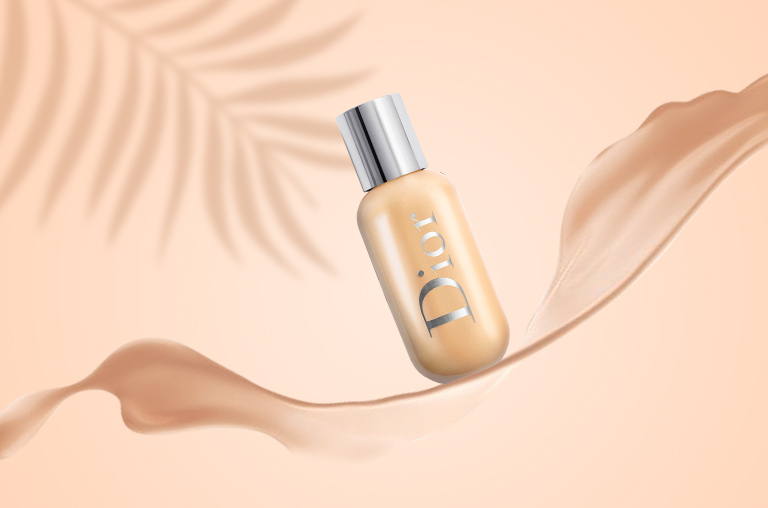 Price: $39.99
The plus point: along with camouflaging dark spots on your face, you can camouflage any minor dark spots on your neck, shoulders, hands, legs, or anywhere else on your body. It also doesn't have chemicals you need to look out for.
Within a year, this foundation from Dior received an impressive number of votes on online platforms. When a product is made vegan, cruelty-free, and gluten-free in recyclable packaging, people ought to love and buy it!
Best Waterproof Foundations #8- Revlon Colorstay Liquid Foundation
This foundation from Revlon is one of the best sellers and the best waterproof foundation for oily skin. Not only is it an easy drugstore find that comes under the very affordable list but also is a way more effective foundation than many of its counterparts, given its rate.
Made for combination skin and oily skin, this oil-free foundation is lightweight with medium to full buildable coverage to leave a matte finish on your skin. Though it is an oil-free foundation, it will never feel overly drying as it contains hyaluronic acid for an added dose of moisture.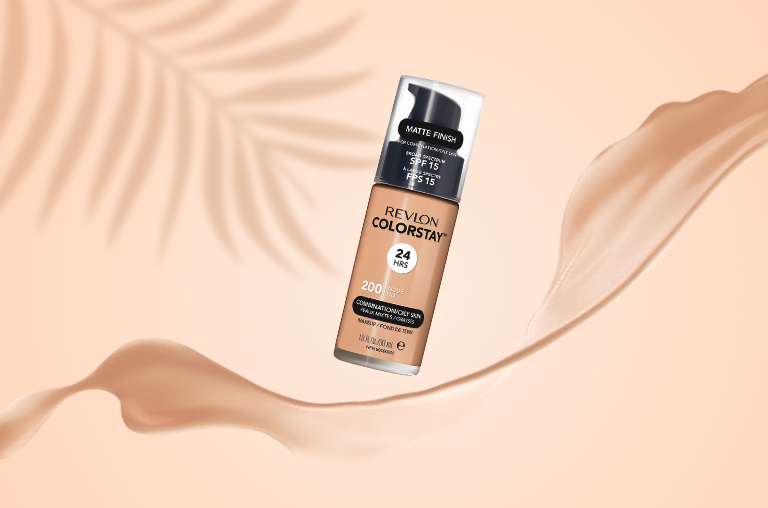 Price: $15
As always, the best part of any foundation is the range of shades the brand offers. In this case, Revlon offers more than 40 shades! You can find the right foundation that matches your complexion easily among the many shades.
To help protect your skin, it is fortified with SPF 15 as well. Another plus point you cannot simply ignore is its 24-hour long wear. This also may be the reason why the brand itself says this is America's #1 long-wearing foundation!
#9- NYX Professional Makeup Can't Stop Won't Stop Foundation
Without breaking your wallet, you can buy this best drugstore waterproof foundation to use on an all-day event. It is truly a hardworking foundation formula that leaves a creamy yet matte finish that lasts up to a day. Yes, it also boasts 24-hour long wear!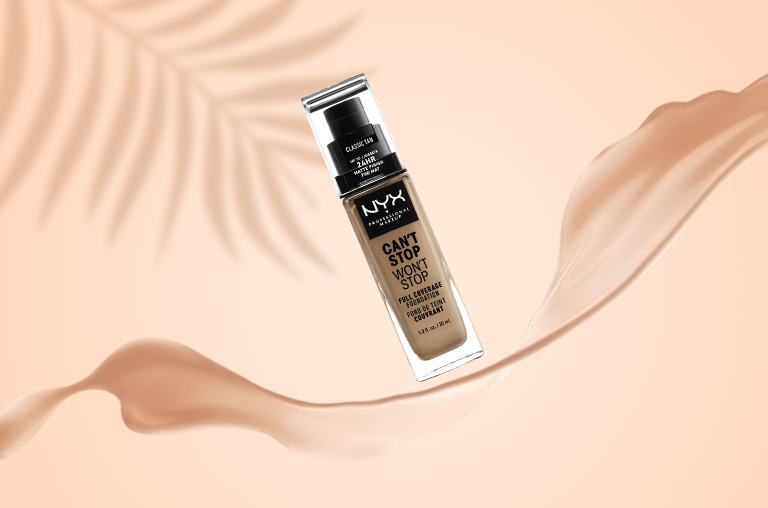 Price: $15.99
You get to choose your shade from 45 different shade options. And regardless of which shade you choose, the foundation can withstand water, sweat, heat, and humidity so effortlessly that you might think it's an easy job. But only someone who has suffered the streaky foundation knows the difference. It may work more effectively for oily skin, but that doesn't mean any normal to combination skin ladies cannot use this!
Best Waterproof Foundations #10- IT Cosmetics CC+ Cream Oil-Free Matte SPF 40
This one is a definite multitasker because it does it all. Hydration? Check. Oil absorption? Check. Beneficial ingredients? Check. Sun protection? Double-check! With collagen, peptides, and charcoal, this color-correcting cream stands as a foundation as well to hide everything you need hidden.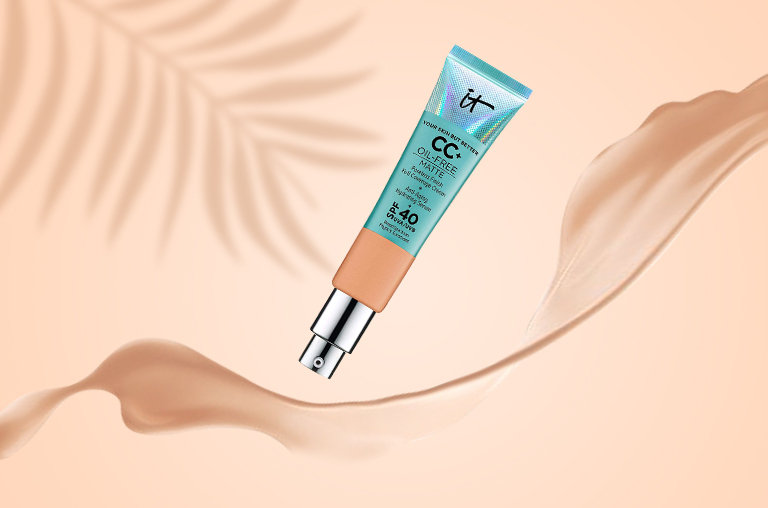 Price: $48.69
As a development from its original bestseller, this one is waterproof and leaves a matte finish, making it ideal for heated summer. It also moisturizes your skin and plays great for up to 12 hours.
One extremely important thing to clear up here: do not skip on your sunscreen just because you are wearing this one. No foundation spiked with SPF replaces the efficacy of an actual sunscreen. So you have to use this one on your already sunscreen skin.
Hourglass Vanish Seamless Finish Foundation Stick
Everyone loves foundation sticks. Not only are they easy to apply without needing a mirror or any other tool, but also give a mess-free application because of the stick. So, this best waterproof foundation stick is extremely easy to use as well as to carry—it comes in slim packaging. You can conveniently use it on the go even from your car. Thanks to its triangular tip, you can swipe even the hard-to-reach spots easily.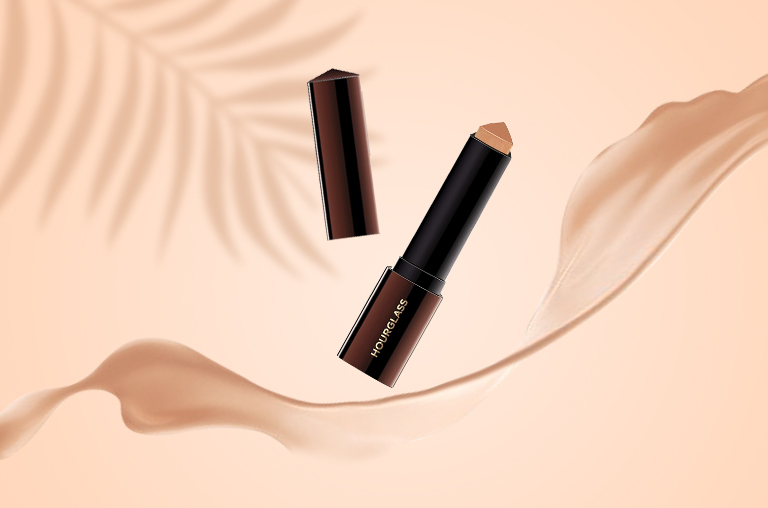 Price: $49
Now let's get into the better part. The stick foundation from Hourglass is packed with intense pigment that blends quickly and sinks easily into your skin, covering all that you need to cover. This is also a dual player foundation because of its creamy coverage that might as well work as a concealer. Its buildable coverage lasts throughout the day without feeling cakey or heavy.
How To Wear Your Waterproof Foundation?
Choosing a waterproof foundation itself is a difficult job. You have to cross off a few from the waterproof foundation checklist, such as looking out for certain keywords like long-wearing, waterproof, sweat-proof, or humidity-resistant.
And choosing formulas with silicone for long-lasting effect, hydrators like hyaluronic acid(2) or glycerin, and looking for SPF (to use on top of sunscreen). For the smooth application of the foundation, look for dimethicone copolyol, a silicone-based oil found in waterproof foundations.
After choosing one from the best waterproof foundations we recommended above, you can complete your look by following these steps:
Sunscreen. If you are going out to the glaring rays of the sun, always start with your sunscreen(

3

). Apply it evenly on your face after moisturizing. Then, move on to the next step.

Primer. Applying a makeup primer is a necessary step to increase the lifespan of your final look. You can choose any of your primers to prime your face.
Foundation. There is nothing wrong with applying concealer before foundation but you may rub off some concealer while applying foundation. So grab your blender or sponge, blend your waterproof foundation over your complexion, and build to your desired level of coverage.
Concealer. Apply several dots of concealer under your eyes and on other uneven spots (the chin, around the mouth, and nose). Tap the concealer —not rub— using your middle finger or your brush.
When you are done with these steps, you can begin your eye makeup look. After you complete your look, set it with a setting spray and you are good to go!
Final Thoughts
Waterproof foundations are a must in summer. If you don't want your foundation (followed by your entire makeup) to come running down your face after crashing the first wave of summer, you gotta pack one sweat-proof foundation! No amount of sweat can get through that safe veil. Pick any from the list of the best waterproof foundations for summer and you will never have to deal with the nemesis of foundations: sweat!