Fancy getting unique flared nails tips? Like duck bills? Welcome duck nails!
Duck nails have proven that it can stand the test of time and social media.
Almond nails, coffin nails, lipstick nails- we have a number of nail shapes going in and out and back again in trend. This one too!
Now the duck nails trend, also known as 'flare nails', or 'ducker', has made a dramatic comeback!
What Are Duck Nails?
Duck nails are trendy nail-dos that have made a return with phenomenal Instagram dumping. You may mistake it for a mani that went wrong. But at present, this trend has about 35.4 plus million views on TikTok and counting. This visitor from the past can make you slay it! (*)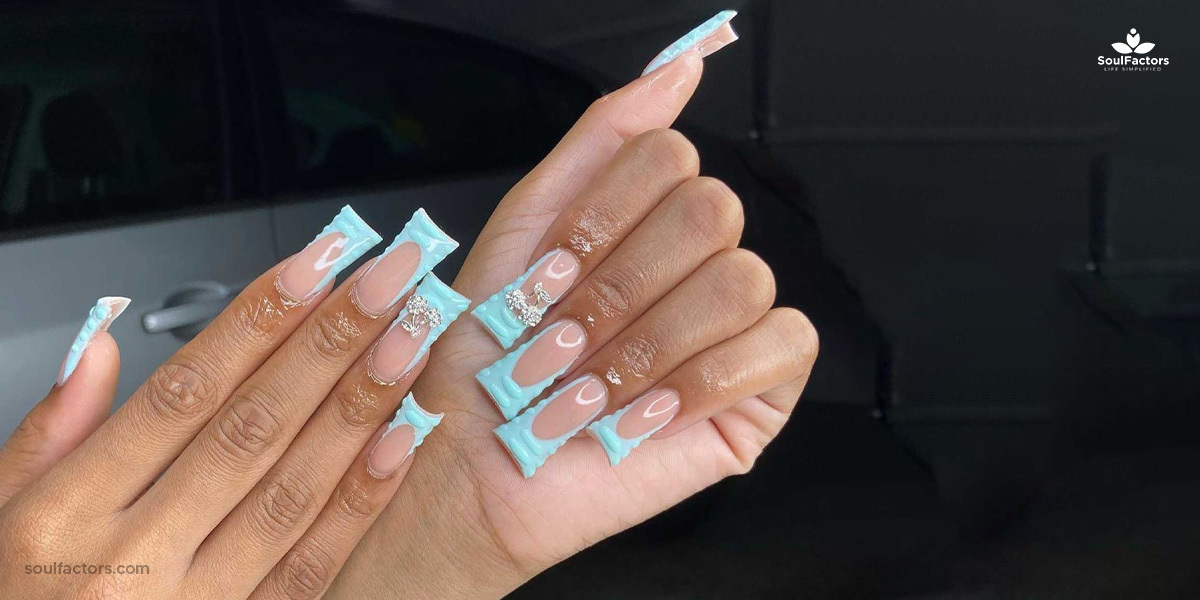 When Were Duck Nails Popular?
Duck nails were popular in 2000-ish.
Celebrities like Nicole "Snooki" Polizzi popularized them with embellishments and unique nail art.
Cardi B brought it back with cherry-themed French Tips in 2022, and now Lizzo has flaunted it on the social media. Many celebrities have tried this one. Cardi B has puzzled the media who are still debating how she can wear rings with the flared nails which are broader than her knuckles!
How To Do Duck Nails?
If you are enchanted by this trend, here is how to sport duck nails!
You need to grow your nails longer to bring the essence of duck nails into the limelight. You could alternatively go for nail extensions as well. Though they can be short, the versatility will suffer from a lack of length.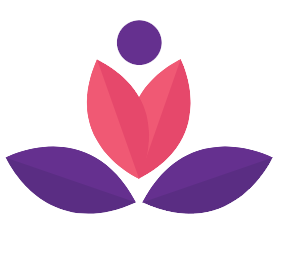 DIY Duck Nails in 2 Steps!
1- Snip the end of the nails straight across to look like a triangle, with the broad tip of the nails sealing the deal.
2- File the nails on the sides and the tip without defiling the integrity of the flare!
You can use gel nail polish or ordinary nail lacquer to color it off. A base coat nail polish (2) will be a nail-saver in many ways. After the base is secured, you can go versatile with different hues and styles that can make your duck nails an eye-popper. Do not forget to fix your nail color with a top coat nail polish so that there is no chipping of nails. In a rush? Make your nail polish dry faster with these tips.
Duck nails are vulnerable to damage because of the broader tip. So those with fragile nails need to be careful.
This flare style is also roomy enough for your artistic self-expression to the max, but it is equally vulnerable to damage because of the broader tip.
Nail enthusiasts have posted pics with them cooking and doing chores with the duck nails to prove that it is strong and resilient. But those with fragile nails need to be careful while choosing this style when they are doing stuff involving their fingers. They should take extra care of their nails by adding nail growth serums and vitamins for nail growth in their diet.
Now if you want it the easy way, get press-on duck nails!
15 Vivacious Duck Nail Designs
1. Shiny Stoney Duck Nails
This one is a largesse with chunky stones adorning nails that are deliberately dipped in silver. This is a red-carpet-worthy one from all angles.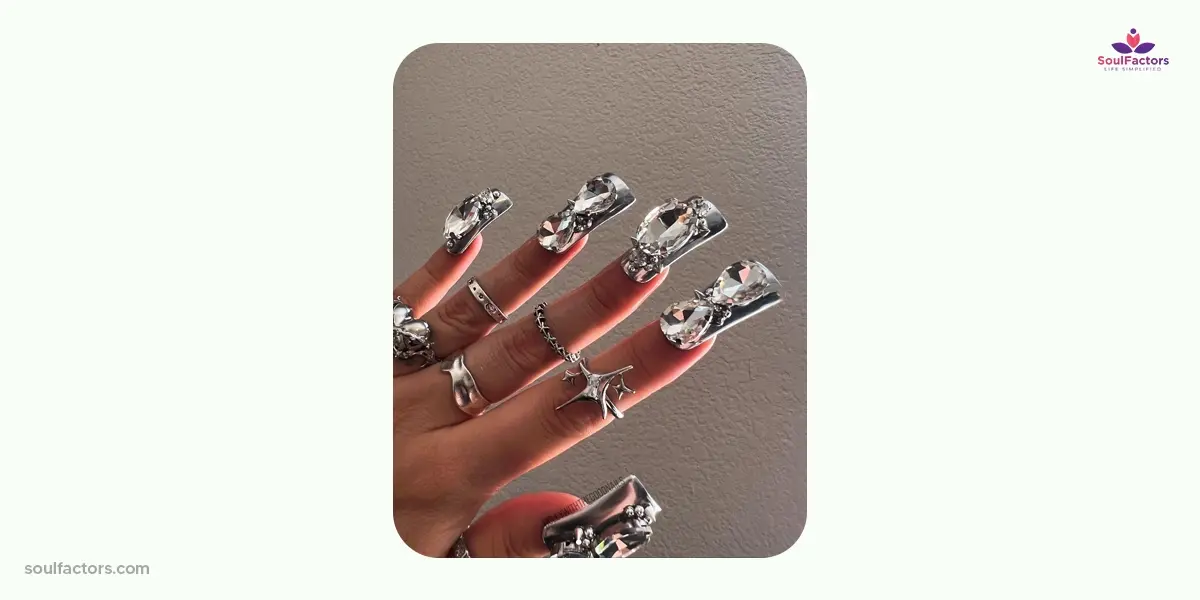 2. Hello Kitty
Yet another Y2K nail design which any teenager would love to have in their claws. This is an overflowing of Hello Kitty from each nail. It has the choicest placement of bling to draw eyes to the duck nail tips.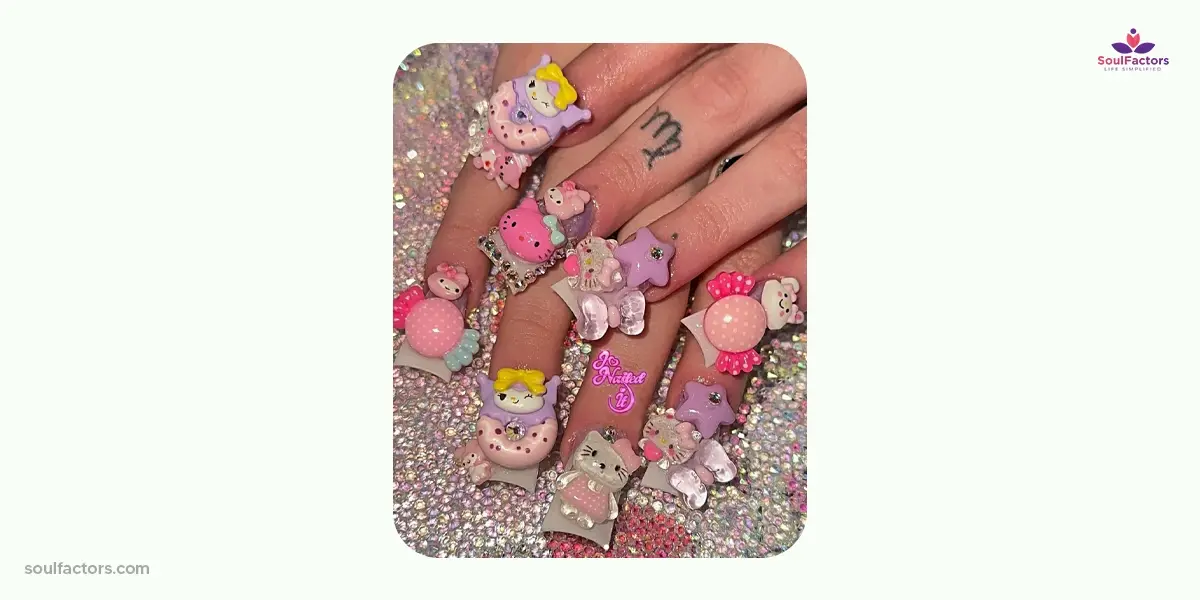 3. Currency
Yet another reminder to slog and make money. This currency duck nail art is quite unique in its inclusion of the dollar and bling on the glassy nails to remind you of the plush life you have been dreaming about.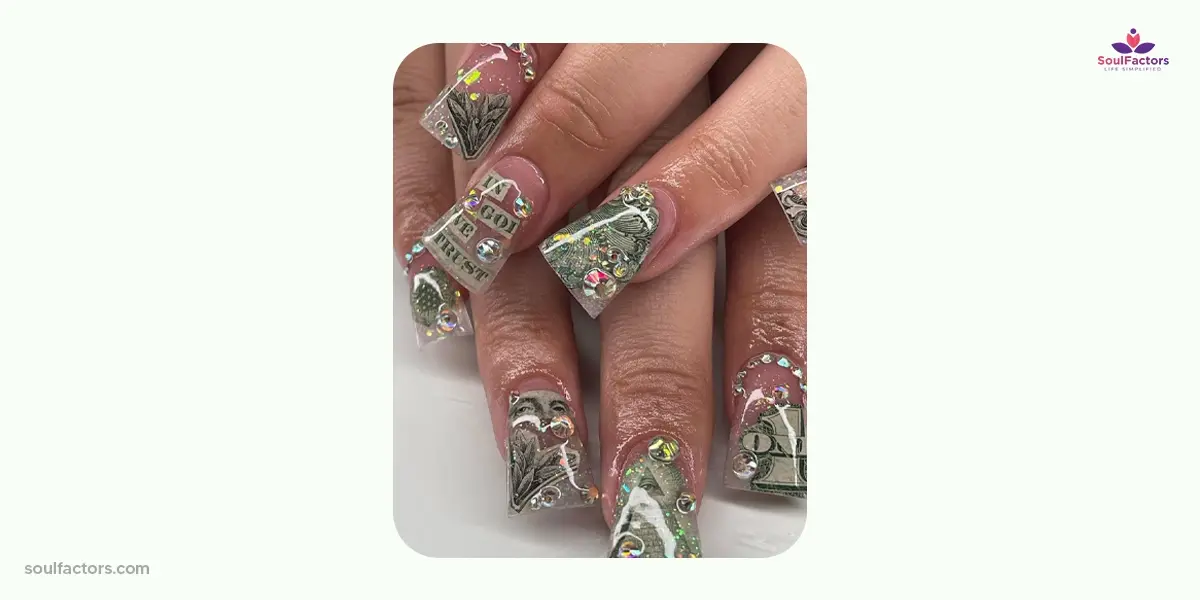 4. Fluorescent Duck Nails
The fluorescent colors sure flatter the shape of the duck nail by emphasizing its flare. Sure, time to go to the disco!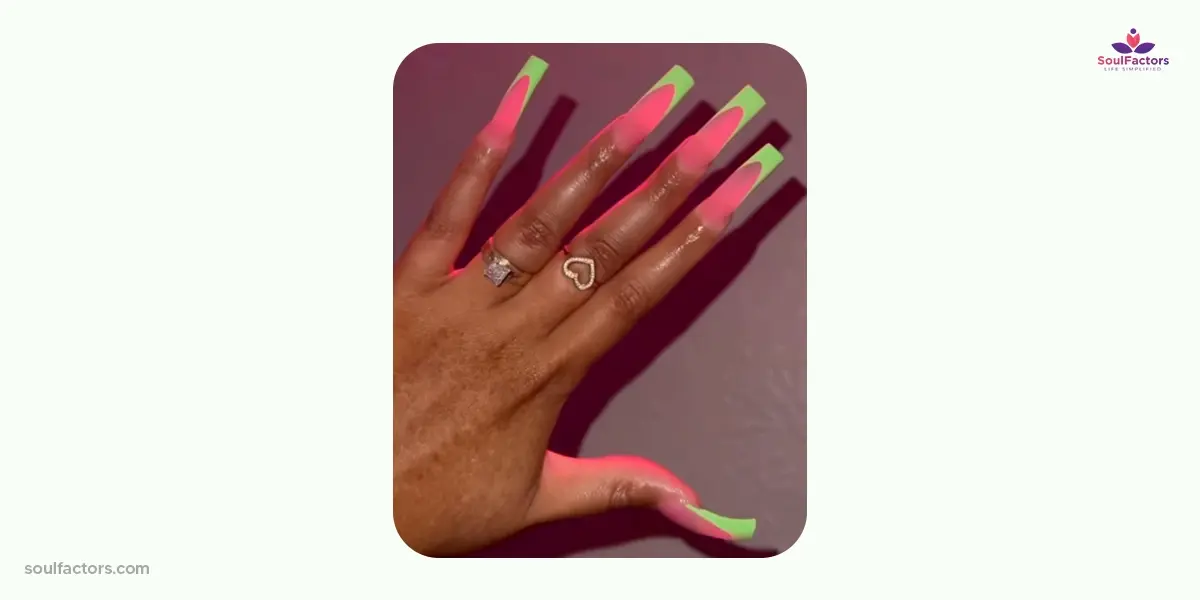 5. Embellished Duck Nails
These have been embellished with a handful of prettiness with purple 3D flowers, 3D French nails- both purple and white, and an amethyst heart. Can you think about any more designs?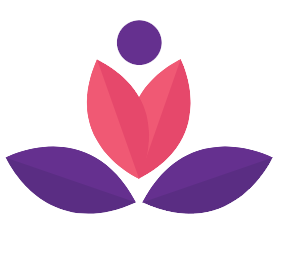 FUN FACT
Duck nails were also called "Jersey Nails" as they were very popular in New Jersey in the 2000s.
6. French Tip
How can you ever ignore French Tip while doing duck nails? The classic white French tip emphasizes the flair.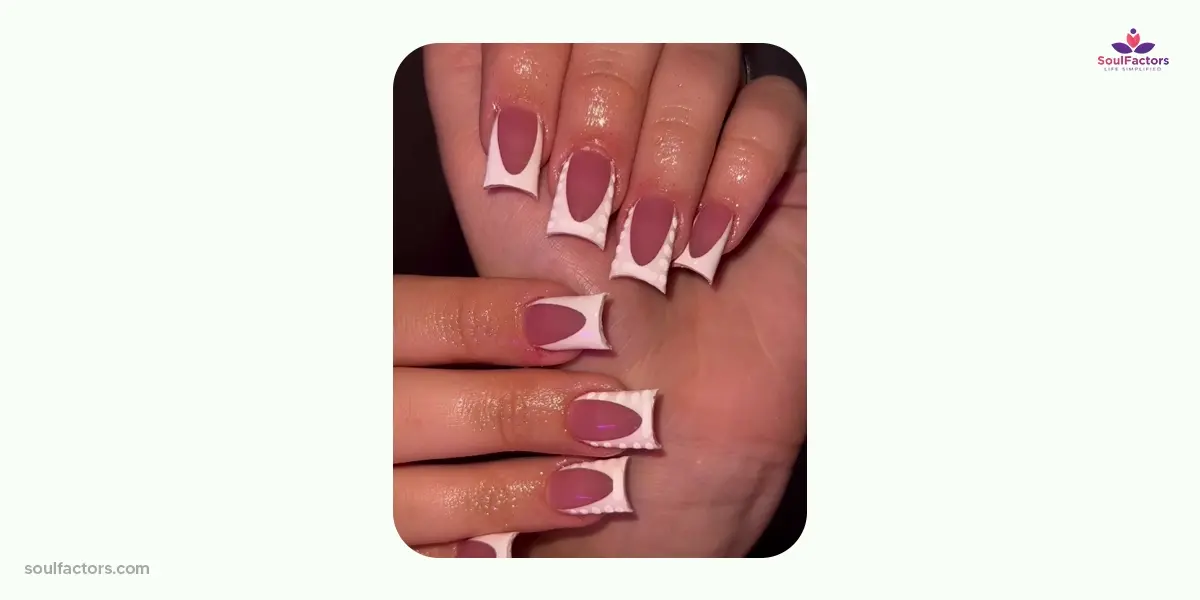 7. Zebra Duck Nails
The brown-black zebra nails are the backdrop for the word ' S-E-X-Y', and it sure is a sparkling and sexy piece of art. To turn down the heat, glittery red polka art is included in a nail or two!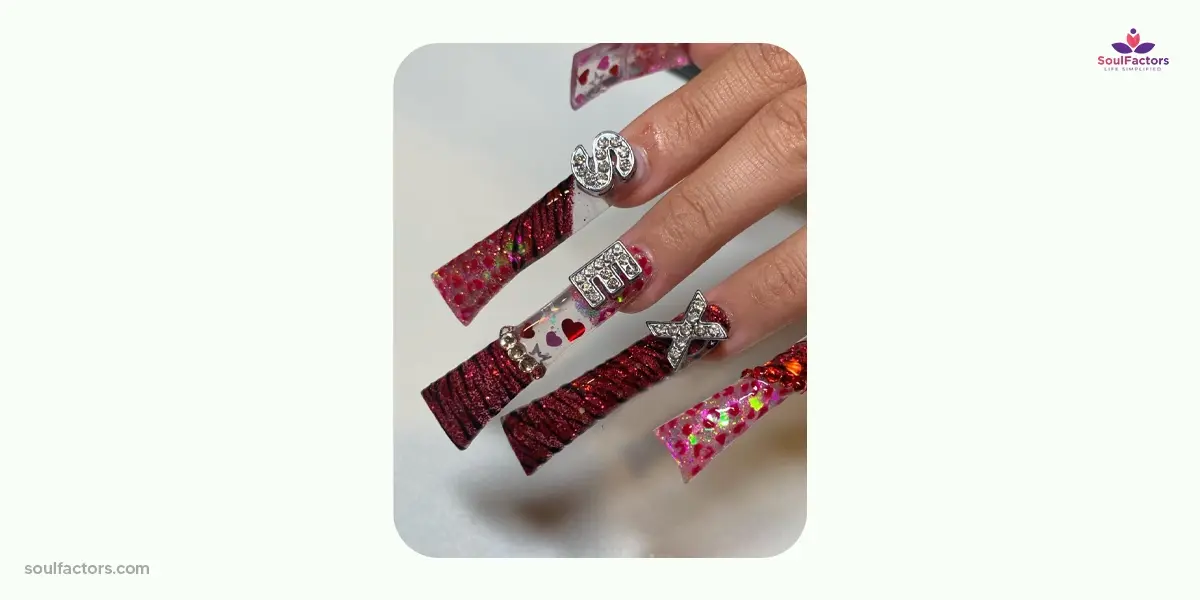 8. Cute Duck Nails
The mix of zebra nails, a Hello kitty, and fruits on the milky white French Tips make a cocktail of cuteness in these cute duck nails.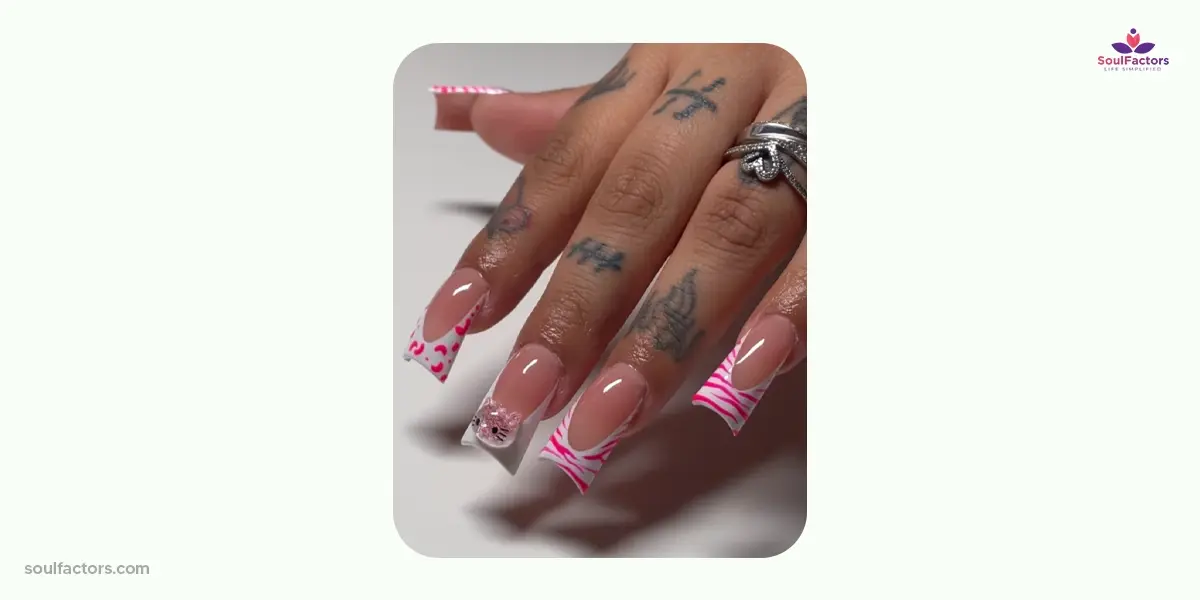 9. Charm Duck Nails
What is your good luck charm? Why hesitate to carry them on your claws? Here are pink Barbie duck nails with a mix of raindrops, snake charm, bling, star charm, ear drops, and a faux nail piercing.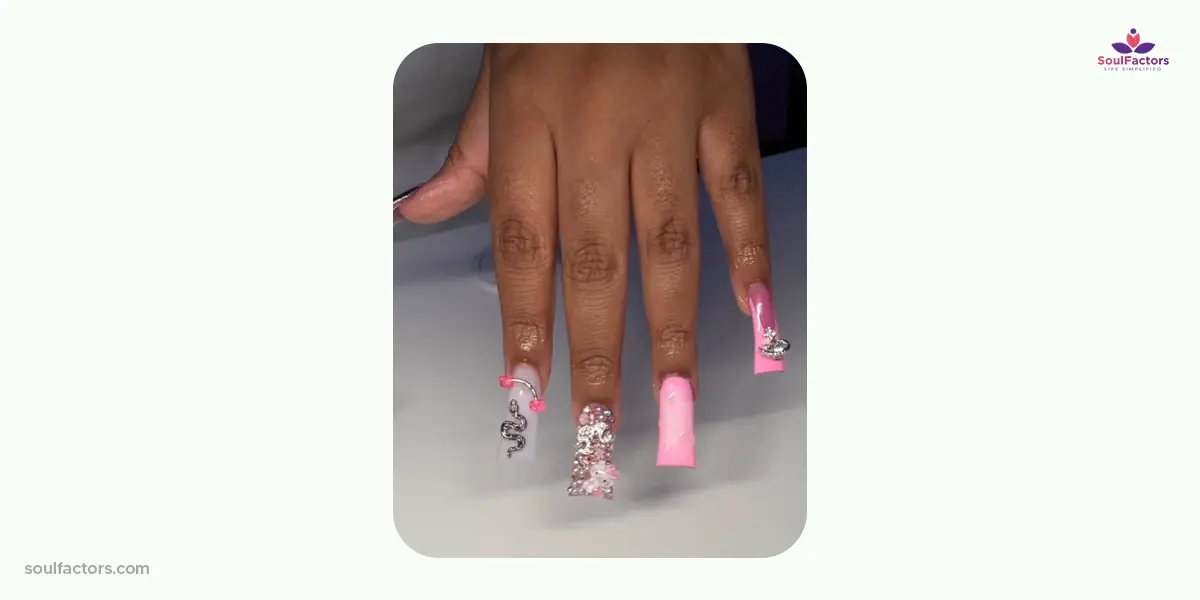 10. Floral Duck Nails
This one vividly has the petals in pastel colors on nude nails, embellished with rhinestones here and there. These are eternally feminine.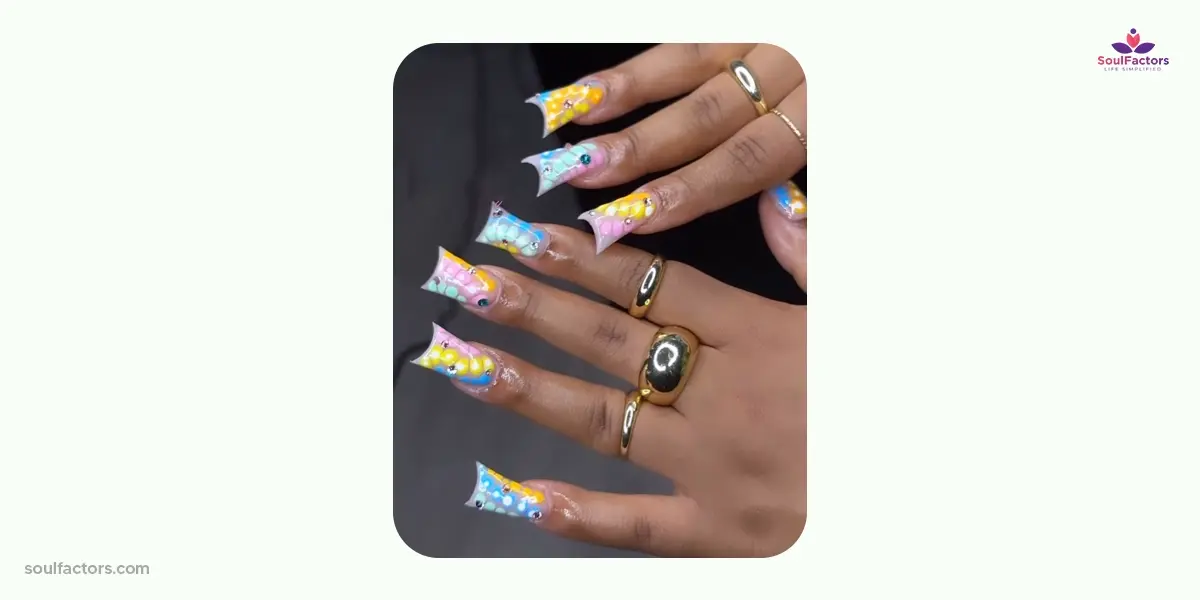 11. Mickey Mouse Duck Nails
This is for the love of cartoons! This has Mickey Mouse elements on all nails along with some choicest blings. The bow, the white polka on red nails, and the outline of Mickey sure call for easy guesswork. Make these your Christmas nails to revive your childhood memories.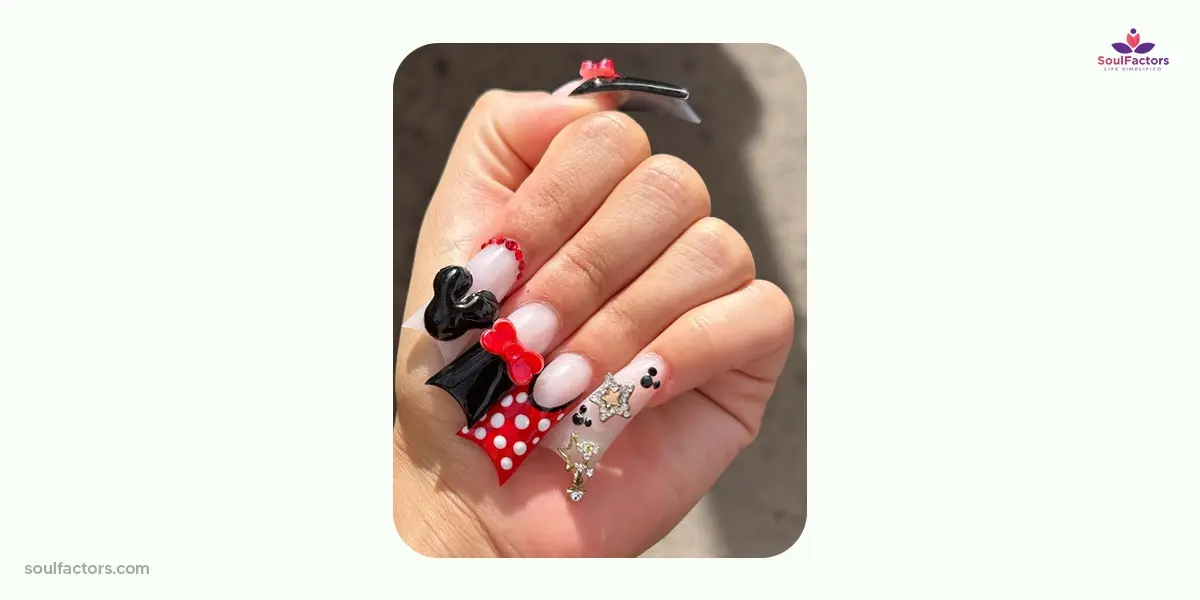 12. Fall French Duck Nails Image
These are on a Fall Style Manicure with brown tips to give gusto to the floral nail art design. This is partly minimalistic and partly showy. 50/50!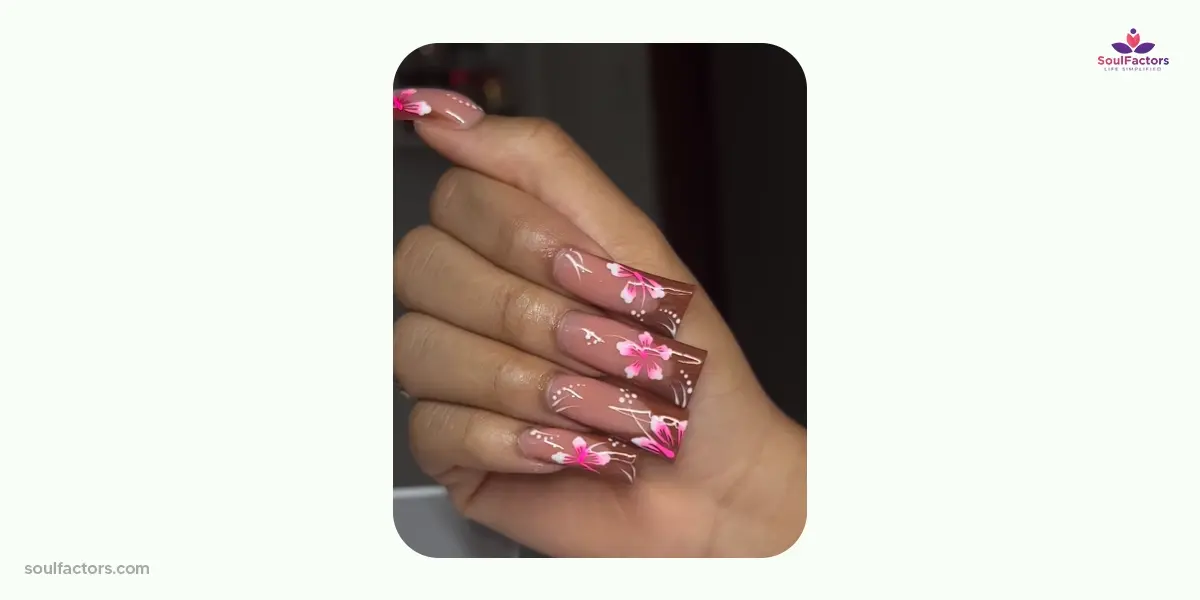 13. Simple Duck Nails
These are plain pastel-colored and do not flaunt any other nail art than the style of duck nails itself. This is a pretty confident move to showcase the nail shape. These can be shown off as it is with some pretty chic colors slathered on them.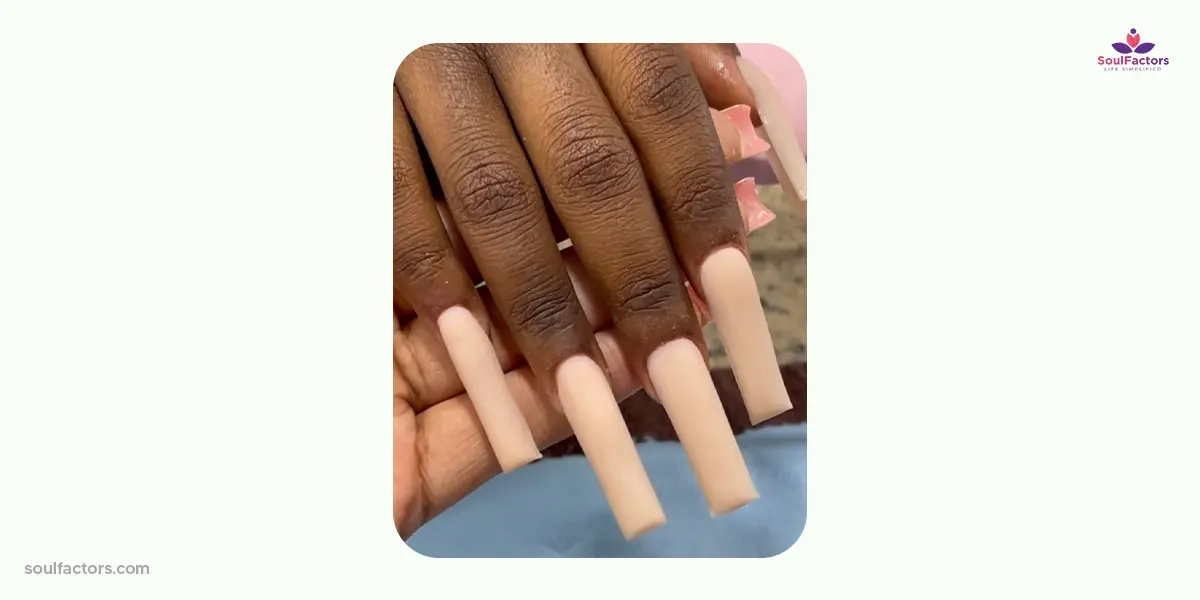 14. Short Duck Nails
Duck nails look best on longer claws. But here is an exception. These are short milk bath nails with a strawberry milk tint that have been made quirky with rhinestones and French tips. Instead of cramming it up, a minimalist approach nails you can achieve without tools has been adopted here.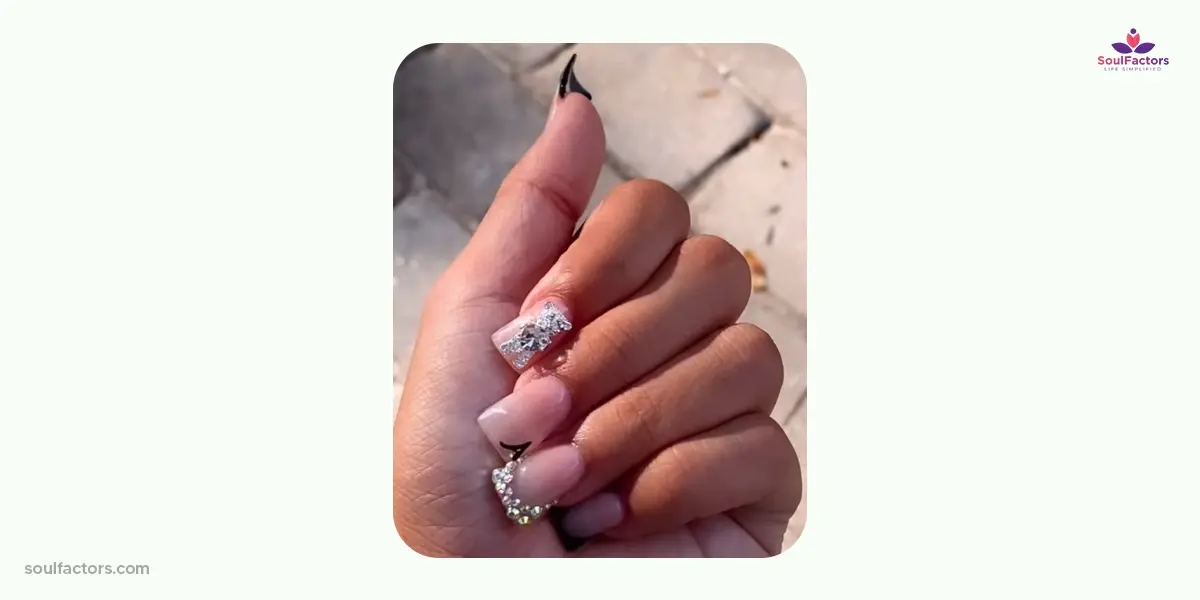 15. Cheery Short Duck Nails
This one clearly sticks to the theme with a duckling and yellow floral nail design included in the nail do.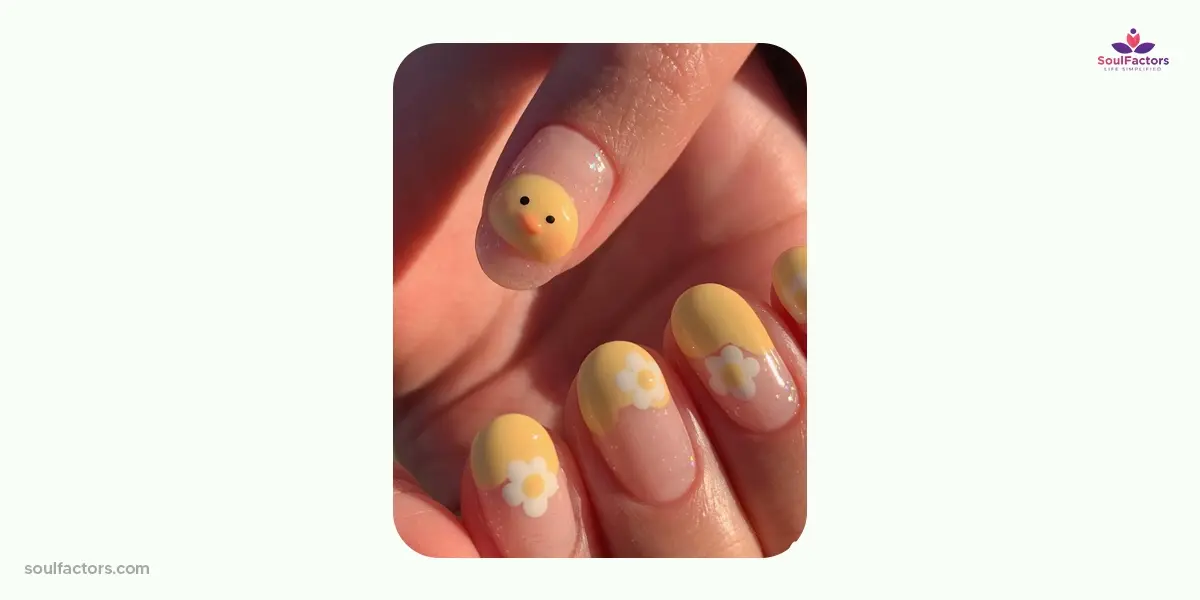 FAQs
1. Are Duck Nails Difficult To Manage?
Depends. It depends on the range of daily activities using your hands as it is a fragile nail do. Wearing the nails short can make it manageable to some extent.
2. How Can You Get Duck Nails?
If you cut the nail straight across and retain the flared tip, it pretty much makes a duck nail. You can work different designs on it or leave it as it is with just a coat of nail color!
In Short
Duck nails are versatile and roomy enough to accommodate French tips, animal print, floral, alien nails, butterfly, bird, or 3D nail designs or your favorite daily nail designs– separately or in a combined fashion. Minimalistic or gaudy- you are the girl boss when it comes to choosing your type of duck nail. So, are you ready to showcase your flair and flare?